Summary:
These simple scotch eggs are made with few ingredients and accompanied by a curry mustard sauce.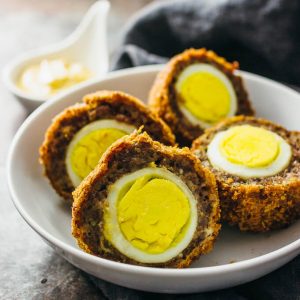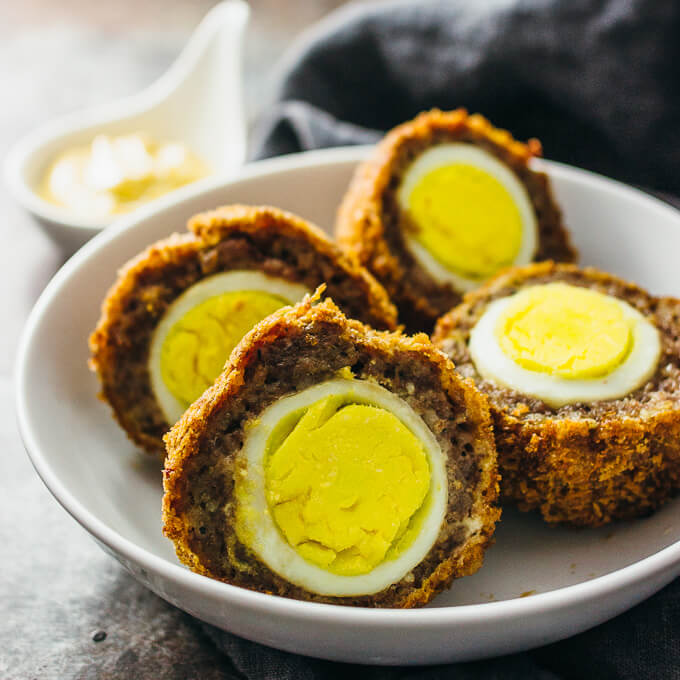 INGREDIENTS
5

large eggs

1 beaten

1

pound

pork or beef sausage

2/3

cup

panko bread crumbs

1/3

cup

all-purpose flour

1/2

teaspoon

salt

canola oil

for frying
Curry mustard sauce:
1/2

cup

mayonnaise

2

tablespoons

dijon mustard

1

tablespoon

curry powder
INSTRUCTIONS
Place 4 eggs in a pot. Fill with cold water to cover the top of the eggs. Bring to a boil over high heat and let it boil for 1 minute. Remove the pot from the burner, cover with a lid, and let sit for 15 minutes. Strain out the eggs and place in a bowl. Pour cold water over the eggs. When cool enough to handle, peel the eggs.

Combine and mix flour and salt in a small bowl. Add beaten egg to another bowl, and bread crumbs to a third bowl.

Divide sausage into 4 equal portions. Flatten each into a patty shape and snugly wrap around a peeled egg. Roll each sausage-covered egg first in the flour bowl, then the egg bowl, and lastly the bread crumb bowl.

Heat 2 inches of canola oil over medium heat to 350 F in a pot or fryer. Fry until the innermost part of the meat reaches at least 160 F. Or, fry until golden brown, about 5 minutes, and then transfer to the oven to cook another 10 minutes at 400 F to ensure that the meat is cooked.

Combine curry mustard sauce ingredients in a bowl and mix well. Serve with scotch eggs.
NUTRITION
This recipe yields 12.5 g net carbs per serving (1 scotch egg).
Nutrition Facts Per Serving
| | |
| --- | --- |
| Calories 480 | |
| Total Fat 34g | 53% |
| Saturated Fat 5g | 25% |
| Trans Fat 0g | |
| Cholesterol 299mg | 100% |
| Sodium 730mg | 30% |
| Potassium 260mg | 8% |
| Total Carb 13.5g | 5% |
| Dietary Fiber 1g | 5% |
| Sugars 0g | |
| Protein 28g | |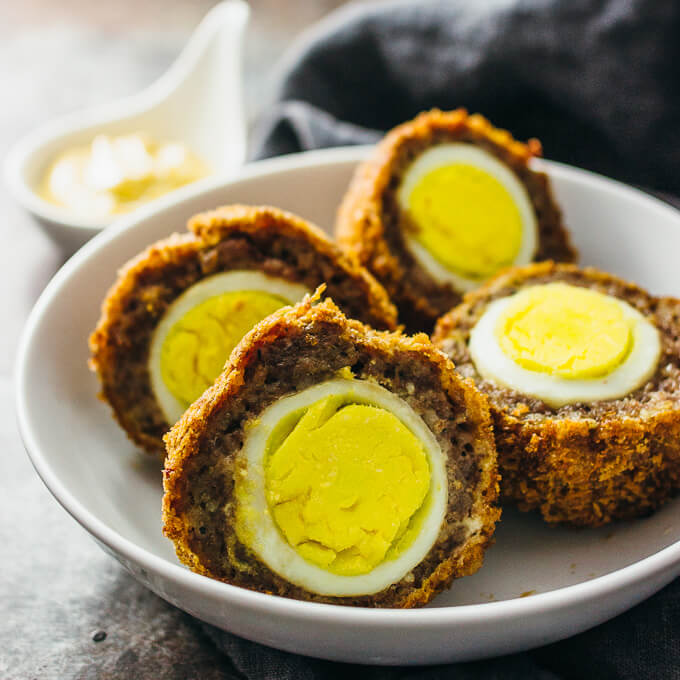 I've promised a few Outlander-obsessed friends by now that I would make and post some Scottish dishes on the blog. First I made this cottage pie, which is the most comforting thing I've eaten all month, and now these scotch eggs. No, you don't have to wait until your next Renaissance Fair to enjoy scotch eggs — these can be easily made at home with some eggs, ground meat, bread crumbs, and flour. Scotch eggs are essentially hard-boiled eggs that have been encased in ground pork and then dipped in flour, an egg wash, and bread crumbs before frying. They are packed with protein and make for a very portable and convenient snack or meal. They're great for picnics and can be made ahead of time.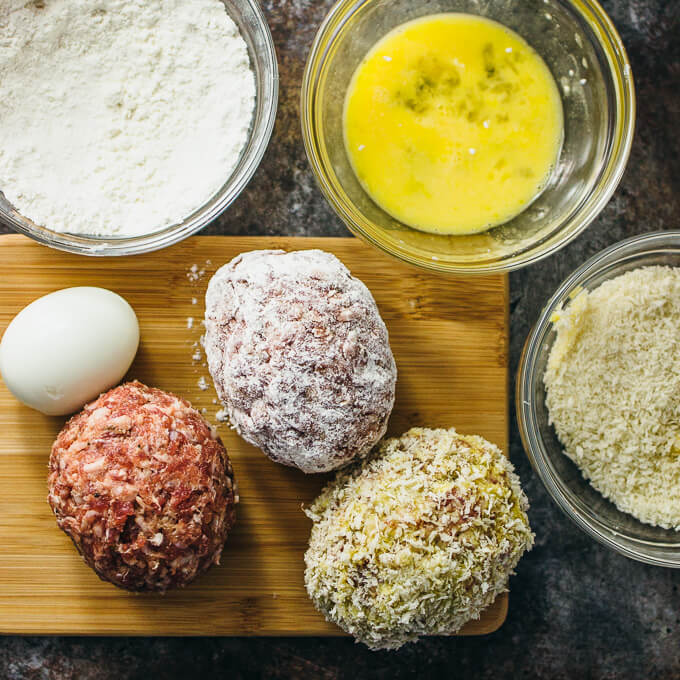 I recommend cooking the scotch eggs by deep frying until the meat reaches an internal temperature of at least 160 F. Alternatively, you can skip the fryer and bake them at 400 F for about 30 minutes or until cooked through. Baking them will still yield a crispy and tasty scotch egg, but you won't get a nice golden crust.
To jazz up these scotch eggs, I prepared a curry mustard dipping sauce. It's a simple sauce concocted from mayonnaise, dijon mustard, and curry powder. It's quite strong and adds a lot of extra flavor.