Note: This is one of my older recipes and is not low carb. Visit my Recipes page for low carb and keto recipes.
Here's my favorite fried rice dish: a spicy Thai fried rice with fresh basil and pineapple. This recipe is vegetarian-friendly and easy to make, and the perfect solution for your Thai fried rice cravings!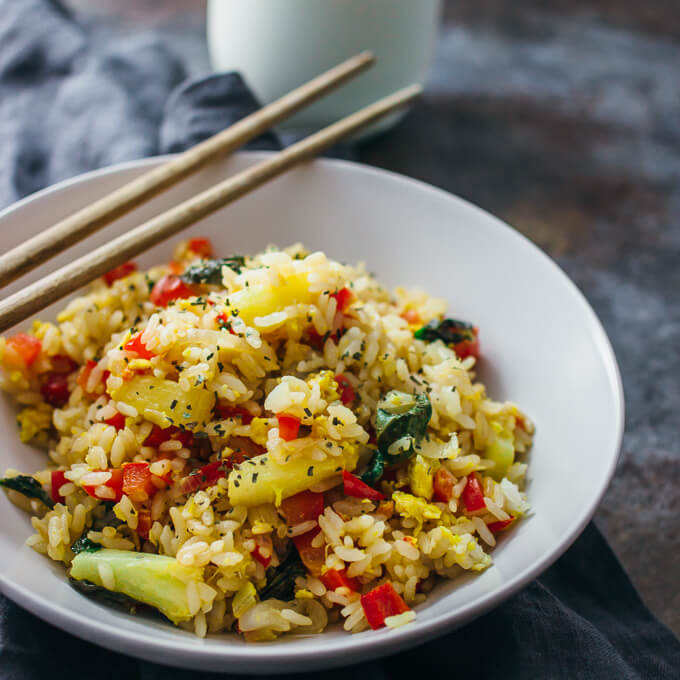 I ate my fair share of fried rice growing up, as my mom cooked almost every night and made an excellent Chinese fried rice with eggs, leftover veggies, and either beef or chicken. When I was in college, I lived on the big island of Hawaii for a summer, where Thai restaurants were EVERYWHERE. My favorite dishes to order were pad see ew with chicken and spicy Thai fried rice with basil. In fact, I would say that the best fried rice that I've ever had were the ones that I had at Thai restaurants.
This recipe for Thai fried rice with basil and pineapples comes pretty close to the authentic fried rice dishes that I had in Thai restaurants in Hawaii. ? You'll also love this dish because
One-pan kind of dinner. Just throw everything in the pan, one ingredient at a time, and stir-fry until done. Easy without much cleanup!
15-minute recipe. Once you get everything chopped up and prepared, it only takes 15 minutes to cook everything over the stove. These fast recipes are great for weeknight dinners.
Vegetarian-friendly! It's also easy to convert this recipe to a vegan one by omitting the eggs.
SPICY. Spicy food is good food, and I recommend adding the suggested amount of chiles to bring the heat.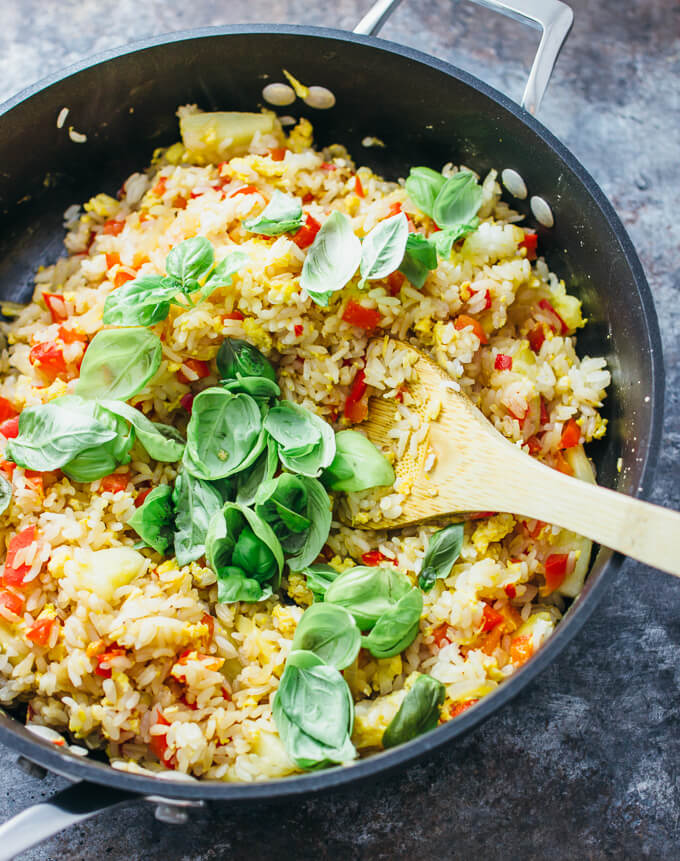 TIP: You'll want all of the ingredients prepared ahead of time and ready to go, because once you start cooking, everything happens pretty fast. I usually have all of my ingredients chopped and sitting in prep bowls, and then I just throw them in the pan when it's their turn.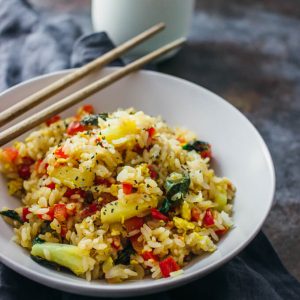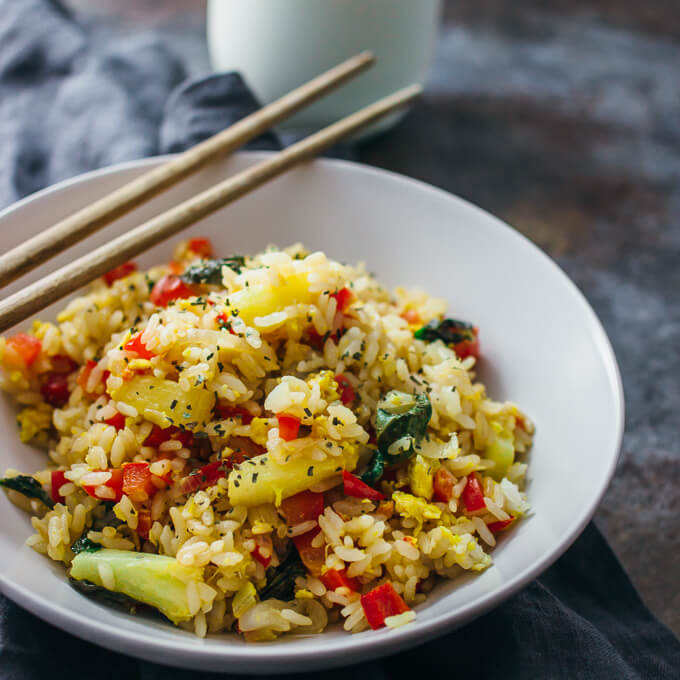 Thai fried rice with basil and pineapple
DESCRIPTION
This recipe is vegetarian-friendly and easy to make, and the perfect solution for your Thai fried rice cravings!
INGREDIENTS
3

cups

cooked white rice

1/2

cup

fresh basil leaves

roughly chopped

1

cup

pineapple chunks

cut into 1/2 to 1 inch pieces

1

large red bell pepper

diced

2

shallots

thinly sliced

2

eggs

2

Thai or serrano chiles

diced

4

garlic cloves

minced

2

tablespoons

soy sauce

1

tablespoon

fish sauce

1

tablespoon

canola oil
INSTRUCTIONS
Heat cooking oil in a large pan over medium heat. Add garlic and chiles, cooking until fragrant, about a minute.

Add pineapple chunks and diced bell pepper to the pan. Cook and stir for a few minutes.

Add shallots to the pan, stirring it in, cooking about a minute. Crack eggs over the pan, immediately scrambling it and mixing it with other ingredients. Cook until the eggs are done, about a few minutes, stirring frequently.

Add cooked white rice. Drizzle soy sauce and fish sauce over the rice. Mix everything together, breaking up any clumps of white rice. Cook until everything is well mixed, the rice is hot, and the pan is dry, about a few minutes.

Remove the pan from the heat. Stir in basil leaves until they are wilted and well mixed. Serve immediately.
Liked this recipe?
Sign up for email updates!