Summary:
Surf and turf is seafood and red meat, commonly in the form of shrimp and steak. This recipe serves up surf and turf in the form of a stir fry, slicing the beef for faster cooking, paired with a bold Asian-inspired sauce.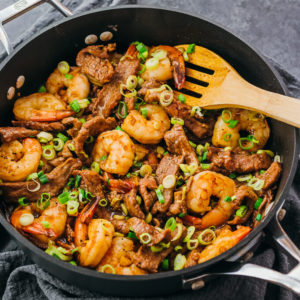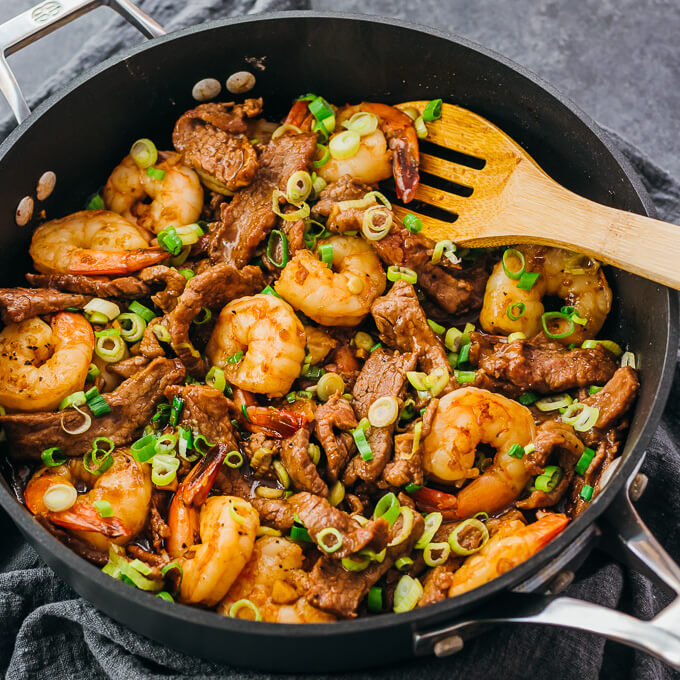 INGREDIENTS
3/4

pound

flank steak (Note 1)

3/4

pound

fresh shrimp

1

tablespoon

corn starch (Note 2)

1

tablespoon

cooking oil

2

scallions, thinly sliced

(3/4 cup)
Sauce:
1/3

cup

low-sodium soy sauce (Note 3)

1

tablespoon

minced fresh ginger

1

tablespoon

minced fresh garlic

1/2

teaspoon

ground black pepper
INSTRUCTIONS
Prepare Steak: If moist, pat steak dry using paper towels. Thinly slice against grain into 1/4 inch thick strips (Note 5), and toss with corn starch in large bowl until well coated. Set aside.

Prepare Shrimp: Peel and remove veins from shrimp. If moist, pat dry with paper towels. Set aside.

Make Sauce: Add all sauce ingredients to small saucepan. Occasionally stirring, bring to simmer over medium-low heat, about 5 minutes. Once simmering, reduce to low heat to keep sauce warm; meanwhile, proceed to next step.

Cook Steak: Heat oil in large wide pan (Note 6) over medium heat for a few minutes or until hot. Add sliced beef to hot pan and cook until mostly browned, a few minutes, stirring frequently. Transfer to plate.

Cook Shrimp: Add shrimp to now-empty pan in single layer. Cook until turning pink around edges, then flip and cook for another minute or until cooked through.

Finish & Serve: Return beef to pan and pour sauce on top. Stir for a minute to let beef and shrimp soak up sauce. Turn off heat. Stir in scallions and serve immediately (Note 7).
NUTRITION
Makes 2 Servings
Amount Per Serving:
| | |
| --- | --- |
| Calories 500 (33% from fat) |   |
| Total Fat 18g | 28% |
|    Saturated Fat 5g | 26% |
| Cholesterol 259mg | 86% |
| Sodium 2130mg | 89% |
| Net Carb 10g |   |
| Total Carb 10g (Note 8) | 3% |
|    Dietary Fiber 0g | 0% |
|    Sugars 2.5g |   |
| Protein 63g |   |
PHOTOS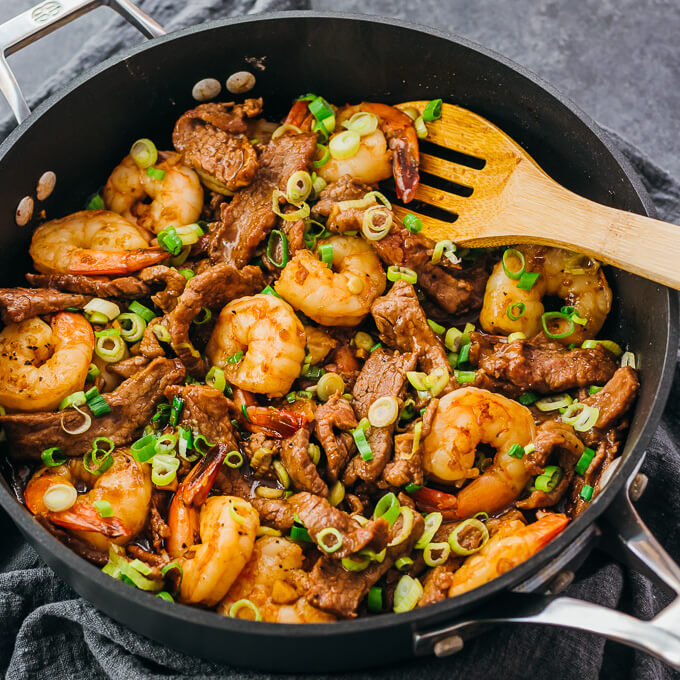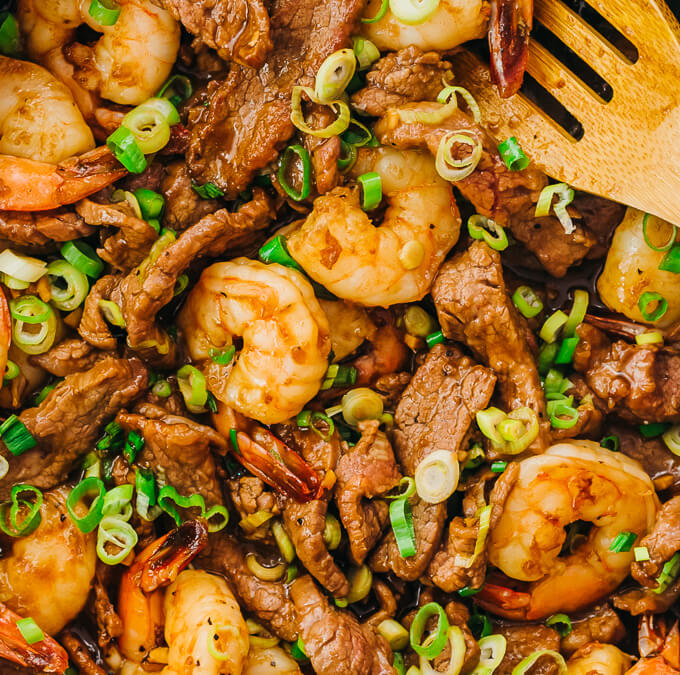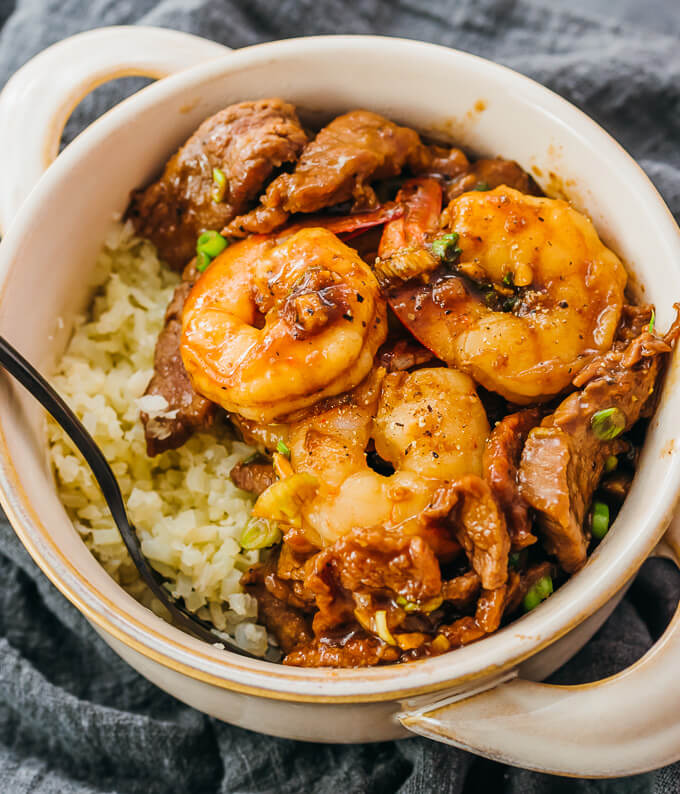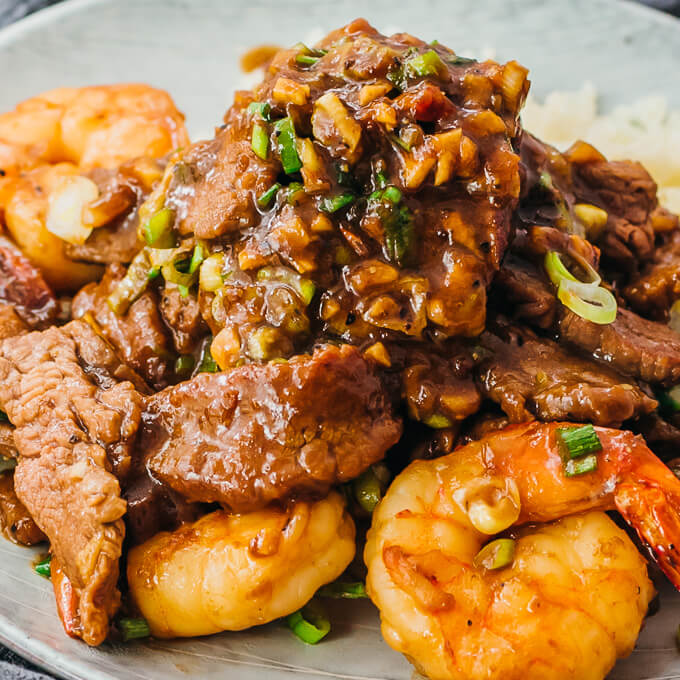 NOTES & TIPS
(1) Flank Steak. Choose a cut like flank steak or better. Avoid buying pre-cut beef strips at the grocery store because they're usually sliced too thick. You want 1/4 inch or thinner slices because they will be more tender and less likely to overcook.
(2) Corn Starch. Tossing the raw beef slices with corn starch will help the beef retain its moisture when cooking, making it more tender. Since corn starch isn't used in this recipe for the purposes of thickening a sauce, it can't be substituted with xanthan gum.
(3) Soy Sauce. I use low sodium soy sauce by brands like Kikkoman or Trader Joe's. Avoid regular soy sauce, which will be too salty. "Light soy sauce" refers to color and is not the same as "low sodium soy sauce." If you follow a gluten-free diet, substitute with coconut aminos.
(4) Sweetener. I use granular Swerve to sweeten the sauce; it's a zero calorie and zero net carb sweetener. You can also use sugar or another sugar substitute.
(5) Slicing Steak. To slice against the grain, identify long muscle fibers in the steak and slice perpendicular to those lines. Make sure that they are very thin slices, about 1/4 inch thick. Avoid thicker slices, which will be too chewy.
(6) Large Pan. Select a pan at least 10 inches in diameter, which should be sufficiently large to hold all of the ingredients. I use a nonstick pan.
(7) Serving. Given the strong flavors in the sauce, I recommend pairing this dish with a plain side dish to balance it out. Fried cauliflower rice, spiralized zucchini noodles, or roasted vegetables are all great ideas. They'll also help soak up extra sauce.
(8) Carbs. The nutrition calculation assumes you are using Swerve as the sweetener, whose carbs are non-impact and therefore not included in the nutrition estimate. Apps that count sugar alcohols will show a higher number of carbs.