Summary:
Here's an easy and healthy recipe for banana bread with chocolate chips and walnuts! This banana bread is wonderfully moist on the inside and has a nice crunchy golden crust on the outside.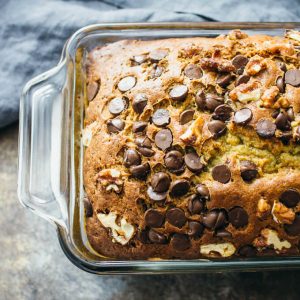 Banana bread with chocolate chips and walnuts
INSTRUCTIONS
Mix flour, baking soda, and salt in a mixing bowl.

Mix canola oil, sugar, and eggs in a separate mixing bowl.

Combine the dry ingredients in Step 1 with the wet ingredients in Step 2. Mix well.

Add bananas and stir until the dry ingredients are moist. Depending on how ripe your bananas are, you may need a hand mixer to help out.

Add 1/2 cup chocolate chips and 1/2 cup walnuts, gently folding them in.

Preheat the oven to 325 F.

Pour the mixture into a greased 9×5 inch loaf pan. Sprinkle 1/4 cup chocolate chips and 1/4 cup walnuts on top.

Bake until the top is browned and a toothpick tester comes out clean in the center, about 75 minutes. Let cool. Run a knife around the inside of the pan to release the banana bread.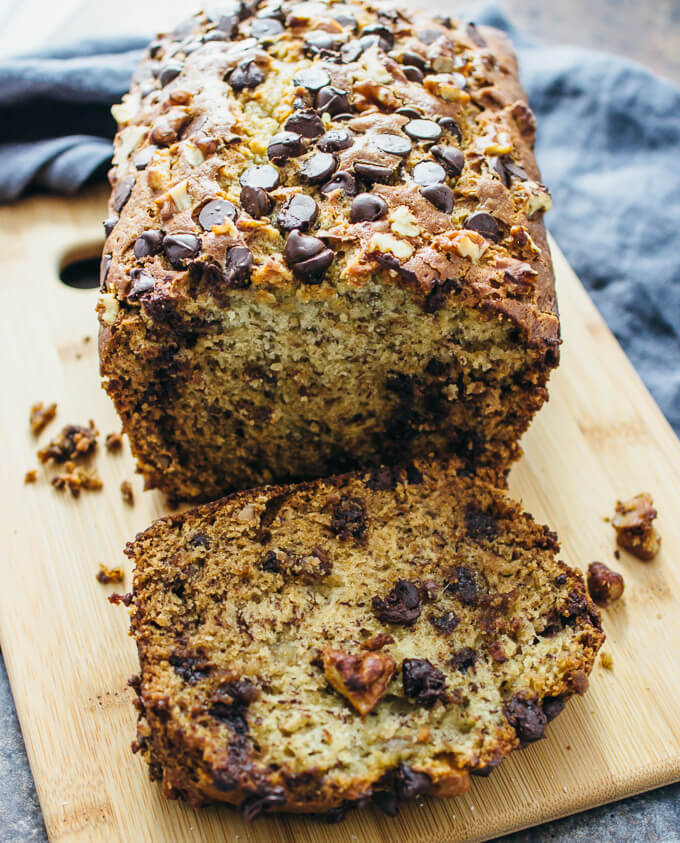 It's always a big treat for Mr. Savory Tooth when I make sweet dishes! Last time I made dessert was more than 2 months ago. It's rare that I make desserts, since I'm almost always making savory dishes. One of Mr. Savory Tooth's favorite desserts is banana bread, which I also really love to eat. Yesterday, I surprised him by making banana bread (he thought he was coming home to a savory dinner involving potatoes) and it was a look of pure delight on his face when he saw the banana bread siting in its loaf pan. It almost makes me feel bad that I don't make desserts more often!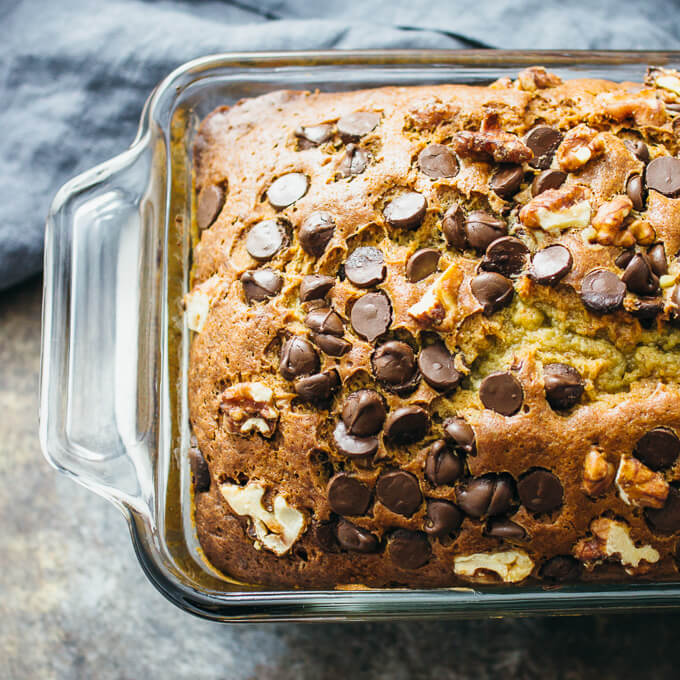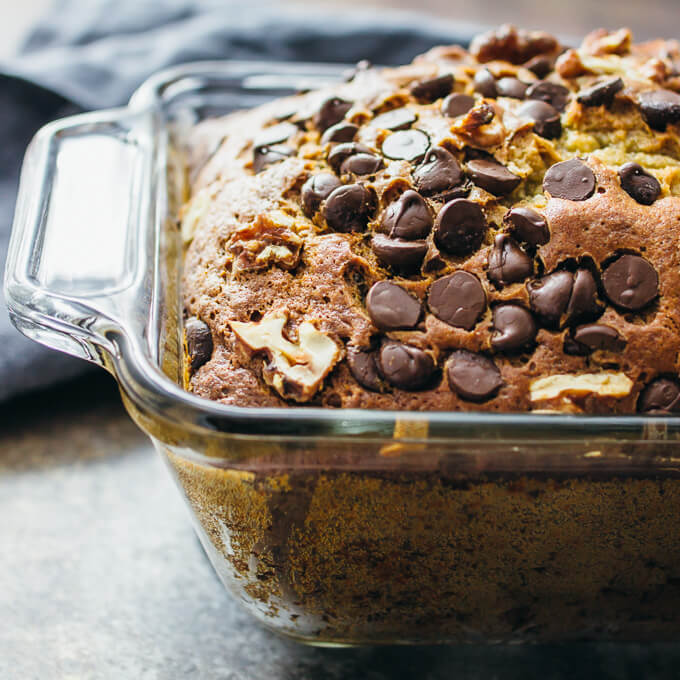 Banana bread is one of those recipes that is so EASY to make at home. Ever since I made it for the first time, I haven't ever eaten store-bought banana bread because it's so easy and fun to make at home. And it makes my place smell delicious.
This particular recipe is a family recipe from my cousin's mother-in-law. It was one of those old family recipes printed on really old yellowed paper with coffee stains all over it. I love those kinds of recipes. ? I've tweaked the original recipe a bit, and also added walnuts (Mr. Savory Tooth's suggestion from a previous time when I made it without walnuts, to his horror) and chocolate chips (yum!). There are so many other delicious things that you can add to banana bread such as lemon zest, cinnamon, blueberry, nutella — but I try to keep these extra flavors to a minimum so that the banana flavor can really stand out and shine.
My favorite part of the dish? The TEXTURE! I love the top crust; it's all so crispy and crunchy. And then the inside of the banana bread is very moist and just perfect.
TIP: Making banana bread is easiest when you use bananas that are REALLY RIPE. If yours aren't that ripe, don't despair — use a hand mixer to help you mash up the bananas with the other ingredients.