Summary:
This is a quick stir fry dinner with tender beef slices, shredded carrots, and scallions. Chopped peanuts add a nice crunch, and a flavorful peanut butter sauce ties it all together.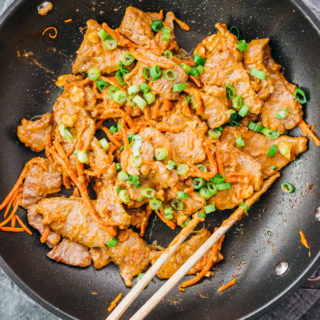 INGREDIENTS
3/4

pound

flank steak beef

1/2

cup

shredded carrots (Note 1)

2

tablespoons

chopped peanuts

2

scallions, thinly sliced

1

tablespoon

cooking oil

2

teaspoons

corn starch (Note 2)
INSTRUCTIONS
Prepare Beef: Pat beef dry with paper towels if wet. Cut into thin 1/4-inch slices against grain (Note 4). Add beef to large mixing bowl, and evenly sprinkle corn starch over beef. Toss together until beef is well-coated. Set aside.

Make Sauce: Add all peanut sauce ingredients to small bowl and vigorously stir until very smooth. While stirring, sauce will initially appear clumpy, but will quickly develop smooth consistency. Set aside.

Cook Carrots: Heat oil in large nonstick pan (Note 5) over medium heat. Add carrots and cook until softened, a few minutes, stirring occasionally.

Cook Beef: Add beef to pan with carrots. Cook until beef is mostly browned with little pink remaining, a few minutes, spreading well and flipping slices to brown all sides. Tongs or chopsticks may be useful for this.

Add Sauce: Add peanut sauce and peanuts to pan, stirring everything together for a minute until beef and carrots are evenly coated with sauce. Turn off heat.

Serve: Briefly stir in sliced scallions. Serve immediately (Notes 6-7).
NUTRITION
Makes 2 Servings
Amount Per Serving:
| | |
| --- | --- |
| Calories 550 (54% from fat) |   |
| Total Fat 33g | 51% |
|    Saturated Fat 7g | 35% |
| Cholesterol 109mg | 36% |
| Sodium 410mg | 17% |
| Net Carb 10g |   |
| Total Carb 14g | 5% |
|    Dietary Fiber 4g | 16% |
|    Sugars 5g |   |
| Protein 46g |   |
PHOTOS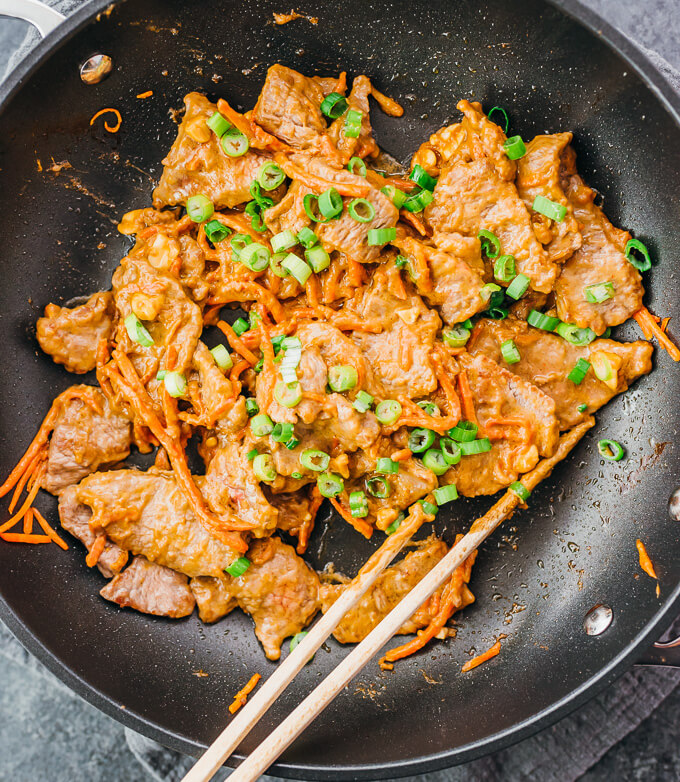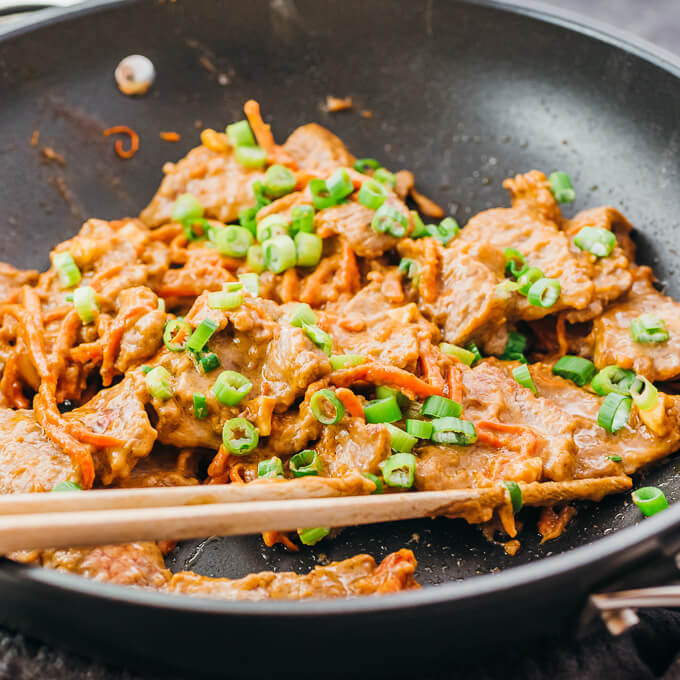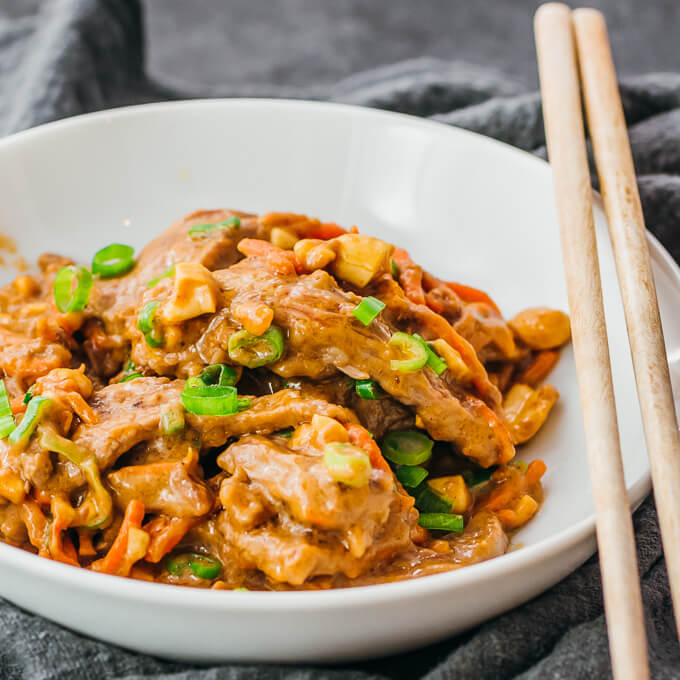 NOTES & TIPS
(1) Carrots. About 2 ounces weight. I use packaged pre-shredded carrots, usually found in the refrigerated produce section of U.S. grocery stores. They can be substituted with other vegetables; see Note 8 below.
(2) Corn Starch. Corn starch is primarily used to tenderize the beef, and has an added effect of providing a nice glossy finish to the sauce. I don't recommend substituting with xanthan gum, which doesn't have the same tenderizing effect and often turns sauces into an unappetizing gooey mess. Two teaspoons of corn starch contribute 5 grams of net carbs for the whole recipe, or 2.5 grams per serving.
(3) Sriracha. I use the brand Huy Fong. You can substitute with another chili garlic sauce or your favorite hot sauce.
(4) Slicing Beef. Slice to 1/4-inch thickness or thinner. The thinner the beef, the more tender it will be, and the less time it will take to sear on the stovetop. Slice against the grain by identifying long muscle fibers and slicing perpendicular to them, which means less work for your teeth and more tender beef.
(5) Pan. I use a large 12-inch nonstick pan, as photographed here. Avoid cast iron pans because they have high heat retention, which can result in overcooked beef if it isn't promptly transferred to serving plates.
(6) Serving. Transfer stir-fry promptly to serving plates to avoid overcooking the beef. This meal is best enjoyed hot and immediately after cooking. Serve alongside a refreshing appetizer like Asian cucumber salad, or a side dish like fried cauliflower rice or spiralized zucchini noodles to help sop up the peanut sauce. Consider serving extra toppings on the side, like additional sliced scallions or chopped peanuts for extra crunch.
(7) Leftovers. Cover and refrigerate leftovers for up to 2 days, and reheat using the microwave.
(8) Stir Fry Variations. This recipe is a good basic template for beef stir fry. You can expand on it by adding your favorite stir-fry veggies, such as sliced bell peppers, chopped zucchini, broccoli florets, sliced onions, shredded cabbage, baby spinach, chopped asparagus, sliced mushrooms, and/or leafy Asian greens like Chinese broccoli or bok choy. The key is to add the vegetables in the correct order. The ones that take the longest to cook should be added first, and so forth.