Summary:
A quick stir fry dinner with tender beef slices, shredded carrots, and scallions tossed with a flavorful peanut sauce. For more stir fry meals, visit Asian Takeout Dinners.
Beef Stir Fry With Peanut Sauce
INGREDIENTS
3/4

pound

flank steak beef

2

ounces (weight)

shredded carrots

2

tablespoons

chopped peanuts

2

thinly sliced scallions

1

tablespoon

cooking oil

2

teaspoons

corn starch
INSTRUCTIONS
Pat beef dry with paper towels if wet. Cut into thin 1/4-inch slices against the grain (perpendicular to muscle fibers).

In a large mixing bowl, add beef slices and evenly sprinkle corn starch over the beef. Toss together until the beef is well-coated with corn starch. Set aside.

In a small bowl, add all peanut sauce ingredients and vigorously stir until very smooth. As you stir, the sauce will initially appear clumpy, but will quickly combine to form a smooth texture. Set aside.

Heat oil in a large nonstick pan over medium heat. Add carrots and cook until softened, a few minutes, stirring occasionally.

Add beef to the pan. Cook until the beef is mostly browned, as you spread and turn the slices to brown all sides (tongs or chopsticks are useful for this). It should only take a few minutes; a little pink on the beef is okay.

Add peanut sauce and peanuts, stirring everything together for a minute until the beef and carrots are evenly coated with sauce.

Turn off the heat. Briefly stir in sliced scallions. Serve immediately onto plates.
NUTRITION
Makes 2 Servings
Amount Per Serving:
| | |
| --- | --- |
| Calories 550 |   |
| Total Fat 33g | 51% |
|    Saturated Fat 7g | 36% |
| Cholesterol 109mg | 36% |
| Sodium 410mg | 17% |
| Net Carb 10g |   |
| Total Carb 14g | 5% |
|    Dietary Fiber 4g | 16% |
|    Sugars 5g |   |
| Protein 46g |   |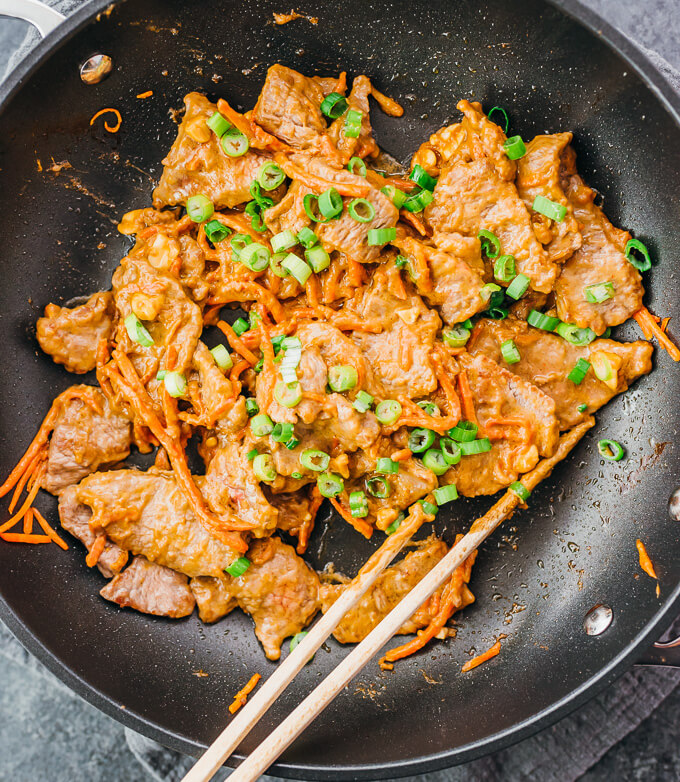 Perfectly Tender Stir Fry Beef
My top tips for making tender stir fry beef include:
Select an appropriate cut of beef. Flank steak is recommended; less premium cuts may result in tough beef.
Slice against the grain or muscle fibers, which results in less work for your teeth.
Cut thin slices, 1/4 inch or less, means more tender and less chewy beef.
Toss the beef with corn starch before cooking, to keep the beef moist. This can't be substituted with xanthan gum or other thickeners.
Avoid overcooking by very briefly searing on a hot pan.
This recipe moves fast once you start cooking, and the beef can easily overcook and become tough if you let it sit while you grab some last-minute ingredients. Have everything prepared ahead of time, and any tools like spatulas or utensils handy.
I use a large 12-inch nonstick pan (as photographed). I would avoid cast iron pans because they have high heat retention, meaning that your beef will still be cooking in the pan after you turn off the stove. This can result in overcooked beef if you don't promptly transfer it to serving plates.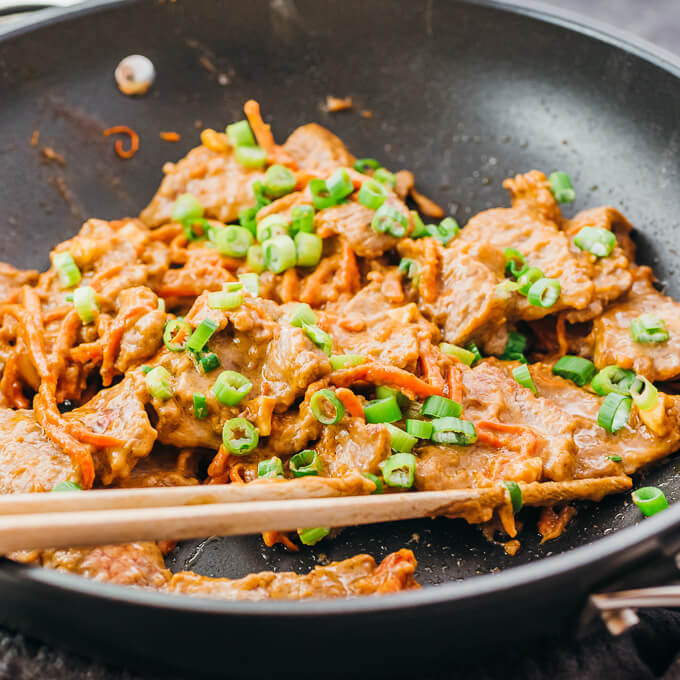 Stir Fry Variations
This recipe is a good basic template for a beef stir fry. You can expand on it by adding your favorite stir-fry veggies, such as:
sliced bell peppers
chopped zucchini
broccoli florets
sliced onions
shredded cabbage
baby spinach
chopped asparagus
sliced mushrooms
leafy Asian greens like Chinese broccoli or bok choy
The key is to add the vegetables in the correct order. The ones that take the longest to cook should be added first, and so forth.
Many vegetables release a lot of liquid as they cook, such as zucchini. If that's the case, the beef should be seared first, then transferred to a plate, and veggies cooked afterwards. After the veggies are done, return the beef to the pan and toss everything with the sauce.
Servings & Leftovers
You can enjoy this stir fry with a refreshing appetizer like Asian Cucumber Salad. Low carb sides include cauliflower rice, plain or flavored (see Bacon Kimchi Cauliflower Fried Rice), or spiralized zucchini noodles to help sop up the peanut sauce. Many U.S. supermarkets offer pre-riced or pre-spiralized bags in the refrigerated produce section for convenience.
You may also want to serve extra toppings on the side, like additional sliced scallions or chopped peanuts for an extra crunch.
This meal is best enjoyed hot and immediately after cooking. If you have leftovers, they can be covered and refrigerated, and reheated in the microwave.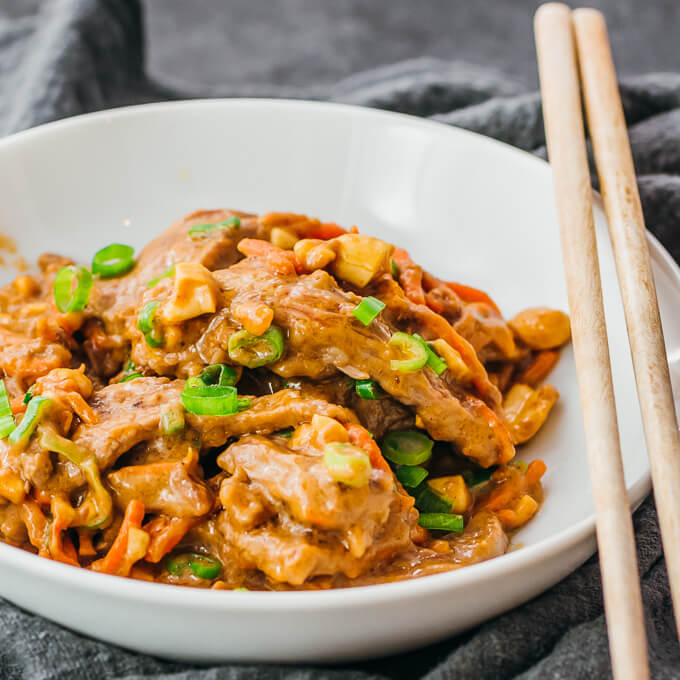 More Stir Fry Recipes