Summary:
This is a simplified recipe for mapo tofu, a popular Chinese dish with tofu, ground meat, and a bold spicy sauce. You only need one pan and less than 30 minutes to prepare and cook this meal. The unique sauce is the highlight of this dish, with strong flavors of chili, bean paste, and garlic.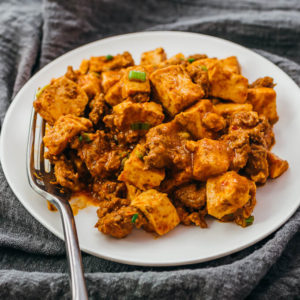 INGREDIENTS
16

ounces

firm tofu, drained, cut into 3/4-inch cubes

8

ounces

ground beef (Note 1)

3

scallions, sliced
INSTRUCTIONS
Blend Sauce: Blend all sauce ingredients in blender until smooth and brown (Note 4). Set aside, along with rubber spatula.

Cook Beef & Tofu: Add beef to pan (Note 5) over medium heat. Crumbling beef with stiff utensil, cook until browned, a few minutes. Keeping everything in pan, add tofu cubes. Cook for about 5 minutes, stirring occasionally.

Add Sauce: Add sauce to pan, using spatula to scrape down sides of blender. Stir until tofu and beef are well-coated with sauce, about 1 minute. Bring to simmer, and cook until sauce is thickened a bit, about 1 minute, stirring occasionally. Turn off heat.
NUTRITION
Makes 3 Servings (Note 8)
Amount Per Serving (1.5 cups):
| | |
| --- | --- |
| Calories 500 (65% from fat) |   |
| Total Fat 36g | 55% |
|    Saturated Fat 6g | 31% |
| Cholesterol 66mg | 22% |
| Sodium 1520mg | 63% |
| Net Carb 7g |   |
| Total Carb 9.5g | 3% |
|    Dietary Fiber 2.5g | 9% |
|    Sugars 0.5g |   |
| Protein 38g |   |
PHOTOS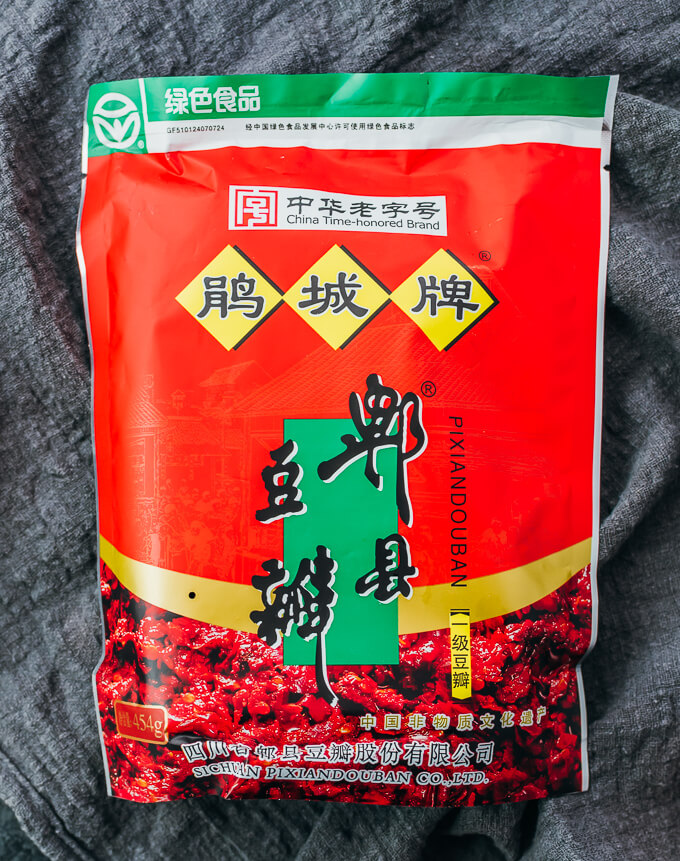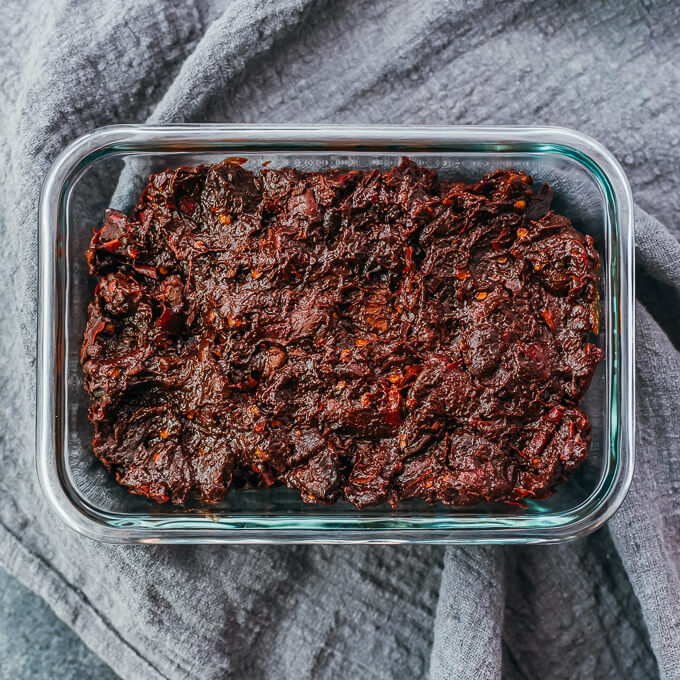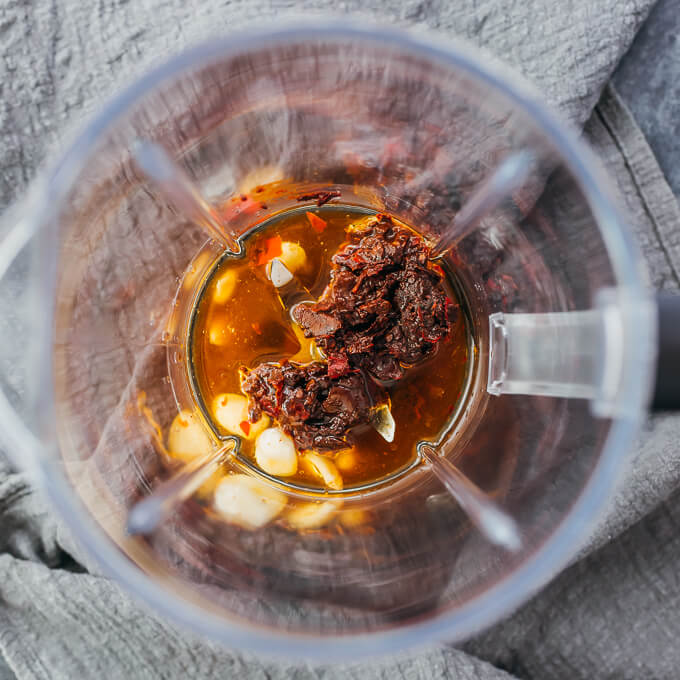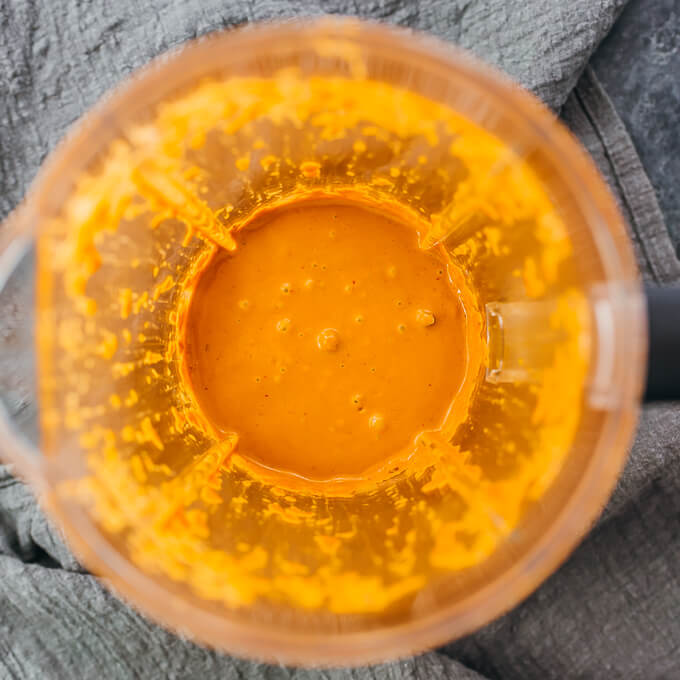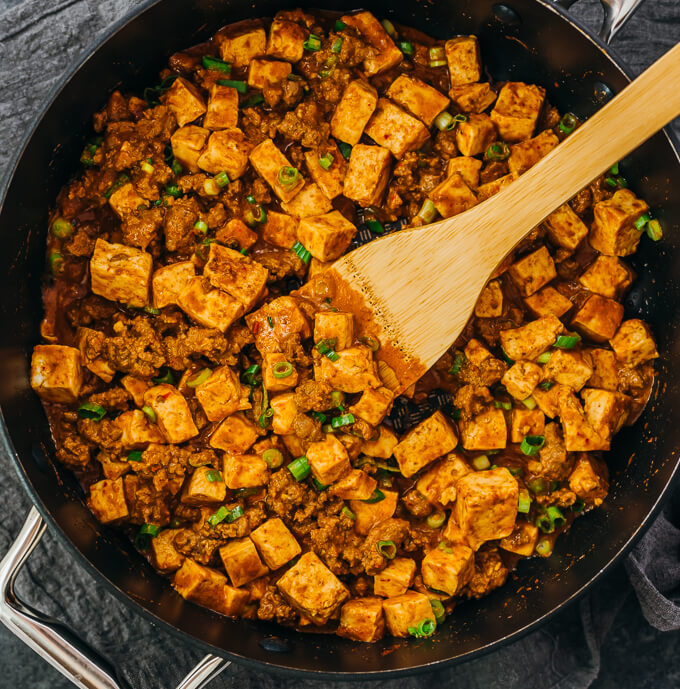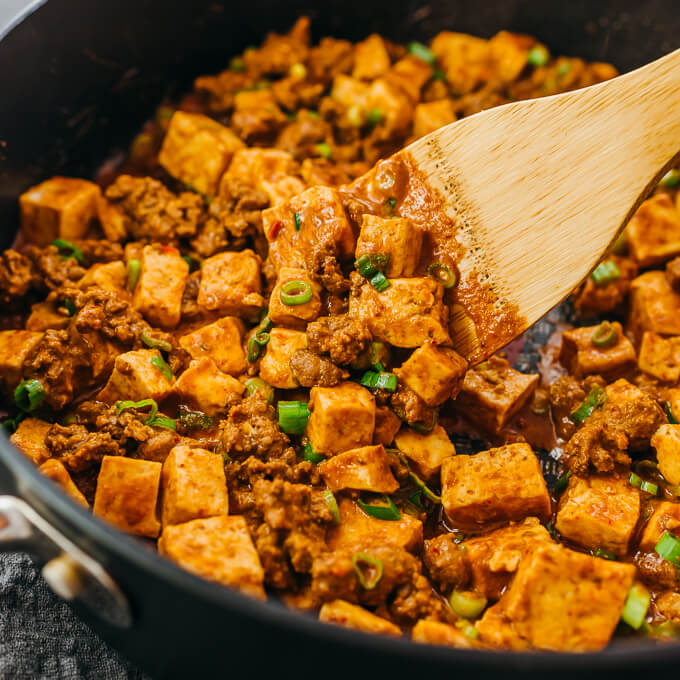 NOTES & TIPS
(1) Ground Beef. I use 85% lean ground beef. For an extra meaty dish, use up to 1 pound of meat. You can substitute with other ground meats like pork if you don't mind the taste; personally, I don't like using pork in mapo tofu because the pork flavor is too prominent in the finished dish. For extra tender meat (and if you don't mind the extra carbs), toss the raw meat with 1 tablespoon of corn starch before browning it on the pan. For vegetarians and vegans, omit the meat entirely, or substitute with chopped mushrooms or plant-based meat.
(2) Broad Bean Paste. Also called doubanjiang or toban djan, this is an Asian fermented chili paste composed of red peppers, broad bean, salt, and wheat flour. It's very salty and gives mapo tofu a characteristic taste that can't be easily replicated with other ingredients. Since this paste is spicy, it's not necessary to add chili peppers to the sauce; the amount listed in the recipe results in a mild to moderately spicy dish. I buy broad bean paste from the brand Pixian on Amazon, and it lasts for a few months in an airtight container in the refrigerator.
(3) Cooking Oil. To avoid overwhelming other flavors in the dish, use a cooking oil that is neutral in taste, like avocado oil or canola oil.
(4) Blending Sauce. I use a Nutribullet personal blender and it takes 10 to 20 seconds of blending until the sauce is smooth with a uniform brown color. The sauce should be thick, but pourable. You can blend in an extra tablespoon of water for a thinner sauce, or an extra tablespoon of broad bean paste for a thicker, spicier, and saltier sauce.
(5) Pan. I use a 10-inch wide nonstick pan. The pan does not need to be oiled nor heated before adding the beef.
(6) Serving. While mapo tofu is traditionally served over steamed white rice, I recommend enjoying it by itself or with plain fried cauliflower rice for a low carb meal. Mapo tofu would also go well with an Asian cucumber salad or a simple green salad with ginger dressing.
(7) Leftovers. Cover and store in the refrigerator for up to 2 days. Reheat in the microwave or on the stovetop until warmed.
(8) Increasing Yield. To increase the number of servings, double all of the ingredients. You might need to use a larger 12-inch pan and a higher heat level during cooking.