Summary:
Easily make a hearty butternut squash chili in just 30 minutes on the stovetop. Chili is a great way of incorporating this seasonal squash into your meals, and perfect for vegetarians and vegans alike.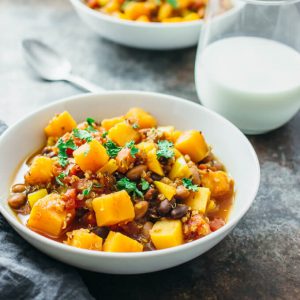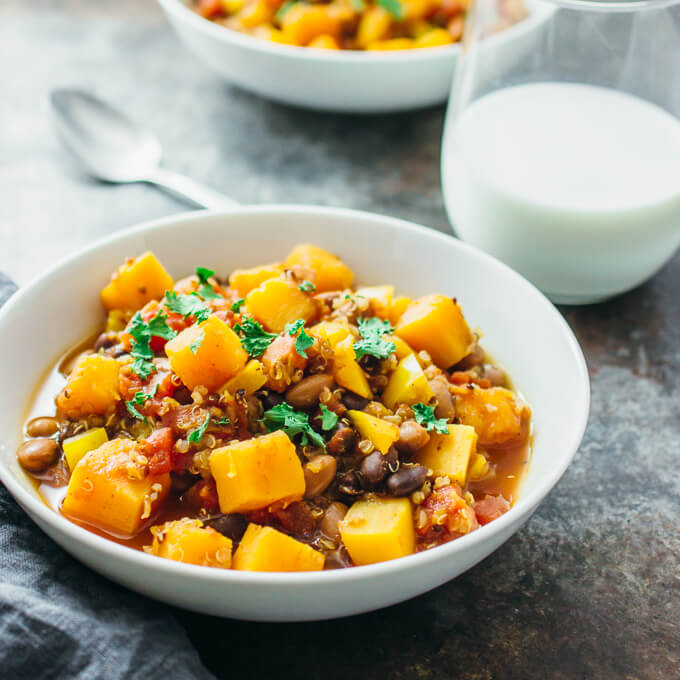 INGREDIENTS
2

pounds

butternut squash, peeled and diced into 1/2-inch chunks (Note 1)

28-ounce can

diced tomatoes

15-ounce can

black beans, drained

15-ounce can

pinto beans, drained

1.5

cups

vegetable broth, plus 2 tablespoons for sautéing

1

cup

cooked quinoa

1

yellow bell pepper, diced

2

chipotle peppers in adobo, chopped

5

cloves

garlic, minced

1.5

teaspoons

paprika

1/2

teaspoon

ground cinnamon

1/4

teaspoon

table salt

1/4

teaspoon

ground black pepper
INSTRUCTIONS
Sauté: Heat 2 tablespoons vegetable broth in large pot (Note 2) over medium heat. Add garlic, chipotles, and butternut squash to pot, cooking for about 10 minutes, stirring occasionally. Add more vegetable broth if pot gets dry. Add bell pepper, cooking for another 5 minutes.

Simmer: Add black beans, pinto beans, diced tomatoes (including liquid in can), 1.5 cups vegetable broth, quinoa, and all spices (paprika, cinnamon, salt, pepper). Stir well. Bring to simmer. Simmer uncovered for 10 minutes or until butternut squash is tender. Serve (Notes 3-4).
NUTRITION
Makes 5 Servings
Amount Per Serving:
| | |
| --- | --- |
| Calories 300 (7% from fat) |   |
| Total Fat 2g | 4% |
|    Saturated Fat 0g | 2% |
| Cholesterol 0mg | 0% |
| Sodium 930mg | 39% |
| Net Carb 42g |   |
| Total Carb 61.5g | 21% |
|    Dietary Fiber 19.5g | 77% |
|    Sugars 11g |   |
| Protein 14g |   |
PHOTOS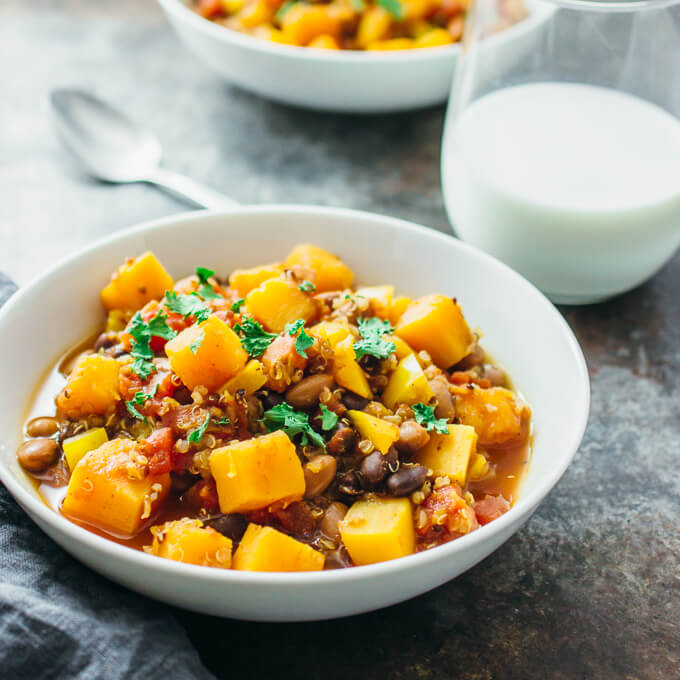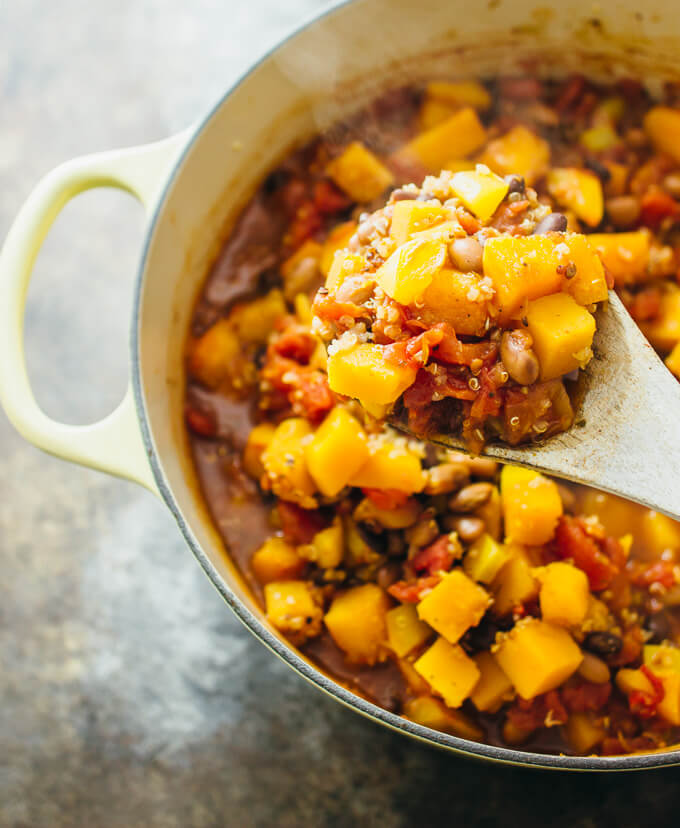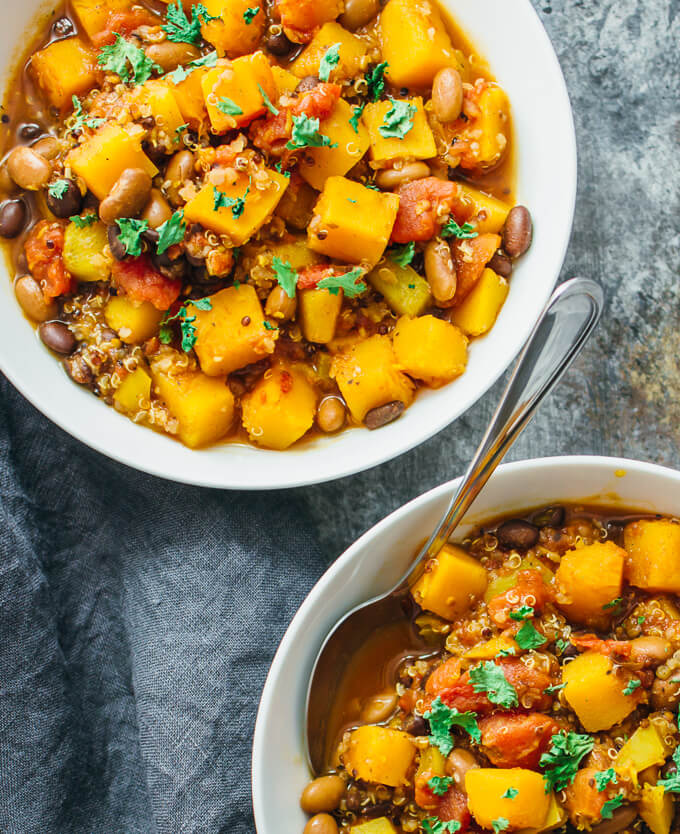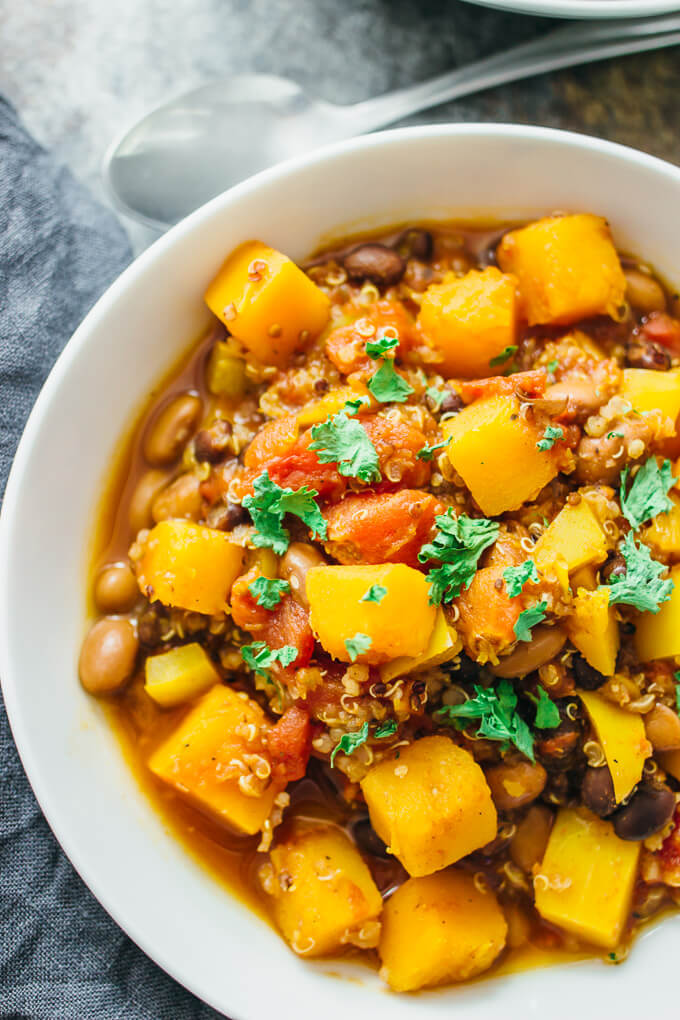 NOTES & TIPS
(1) Butternut Squash. The listed weight refers to its raw, unprocessed state. Since squash sizes may vary, two pounds can be either 1 small butternut squash or half of a large butternut squash. Use the scale at your grocery store to select a suitable squash.
(2) Pot. Use a 5-quart or larger sturdy pot, such as a dutch oven.
(3) Serving. Serve butternut squash chili in a bowl, garnished with cilantro. Add toppings as desired, such as chopped avocado, tortilla chips, shredded cheese, or sliced scallions. Serve with sides such as jalapeño cornbread.
(4) Leftovers / Make Ahead. Leftovers or chili made ahead of time can be stored in an airtight container in the refrigerator for up to 3 days. Reheat in the microwave or on the stovetop until warmed through.