Summary:
This is an easy recipe for gingerbread biscotti that doesn't use any butter. After baking, the biscotti is partially coated in melted dark chocolate and sprinkled with sea salt.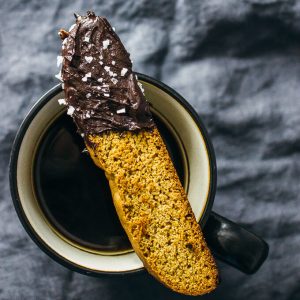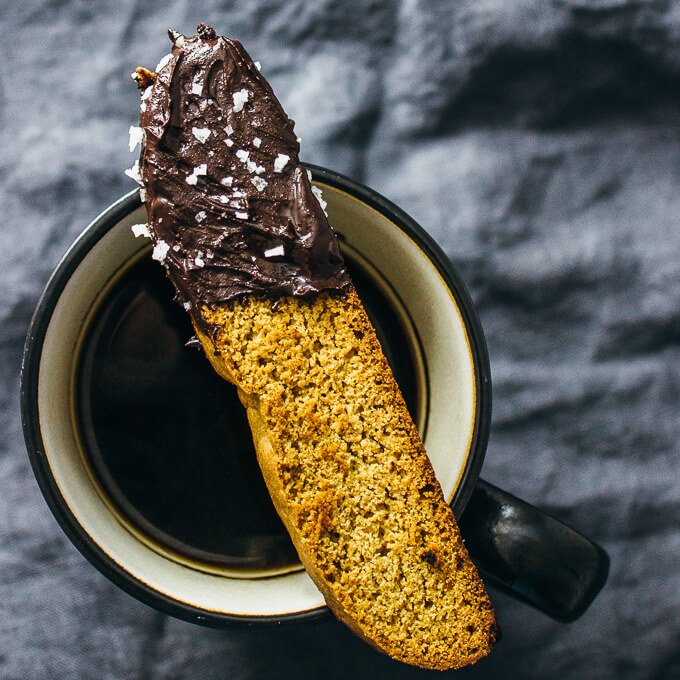 Gingerbread biscotti with chocolate and sea salt
INGREDIENTS
For chocolate coating: (optional)
INSTRUCTIONS
Prepare 2 greased baking sheets.

Combine and mix brown sugar, canola oil, and eggs in a bowl until well-mixed. Combine and mix the flour, baking powder, and gingerbread spices in a separate bowl until well-mixed.

Combine and mix the contents of the two bowls. Form a dough. Divide the dough into two pieces. Place a piece on each baking sheet, and flatten them out into rectangles, about 4 inches wide and 1/2 inch thick.

Bake at 375 F until golden brown, about 15-20 minutes. Without cooling, slice them into 1/2 inch slices and flip them on their sides. Return them to the oven to bake until lightly toasted, about 5 minutes. Then repeat for the other side of each biscotti. When done, let them cool while you prepare the chocolate coating.

Optional: Melt the butter and sugar together in a bowl in the microwave. Stir in the cocoa powder until smooth. Spread onto one end of each biscotti and then sprinkle with sea salt to taste.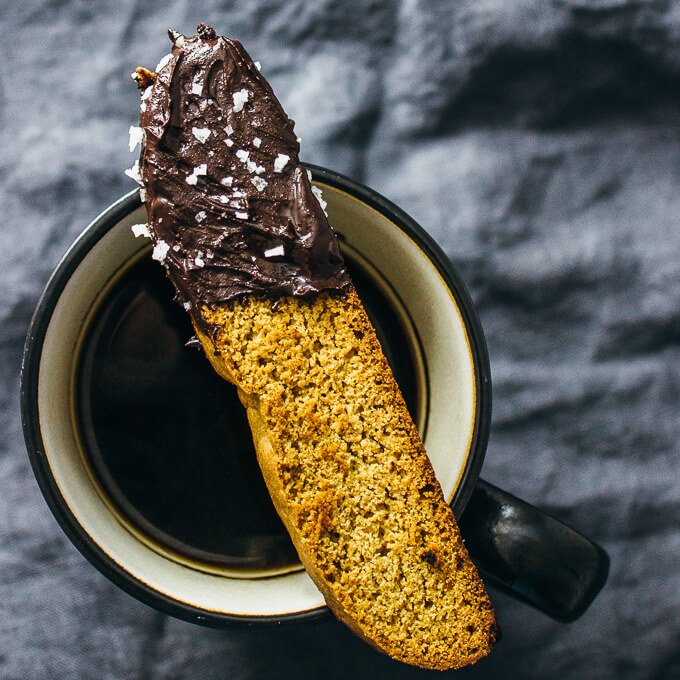 This gingerbread biscotti has a crunchy and dry texture and is not very sweet. The strongest flavor is that of gingerbread — here, I've incorporated equal parts crushed cloves, ginger, cinnamon, and nutmeg. The dark chocolate and sea salt are completely optional — the biscotti tastes great with or without it, so feel free to omit if you are looking for a simple and basic biscotti.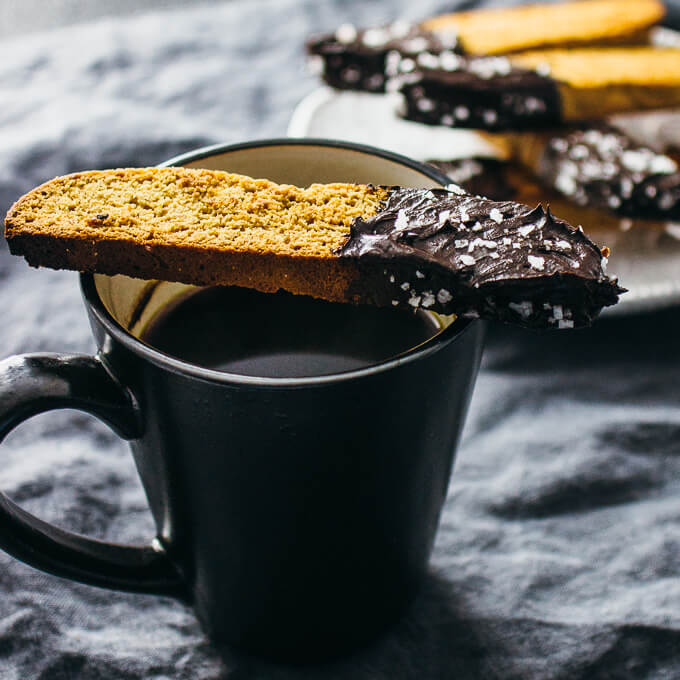 I've been thinking about making biscotti for awhile. Mr. Savory Tooth loves having biscotti with his morning coffee, so I was planning to develop a fall/winter themed biscotti recipe. Maybe pumpkin or cranberry. Then a few days ago, I realized that I actually had everything in my pantry to make gingerbread biscotti. There was no need for any grocery store trips; after all, you can make basic biscotti with just 5 ingredients: flour, sugar, vegetable oil, baking powder, and eggs. Chances are, you probably have all of these ingredients as well. In addition, I already had all of the necessary gingerbread spices thanks to my well-stocked spice cabinet. You can play around with the spices and flavorings, and some tasty additions include vanilla extract, lemon flavoring, or sliced almonds. The possibilities are endless when customizing the basic biscotti recipe.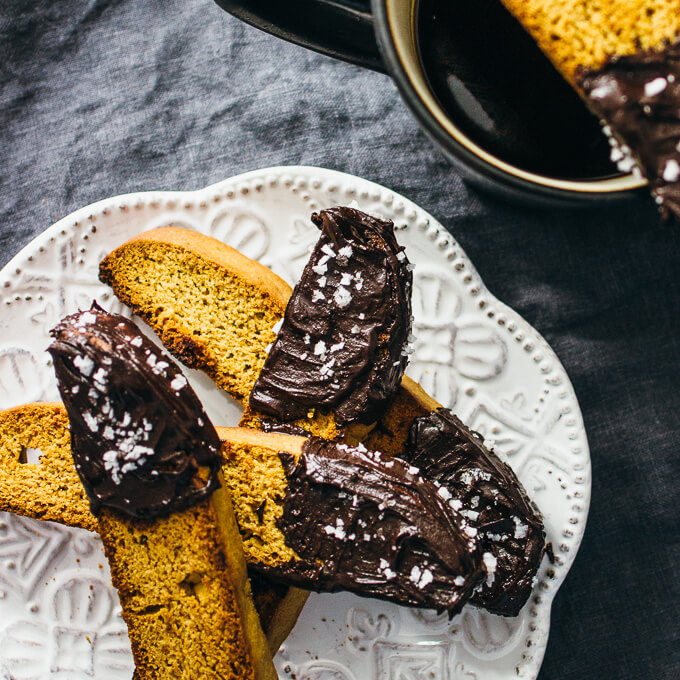 I usually eat biscotti with a hot drink like a cozy mug of hot chocolate. I've also enjoyed it as a snack by itself when I'm looking for something that's crunchy and only slightly sweet.