Summary:
This lemon chicken piccata is served with capers in a creamy butter sauce. It's a keto, low carb 30-minute one-pan dinner.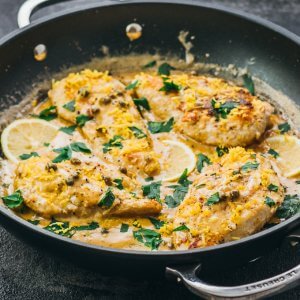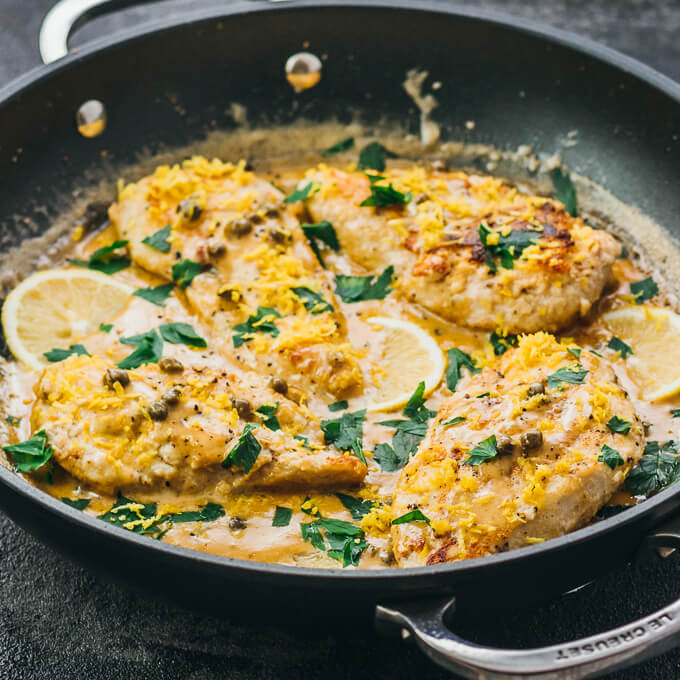 Lemon Chicken Piccata with Capers
INGREDIENTS
2

boneless skinless chicken breasts

1/2

cup

heavy whipping cream

1/4

cup

blanched almond flour

1/4

cup

capers

drained

4

tablespoons

salted butter

divided

2

tablespoons

olive oil

2

lemons

zested and juiced (1/4 cup lemon juice)

2

tablespoons

freshly chopped parsley
INSTRUCTIONS
Slice the chicken breasts in half along the length to make them thinner. Pat dry with a paper towel. Season both sides of each chicken breast with salt and pepper.

Prepare a shallow plate containing almond flour. Place each chicken breast in the flour to coat both sides and shake off the excess.

In a wide nonstick pan, add olive oil and 2 tablespoons of butter over medium heat, stirring until the butter is melted and the pan is hot.

Add chicken breasts in a single layer. Cook until each side is golden brown, about 5 minutes per side. When the chicken is cooked through, transfer to a plate. Work in batches if your pan is not large enough to hold them all at once.

Reduce to low heat. Add heavy cream, 1/4 cup lemon juice, and capers. Stir everything together, scraping up any bits that have stuck to the pan.

Increase heat to bring to a simmer. Add salt and pepper to taste. Stir in remaining 2 tablespoons of butter until melted.

Transfer the chicken back to the pan and simmer for about 5 minutes.

Remove the pan from heat. Top with chopped parsley and lemon zest. Optionally garnish with additional lemon slices. Serve while hot.
NUTRITION
Makes 2 Servings
Amount Per Serving:
| | |
| --- | --- |
| Calories 920 (68% from fat) | |
| Total Fat 70g | 108% |
| Saturated Fat 33g | 165% |
| Cholesterol 292mg | 97% |
| Sodium 1220mg | 51% |
| Net Carb 7.5g | |
| Total Carb 9g | 3% |
| Dietary Fiber 1.5g | 7% |
| Sugars 1.5g | |
| Protein 55g | |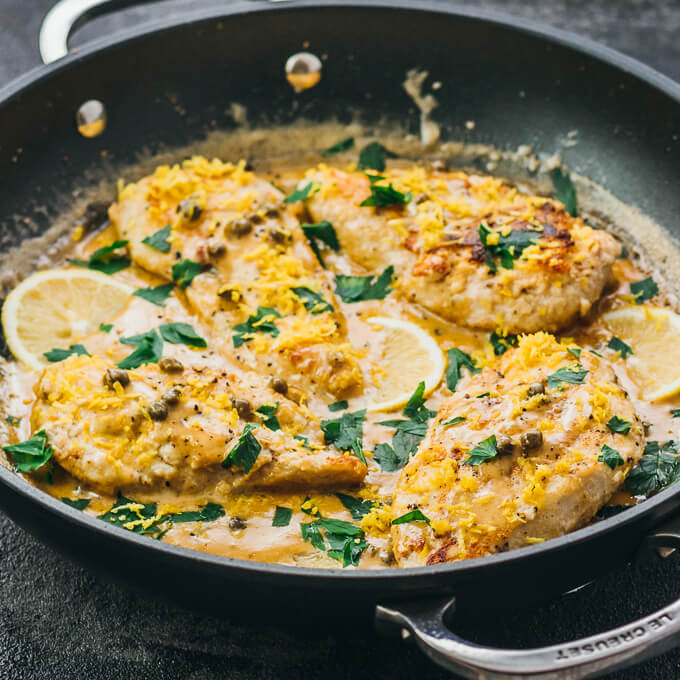 Piccata is the Italian word meaning larded and it refers to food that has been simmered in a lemon and butter sauce. Traditionally, Italians have cooked piccata sauces with veal and swordfish, but in the U.S., most people use chicken in the well-known chicken piccata dish.
My take on chicken piccata includes capers and a thick sauce made using lemon juice, heavy cream, and butter. The chicken is "breaded" first using almond flour, fried on both sides, and then simmered in the sauce. All in all, this chicken piccata dish makes for a perfect low carb dinner that's high in fats as well as very hearty and filling.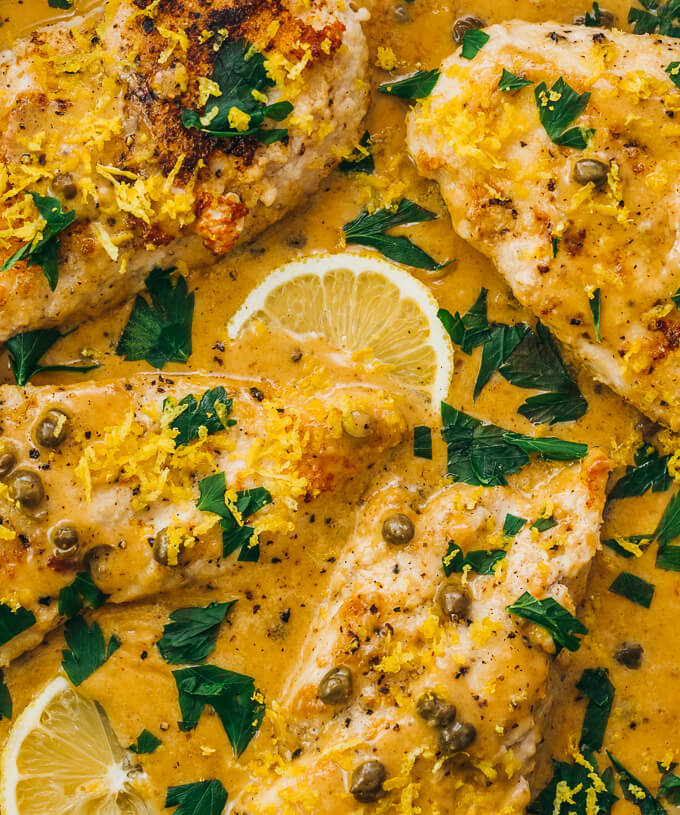 This chicken piccata was inspired by both the traditional Italian piccata dishes as well as my pan seared and roasted chicken with capers, the main difference being that this chicken piccata is a quick one pan stovetop dinner with a buttery sauce.
There are a lot of side dishes that you can serve with chicken piccata. I would recommend healthy low carb options such as my mashed cauliflower with cheddar cheese and bacon, cheesy baked asparagus, or garlic green beans. If you're looking for something lighter, you can prepare some spiralized zucchini or a simple Caesar salad.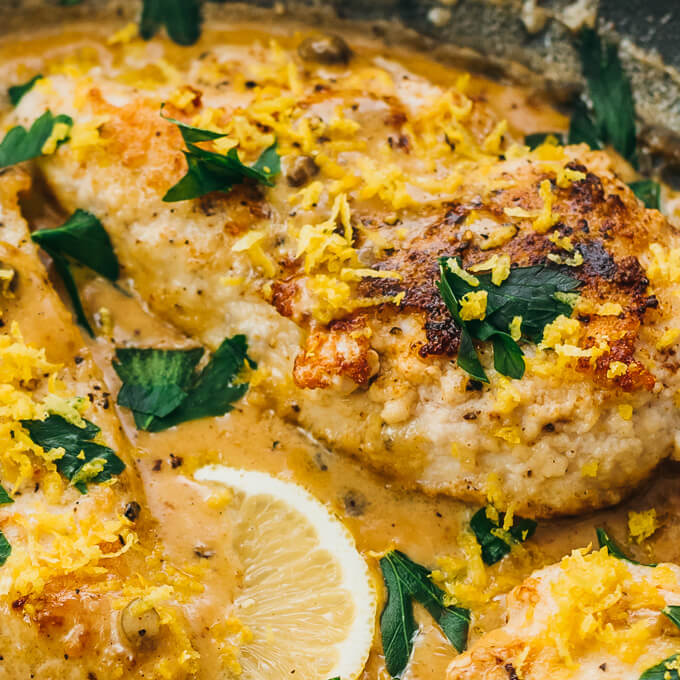 The majority of the carbohydrates in this dish are in the capers (and to a lesser extent, the lemon juice). You can easily halve the amount of capers to significantly reduce the number of net carbs per serving. I'm a big fan of capers so I think the included amount is perfect, but it will also work well with fewer.
I use blanched almond flour, but you can easily substitute with other types of flour. Just pay attention to the cooking times, as you may need to use higher or lower cooking temperatures to achieve browned and tender chicken.