Summary:
Here's an easy vegetarian recipe for creamy pesto risotto with portobello mushrooms and green peas, topped with finely grated asiago cheese.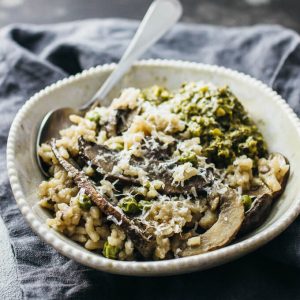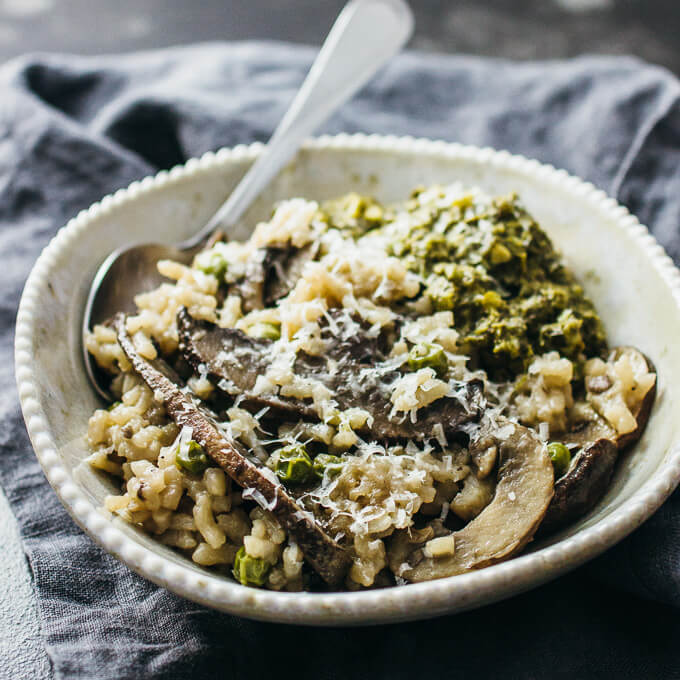 Pesto risotto with portobello mushrooms and peas
INGREDIENTS
1

cup

risotto rice or arborio rice

6

ounces

portobello mushrooms

thinly sliced

10

ounces

baby portobello

or cremini mushrooms, thinly sliced

1

cup

frozen peas

thawed

3

cups

vegetable broth

1/2

cup

pesto sauce

heated

5

garlic cloves

chopped

2

tablespoons

olive oil

2

tablespoons

butter

1/2

teaspoon

salt

1/4

teaspoon

pepper

asiago cheese

finely grated, to taste
INSTRUCTIONS
Heat olive oil in a

5 quart saute pan

over medium heat. Add mushrooms, peas, garlic, salt, and pepper. Cook until the mushrooms have released their juices, about 5 minutes, stirring occasionally.

Add rice and vegetable stock. Mix everything together. Bring to a boil and then decrease to a simmer. Cover the pan with a lid and simmer on medium-low heat for 30 minutes. Uncover the pan and check that the rice is tender and done. Simmer with the pan uncovered for a few minutes to evaporate any excess liquid, if needed.

Add butter to the pan and stir as it melts. Serve in bowls and top with pesto and finely grated asiago cheese.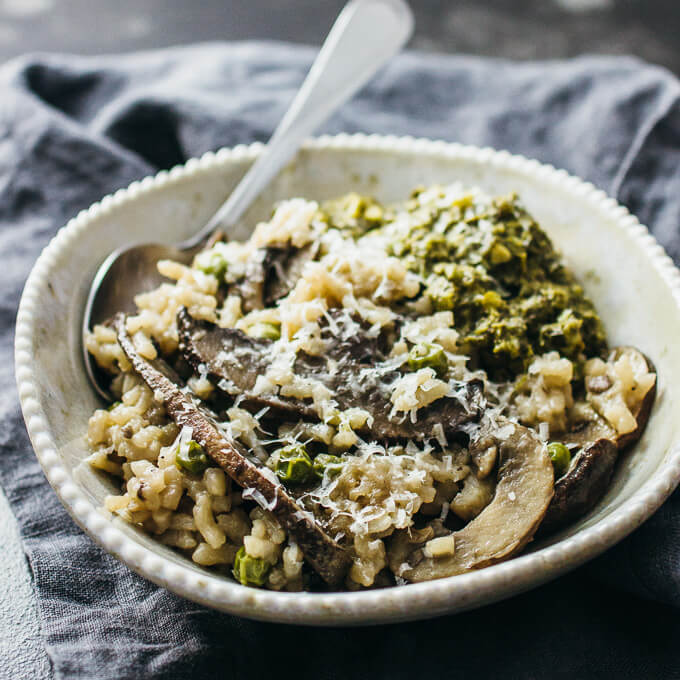 We've been having snow and cold temperatures down to the single digits here in Boston, and it's been making me crave comforting hot dinners like this creamy pesto risotto. This year's winter is going to be nothing like last year's — last December saw temperatures nearing 70 F on Christmas Eve, and New Englanders everywhere were enjoying holiday hors d'oeuvres outside on their patios. I was not home at the time — I was on the west coast visiting family for the holidays — where ironically it was rather cold with temperatures near freezing. This year, December in Boston is going to be a typical month with average temperatures, which means frigid and icy weather. I'll be cozying up indoors, drinking my hot apple ciders and cooking more comforting dishes.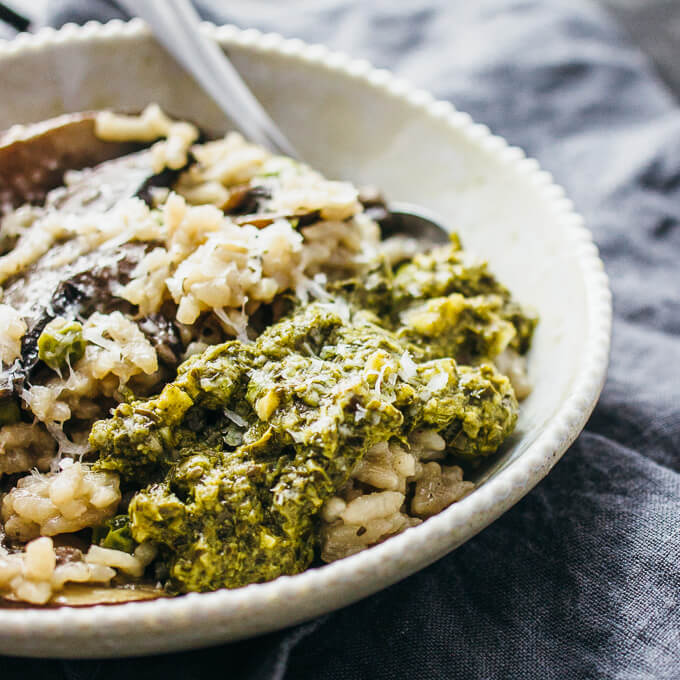 Maybe you have a container of leftover basil pesto stored in your freezer from summertime. If you don't, please go out and buy a small jar of pesto from a grocery store so that you can make this pesto risotto. The combination of pesto + risotto is incredibly savory and tasty, and you only need a small amount of pesto to add a tremendous amount of flavor. I use about 1/2 cup of pesto distributed among 4 dinner servings.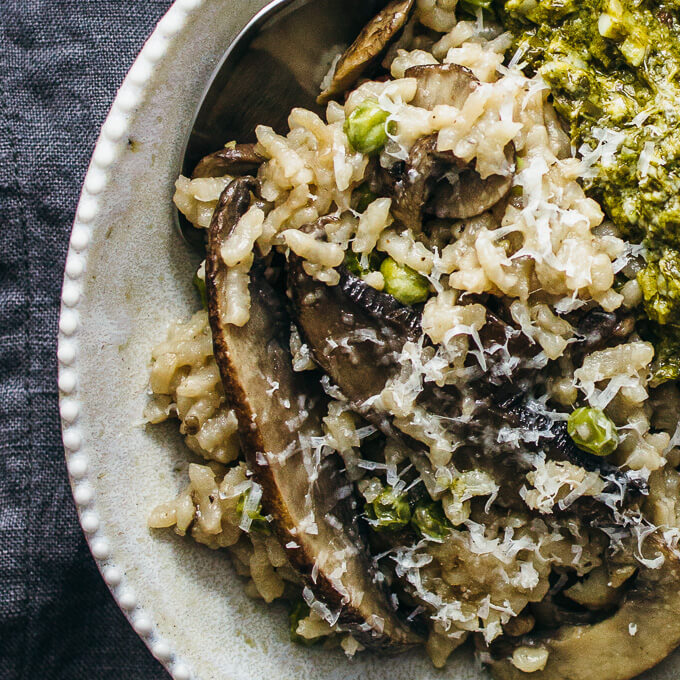 I love mushrooms, and there's nowhere that feels more like home for mushrooms than risotto. I use two different kinds of mushrooms for extra variety: your typical large, fully matured portobello mushrooms and also small baby portobello (or cremini) mushrooms. These mushrooms turn delicately soft and juicy when simmered with the risotto rice, and they are paired with green peas and grated asiago cheese. Delicious.
As usual, my risottos are easy to make, do not require cooking wine or alcohol, use one pan only, and do not need constant stirring and re-adding of vegetable stock. If this is your first time making risotto, check out my butternut squash risotto recipe for more tips. For the pan, I use a large 5-quart high-sided sauté pan.