Summary:
Butternut squash risotto with mushroom, garlic, and finely grated asiago cheese. So creamy, so easy to make, and tastes 10x better than the restaurant variety.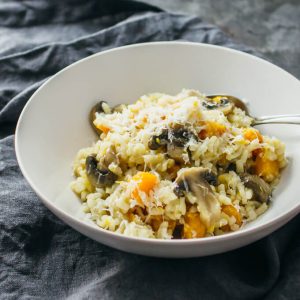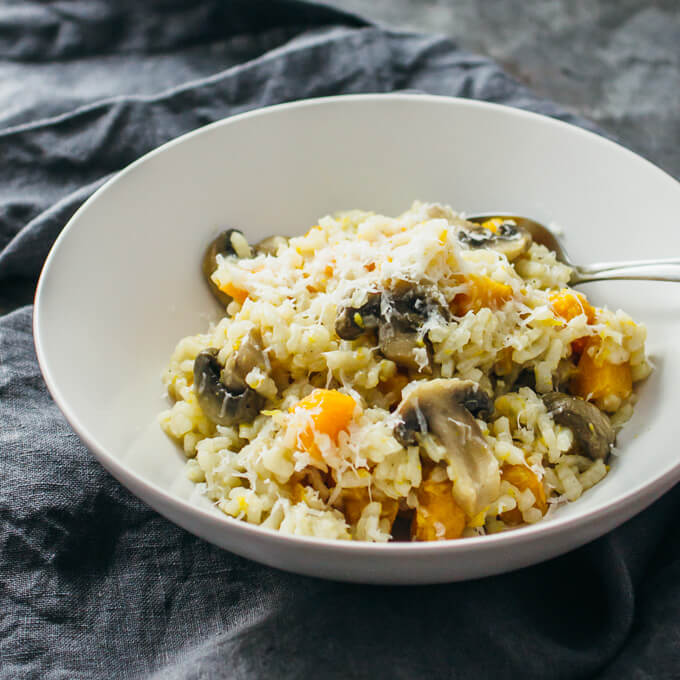 Butternut squash risotto with mushroom
INGREDIENTS
1

cup

arborio rice

1

pound

butternut squash

peeled and diced into 1/2-inch chunks

10

ounces

mushrooms

sliced

3

cups

vegetable broth

5

garlic cloves

2

tablespoons

olive oil

2

tablespoons

butter

1/2

teaspoon

salt

1/4

teaspoon

pepper

asiago cheese

finely grated, for garnish
INSTRUCTIONS
Heat olive oil in a large 5-quart nonstick sauté pan over medium heat. Add butternut squash, salt, and pepper. Cook for 15 minutes, stirring occasionally. Use a pan sufficiently large so that the butternut squash chunks sit in a single layer on the pan.

Add mushrooms and garlic to the pan, sautéing for a few minutes.

Add rice and vegetable stock. Mix everything together. Bring to a boil and then decrease to a simmer. Cover the pan with a lid and simmer on medium-low heat for 30 minutes. Uncover the pan and check that the rice is tender and done. Simmer with the pan uncovered for a few minutes to evaporate any excess liquid.

Add butter to the pan and stir as it melts. Serve immediately and optionally garnish with finely grated cheese.
I'm so excited to share my risotto recipe today! This is a must-make and it's definitely the most delicious meal that I've made all month. It's a butternut squash risotto with mushroom, garlic, and finely grated asiago cheese. So creamy, so easy to make, and tastes 10x better than the restaurant variety. It's also what I consider to be a healthier version than most risottos and is vegetarian (and simple to convert to a vegan version).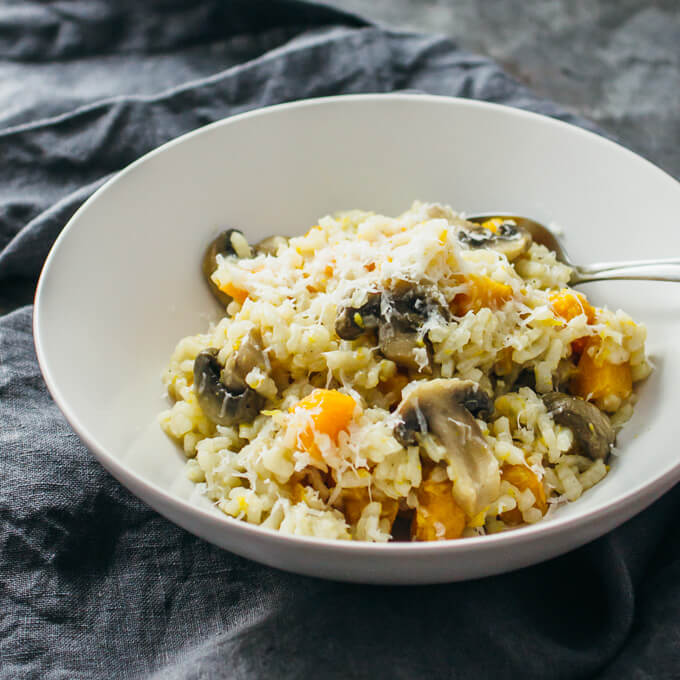 Those of you who cook for others will understand this. You know when you've made something so good that you don't even have to ask if people like it? As in, there's no question whether or not they like it because they're just gushing with praise about how delicious it is. Well, eating this butternut squash risotto with mushroom was one of those times. Mr. Savory Tooth and I were sitting down with our bowls in front of the TV, and it was SO GOOD that we would frequently glance at each other, acknowledging how tasty this was. The risotto texture is just perfect: super creamy (but has no cream in it) with tender butternut chunks.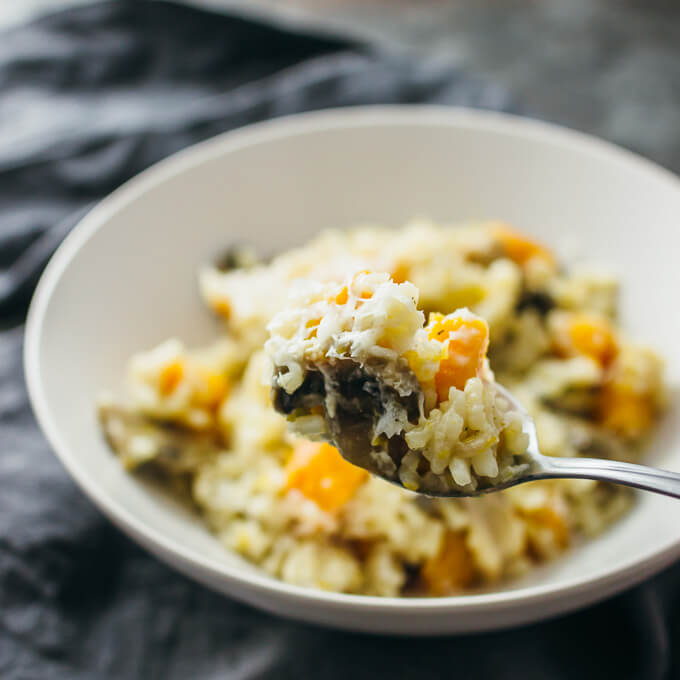 So here are all the reasons why I love this butternut squash risotto and why it's special:
Fast, simple, and easy: I hear stories of people cooking risotto where they stand by their pot, stirring and adding vegetable stock for what seems forever. It's like an endless vicious cycle of stirring and adding more stock until the rice is done. That would drive anyone crazy! Well, NO MORE. I add my stock just once and at the same time as the rice, cover with a lid, and let it simmer for 30 minutes until it's done. Since I use a lid, the liquid doesn't escape as easily and so I don't need to continuously add more stock. And I use a pan not a pot, so that the rice cooks evenly and I don't need to continuously stir. For the pan, I used a large 5-quart high-sided sauté pan.
One pan meal: Yep, just a single pan needed to cook this dish! I've noticed that almost all butternut squash risotto recipes out there ask that you cook the butternut squash and the risotto rice separately. Most of them suggest that you should be roasting the butternut squash in the oven. Well, that's just a pain and I don't want to have to deal with the oven if I don't have to. In my recipe, everything happens in the same pan and the butternut squash comes out perfectly tender and soft.
Gluten-free and vegan: There's no wheat here and so this recipe works for those of you with gluten sensitivities. Also, this recipe is vegetarian and super easy to convert to a vegan version: just skip the very last step of the instructions where it asks you to add butter and cheese. That's totally optional and the risotto will still taste great! Since this butternut squash risotto is gluten-free and vegan friendly, it's a great idea to make for a dinner party and to impress everyone there. 🙂
No alcohol: A lot of risotto recipes ask you to cook the risotto in some cooking wine prior to simmering in vegetable stock. In my opinion: totally unnecessary. I've had plenty of risotto in restaurants, and my risotto recipe is simpler without the wine and tastes just as good, if not better. I think that using cooking wine is just an unnecessary added complication.
I love how this recipe uses butternut squash since it's such a fun seasonal vegetable (well, technically a fruit) to incorporate into your meals. If you love butternut squash and want to cook more with it, check out my spicy butternut squash chili!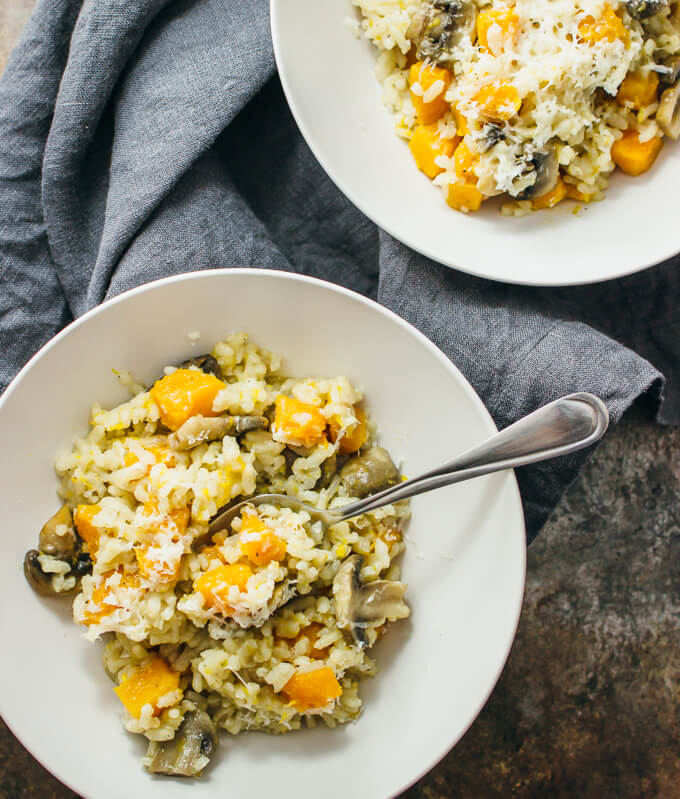 A good amount of vegetable stock is used in making risotto. In developing this recipe, I've used my homemade stock. It's easy to make your own vegetable stock at home, and it's so much better than store-bought varieties. Ready to learn how?
Homemade Vegetable Stock Using The Crockpot
First, you need a big pile of veggies. This can include broccoli and cauliflower stalks, lettuce bits, squash ends, and celery tops; basically any odds and ends from vegetables. Here's what I do: whenever I do prep work that involves lots of chopping, there's bound to be vegetable bits that I don't use but that I can save for stock. I wash and store these unused vegetable pieces in a large ziplock bag in the freezer. Over time, I accumulate large freezer bags of vegetables that can be used for stock. Can you tell that I don't like wasting my vegetables?!
Once you've accumulated enough vegetables and you're ready to make some stock, add the veggies to a slow cooker. You should fill the crockpot with veggies about halfway full and add water until it's about 3/4 full. This usually amounts to about 6 cups of water. Then set the slow cooker on low for 8 hours or on high for 4 hours. If you have time, you can cook even longer for a deeper flavor.
After the crockpot finishes cooking, let it cool and then strain out all of the vegetables and keep the liquid. For straining, I recommend and use a nut milk bag. For storage, I like to use a large tall plastic or glass container and I store it in the freezer for future use. Making your own vegetable stock is fun, economical, and easy!
If you have leftovers: disregard the naysayers who claim that risotto doesn't reheat well. Just give it a zap in the microwave and it will still taste great! I reheated my risotto in the microwave and it tasted almost as good as when freshly cooked.