Note: This is one of my older recipes and is not low carb. Visit my Recipes page for low carb and keto recipes.
Slice into this comforting quiche lorraine, filled with crispy crumbled bacon, sliced tomatoes, eggs, and pepper jack cheese. It's an easy oven recipe for a classic and healthy quiche lorraine, named for the Lorraine region of France.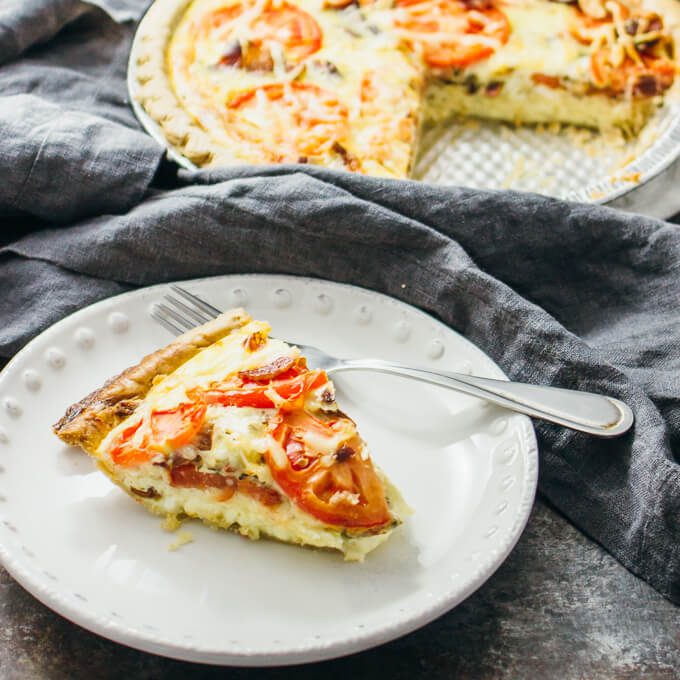 This is one of those dishes that Mr. Savory Tooth and I make together. He's the one that pre-bakes the pastry shell and is in charge of making sure the bacon gets fried to extra-crispy status. I'm the one who takes care of preparing the dairy stuff: making evaporated milk (more on that later!), pepper jack cheese, and parmesan cheese. It's nice when we get to make a dish together, and for this easy quiche lorraine that's been made a number of times by now, we're a smooth operation in the kitchen.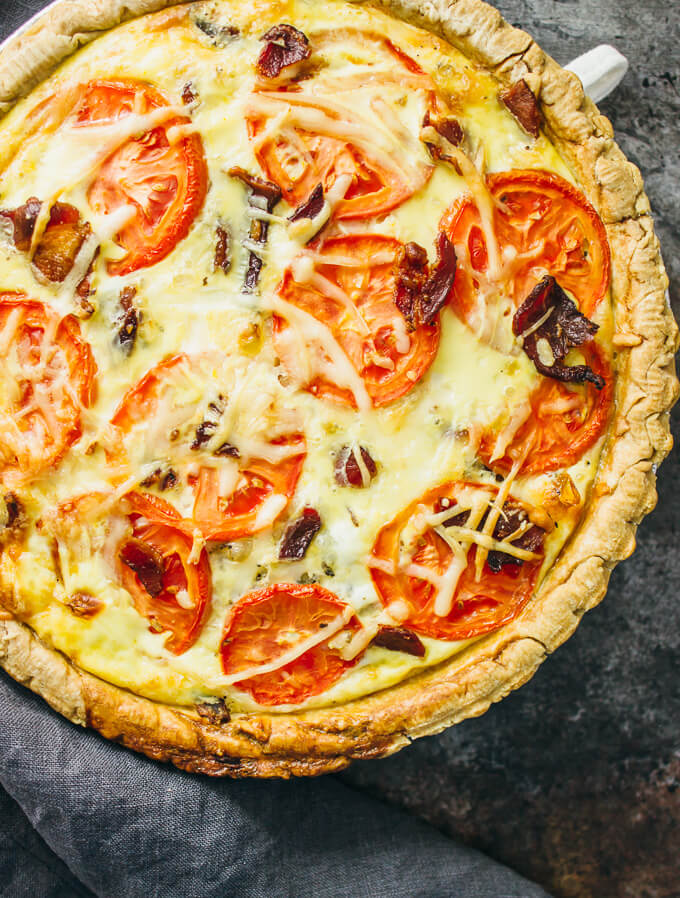 I got this classic French recipe from Mr. Savory Tooth's mom, and over the past year of experimenting, we've made a few small modifications. But the general gist of it is the same. Get a pie crust, fill with eggs and milk, add bacon and tomatoes, add layers of pepper jack cheese, top with more bacon and tomatoes, and bake until golden.
This recipe calls for evaporated milk among the ingredients. You can usually find this in a can at any major grocery store, but it's also easy and fun to make your own evaporated milk! Here's how I make my own homemade evaporated milk:
Start with regular milk. Calculate how much you need. Evaporated milk is milk that has been reduced to about half of its original volume. So since this recipe calls for 2/3 cup evaporated milk, you should start with 1.5 cups of milk to be on the safe side.
Add the milk to a large, tall sauce pot. You want the pot to be about 5 times taller than the milk level in the pot because the milk will froth and bubble up.
Bring the milk in the pot to a boil, and then reduce to a simmer over medium-low heat until it evaporates about half its volume, stirring frequently with a whisk. For me, this took about 25 minutes.
Let it cool and use as needed.
I used my homemade evaporated milk recipe for this dish, and it worked out great! I couldn't tell the difference between store-bought canned evaporated milk and my homemade version.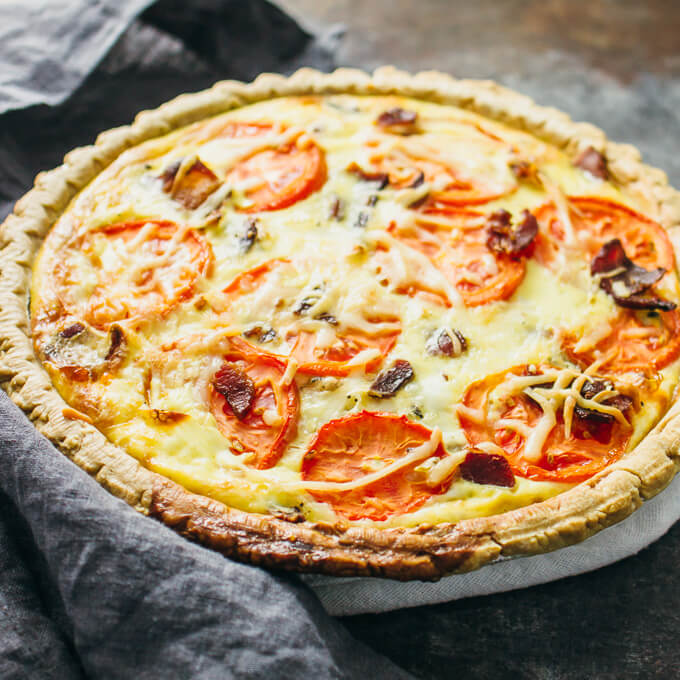 One of the hardest things about this quiche lorraine is waiting for it to cool down after baking! I'm always so hungry and ready to slice into it the minute it comes out of the oven, but you need to let it cool down (about 30 minutes) after baking so that it hardens a bit. Otherwise it'll be really oozy when you slice into it and makes it more difficult to cut slices.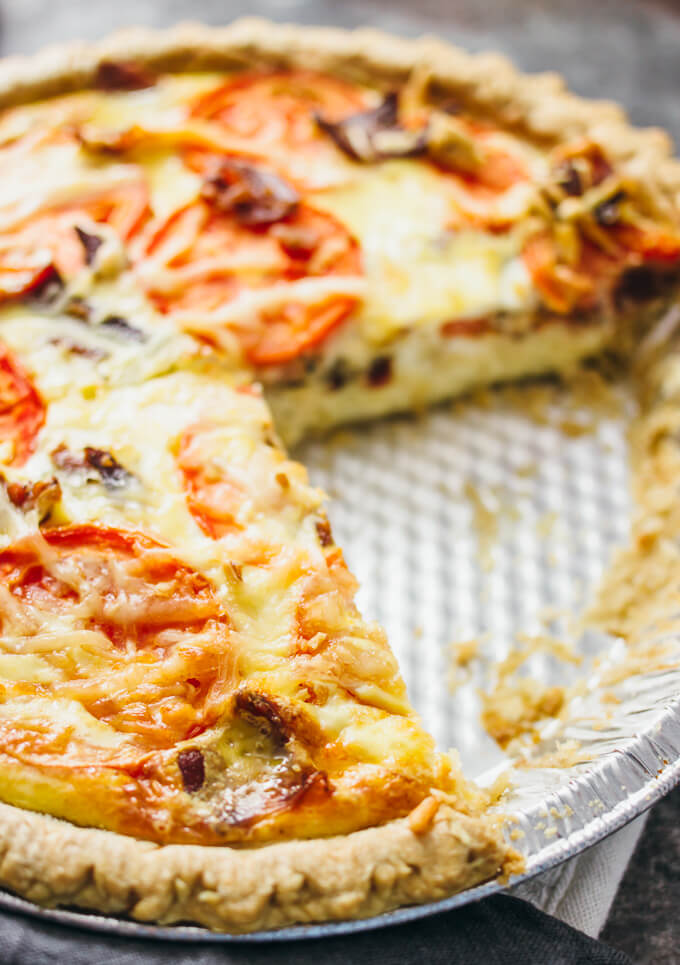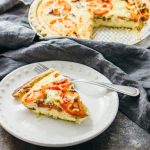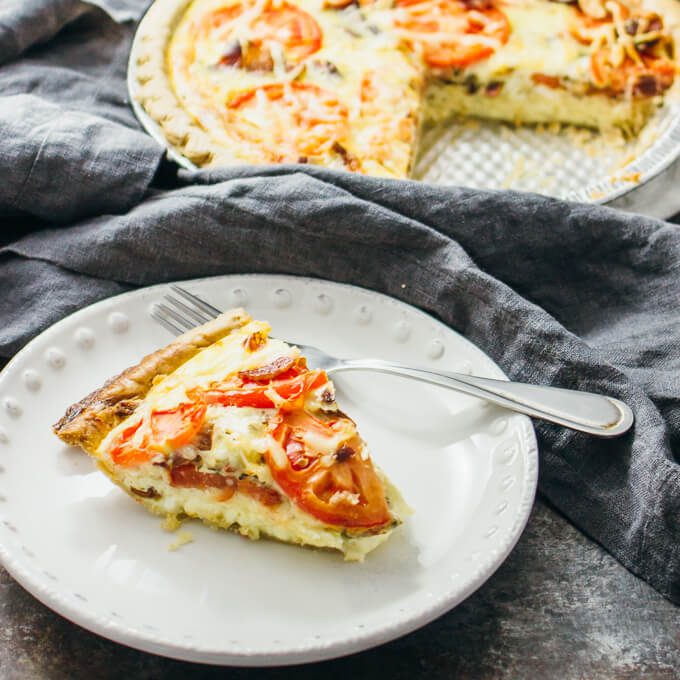 Quiche lorraine
Slice into this comforting quiche lorraine, filled with crispy crumbled bacon, sliced tomatoes, eggs, and pepper jack cheese.
Cook Time
1
hour
10
minutes
Total Time
1
hour
30
minutes
Ingredients
9-

inch

deep dish pastry shell

4

bacon strips

2

roma tomatoes

sliced

3

eggs

5

ounce

can evaporated milk

about 2/3 cup

1/2

pound

pepper jack cheese

shredded

2

tablespoons

parmesan cheese

shredded

1

teaspoon

dry minced onion

1

teaspoon

dried basil

1/4

teaspoon

pepper
Instructions
Bake the pastry shell for 5 minutes at 350 F. Prick the shell a few times with a fork before baking. You can bake the frozen shell — no need to thaw.

Cook the bacon strips in a pan over medium-low heat until very crispy, about 15 minutes. Let cool on a paper towel, and then crumble the bacon.

Scatter about two-thirds of the shredded pepper jack cheese over the pastry shell.

Add half of the sliced tomatoes, half of the crumbled bacon, minced onion, and basil over the pie.

Scatter remaining pepper jack cheese over the pie.

Beat eggs, milk and pepper together. Pour over the pie.

Decorate the top of the pie with the remainder of the sliced tomatoes and crumbled bacon. Sprinkle parmesan cheese on top.

Bake the pie at 350 F for about 50 minutes or until it starts to brown. Let cool for 30 minutes before cutting into it.