Note: This is one of my older recipes and is not low carb. Visit my Recipes page for low carb and keto recipes.
Here's an easy homemade recipe for scalloped potatoes with crispy bacon crumbles! These creamy and cheesy potatoes are topped with crispy bread crumbs to achieve a golden crust (au gratin).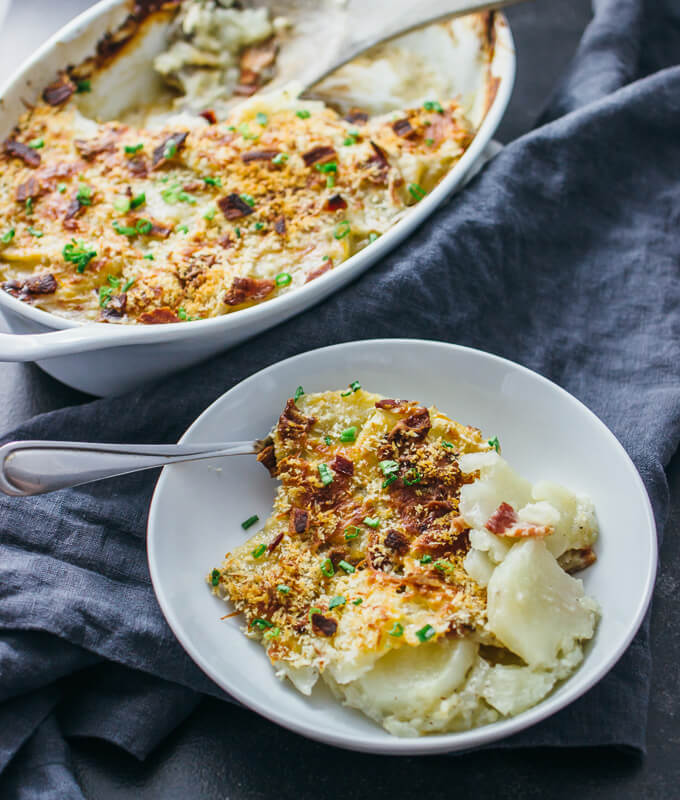 When I got married earlier this year, one of the meals that stood out to me was a chicken entree. It was one of those family style meals where big platters are brought out to the table, and everyone just digs in. The chicken itself was good, but what really surprised me were the scalloped potatoes that sat underneath the chicken chunks. I mean, I've had scalloped potatoes before and thought they were ok, but these were REALLY GOOD. I'm also not the only one who thought so — everyone kept coming back to the scalloped potatoes and grabbing more!
Here's my version of scalloped potatoes, with key differences being:
au gratin: I'm all about the golden brown cheesy bread crumb crust on the top! It's really crunchy and complements the tender scalloped potatoes.
easy & quick: This is an easy recipe since it only involves the oven and uses common ingredients. It's also quick to prepare and then the oven does the rest of the work!
bacon: Bacon and potatoes always go together! I love tossing the bacon crumbles on top of the scalloped potatoes because it gets nice and crispy in the oven. If you're not a fan of bacon, another good choice of meat would be sliced ham.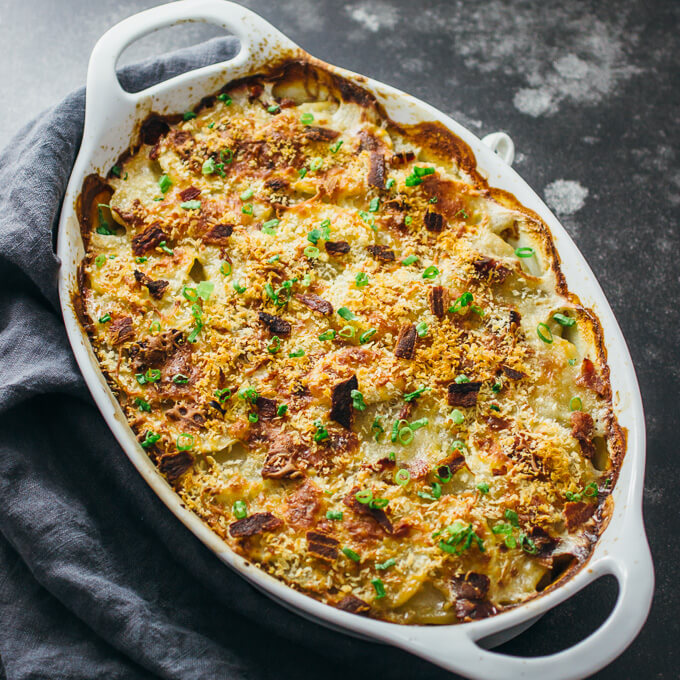 Just take a moment and admire that nice crispy crust on top. ?
For more potato goodness, check out my favorite potato recipes: beautiful hasselback potatoes, cauliflower and potato curry, and smoked salmon potato cakes.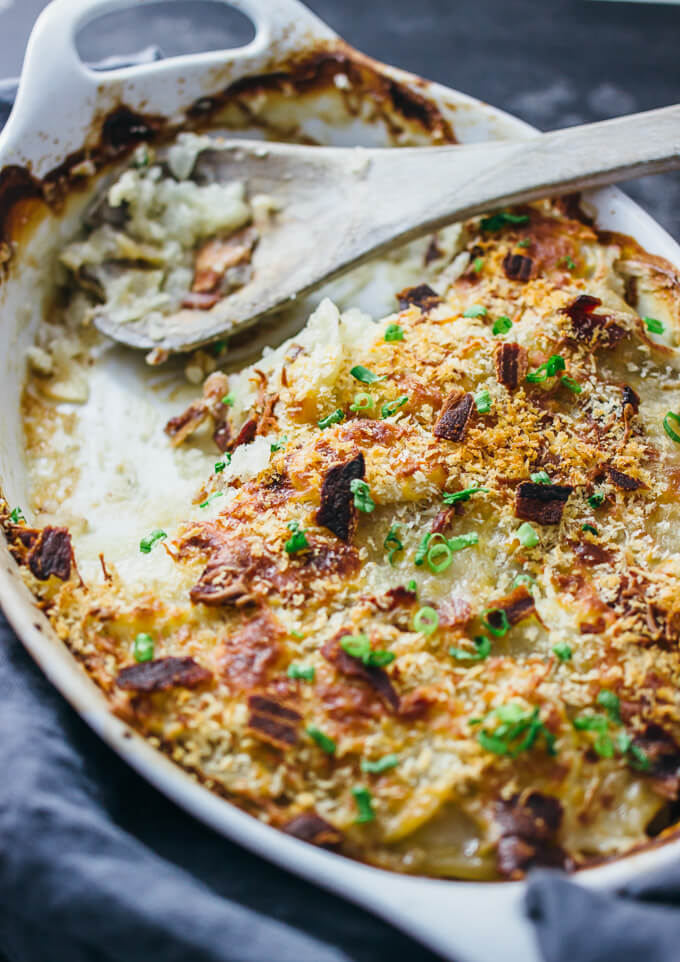 In the serving amount below, I wrote that this amount makes 4 servings. But if you're a monster like Mr. Savory Tooth and I, you can finish this up in 2 – 3 servings. So you can think of this recipe as scalloped potatoes for two.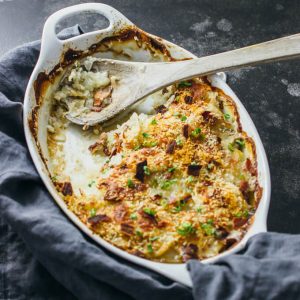 Scalloped potatoes au gratin with bacon
DESCRIPTION
Here's an easy homemade recipe for scalloped potatoes with crispy bacon crumbles.
INGREDIENTS
3

russet potatoes

about 2.5 pounds, peeled and sliced 1/8-inch thick

4

bacon strips
For the topping:
1/2

cup

sharp cheddar and monterey jack cheese

shredded

1/4

cup

panko bread crumbs

1

scallion

finely sliced (added after baking)
INSTRUCTIONS
Cook the bacon: Microwave the bacon strips between paper towels (to soak up the grease), timed to package instructions, about 1 minute per bacon strip. Let cool and use your hands to crumble the bacon.

Make the creamy sauce: Combine all of the ingredients for the creamy sauce in a large mixing bowl. Use a whisk to mix the sauce well until there are no clumps of flour left. Then add the potato slices to the mixing bowl so that they get coated in the creamy sauce.

Assemble the dish: Alternate layers of potato slices and bacon crumbles in a greased 1.5-quart baking dish. Sprinkle any extra bacon on top. Pour the creamy sauce over the top. Sprinkle cheese and panko bread crumbs.

Baking and broiling: Bake at 400 F until the potatoes are tender, about 40 minutes. If your potato slices are on the thicker side, you may need to bake longer. Then turn on the broiler and broil until the top gets golden and crusty, about a few minutes. Then remove from the oven and garnish the top with sliced scallions.
Liked this recipe?
Sign up for email updates!