Summary:
These spicy peanut noodles are perfect: thin noodles covered in a thick peanut butter sauce and accompanied by tender strips of shredded chicken. It's similar to Thai or Indonesian style peanut noodle dishes.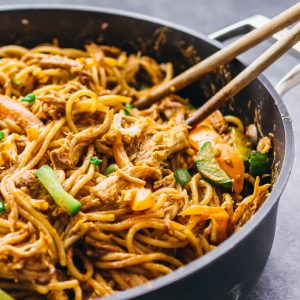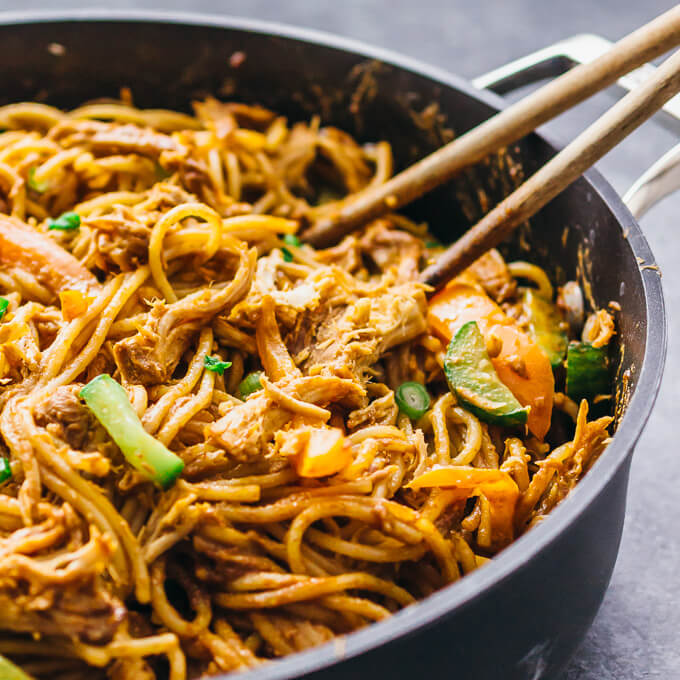 Spicy peanut noodles with shredded chicken
INGREDIENTS
8

ounces

spaghetti pasta

broken in half

1 1/2

pounds

chicken breasts

cooked and shredded

6

ounces

Persian cucumbers

cut into strips or half moons

1

orange bell pepper

thinly sliced

2

scallions

sliced
INSTRUCTIONS
Cook the spaghetti noodles according to package directions. Drain, toss with a drizzle of cooking oil to prevent them from sticking together, and set aside.

Add all peanut sauce ingredients to a saucepot. Stir over medium-low heat until the sauce is smoothly mixed. Remove from heat and set aside.

Heat a 4-quart or larger pan over medium heat. Add sliced bell pepper, cooking for a few minutes, stirring occasionally. Add sliced cucumbers, shredded chicken, and spaghetti, stirring them together. Pour peanut sauce on top. Carefully stir all of the ingredients until well-coated with the peanut sauce. Garnish with sliced scallions and serve immediately.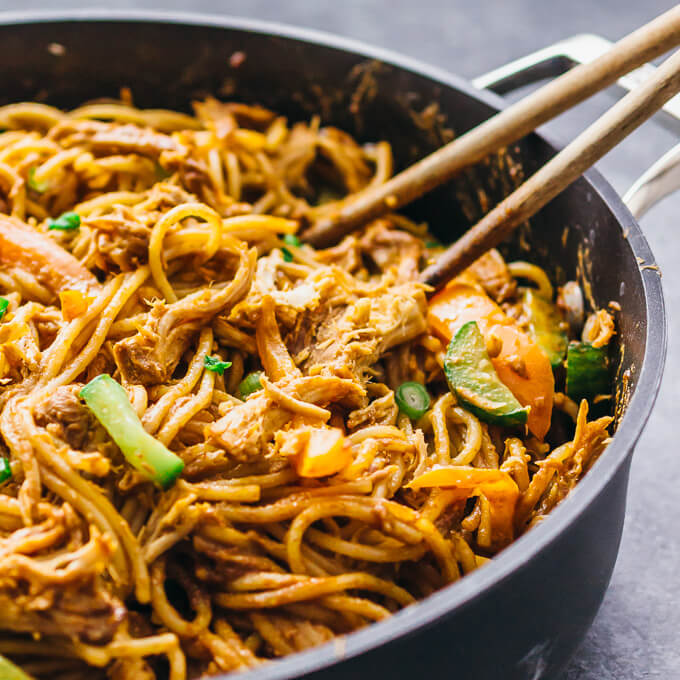 I first started making these spicy peanut noodles a couple of years ago, when I was fresh off a hiking trip to nearby mountains. I snuck in a lot of great meals in between hikes, and one in particular stood out to me: Indonesian noodles with peanut butter sauce. The sauce was addicting and I was hooked. When I returned from my trip, I immediately started developing my own version of these spicy peanut noodles. I've perfected this dish over the years, and it never fails to deliver. There's something irresistible about the combination of pasta noodles, shredded chicken, and peanut butter sauce.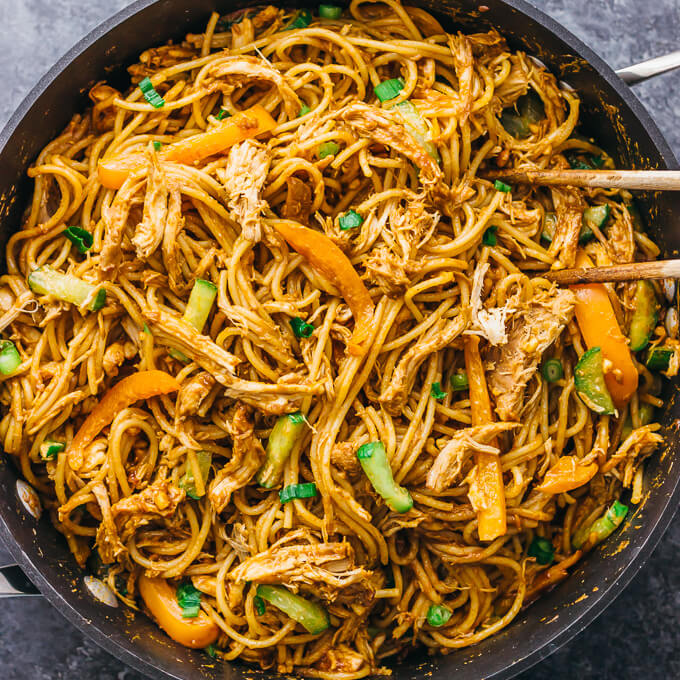 This recipe calls for using cooked shredded chicken. You can do this one of two ways:
Buy raw chicken breasts and cook them in a slow cooker for meltingly tender meat. You can cook them on high for 4 hours or on low for 8 hours. Sometimes I add a drizzle of soy sauce over the raw chicken so that it doesn't get too dry in the slow cooker. They will be very easy to shred after they're done cooking. You can do this the day ahead, and refrigerate the shredded chicken until ready to use.
Skip the cooking step by buying rotisserie chicken and shredding it. This is the easiest method and works great if you're in a pinch.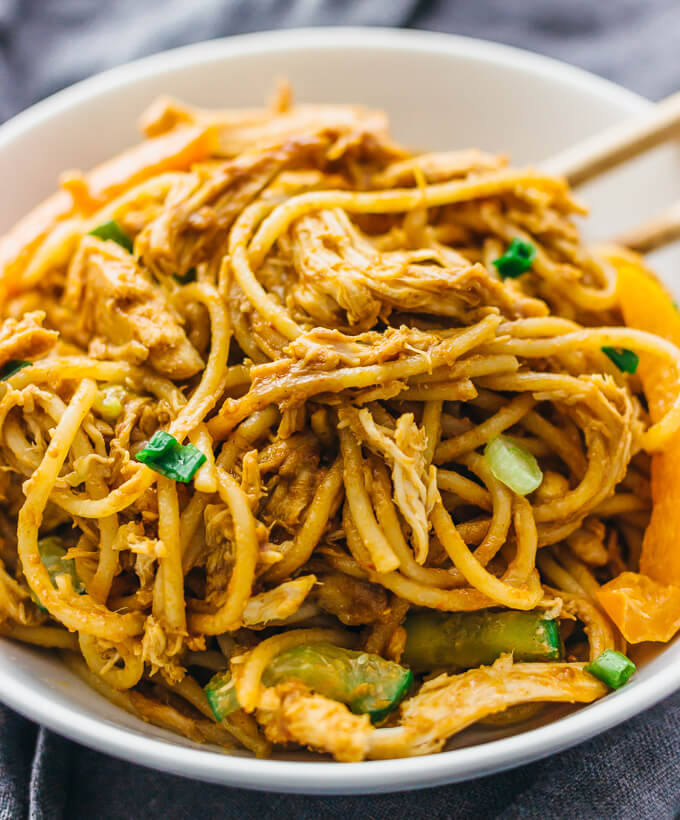 These spicy peanut noodles could not be easier to make. The Thai-inspired peanut sauce is a throw-everything-together type of affair, and it takes only a quick stirring to combine into a thick peanut butter sauce. Once the chicken is shredded and the spaghetti is boiled to al dente, all you have to do is stir everything together in a pan and voila, dinner is ready. If you're looking for side dishes to pair with these spicy peanut noodles, I recommend whipping up a tofu stir fry — super easy and tastes ten times better than it sounds.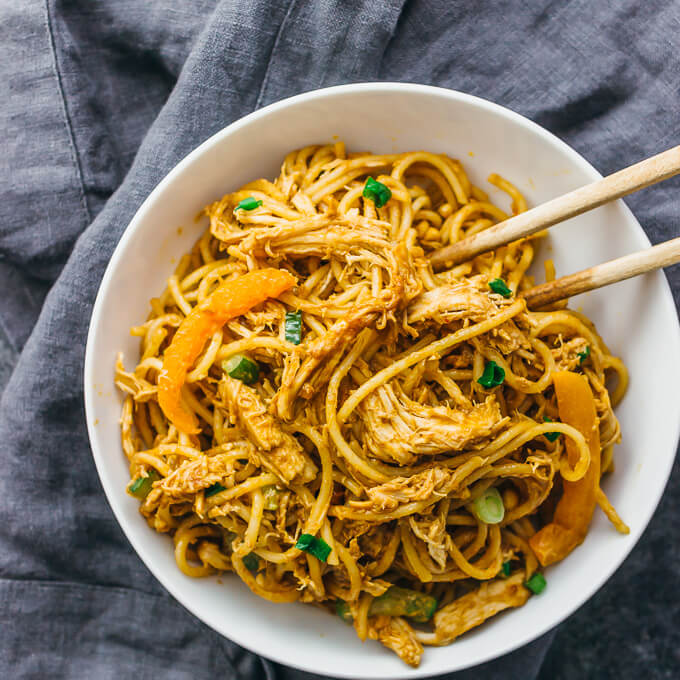 Watch the video below to learn how to make these spicy peanut noodles with shredded chicken: