Note: This is one of my older recipes and is not low carb. Visit my Recipes page for low carb and keto recipes.
This is an easy beef with mushrooms and onions stir-fry with a delicious Hawaiian-inspired marinade and sauce.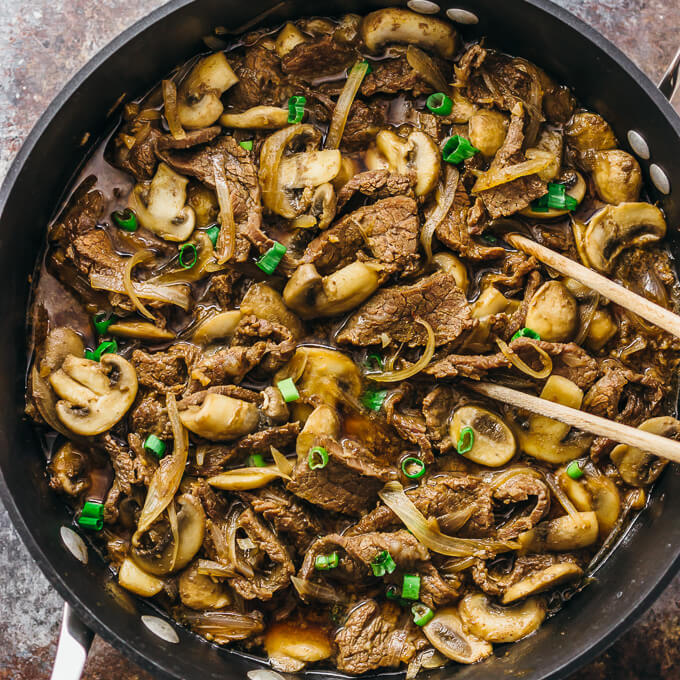 It's no secret that many of my favorite stovetop dishes all involve tender strips of thinly sliced beef. This obsession first started with my chili-ginger brussels sprouts and beef (I need to make that again this year for Thanksgiving), and then my Mongolian beef with its bold sticky sauce, then this hugely popular beef and broccoli dish, more recently beef stroganoff, and now this beef with mushrooms and onions. All of these dishes are hard to mess up and they make for easy and tasty weeknight stovetop dinners.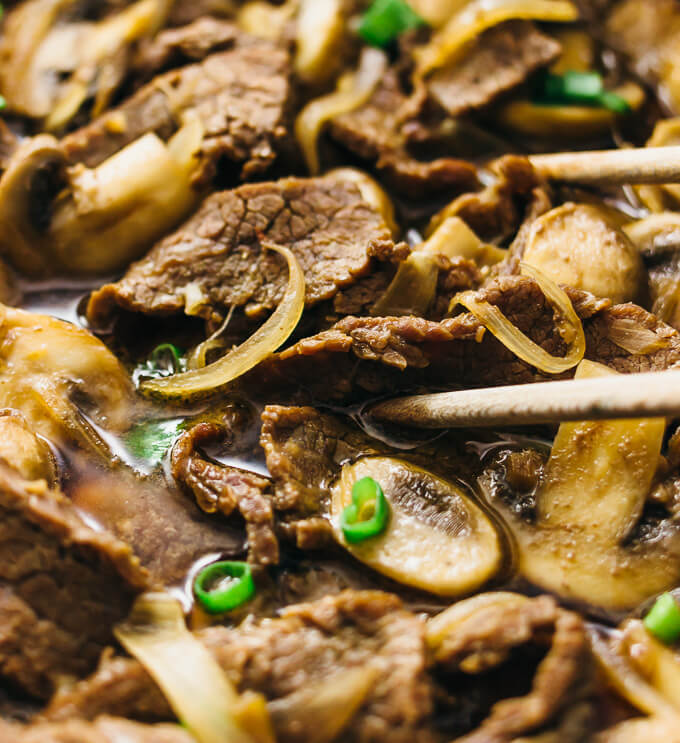 The sauce and marinade for this recipe is actually adopted from a steak marinade used for my Hawaiian steak kabobs. This sauce has a little of everything that is delicious: citrus juice, soy sauce, brown sugar, garlic, and ginger. The flavors come together wonderfully and it works great for this beef with mushrooms dish. This recipe yields plenty of sauce, so there's more than enough left to sop up with rice. I usually add one cup of uncooked white rice to my rice cooker, and it yields enough cooked rice for this recipe, about two servings.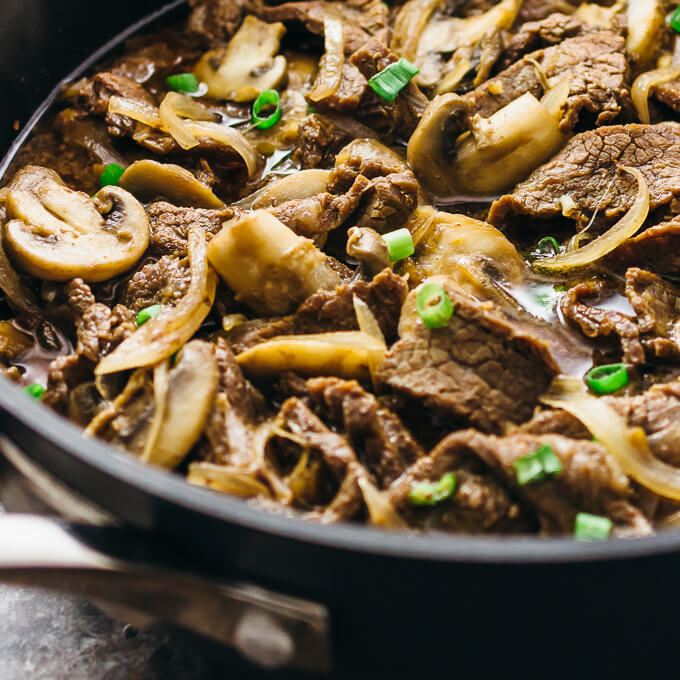 This recipe actually came about in an interesting manner. I originally intended to make ribeye steak with mushroom gravy, and I started out by searing my steak on a pan. I had my stove vent on, but within minutes, my smoke detector was blaring at surprisingly loud volume. I immediately turned off the stove, tossed my steak onto a dish, and started opening windows. After the smoke detector died down, I was wondering how I could possibly salvage dinner with my partially cooked steak. I wasn't about to try pan-searing the steak again. I decided to thinly slice the steak and toss it in a pan along with chopped mushrooms and onions, forgoing the mushroom gravy idea as well. I drizzled some steak sauce on top and everything tasted surprisingly good. After a few tweaks, I ended up with the current version of this beef with mushrooms and onions dish.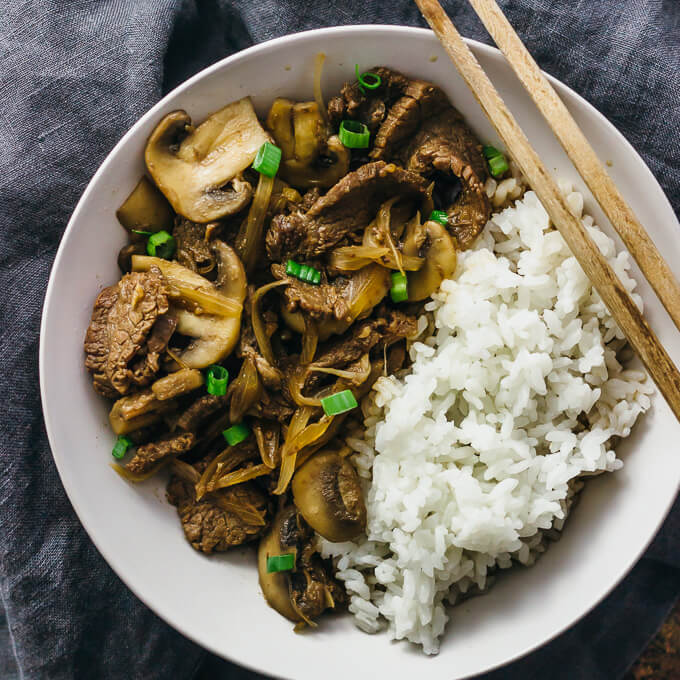 Watch the video below to learn how to make this beef dish with mushrooms and onions: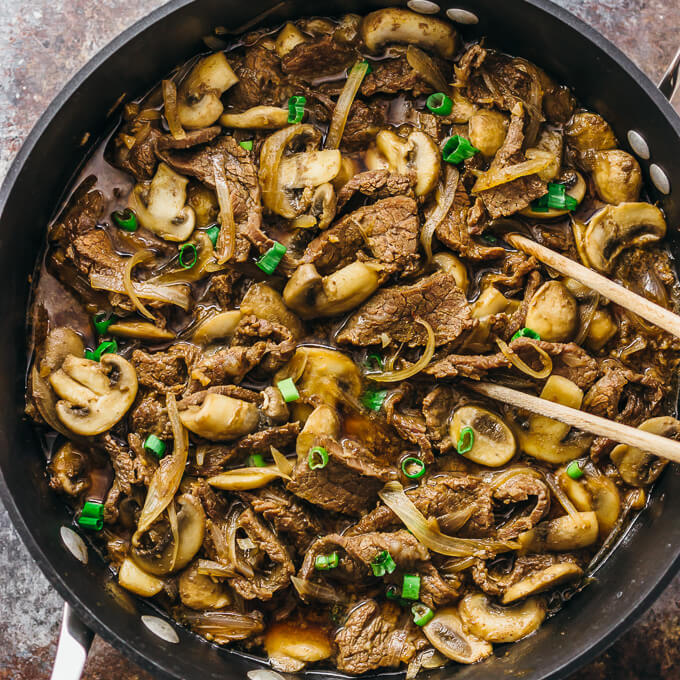 Easy beef with mushrooms and onions
DESCRIPTION
This is an easy beef with mushrooms and onions stir-fry with a delicious Hawaiian-inspired marinade and sauce.
INGREDIENTS
12

ounces

flank steak or your favorite cut

sliced into 1/4-inch thick strips

10

ounces

mushrooms

sliced

2

small shallots

sliced

1

tablespoon

canola oil

1

scallion

thinly sliced
For steak marinade:
1/4

cup

orange juice

about 1 navel orange, juiced

1/4

cup

soy sauce

1/4

cup

brown sugar

5

cloves

garlic

minced

1

teaspoon

fresh ginger

minced
INSTRUCTIONS
Combine all marinade ingredients in a small saucepot. Stir as you bring to a simmer over medium heat. Once it reaches a simmer, remove from heat and let sit until cool.

Combine sliced steak with the marinade, stirring to coat. Refrigerate for at least 1 hour, preferably several hours for the meat to absorb some of the marinade.

Heat canola oil in a large pan over medium heat. Add sliced mushrooms and shallots. Cook until the mushrooms release their juices, about 5 minutes, stirring frequently.

Add steak and marinade to the same pan, stirring well. Bring to a simmer over medium-high heat. Cook until the steak is done to your liking and the sauce has thickened a bit, a few minutes, stirring frequently. Top with sliced scallions.

Serve immediately with steamed white rice.
Liked this recipe?
Sign up for email updates!