Summary:
Learn how to cook asparagus spears so that they're consistently tender and crisp with lots of juicy flavor, ideal for anyone looking for quick and low carb side dishes.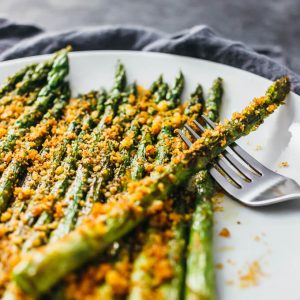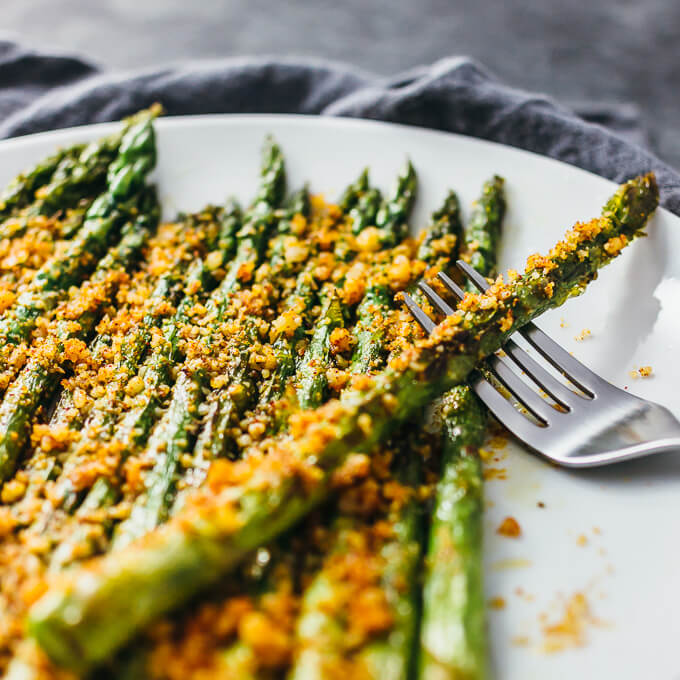 How to Cook Asparagus Perfectly Each Time
INGREDIENTS
8

ounces

asparagus spears

tough bottom ends chopped off

2

tablespoons

olive oil

2

tablespoons

finely grated parmesan cheese

sandy texture

1/4

teaspoon

paprika

1/4

teaspoon

salt

1/8

teaspoon

freshly ground black pepper
INSTRUCTIONS
Combine parmesan cheese and paprika in a bowl and mix well. Set aside.

Heat olive oil in a pan over medium heat. Add asparagus spears in a single layer. Evenly distribute salt and pepper over the asparagus. Cook asparagus until crisp-tender and browned, about 8 minutes, occasionally turning the spears to brown all sides.

Transfer the asparagus to a serving plate. Toss with parmesan-paprika mix. Serve immediately.
NUTRITION
Makes 2 Servings
Amount Per Serving:
| | |
| --- | --- |
| Calories 170 (84% from fat) | |
| Total Fat 15g | 24% |
| Saturated Fat 3g | 15% |
| Cholesterol 5mg | 2% |
| Sodium 350mg | 15% |
| Net Carb 2.5g | |
| Total Carb 5g | 2% |
| Dietary Fiber 2.5g | 10% |
| Sugars 1.5g | |
| Protein 5g | |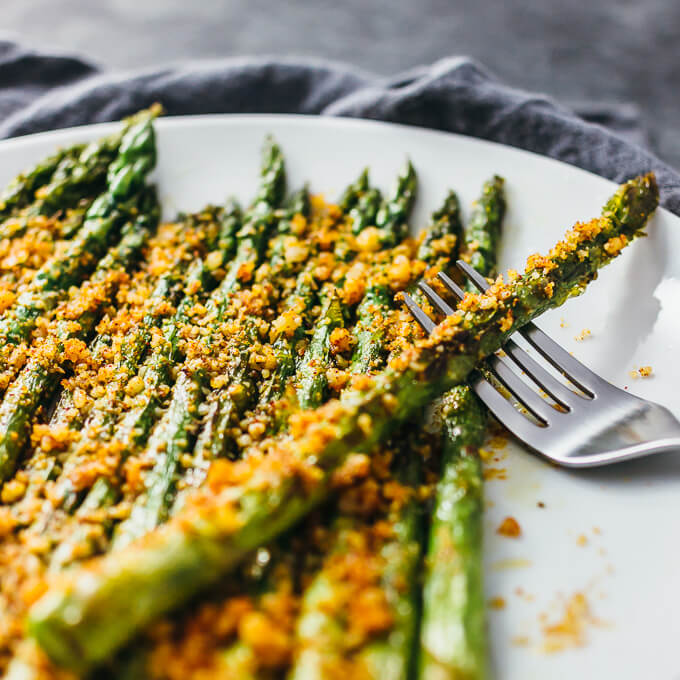 Asparagus is one of those versatile vegetables that can be cooked a variety of ways, such as steaming, simmering, grilling, sautéing, and roasting, and can also be enjoyed simply with either basic salt and pepper or complex sauces. It works well as a delicious side dish, and I'm often pairing it with chicken, such as in this baked parmesan chicken sheet pan dinner.
I recommend buying asparagus when it's in season, which is usually during spring months. After bringing asparagus spears home, I store them in the refrigerator with a damp paper towel wrapped around their bottom ends to prevent them from drying out. They should be used within a few days at most.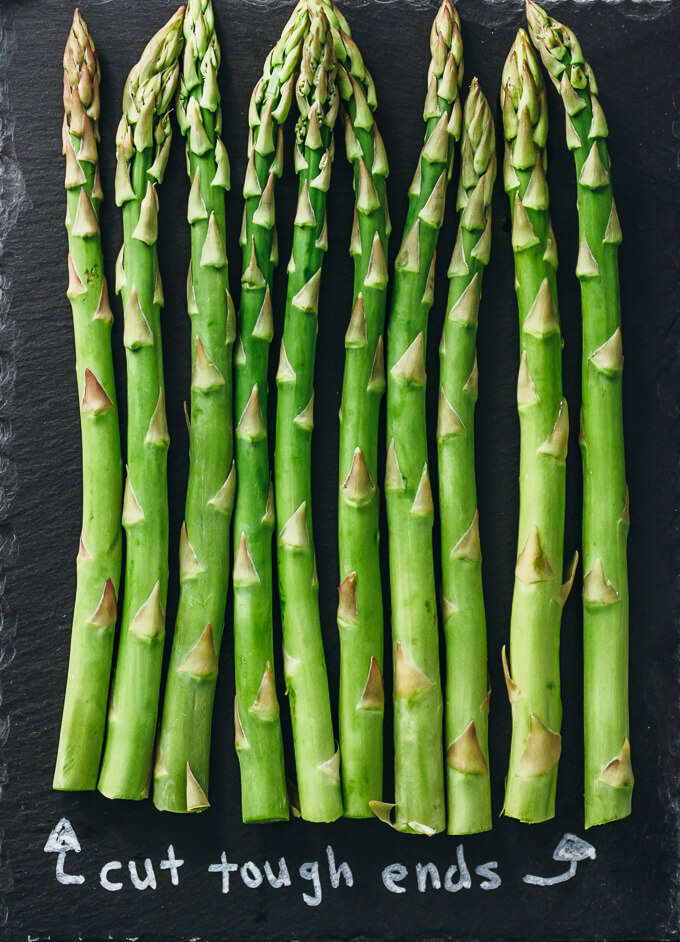 Asparagus spears are easy to prepare. After washing them, I chop off about one to two inches of their tough bottom ends. If the asparagus spears are particularly tough or thick, it may be necessary to peel them as well. After that, it's ready to be cooked.
I have tried a number of different ways on how to cook asparagus, and my favorite method is sautéing for its flavor and cooking consistency. Here is a summary of cooking methods:
Sautéing/pan-frying (my preference): This takes less than 10 minutes and produces perfectly tender-crisp asparagus that has nice charred edges with very tender and juicy asparagus meat. This method also produces the most flavorful asparagus.
Roasting: This also produces very good asparagus, but takes too much time. You'll need to wait for the oven to preheat to hot enough temperatures (400 F or higher), and then it will take another 10 to 20 minutes to bake.
Grilling: This yields a very flavorful asparagus, but I find it is a hassle in getting out my grill and cleaning it later. The cooking time is comparable to the sauté method.
Steaming/Simmering: You can use the steaming method if you have a steamer basket, which yields results similar to simmering asparagus. This method is fast (only a few minutes to cook) and yields juicy and tender asparagus, but lacks in flavor compared to the sauté method.
Microwave: This method works well if you're in a pinch and is fast, but my microwaved asparagus never reached a tender-crisp texture and wasn't very flavorful.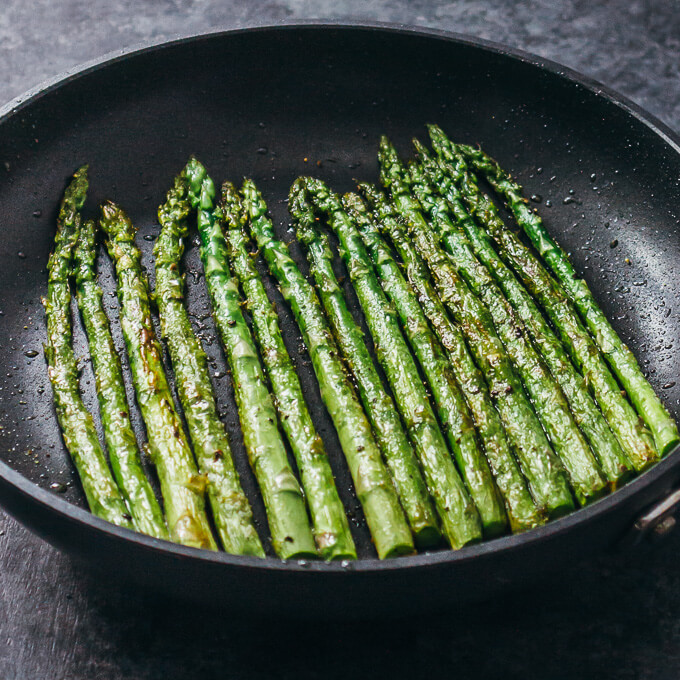 The recipe below includes my recommended asparagus cooking method as well as my parmesan cheese and paprika seasoning, but after the asparagus is sautéed, it's a blank slate for you to add any of your favorite seasonings. Butter and garlic is one of my favorite alternatives to the paprika-parmesan mix.