Summary:
Asparagus is one of those versatile vegetables that can be cooked many different ways, such as steaming, simmering, grilling, sautéing, and roasting. This recipe provides a cooking method for consistently tender-crisp and juicy asparagus, plus a delicious parmesan-paprika seasoning.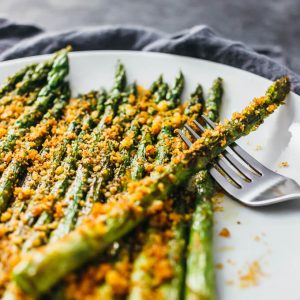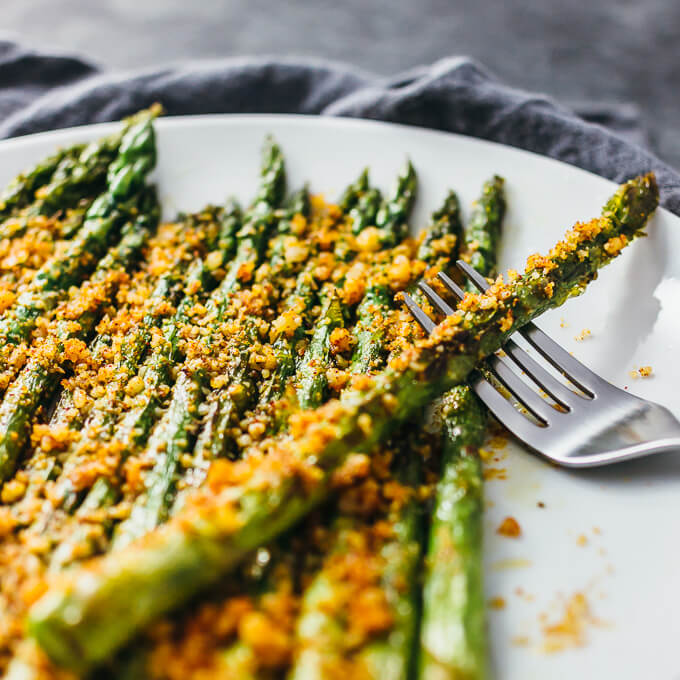 INGREDIENTS
INSTRUCTIONS
Prepare Seasoning: Stir together parmesan cheese and paprika in bowl until well-mixed. Set aside.

Cook (Note 3): Heat olive oil in skillet over medium heat. Add asparagus spears in single layer. Sprinkle salt and pepper over asparagus. Cook until crisp-tender and browned, about 8 minutes, occasionally turning spears to brown all sides.

Serve: Transfer asparagus to serving plate. Toss with parmesan-paprika mix. Serve immediately (Note 4).
NUTRITION
Makes 2 Servings
Amount Per Serving (4 spears):
| | |
| --- | --- |
| Calories 170 (84% from fat) |   |
| Total Fat 15g | 24% |
|    Saturated Fat 3g | 15% |
| Cholesterol 5mg | 2% |
| Sodium 350mg | 15% |
| Net Carb 2.5g |   |
| Total Carb 5g | 2% |
|    Dietary Fiber 2.5g | 10% |
|    Sugars 1.5g |   |
| Protein 5g |   |
PHOTOS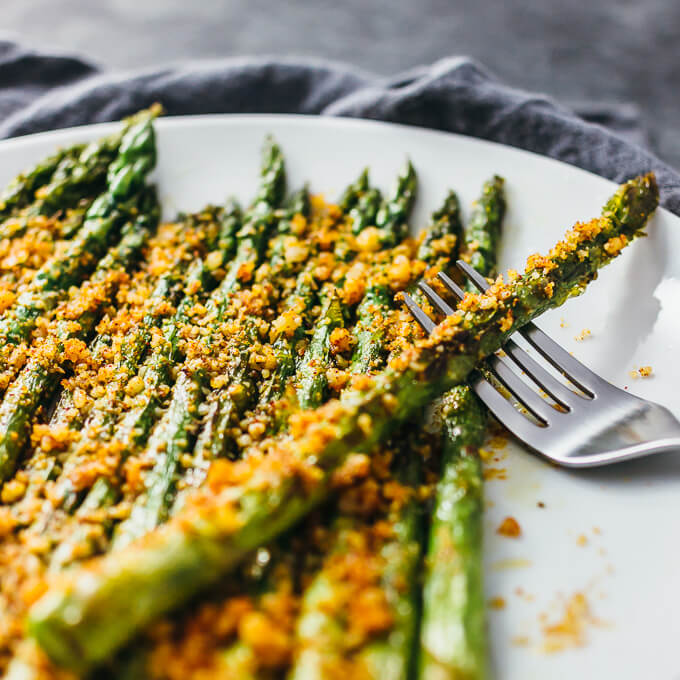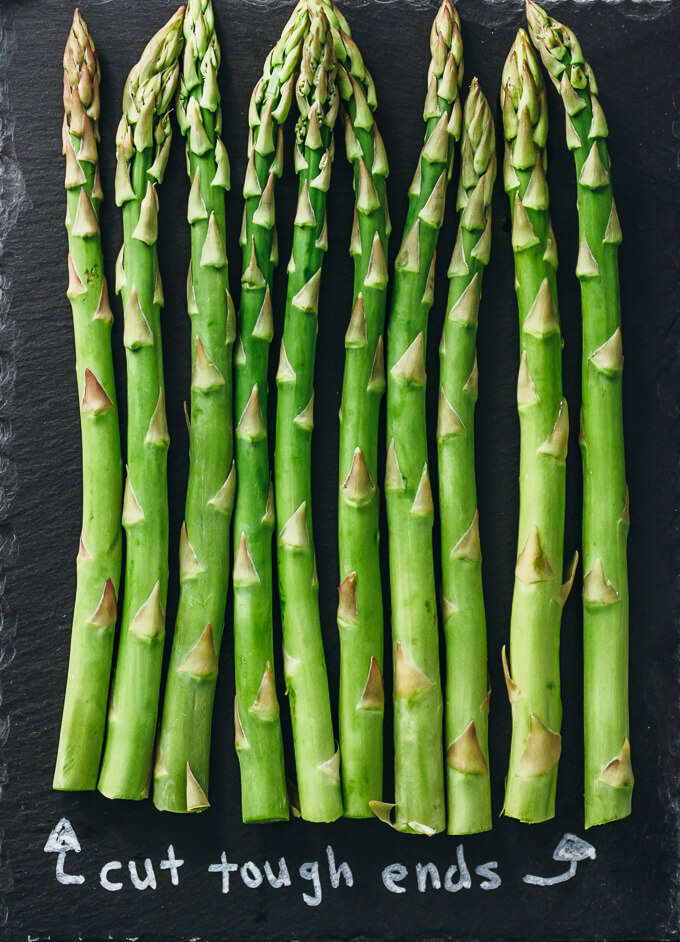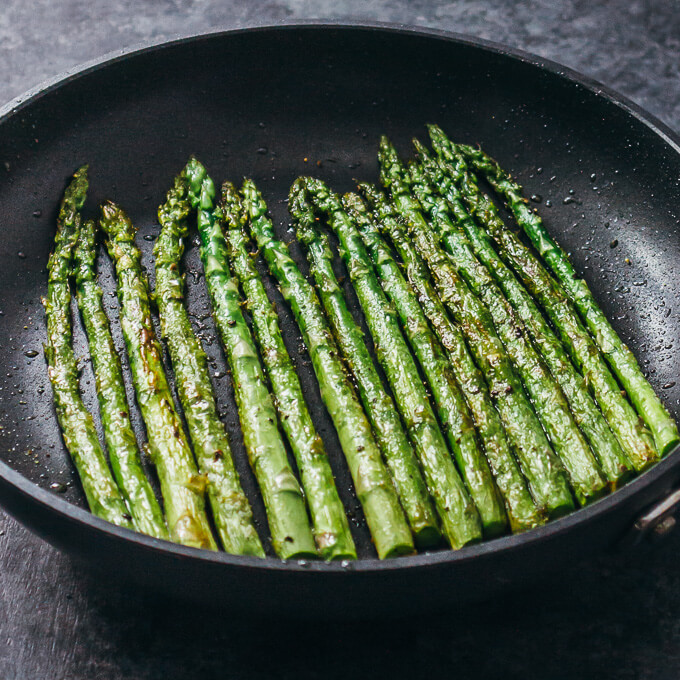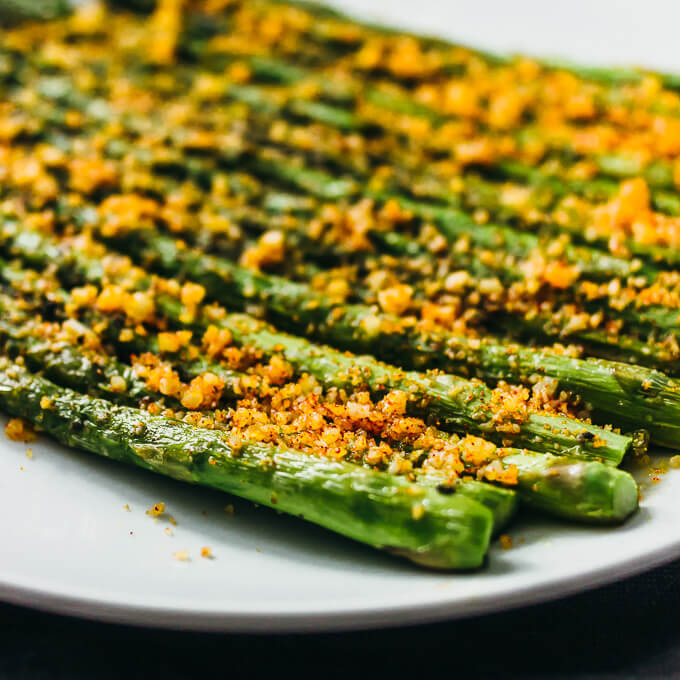 NOTES & TIPS
(1) Asparagus. Trim asparagus spears by cutting off and discarding their tough bottom ends, about 1 to 2 inches. If the asparagus spears are particularly tough or thick, it may be necessary to peel them as well. I recommend buying asparagus when it's in season, which is usually during spring months. After bringing asparagus spears home, I store them in the refrigerator with a damp paper towel wrapped around their bottom ends to prevent them from drying out. They should be used within a few days.
(2) Parmesan Cheese. This is finely grated parmesan that has a sandy or almost powdery texture, not shredded, often available in pre-grated bags in the refrigerated section of U.S. grocery stores. This can be substituted with similar cheeses like pecorino romano or asiago.
(3) Cooking Methods. Sautéing/pan-searing is my preferred method due to the resulting flavor (tender and juicy), tender-crisp texture, and time needed (<10 mins). However, you may prefer other cooking methods:
Roasting: This also produces very good asparagus, but takes too much time. You'll need to wait for the oven to preheat to hot enough temperatures (400 F or higher), and then it will take another 10 to 20 minutes to bake.
Grilling: This yields a very flavorful asparagus, but I find it is a hassle to get out the grill and clean it later. The cooking time is comparable to the sauté method.
Steaming/Simmering: You can use the steaming method if you have a steamer basket, which produces results similar to simmering asparagus. This method is fast (only a few minutes to cook) and yields juicy and tender asparagus, but lacks flavor compared to the sauté method.
Microwave: This fast method works well if you're in a pinch, but my microwaved asparagus never reached a tender-crisp texture and wasn't very flavorful.
(4) Serving. Serve promptly once cooked. Besides the parmesan-paprika mix, asparagus can be topped with melted butter with garlic, if preferred. This asparagus is a delicious and simple side dish that can be paired with poultry dishes such as Tuscan chicken, lemon chicken piccata, and slow-cooked turkey breast.