Summary:
This is a creamy puréed soup with cauliflower, cream cheese, celery, and onions, topped with crispy crumbled bacon and shredded cheddar cheese.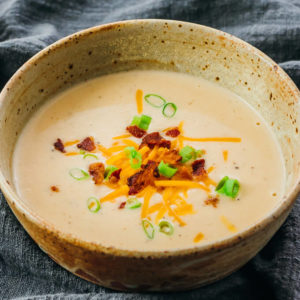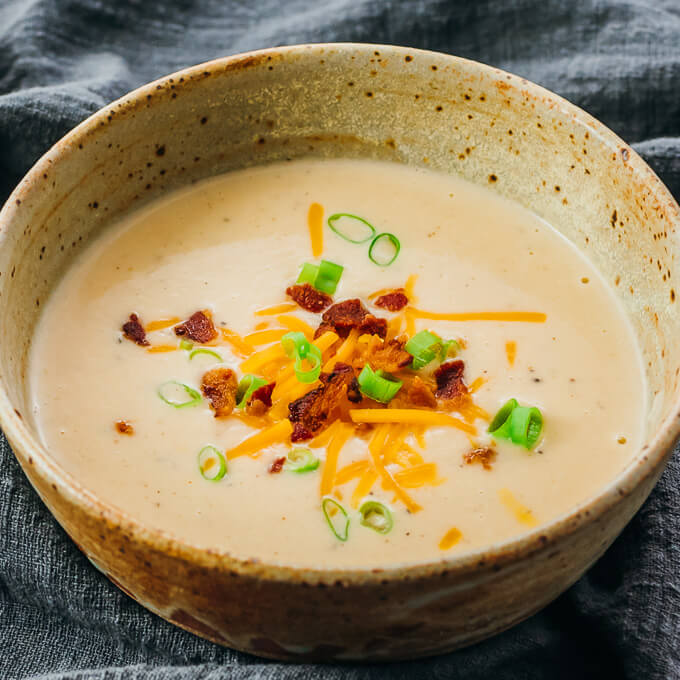 INGREDIENTS
1

pound

cauliflower florets

(1 head)

5

slices

bacon

1.5

cups

shredded cheddar cheese

(4 ounces weight)

4

ounces

cream cheese

3

cups

water (Note 1)

1/2

cup

chopped celery

(1 stalk)

1/4

cup

chopped onions

(1/4 onion)

5

cloves

garlic, minced

1

teaspoon

table salt

1/2

teaspoon

ground black pepper
Optional Toppings:
thinly sliced scallions
shredded cheddar cheese
INSTRUCTIONS
Cut Cream Cheese: Cut cream cheese into 8 small cubes. Set aside to soften on countertop while proceeding to next steps.

Cook Bacon: Select sauté mode on pressure cooker (Note 2) for medium heat. Cut bacon slices in half (so they are half as long) and add to pot, working in batches as needed. Cook until crispy, turning occasionally. Transfer crispy bacon to paper towel lined plate to drain, leaving grease in pot.

Sauté Vegetables: Add celery, onions, garlic, salt, and pepper to pot with grease. Cook for a few minutes, stirring occasionally. Turn off sauté mode.

Pressure Cook: Add cauliflower florets and water, then stir and verify that cauliflower is submerged. Secure and seal lid. Cook for 5 minutes at high pressure, followed by quick pressure release.

Purée Soup: Uncover. Add cream cheese and shredded cheddar cheese. Use immersion blender or tabletop blender to purée until smooth (Note 3).

Serve: Taste, adjusting salt and pepper as needed. Ladle into bowls, optionally topping with shredded cheese and sliced scallions. Crumble bacon on top. Serve, and save any leftovers (Notes 4-5).
NUTRITION
Makes 6 Servings
Amount Per Serving (1 cup):
| | |
| --- | --- |
| Calories 220 (68% from fat) |   |
| Total Fat 17g | 26% |
|    Saturated Fat 10g | 48% |
| Cholesterol 54mg | 18% |
| Sodium 760mg | 32% |
| Net Carb 3g |   |
| Total Carb 5g | 2% |
|    Dietary Fiber 2g | 8% |
|    Sugars 2g |   |
| Protein 12g |   |
PHOTOS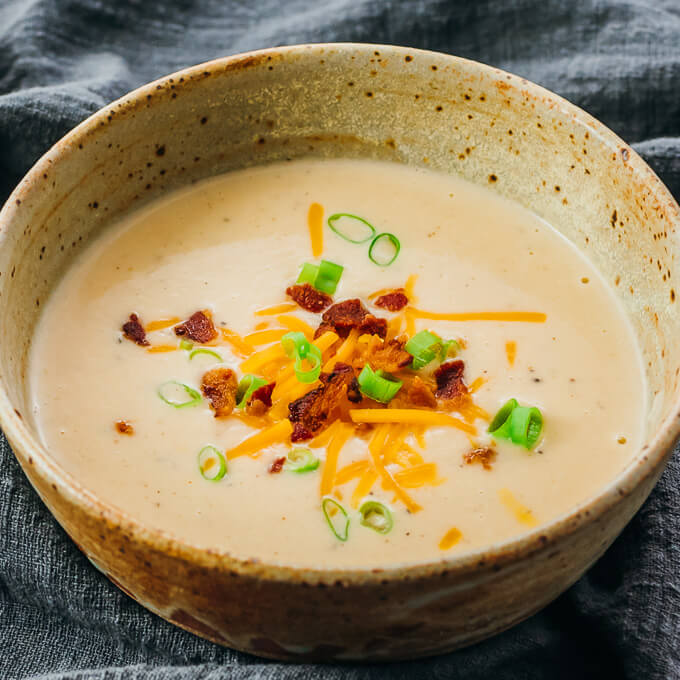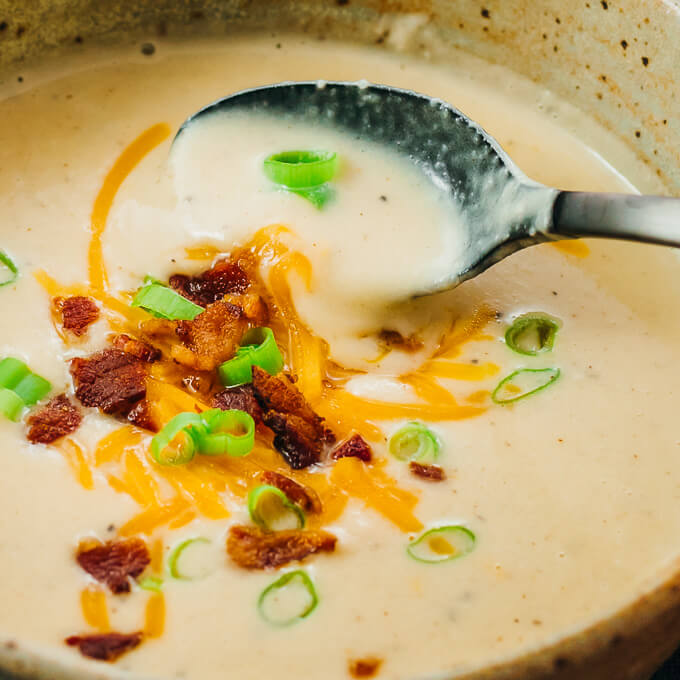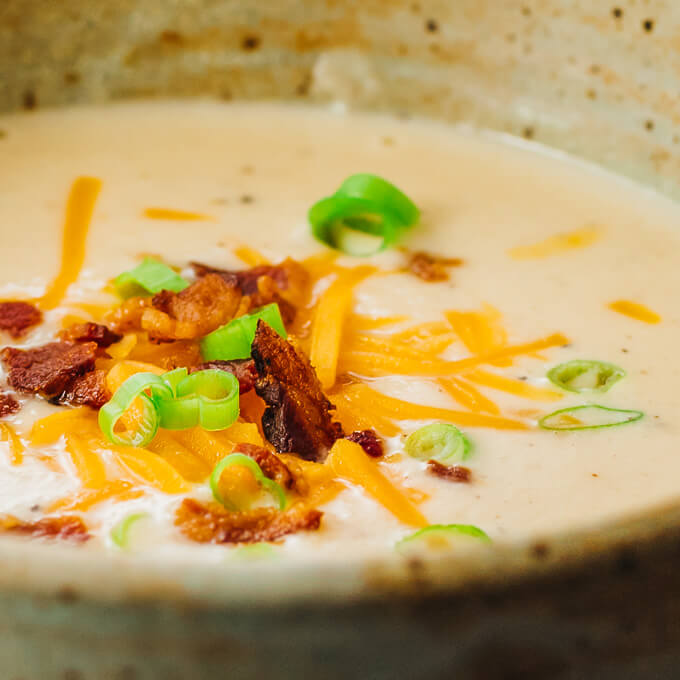 NOTES & TIPS
(1) Water. This can be substituted with vegetable or chicken broth.
(2) Pressure Cooker Equipment. I use a 6-quart Instant Pot. Smaller and larger models should work as well.
(3) Blender. I recommend using an immersion blender so that the soup can be puréed in place, without needing to transfer it. If you don't have an immersion blender, transfer the soup to a traditional tabletop blender that can handle at least 1.5 liters of hot liquid.
(4) Serving. The soup will be very hot, so let it rest before serving. It will also thicken a bit as it cools. Serve this soup alongside an avocado steak salad or a bright balsamic strawberry salad.
(5) Leftovers. Leftover soup should be stored in an airtight container separate from the toppings (bacon, scallions, and cheddar cheese). Reheat the soup in the microwave until hot, stirring halfway through. Add toppings last, just before serving.