Summary:
As a low carb alternative to regular pizza, this recipe uses a mixture of cauliflower, cheese, and eggs to form the crust. Use your favorite toppings or add tomato sauce, fresh mozzarella, and sliced basil for a Margherita style pizza.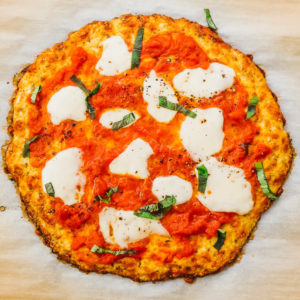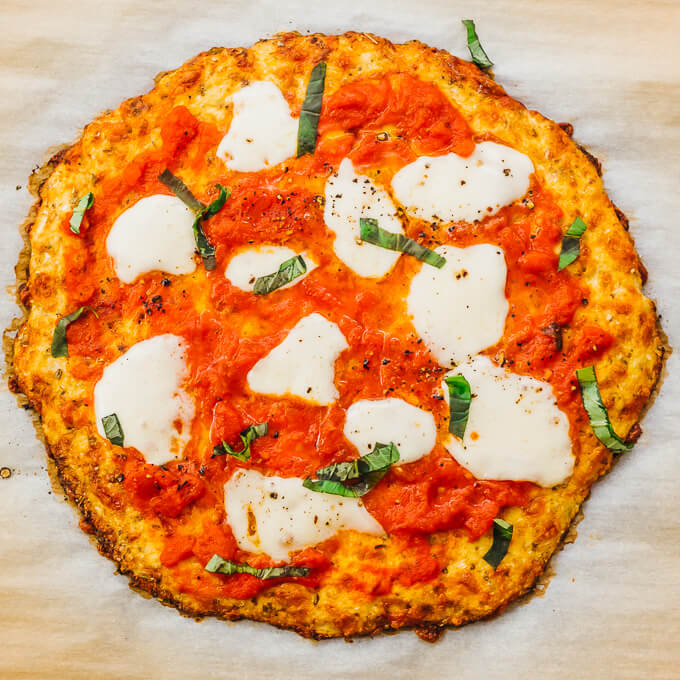 INSTRUCTIONS
Prepare Equipment: Position oven rack in center of oven and preheat to 425 F. Prepare large baking sheet (Note 6) lined with parchment paper or baking mat.

Grate Cauliflower: Use food processor or box grater to process cauliflower florets until finely grated. Stir grated cauliflower with salt in bowl until well-mixed. Using nut milk bag or cheese cloth, squeeze moisture from grated cauliflower, discarding about 1/2 cup of liquid (Note 7).

Make Crust: Stir grated cauliflower, cheddar cheese, parmesan cheese, eggs, and oregano in large mixing bowl until well-mixed. Transfer mixture onto lined baking sheet. Cover with overlapping sheets of plastic cling wrap. Spread and flatten into 9 to 10 inch diameter circle. Discard plastic wrap.

Bake Crust: Bake at 425 F until top is golden, about 20 minutes. Remove crust from oven to add toppings.

Add Toppings: Use spoon to spread tomato sauce evenly across crust. Distribute mozzarella cheese on top of sauce. Drizzle with olive oil and season with black pepper.

Bake Pizza: Return to oven and bake for 5 minutes or until crust looks crispy and toppings are heated through. Top with basil. Cut into slices and serve (Note 8).
NUTRITION
Makes 6 Servings
Amount Per Serving (1 slice):
| | |
| --- | --- |
| Calories 130 (61% from fat) |   |
| Total Fat 9g | 14% |
|    Saturated Fat 4g | 21% |
| Cholesterol 82mg | 27% |
| Sodium 400mg | 17% |
| Net Carb 2g |   |
| Total Carb 3.5g | 1% |
|    Dietary Fiber 1.5g | 7% |
|    Sugars 2g |   |
| Protein 9g |   |
PHOTOS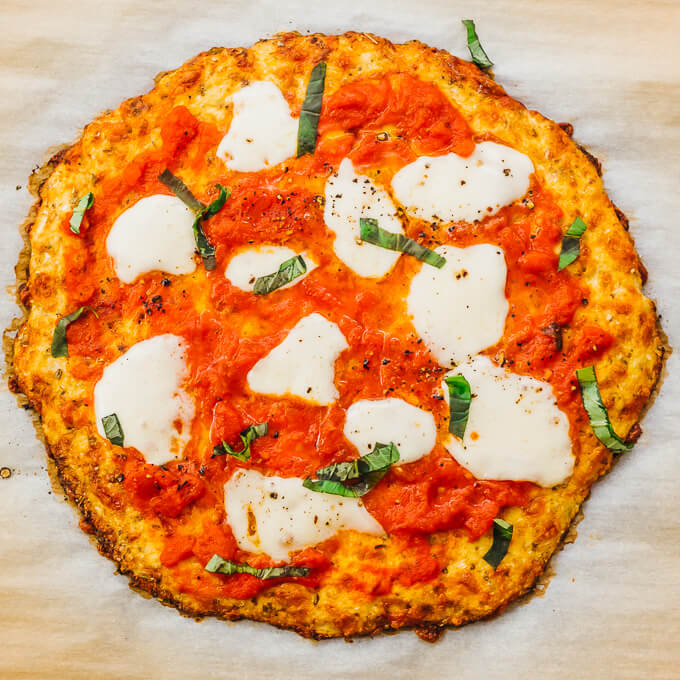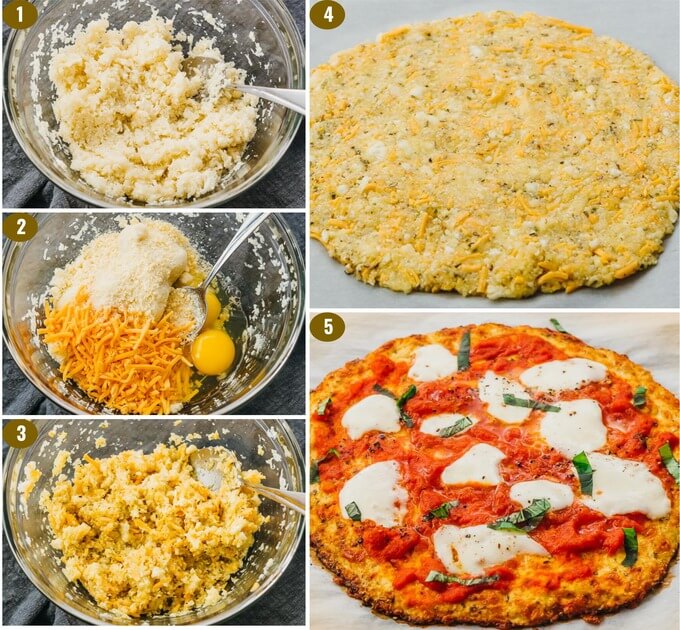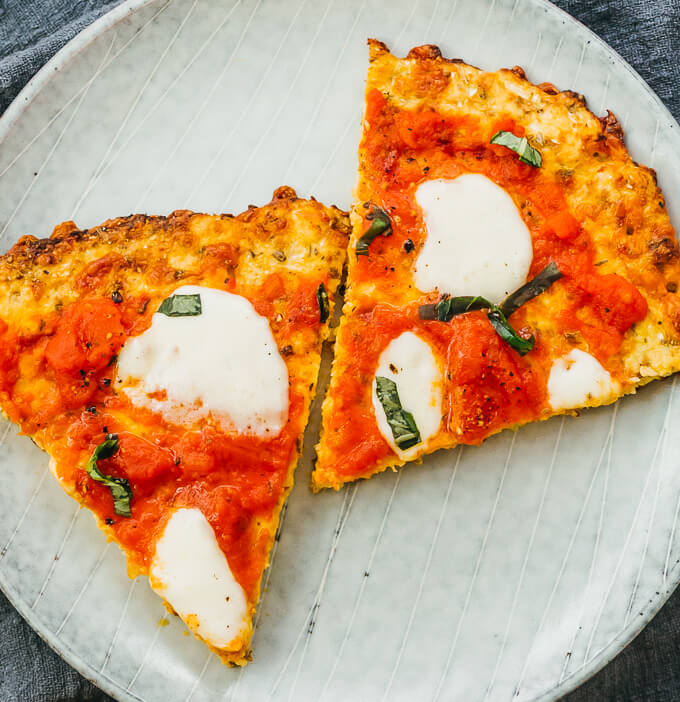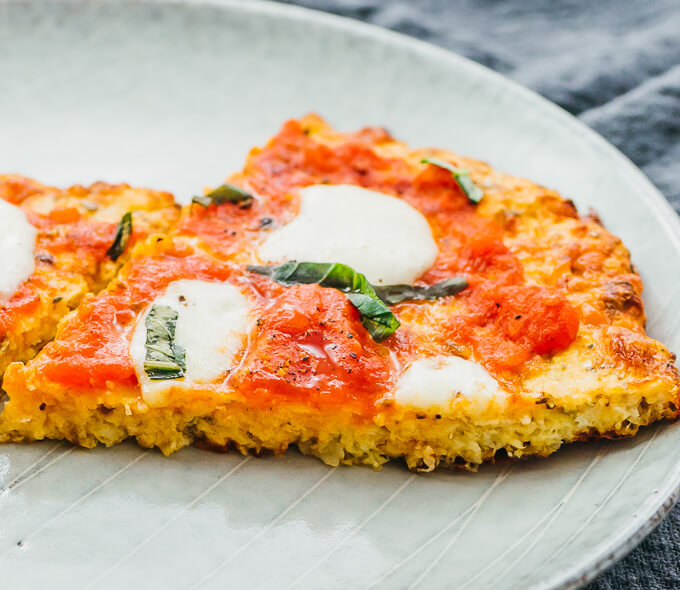 NOTES & TIPS
(1) Cauliflower Florets. About 1 small-medium head of cauliflower. You can cut florets from a head of cauliflower, or you can buy a 12-ounce bag of pre-cut raw florets located in the refrigerated produce section of many U.S. grocery stores. These florets will then be grated in Step 2 of this recipe. I don't recommend using bags of pre-riced cauliflower because different brands vary a lot in the size of the individual cauliflower "rice" pieces, and they're usually much larger compared to home grated cauliflower. You want to use smaller pieces for this recipe because they'll combine better with other ingredients to form a smooth pizza crust. Moreover, freshly grated cauliflower will more readily absorb salt and release liquid (see Step 2 of this recipe) compared to pre-riced varieties.
(2) Cheddar Cheese. About 2 ounces weight. This can be substituted with any kind of shredded soft cheese that melts easily, like shredded mozzarella, pepper jack, or provolone.
(3) Parmesan Cheese. This is finely grated parmesan that has a sandy or almost powdery texture, not shredded, often available in pre-grated bags in the refrigerated section of U.S. grocery stores. This can be substituted with similar cheeses like pecorino romano or asiago.
(4) Mozzarella Cheese. About 1 ounce weight. This is fresh, soft mozzarella cheese that can be sliced into thin rounds, not the shredded type.
(5) Basil. I use fresh basil leaves. To slice into strips, place the leaves on top of each other into 1 large stack, roll the stack into a log, and thinly slice starting at one end of the log until you end up with many thin strips.
(6) Baking Sheet. Use flat bakeware that is large enough to hold a 9 to 10 inch pizza. Line with an oven-safe nonstick surface like parchment paper or a baking mat, so that the pizza can easily slide from the bakeware after baking. Don't use wax paper, which is not oven-safe.
(7) Squeezing Moisture. This is an important step because raw cauliflower has a lot of moisture that should be removed for a crisper pizza crust. The less liquid the crust contains, the faster it will crisp in the oven. Use a nut milk bag, cheese cloth, or a tea towel to wring moisture from the freshly grated and salted cauliflower.
(8) Serving. Serve pizza hot, alongside an appetizer like almond flour garlic knots, chicken wings, or bacon-wrapped jalapeño poppers.
(9) Similar Recipe. Another low carb pizza option is using a crust composed of almond flour, mozzarella cheese, cream cheese, and egg (see Keto Pizza Recipe). It yields a crisp and sturdy crust that can hold heavier toppings than this cauliflower-based crust.