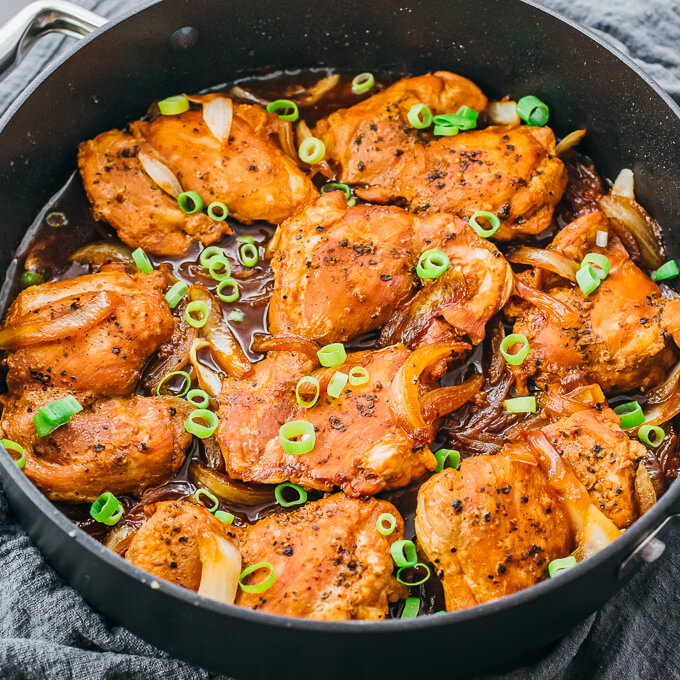 INSTRUCTIONS
In a bowl, stir together soy sauce, vinegar, garlic, and cayenne until well-mixed. Set aside.

Pat chicken thighs dry with paper towels. Trim any excess fat. Generously season them on both sides with salt and pepper.

Heat a 10 inch pan over medium-high heat. When the pan is hot, add olive oil to coat the bottom of the pan. Add chicken thighs in a single layer. Cook for a few minutes to brown, flip, and repeat for the other side.

Reduce to medium-low heat. Evenly distribute onions and bay leaves on top of the chicken. Evenly pour soy sauce and vinegar mixture over the chicken and onions.

Cover with a lid and simmer for 10 minutes.

Uncover, and increase to medium heat. Cook for 15 minutes to let the flavors soak in.

Flip the chicken thighs. Cook for another 15 minutes or until the sauce is thickened to your preference.

Turn off the heat. Remove the bay leaves, if desired. Top with scallions, and serve.
NUTRITION
Makes 4 Servings
Amount Per Serving:
| | |
| --- | --- |
| Calories 340 (48% from fat) | |
| Total Fat 18g | 28% |
| Saturated Fat 1g | 3% |
| Cholesterol 182mg | 61% |
| Sodium 1540mg | 64% |
| Net Carb 6.5g | |
| Total Carb 7g | 2% |
| Dietary Fiber 0.5g | 2% |
| Sugars 3g | |
| Protein 37g | |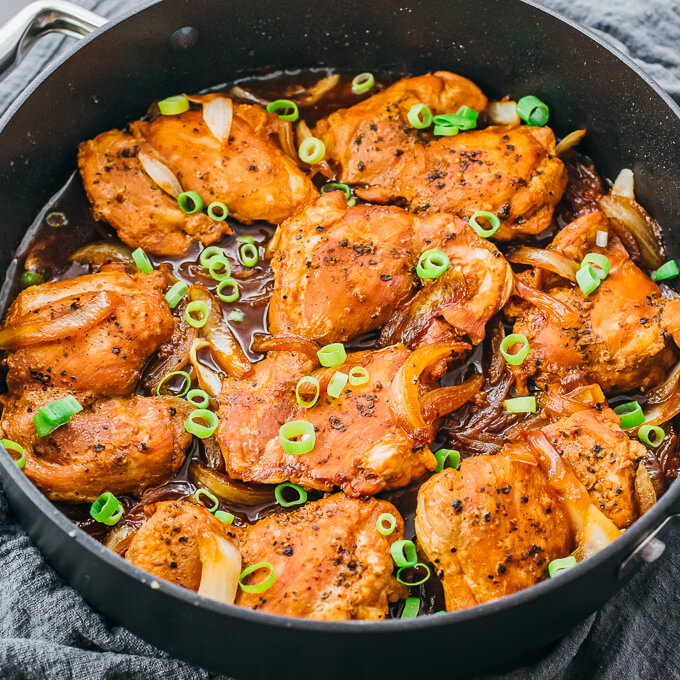 Recipe Overview
This recipe refers to Filipino chicken adobo, not the adobo sauce that originated in Spanish cuisine. The Filipinos independently developed a similar sauce, which Spanish colonists called "adobo" because of some similarities, hence the name.
Filipino chicken adobo combines chicken with vinegar and soy sauce, plus aromatics like onions and garlic. It's simmered on the stovetop until the chicken is tender and the sauce is reduced.
The resulting sauce is a bold sauce bursting with flavor. It's tangy, salty, and rich. If you don't like strong sauces and prefer blander foods in general, this dish is definitely not for you.
I first made chicken adobo in the Instant Pot, and later adapted it for the stovetop. Both recipes have nearly identical ingredients. The main difference is that the pressure cooker version has a much thicker sauce, and does a thorough job of breaking down the onions so that they impact significant sweetness to the resulting sauce.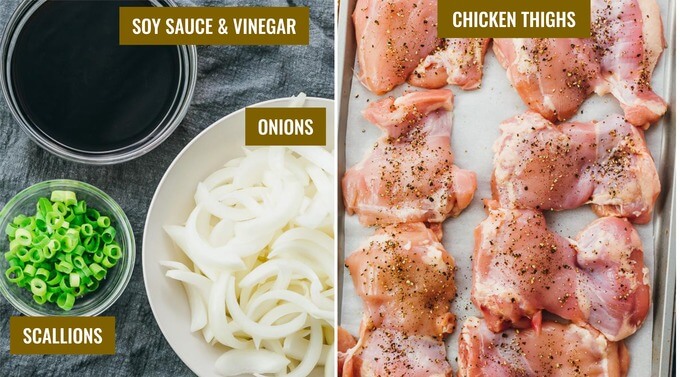 Selecting Chicken Thighs And Soy Sauce
I use chicken thighs that are boneless and skinless. I haven't tested this recipe with the bone-in or skin-on variety, but I imagine that they'll work well with minor adjustments to the cooking time.
Watch out for the soy sauce. Use ones labeled low sodium or reduced sodium, otherwise you'll end up with an overly salty dish. Bottles labeled "light soy sauce" only refer to the color, not the sodium content.
Recommended Pan
Use a pan that comes with a lid, since you'll need to cover the chicken as it cooks. I use a glass lid over a nonstick pan.
The pan should also be wide enough so that it can simultaneously hold all of the chicken thighs in a single layer. My pan has a 10 inch diameter, which works well. Note that the chicken thighs will shrink as they cook, so it's okay if it's initially a snug fit.
I also recommend a pan with high sides, since you'll need them to hold in the sauce and onions. My pan has sides that are about 3 inches high.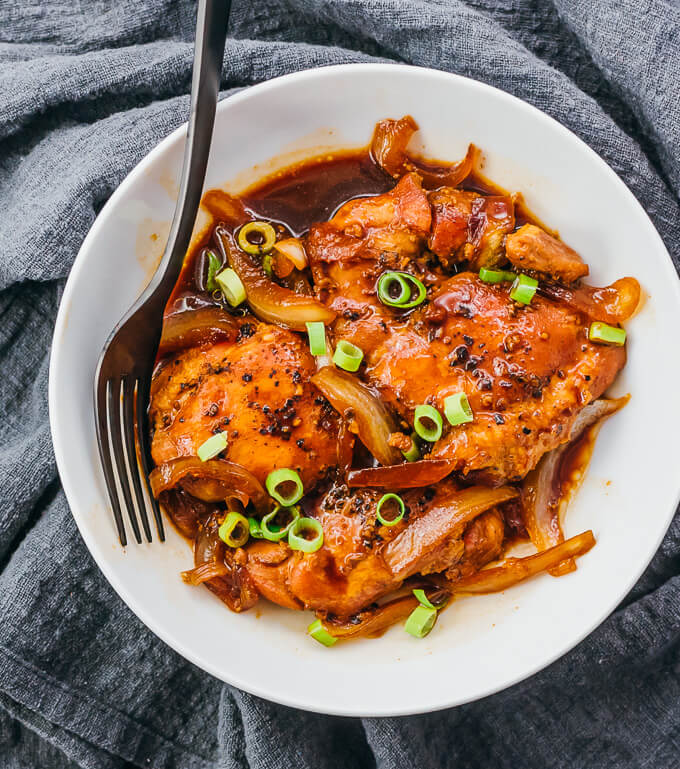 Adjusting The Sauce
The times listed in the recipe, in particular when the chicken is simmering uncovered, are estimates that might be different for you.
A better way to determine when the dish has finished cooking is to ask yourself: Is the chicken cooked through and tender? Has the sauce thickened enough to my liking? Or is it too watery?
Once the chicken is tender and the sauce looks good, your dish is finished and you can start serving.
I tend to prefer my sauce to be on the thicker side, and I want to give the chicken more time to soak up the flavors, which is reflected in the time estimates.
Serving and Leftovers
If you're wondering what to serve with chicken adobo, I recommend fried cauliflower rice, sauteed spinach, or roasted vegetables. This is a really flavorful dish, so something plain and simple would be best.
Leftovers can be covered and stored in the refrigerator. Both the chicken and sauce reheat well in the microwave.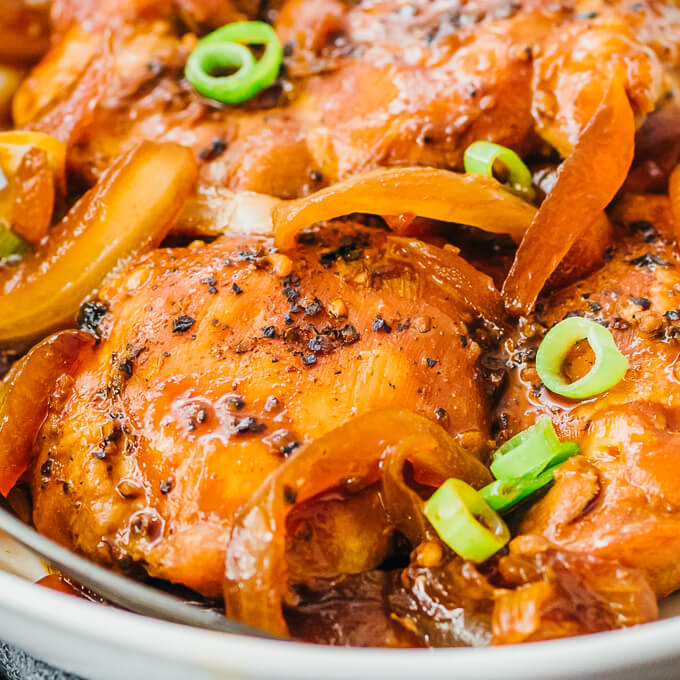 More Delicious Low Carb Asian Dishes