Summary:
This is a simple oven recipe for making Filipino chicken adobo; no searing needed. The chicken is remarkably tender, with juicy onions and a bold tangy sauce bursting with flavor. Want to use your pressure cooker instead? Check out Instant Pot Chicken Adobo.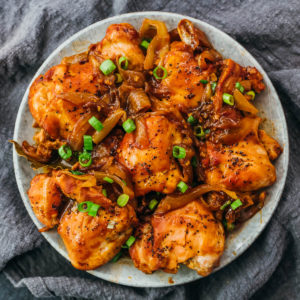 INGREDIENTS
2

pounds

boneless skinless chicken thighs (Note 1)

1/4

cup

low-sodium soy sauce (Note 2)

2

tablespoons

white vinegar

1

small onion, sliced

5

cloves

garlic, minced

1

scallion (green onion), sliced

1/2

teaspoon

ground black pepper

1/4

teaspoon

ground cayenne
INSTRUCTIONS
Prepare: Position oven rack in center of oven, and preheat to 400 F. In dutch oven or oven-safe pot (Note 3), stir together soy sauce, vinegar, garlic, and cayenne until well-mixed. Stir in onions and bay leaves.

Add Chicken: Pat chicken thighs dry with paper towels, and trim any excess fat (kitchen shears are useful). Season with black pepper. Place chicken thighs in single layer in pot, nestling them snugly alongside onions and sauce, with smooth sides of thighs facing down.

Bake: Bake uncovered at 400 F for 30 minutes, flip chicken thighs, then bake uncovered for another 30 minutes or until chicken is nicely browned on top.
NUTRITION
Makes 3 Servings
Amount Per Serving:
| | |
| --- | --- |
| Calories 390 (45% from fat) |   |
| Total Fat 19g | 30% |
|    Saturated Fat 0g | 0% |
| Cholesterol 243mg | 81% |
| Sodium 1050mg | 44% |
| Net Carb 5.5g |   |
| Total Carb 6.5g | 2% |
|    Dietary Fiber 1g | 3% |
|    Sugars 3g |   |
| Protein 49g |   |
PHOTOS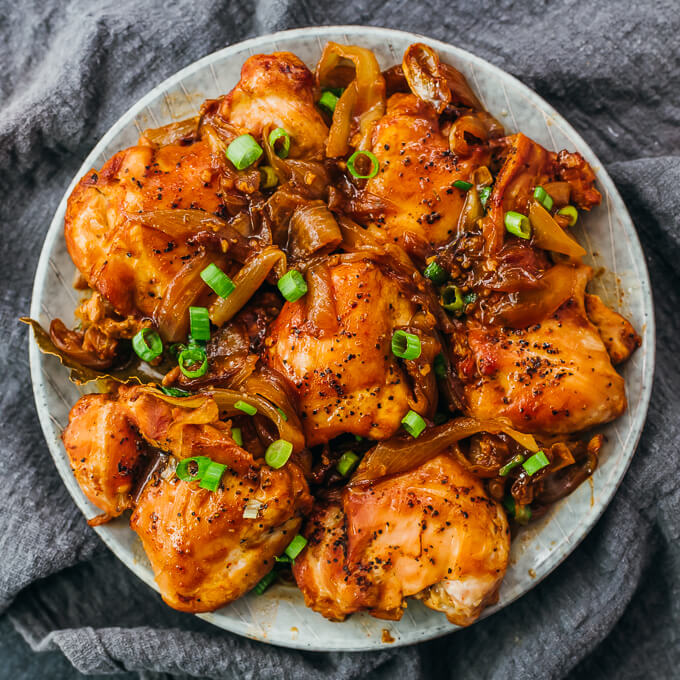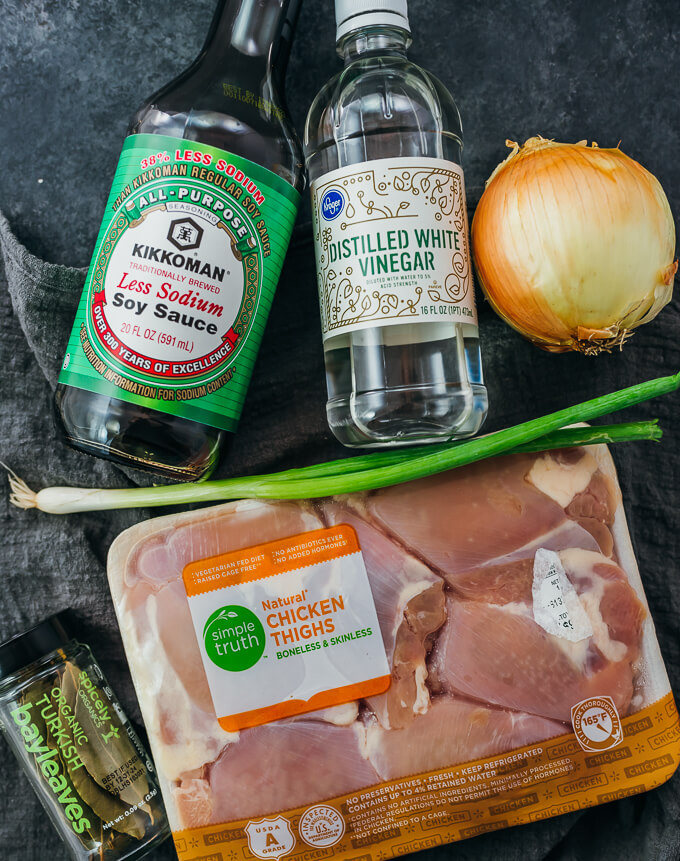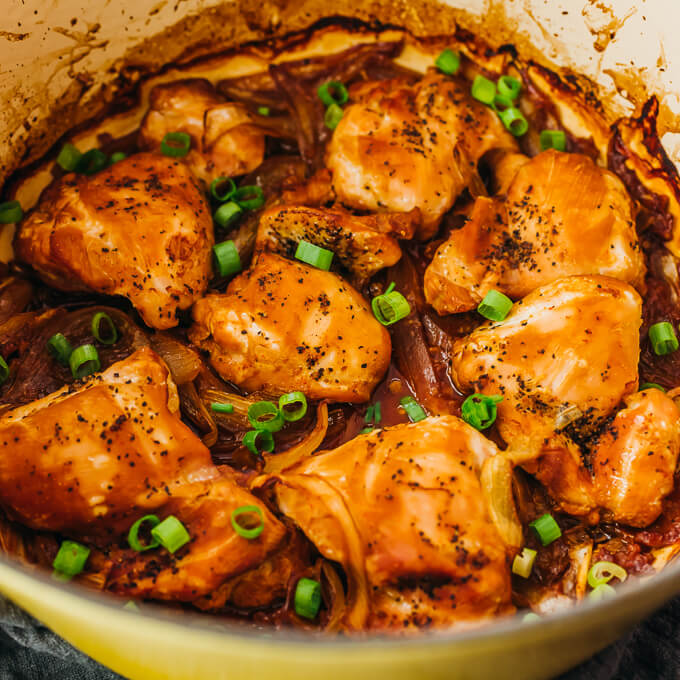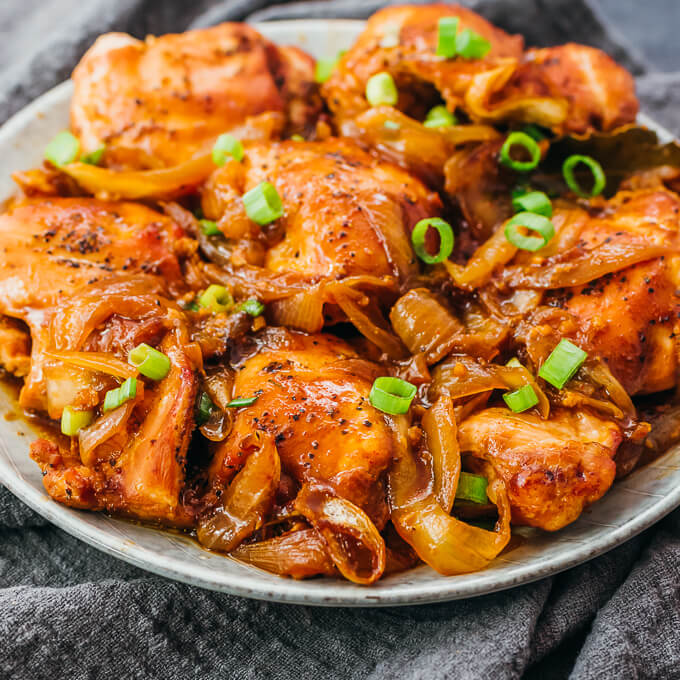 NOTES & TIPS
(1) Chicken. About 7 chicken thighs. I use fresh chicken; if yours is frozen, defrost in the refrigerator overnight before using in this recipe. I haven't tested with other cuts, but halved chicken breasts may also work well.
(2) Soy Sauce. I use low-sodium soy sauce by the brand Kikkoman. Avoid regular soy sauce, which may result in an overly salty dish. If you follow a paleo, whole30, or gluten-free diet, substitute with coconut aminos.
(3) Pot. I use a 6-quart dutch oven, and you can use any oven-safe pot or high-sided baking dish large enough to hold all chicken thighs in a single layer. It's fine if it's a snug fit, since the chicken thighs will shrink as they cook. There's no need to grease or heat the pot before adding ingredients.
(4) Sauce. If the sauce doesn't look thick enough, transfer the chicken and onions to serving plates and tent with foil to keep warm. Place the pot over medium heat on the stovetop to simmer the remaining liquid until thickened, no more than 5 minutes. Then spoon the thickened sauce over the chicken.
(5) Serving. Chicken adobo can be served with fried cauliflower rice, creamed spinach, or roasted vegetables. This is a very flavorful dish, so a plain and simple side dish would be best. Leftovers keep well — store in a covered container in the refrigerator for up to 2 days and reheat in the microwave.