Summary:
A superb Filipino chicken adobo with onions and garlic cooked in the Instant Pot. Add this to your dinner rotation along with similar low carb pressure cooker recipes.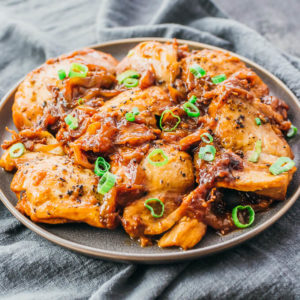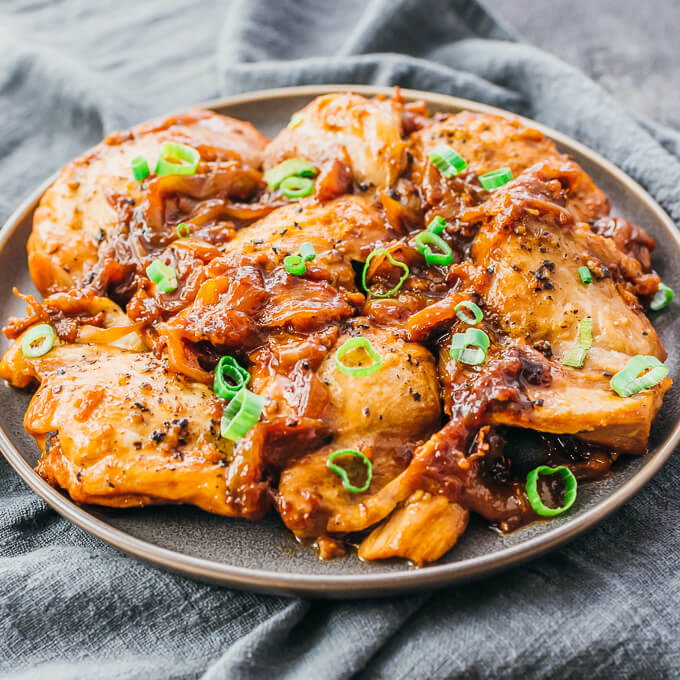 Instant Pot Chicken Adobo
INGREDIENTS
2 - 2.5

pounds

boneless skinless chicken thighs

1/2

cup

low-sodium soy sauce

(do not use regular, which will be too salty)

1/3

cup

white vinegar

1

onion

sliced

5

cloves

garlic

minced

3

bay leaves

2

tablespoons

olive oil

1/4

teaspoon

cayenne

salt and coarse black pepper
For serving:
2

scallions

sliced

cooked white rice or cauliflower rice
INSTRUCTIONS
Select the saute mode on the pressure cooker for medium heat. Generously season chicken thighs on both sides with salt and pepper. When the display reads HOT, add olive oil to coat the bottom of the pot. Add half of the chicken thighs and cook for a few minutes on each side before transferring them to a plate. Repeat for the remaining chicken thighs. Turn off the saute mode.

Add soy sauce, vinegar, onion, garlic, and cayenne to the pot. Stir well and scrape up any brown bits stuck to the bottom of the pot. Return all chicken thighs to the pot in a single layer, placing them snugly on top of the onions. Top with bay leaves. Secure and seal the lid. Cook for 10 minutes at high pressure followed by a manual pressure release.

Uncover and select the saute mode. Keeping the chicken in the pot, boil for about 15 minutes to thicken the sauce. Remove the bay leaves. Serve the chicken and sauce, optionally with cooked cauliflower rice. Top with sliced scallions.
NUTRITION
Makes 4 Servings
Amount Per Serving:
| | |
| --- | --- |
| Calories 370 (52% from fat) | |
| Total Fat 21g | 33% |
| Saturated Fat 1g | 5% |
| Cholesterol 182mg | 61% |
| Sodium 1540mg | 64% |
| Net Carb 6.5g | |
| Total Carb 7g | 2% |
| Dietary Fiber 0.5g | 2% |
| Sugars 3g | |
| Protein 37g | |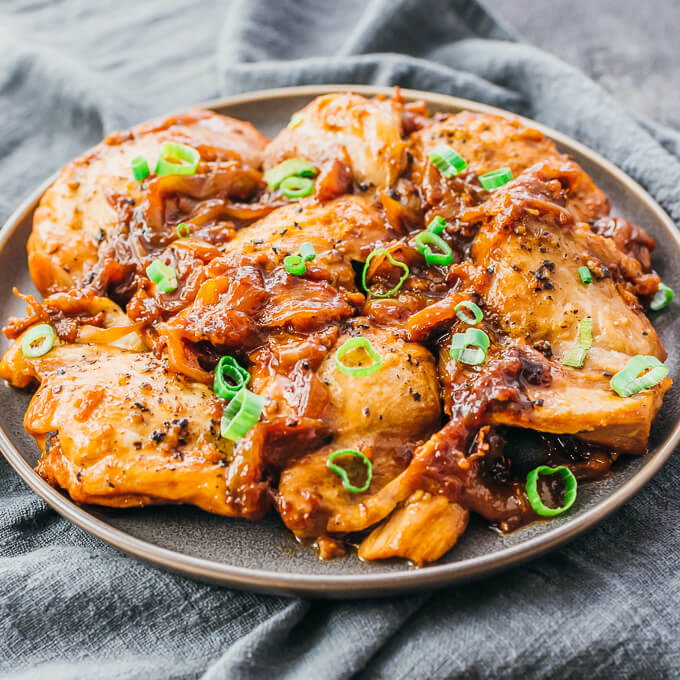 Chicken adobo is traditional Filipino comfort food made easy with a pressure cooker. The chicken comes out tender and flavorful, and the adobo sauce is simultaneously tangy, sweet, and savory. I don't get the chance to eat Filipino food often, but this is one of my favorites!
The main ingredients in chicken adobo are chicken thighs (I use boneless and skinless ones), onions, soy sauce, and vinegar. The chicken thighs are seasoned and pan seared, followed by pressure cooking with soy sauce, vinegar, and onions in the Instant Pot. The saute mode is then used to reduce the sauce to an almost sticky consistency.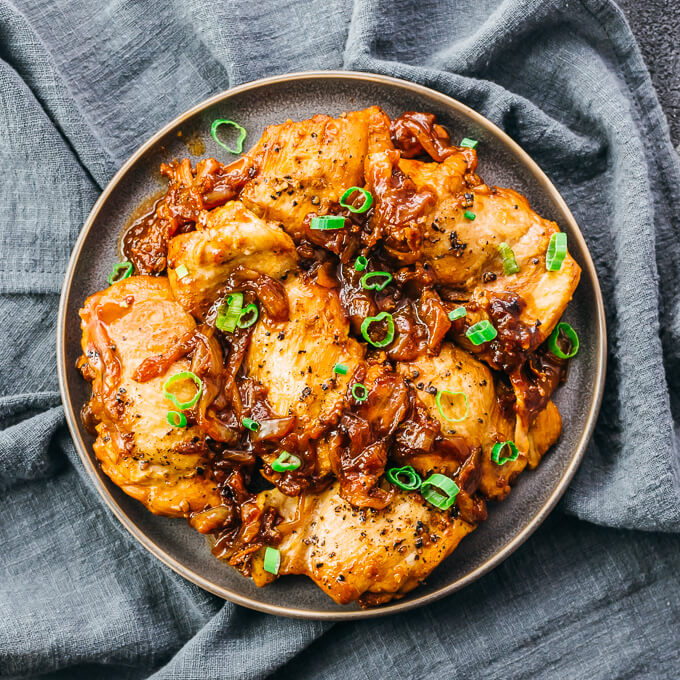 The adobo sauce is the highlight of this dish, so here are a few details regarding the last step when you're reducing the sauce. The recipe recommends 15 minutes of boiling to be on the conservative side, but you can boil longer for a different result.
If you boil for…
15 minutes then you'll get a decent amount of remaining sauce to spoon over the chicken but it won't be very thick. The sauce will, however, taste amazing with the onions and chicken.
20 minutes then you'll end up with a thick glaze that easily sticks to the chicken. However, since it's more of a glaze than a sauce, you won't have much liquid to spoon over the chicken. You'll also have to be careful that the sauce doesn't burn on the bottom of your pressure cooker pot.
Personally, I like the consistency of the sauce when boiled about 17 minutes. I recommend 15 minutes for most people because it's easy to burn the sauce when it starts becoming glaze-like, but it's up to you!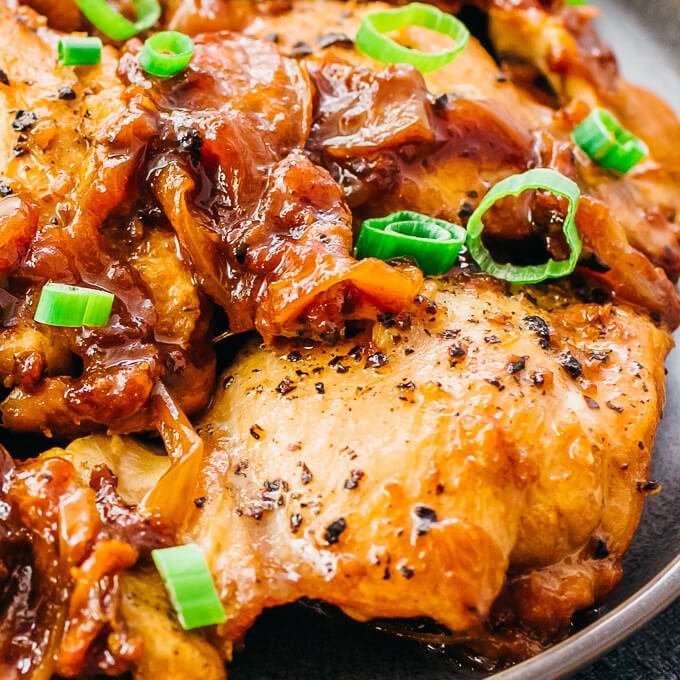 A few notes on ingredient substitutions:
The onions are a must and cannot be skipped. The sauce would have a very different taste and texture without them.
If you follow the Paleo or Whole30 diet, you can substitute soy sauce with coconut aminos.
I don't recommend using chicken breasts. Use chicken thighs, legs, or drumsticks. I use boneless and skinless ones because it's easier, but you don't have to.
This recipe's ingredients were a good amount for my 6 quart Instant Pot, but you can easily double them for an 8 quart pressure cooker.
If you have any leftovers, they store well in the refrigerator and can be reheated the next day in the microwave.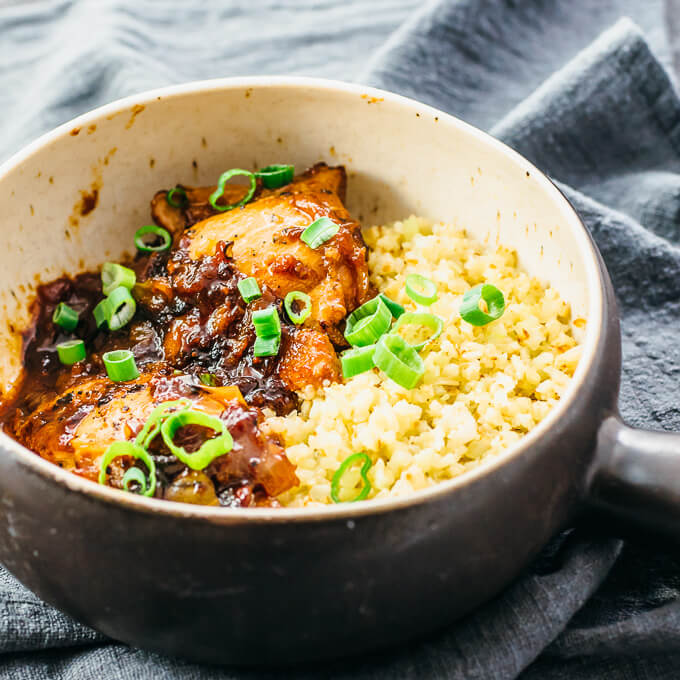 MORE DELICIOUS CHICKEN DINNERS MADE IN THE INSTANT POT: