Summary:
Cottage pie is the ultimate comfort food — a flavorful and rich meat pie with a luxuriously thick mashed potato topping. Enjoy this hearty meal on a cold wintry night or for special occasions like St. Patrick's Day.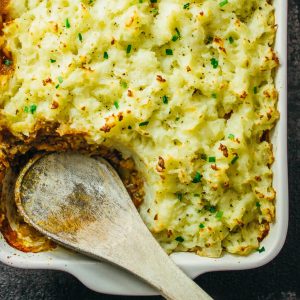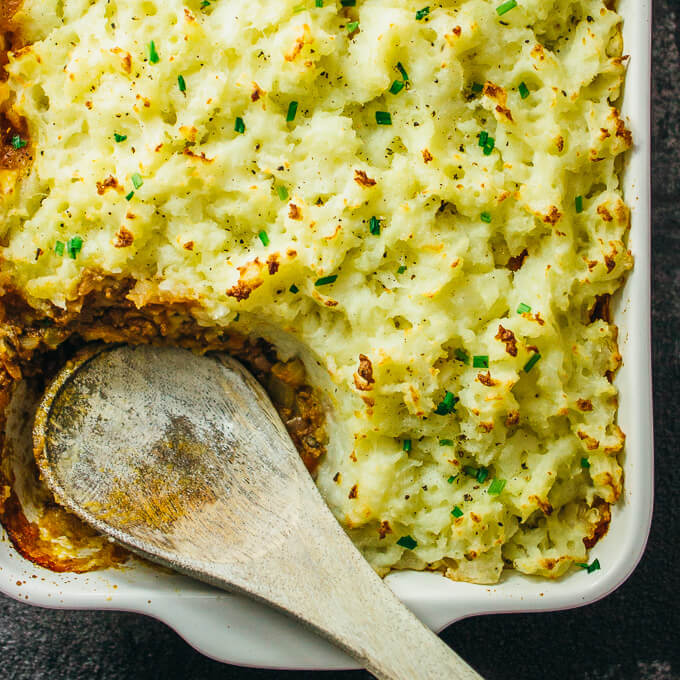 INGREDIENTS
Meat Layer:
1

pound

lean ground beef (Note 1)

1.5

cups

diced onion (Note 2)

1

cup

diced celery

1/2

cup

diced carrots

1

cup

beef stock

3

tablespoons

tomato paste

1

tablespoon

worcestershire sauce

2

teaspoons

dried rosemary

1.5

teaspoons

table salt

1/2

teaspoon

ground black pepper

1

tablespoon

olive oil
Potato Layer:
2.5

pounds

russet potatoes (about 3 large), peeled, cut into 1 to 2 inch chunks

4

tablespoons

butter

1/2

cup

finely grated parmesan cheese (Note 4)

1

tablespoon

olive oil
INSTRUCTIONS
Boil Potatoes: Boil potatoes in large pot until tender, about 30 minutes. While waiting for potatoes to cook, proceed to next steps.

Brown Beef: Heat olive oil in large pan over medium-high heat. Add beef, rosemary, thyme, salt, and pepper. Cook until beef is no longer pink, breaking up meat with sturdy wooden utensil and stirring frequently, about 5 minutes.

Add Veggies: Add diced onions, celery, and carrots to pan with beef. Cook until vegetables soften, about 5 minutes, stirring occasionally. Add beef stock, tomato paste, and Worcestershire sauce to pan, stirring well as it simmers. Reduce heat to medium-low and simmer until sauce is thickened, about 15 minutes. Turn off heat.

Mash Potatoes: When potatoes have finished cooking, drain well. Add butter and parmesan cheese to pot with drained potatoes. Mash until smooth.

Assemble & Bake: Transfer meat mixture to 2 quart baking dish, spreading evenly along bottom of dish. Spoon mashed potatoes over meat, using fork to rough up potato surface. Drizzle with olive oil. Bake uncovered at 400 F until peaks of potatoes are crispy, about 30 minutes. Serve (Note 5).
NUTRITION
Makes 6 Servings
Amount Per Serving:
| | |
| --- | --- |
| Calories 510 (38% from fat) |   |
| Total Fat 21g | 33% |
|    Saturated Fat 9g | 47% |
| Cholesterol 94mg | 31% |
| Sodium 930mg | 39% |
| Net Carb 46g |   |
| Total Carb 51g | 17% |
|    Dietary Fiber 5g | 19% |
|    Sugars 7.5g |   |
| Protein 29g |   |
PHOTOS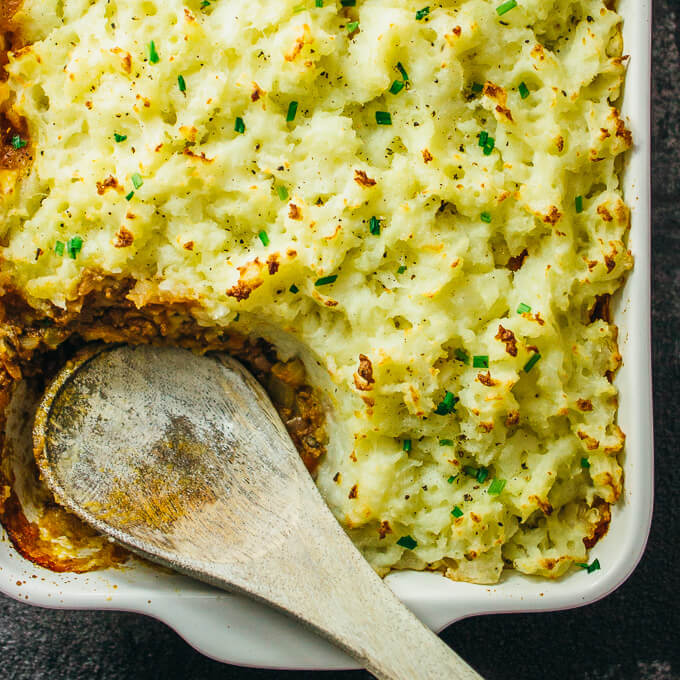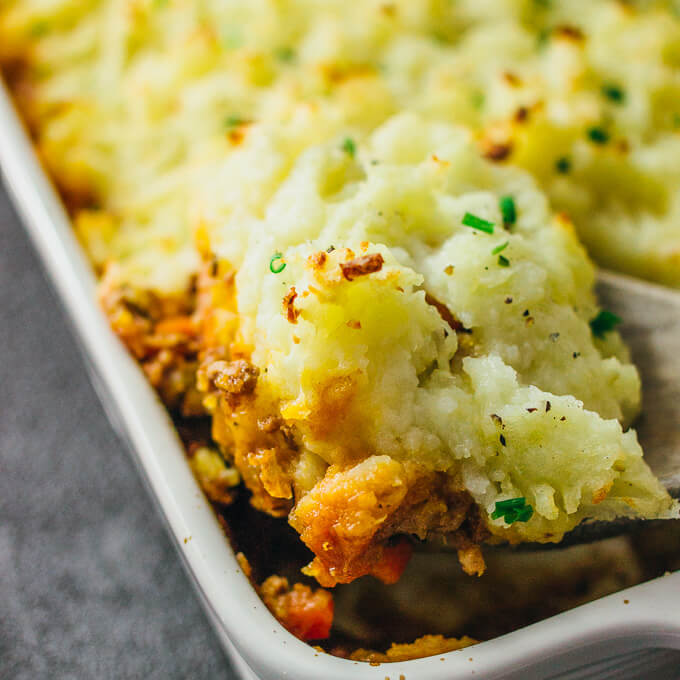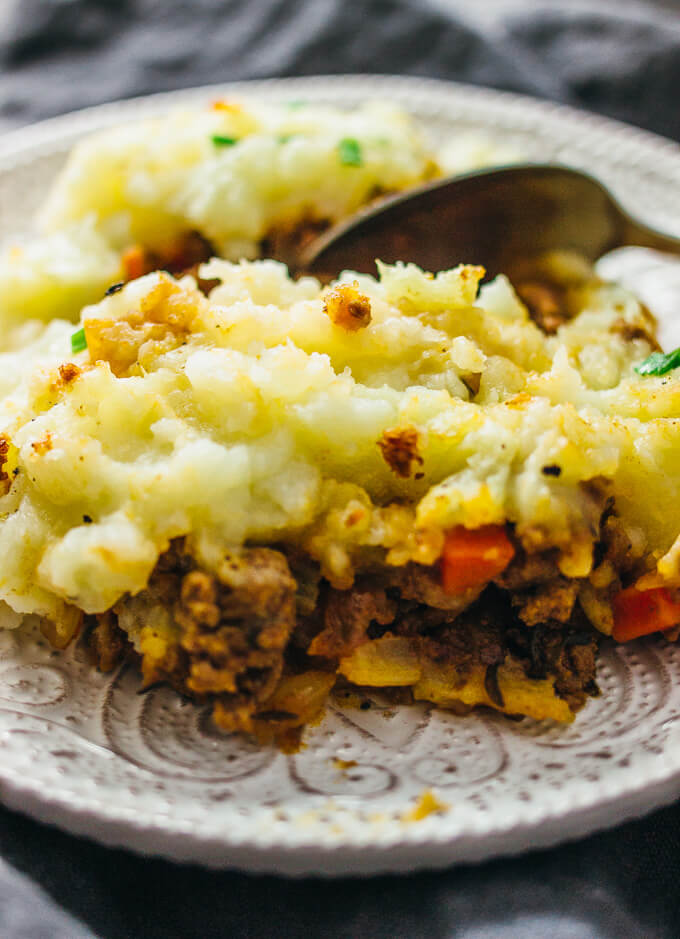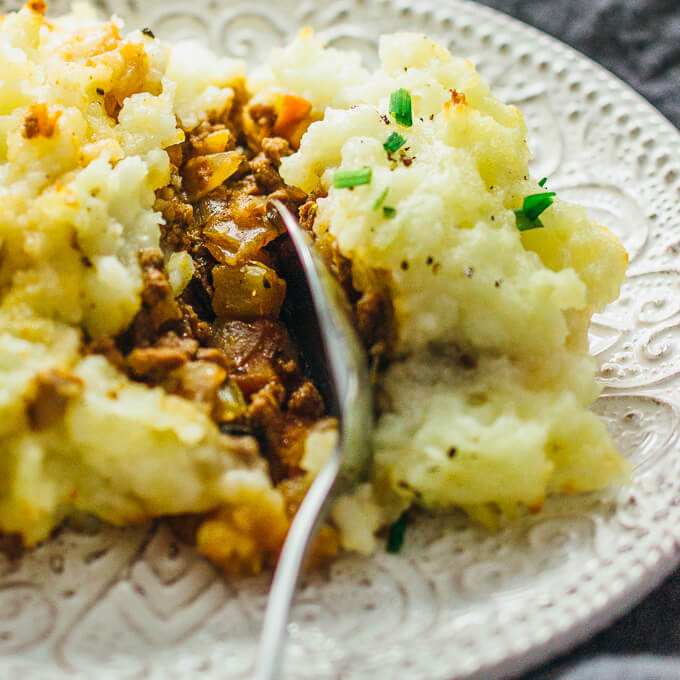 NOTES & TIPS
(1) Ground Beef. I use extra lean ground beef — about 95% lean. If you use fattier beef, consider draining off some of the grease after crumbling and browning. If you don't have beef, good substitutes include ground lamb (in which case it would be called Shepherd's Pie) and ground turkey.
(2) Onion, Celery, Carrot. Mirepoix is a package of pre-chopped carrots, celery, and onions that you can often find in the refrigerated produce section of U.S. grocery stores. It's a convenient option if you're looking to minimize prep time.
(3) Dried Thyme. This amount is for dried whole leaves, not powdered.
(4) Parmesan Cheese. This is finely grated parmesan that has a sandy or almost powdery texture, not shredded, often available in pre-grated bags in the refrigerated section of U.S. grocery stores. This can be substituted with similar cheeses like pecorino romano or asiago.
(5) Serving. Serve warm, optionally garnishing with chopped fresh chives and freshly ground black pepper. Pair with a side dish like roasted brussels sprouts or something fresh like Mediterranean salad.
(6) Lower Carb Version. If you are watching your carb intake, consider making Low Carb Shepherd's Pie, which is similar to this recipe except that it uses ground lamb and a mashed cauliflower topping.
(7) Book Inspiration. I was inspired to develop this recipe from a fantasy series I read called Paksenarrion. It's about a warrior who grew up in a rural town as a sheepfarmer's daughter and runs away from home to join a mercenary company. This cottage pie is just the kind of food they would serve in taverns described in the series.