Enjoy this healthy Mediterranean salad with orzo pasta, baby spinach, basil, kalamata olives, and garlic — all tossed together and drizzled with a balsamic dressing.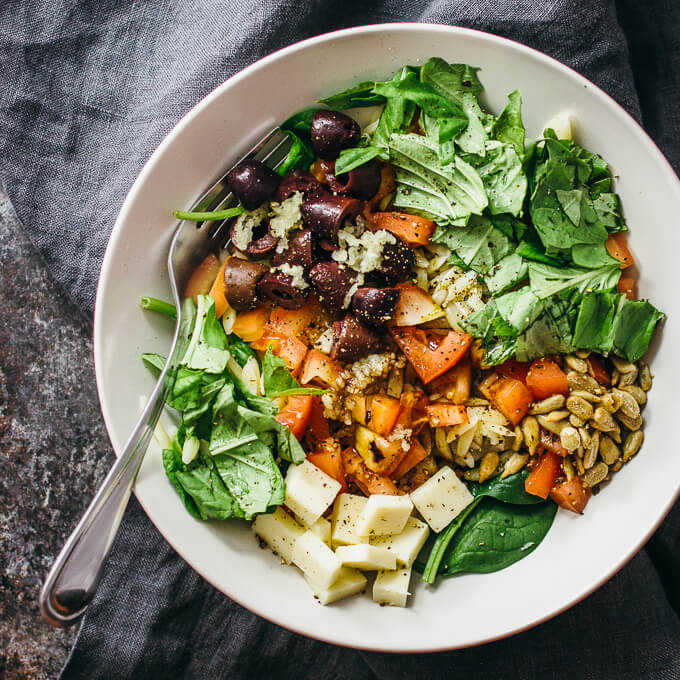 This Mediterranean salad is adapted from a recipe I found in Mr. Savory Tooth's collection. I was rifling through his recipe files, looking for something I hadn't tried before, something that was vegetarian and not too calorie-dense. I came across this little gem that sounded like the perfect break from all of our holiday eating and feasting. Whether you call it a winter salad or a summer salad, it's exactly what you need when you're looking for healthier and lighter fare between all those gluttonous bouts of apple pie and mashed potatoes.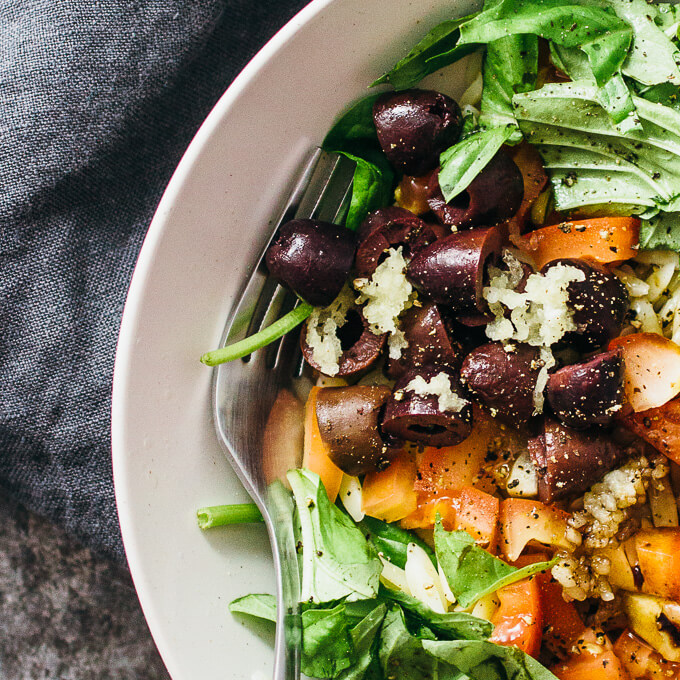 One of the highlights of this salad is the inclusion of Greek kalamata olives. I was lucky to find a jar of jumbo ones at my local grocery store, and I love their purple coloring, distinctive almond shape, and their almost wine-like flavor — the curing process in red wine vinegar brine gives them such flavor. Their unique taste ensures that you can't miss them when you take a bite of this salad.

This Mediterranean salad is a type of pasta salad since it includes orzo, which I have actually never cooked with before. I have some left over, so I'll be on the lookout for good recommendations on how to use it up. I'm thinking it could be delicious in soups and pilafs, or as a rice substitute.
Ingredients
8 ounces orzo pasta
2 cups baby spinach leaves (about 2 ounces)
2 cups diced tomatoes (about 3 roma tomatoes)
1 cup fresh basil leaves, chopped
1/4 cup roasted sunflower seeds
2 ounces asiago cheese, diced
4 garlic cloves, minced
3 tablespoons balsamic vinegar
1 tablespoon olive oil
1/2 teaspoon salt
1/2 teaspoon pepper
Instructions
Cook orzo according to package directions. Combine orzo with spinach, tomatoes, basil, sunflower seeds, olives, asiago, and garlic in a large bowl. Set aside.
Combine balsamic vinegar, olive oil, salt, and pepper in a bowl. Whisk until well-mixed. Drizzle over salad and toss.
http://www.savorytooth.com/mediterranean-salad/
COPYRIGHT © 2017 · SAVORY TOOTH