Summary:
This quick homemade version of Kung Pao Chicken is a spicy and saucy dish featuring bell peppers, zucchini, and crunchy peanuts.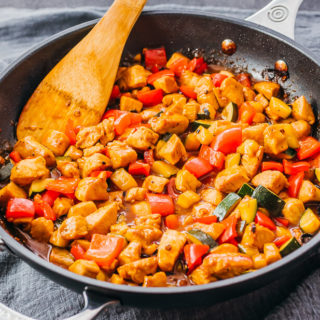 INGREDIENTS
1.5

pounds

boneless skinless chicken breasts, cut into 1/2 to 3/4 inch chunks

1

red bell pepper, chopped

1

zucchini, chopped

5

dried whole red chili peppers, seeded and diced (Note 1)

1/4

cup

chopped peanuts

2

tablespoons

cooking oil
INSTRUCTIONS
Marinate Chicken: Stir together all marinade ingredients in large bowl until corn starch is dissolved. Add chopped chicken, and stir until marinade is mostly absorbed. Set aside for 10 minutes.

Prepare Ingredients: Stir together all sauce ingredients in small bowl until well-mixed; set aside. Verify that all vegetables, chili peppers, and peanuts are chopped and ready to go.

Heat Oil: Heat oil in wide nonstick pan (Note 4) over medium-high heat for a few minutes until hot. Add dried chilis and briefly stir with oil, about 15 seconds.

Cook Chicken & Veg: Add chicken with marinade to pan. Cook until chicken is cooked on the outside, about 3 minutes, stirring frequently. Add chopped bell pepper and zucchini, and cook until starting to soften, about 2 minutes, stirring frequently.

Add Sauce: Pour prepared sauce into pan, and stir to coat chicken and vegetables with sauce. Simmer to thicken sauce, less than 5 minutes, stirring occasionally.

Serve: Remove pan from heat. Transfer to serving bowls, and top with chopped peanuts. Serve (Note 5).
NUTRITION
Makes 4 Servings
Amount Per Serving:
| | |
| --- | --- |
| Calories 350 (32% from fat) |   |
| Total Fat 13g | 19% |
|    Saturated Fat 1g | 7% |
| Cholesterol 99mg | 33% |
| Sodium 930mg | 39% |
| Net Carb 10g |   |
| Total Carb 12g | 4% |
|    Dietary Fiber 2g | 8% |
|    Sugars 6g |   |
| Protein 42g |   |
PHOTOS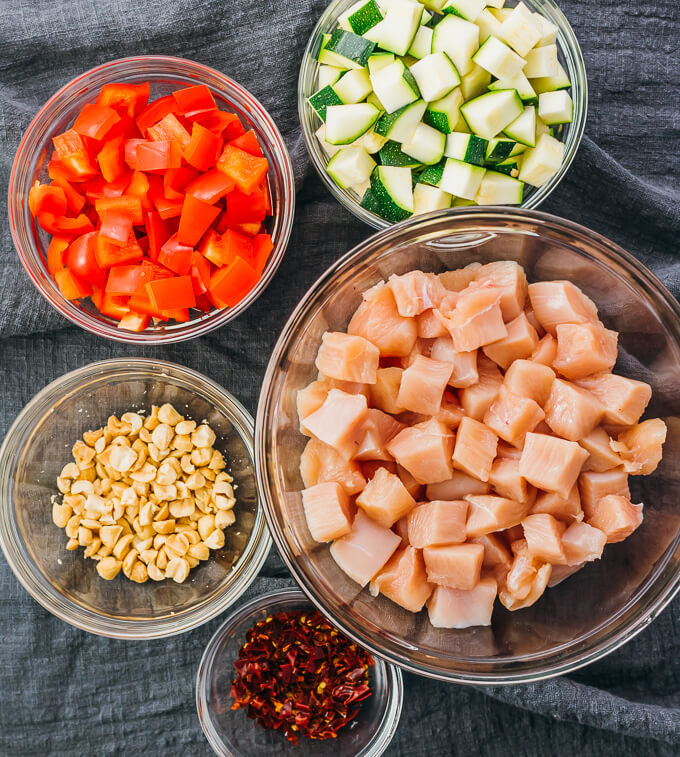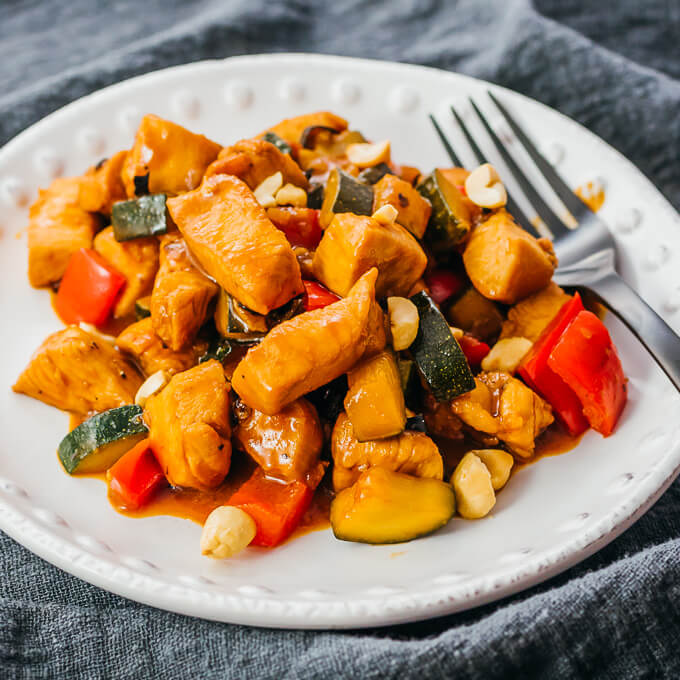 NOTES & TIPS
(1) Dried Red Chili Peppers. Use Chinese or Thai dried red chili peppers; if you can't find them at your grocery store, substitute with Latin chili peppers or crushed red pepper. To dice, use a knife or kitchen shears to cut them into small pieces, which helps release their heat during cooking. Some people prefer to use the chilis whole, but I find that it ends up being purely decorative and doesn't impart much flavor. The amount listed in the recipe yields a moderately spicy dish; for a less spicy version, use only 1 or 2 chili peppers, or omit entirely.
(2) Corn Starch. This ingredient tenderizes the chicken and provides a nice glossy finish to the sauce. A total of 3 teaspoons of corn starch is used, which contributes 7 grams of net carbs to the whole recipe, or less than 2 grams per serving. I don't recommend substituting with xanthan gum, which is easy to overdo and end up with a gloopy mess, and will not give a tenderizing effect to the chicken.
(3) Sriracha. I use the brand Huy Fong. You can substitute with another chili garlic sauce or your favorite hot sauce.
(4) Pan. Use a nonstick pan, preferably one at least 10 inches wide and 2 inches tall. I use an 11-inch nonstick pan with 3 quart capacity. Avoid stainless steel pans, as the marinated chicken will easily stick.
(5) Serving. Serve hot, with sides like riced cauliflower or Asian cucumber salad.