Summary:
This Kung Pao chicken stir fry has vegetables, peanuts, and a spicy sauce. Add this to your dinner rotation along with other low carb Asian dishes.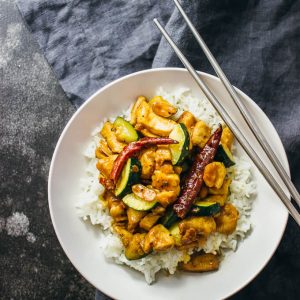 INGREDIENTS
1 1/2

pounds

boneless skinless chicken breasts

cut into 1/2-3/4 inch chunks

1

red bell pepper

chopped

1

zucchini

chopped

5

whole dried red chili peppers

seeded and cut into small pieces

1/4

cup

chopped peanuts

2

tablespoons

vegetable oil
INSTRUCTIONS
In a large bowl, combine all marinade ingredients, stirring until the corn starch is dissolved. Add chopped chicken and stir together until the marinade is mostly absorbed. Set aside for about 10 minutes.

In a small bowl, combine all sauce ingredients, stirring until well-mixed. Set aside.

Heat oil in a wide nonstick pan over medium-high heat for a few minutes until hot. Add dried chilis and briefly stir them with the oil, about 15 seconds.

Add chicken and marinade to the pan. Cook until the chicken is done on the outside, about 3 minutes, stirring frequently.

Add chopped bell pepper and zucchini to the pan. Cook until they start to soften, about 2 minutes, stirring frequently.

Pour the prepared sauce into the pan and stir to coat the chicken and vegetables with sauce. Simmer to thicken the sauce, no more than 5 minutes, stirring occasionally.

Remove the pan from heat. Serve in bowls and top with chopped peanuts.
NUTRITION
Makes 4 Servings
Amount Per Serving:
| | |
| --- | --- |
| Calories 350 (32% from fat) | |
| Total Fat 13g | 19% |
| Saturated Fat 1g | 7% |
| Cholesterol 99mg | 33% |
| Sodium 930mg | 39% |
| Net Carb 10g | |
| Total Carb 12g | 4% |
| Dietary Fiber 2g | 8% |
| Sugars 6g | |
| Protein 42g | |
What is kung pao chicken
It's a spicy, saucy chicken dish with peanuts and stir-fry vegetables like bell peppers and zucchini. There's a nice variety of textures in this dish — the crunch of peanuts, the juicy bites of zucchini and bell peppers, the tender pan-seared chicken — it reminds me of cashew chicken and broccoli.
If you've ever ordered Kung Pao chicken at Panda Express or PF Chang's for takeout, you'll love this homemade version. It's a quick meal taking just 10 to 15 minutes of cooking time, making it ideal for weeknight dinners.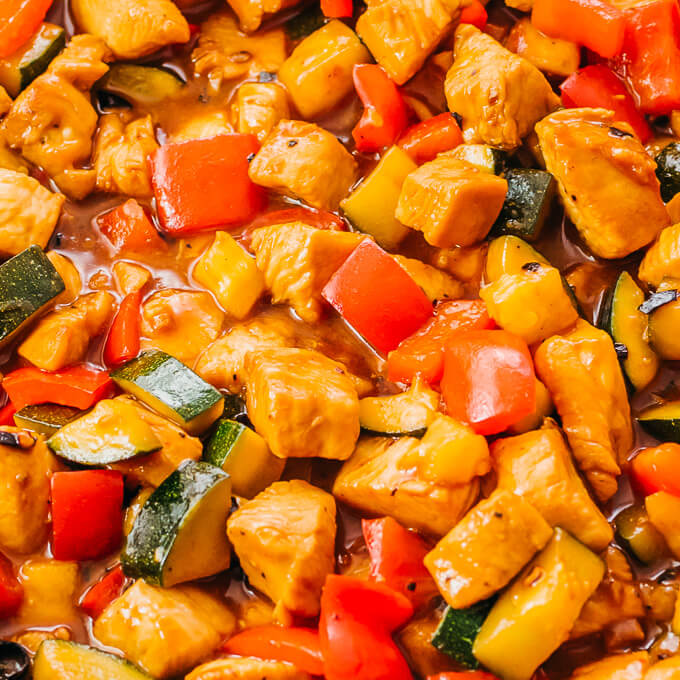 Chile peppers and adjusting the spiciness
Following the recipe as directed yields a moderately spicy dish. I use kitchen shears to snip the dried red chili peppers into small pieces, which helps release their heat during cooking. Some people prefer to use whole chiles, but I find that it ends up being purely decorative and doesn't impart much flavor.
For a less spicy version, use only 1 or 2 chili peppers or omit entirely. If you're familiar with dried peppers, select one with fewer Scoville heat units.
For a very spicy version, use up to 10 chili peppers and include their seeds.
Any kind of dried red chili pepper will work for this recipe. You can usually find them in a supermarket's center section, especially if there's an ethnic aisle.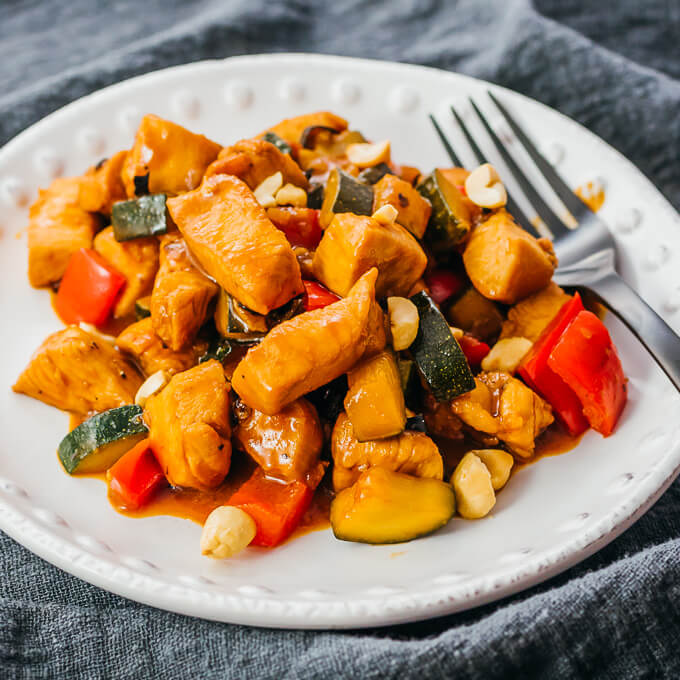 A few cooking tips
Use a nonstick pan, preferably one that's at least 10 inches wide and 2 inches tall. I use an 11-inch nonstick pan with 3 quart capacity. Avoid stainless steel pans, as the marinated chicken will easily stick and break apart.
Have an oven mitt handy to protect your hands and arms, especially when adding the chile peppers and chicken to the hot pan. The hot oil is likely to splatter when it comes into contact with the chicken.
As is the case with stir fry dishes, you need to have all ingredients measured, chopped, and ready to go before cooking. Once you start, you won't have time to pause and quickly chop something because the recipe moves fast.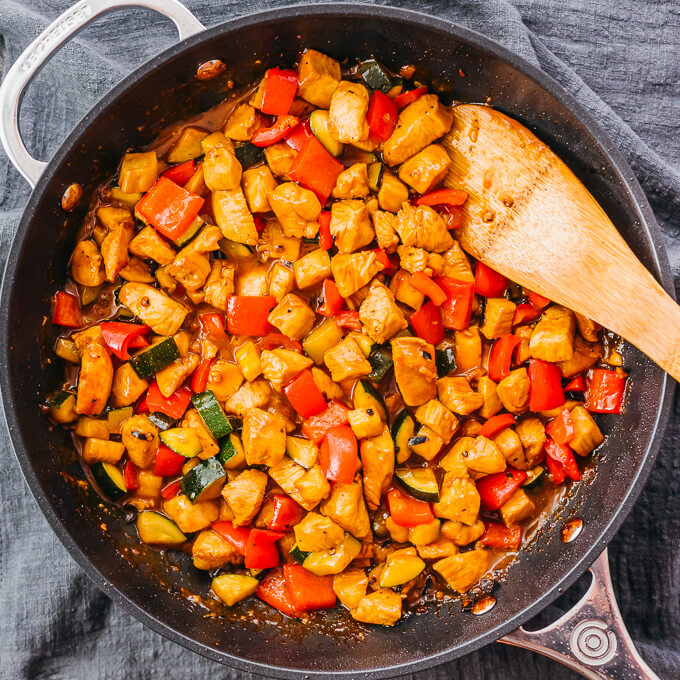 Recipe origin and nutrition
This recipe is adapted from my mom's authentic Chinese version, and I've tweaked it to make it low carb.
It comes out to 10g net carbs per serving, which should be doable for anyone on a keto diet. See the bottom of the recipe box for additional nutritional information.
For a low carb side, you can pair with cauliflower rice or spiralized zucchini noodles. Enjoy!
MORE TASTY KETO ASIAN RECIPES: