This is my mom's authentic Chinese recipe for kung pao chicken — spicy saucy chicken with peanuts and zucchini.

When my mom sent me her kung pao recipe a few days ago, I could tell it was going to be delicious even before making it. Scrolling through the ingredient list, I noticed it included whole chili peppers, chunks of chicken, a spicy sauce with garlic and ginger, and chopped peanuts. How can you go wrong with that combination of flavors and textures? Moreover, it's "an easy and very simple recipe," to quote my mom, and is great if you're looking for a quick and tasty meal.

Don't be alarmed by the abundance of chili peppers used in kung pao chicken — the recipe below asks for no less than ten whole chilis. These peppers are used mainly for decoration and a bit of flavor, but you don't actually eat them, you barbarian. They have a higher purpose than that. They impart a bit of spiciness, but not much, so using 10 of them won't overload your senses with capsaicin.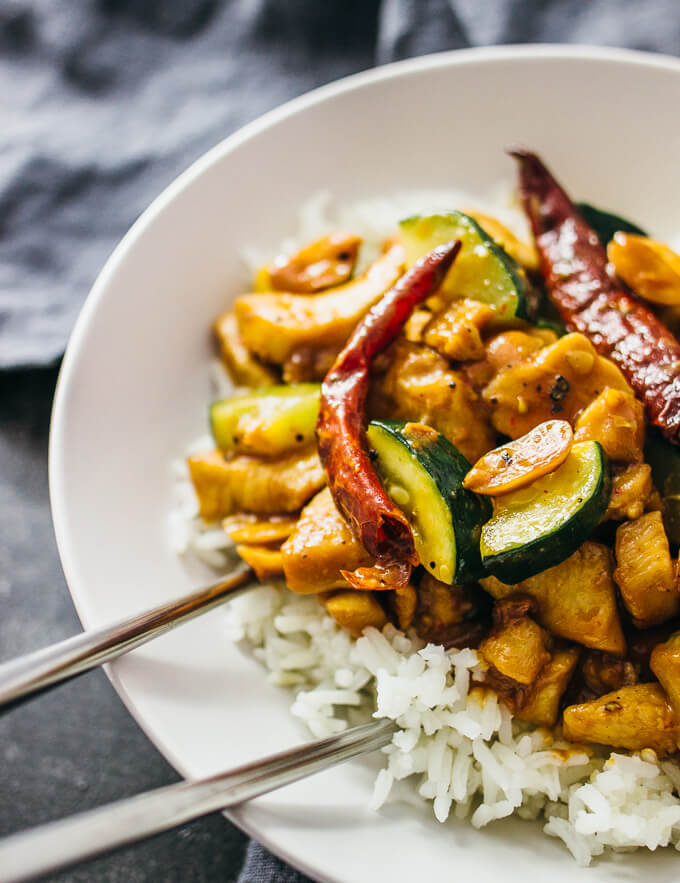 I love the variety of textures in kung pao chicken — the crunch of peanuts, the soft zucchini, and the deliciously pan-seared chicken. Add in steamed white rice and it becomes a well-balanced and comforting dish. If you've ever ordered kung pao chicken in a Chinese restaurant and enjoyed it, you'll definitely like this homemade version.
Authentic kung pao chicken
Authentic Chinese recipe for kung pao chicken — spicy saucy chicken with peanuts and zucchini.
Ingredients
1

zucchini

chopped into 1/2-inch chunks

10

whole dried red chili peppers

1/2

cup

roasted peanuts

2

tablespoons

canola oil
For the chicken marinade:
1-1.5

pound

skinless and boneless chicken breasts

chopped into 1/2-inch chunks

3

tablespoons

soy sauce

2

tablespoons

corn starch
Instructions
Mix and coat the chopped chicken with corn starch. Drizzle soy sauce over the chicken and mix. Let sit in the refrigerator for at least 30 minutes.

Combine and mix sauce ingredients in a bowl. Set aside.

Heat canola oil in a large pan over medium heat. Add one of the dried chiles, cooking for a few minutes, stirring occasionally.

Add chicken (including the marinade) to the pan, stirring to break apart any chunks that have stuck together. Cook until the chicken is done on the outside, about 5 minutes, stirring frequently.

Add the remaining whole dried chiles, zucchini chunks, and peanuts to the pan. Cook until the zucchini softens and the chicken is cooked through, about 5 minutes.

Add the sauce to the pan. Stir until all of the ingredients are coated in the sauce.

Remove pan from heat. Serve with hot white rice.
LOW CARB & KETO COMMUNITY
Join our support group on Facebook.
Visit Group