Summary:
A fragrant vanilla ice cream recipe that's keto friendly, low carb, and sugar free. It's a simple dessert with just 4 ingredients and only 2g net carbs per serving. No ice cream maker needed.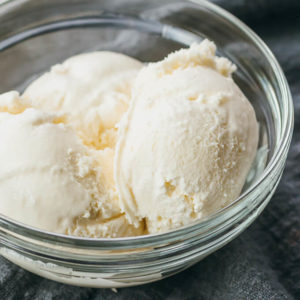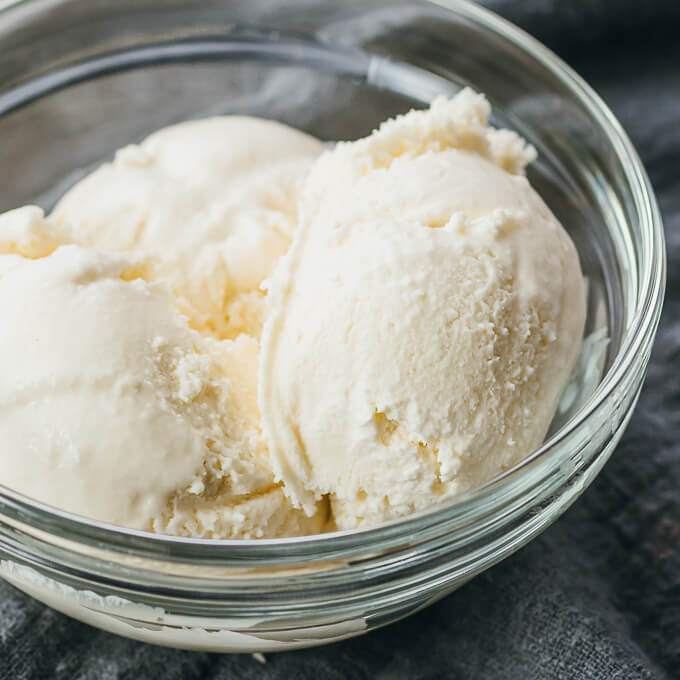 4-Ingredient Keto Ice Cream
INGREDIENTS
1.5

cups

heavy whipping cream

1/2

cup

unsweetened plain almond milk

1/2

cup

confectioners swerve sweetener (2.5 ounces weight)

1.5

tsp

vanilla extract
INSTRUCTIONS
Prepare a durable pan with 1.5 quart capacity, safe for freezer and hand mixer use (I use a glass 9x5 inch loaf pan). Chill the pan in the freezer for about 10 minutes while you work on the next step.

In a large bowl, combine all ingredients and whisk until the sweetener is completely dissolved.

Remove the pan from the freezer. Pour the mixture into the chilled pan. Freeze for about 45 minutes or until the edges of the mixture begin to set. Scrape down the sides and use a hand mixer to beat for about 30 seconds on low or until smooth. Return the pan to the freezer.

Repeat this process every 30 minutes to scrape down frozen bits and beat the mixture until smooth, freezing in-between, for about 3 hours or until the mixture is no longer liquid. As the mixture freezes, it will become firmer each time you beat it.

After beating for the last time, use a rubber spatula to flatten the surface of the ice cream, cover, and store in the freezer until frozen.

Prior to serving, take the ice cream out to let it thaw a bit before enjoying.
NUTRITION
Makes 5 Servings
Amount Per Serving (1/2 cup):
| | |
| --- | --- |
| Calories 250 (95% from fat) | |
| Total Fat 26g | 40% |
| Saturated Fat 16g | 82% |
| Cholesterol 81mg | 27% |
| Sodium 30mg | 1% |
| Net Carb 2g | |
| Total Carb 2g | 1% |
| Dietary Fiber 0g | 0% |
| Sugars 2g | |
| Protein 2g | |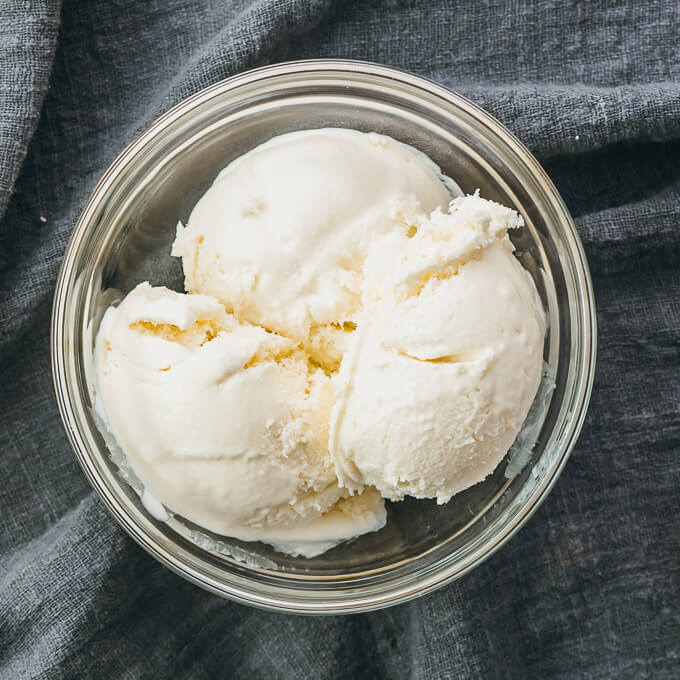 Developing a low carb ice cream recipe
Homemade ice creams are often made with heavy whipping cream, half-and-half cream, sugar, and flavorings. I replaced the sugar component with an erythritol blend sweetener, swerve, which measures the same as table sugar. Your body doesn't digest erythritol so it's considered non-impact.
I experimented with the ratios of various creams and milks with the primary goal of keeping carbs low and a secondary goal of keeping calories at a minimum. See below table where I've listed the calories, fat, and net carbs for 1 cup of each ingredient.
| Cream Or Milk (Per Cup) | Calories [kcal] | Fat [g] | Net Carbs [g] |
| --- | --- | --- | --- |
| heavy whipping cream | 809 | 86 | 6.5 * |
| half and half cream | 297 | 25 | 11.4 |
| coconut cream | 792 | 83 | 10.7 |
| whole milk | 149 | 8.0 | 11.7 |
| skim milk | 88 | 0.2 | 12.2 |
| coconut milk | 484 | 50 | 11.2 |
| almond milk | 36 | 2.6 | 1.4 |
*Note that heavy cream manufacturers round down on their nutrition labels, so it's not actually carb-free.
I found that using a combination of heavy cream and almond milk yielded ice cream with the fewest net carbs and a modest calorie count. Even better, it tastes great!
Each 1/2 cup serving comes out to 2g net carbs. Compare this to store-bought low carb ice creams like Halo Top, which has 6g net carbs, or Enlightened with 4g net carbs.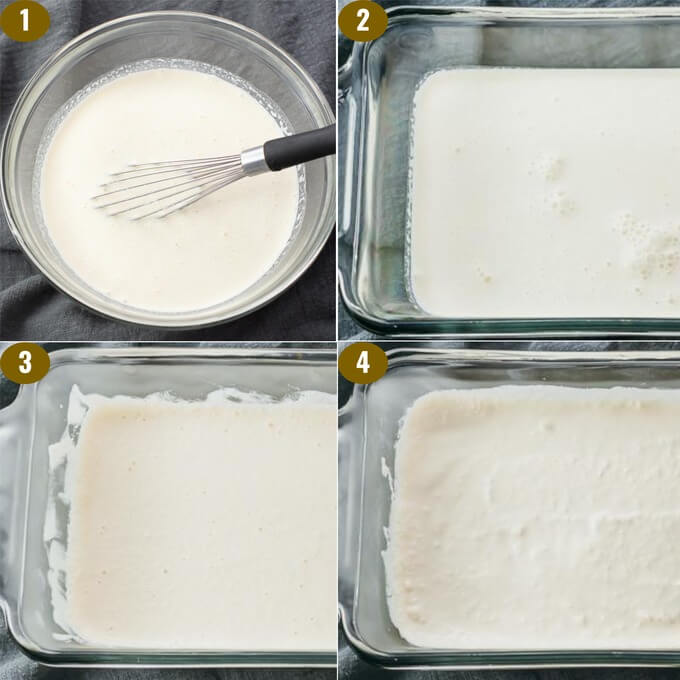 Ice Cream Without A Machine
If you have an ice cream maker — great! Go ahead and use it with this recipe. If you don't, read on.
Like many, I don't have an ice cream maker, because I can't bring myself to dedicate even more kitchen space for a specialized appliance. Especially one that I won't be using for most of the year.
Also, no-churn recipes have never worked for me. I know that some people love them, but to me they don't yield anything that tastes like real ice cream. Proper ice cream needs to be churned as it slowly freezes, to give it the right texture.
To give ice cream the churning that it needs without resorting to an ice cream machine, I use a simple low-tech freeze-and-beat method. As the ice cream mixture freezes, I periodically beat it with an electric hand mixer. It gets thicker each time, until finally it's no longer liquid. Then I smooth the top, cover, and freeze until it's frozen.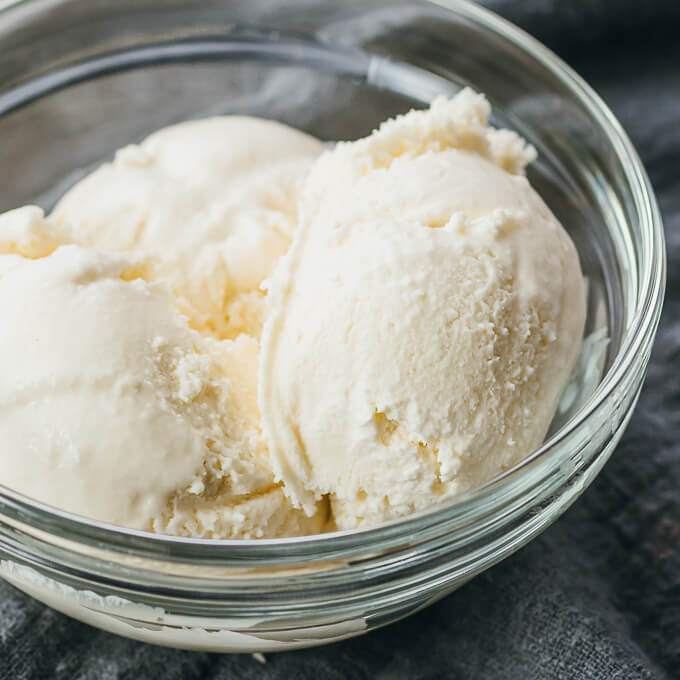 CHECK OUT THESE KETO DESSERTS: