Summary:
These healthy chicken parmesan tenders are easy to make using low carb ingredients. Add this to your dinner rotation along with other chicken dinners.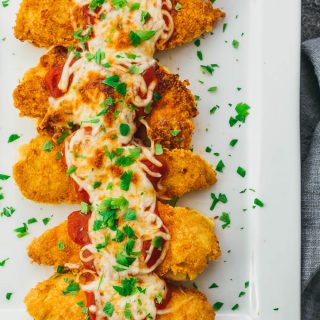 Healthy Chicken Parmesan Tenders
INGREDIENTS
1

pound

chicken breast tenders (about 7 pieces)

3/4

cup

shredded mozzarella cheese

1/3

cup

tomato sauce or puree

2

tablespoons

olive oil

fresh herbs such as basil or parsley

for serving
INSTRUCTIONS
Pat each chicken tender dry using paper towels.

Prepare a shallow plate for the flour layer. Add flour and salt, stirring to mix.

Prepare a second shallow plate with beaten egg.

Prepare a third shallow plate for the parmesan layer. Add parmesan cheese and almond flour, stirring to mix.

Heat olive oil in a wide pan over medium heat until hot.

Working in batches, coat both sides of each chicken tender first in the flour, then the egg, and lastly the parmesan-flour mixture. Then place on the hot pan.

Cook until each side is golden brown, 3-5 minutes per side. When the chicken is cooked through, transfer to a baking tray.

Distribute tomato sauce over the chicken pieces. Pile the mozzarella cheese on top of the tomato sauce.

Place the chicken in the oven to broil on high until the cheese turns golden on top, 5 to 10 minutes. Watch carefully as the cheese can quickly burn.

Sprinkle fresh herbs on top and serve while hot.
NUTRITION
Makes 3 Servings
Amount Per Serving:
| | |
| --- | --- |
| Calories 620 (55% from fat) | |
| Total Fat 38g | 58% |
| Saturated Fat 12g | 58% |
| Cholesterol 252mg | 84% |
| Sodium 1020mg | 42% |
| Net Carb 5g | |
| Total Carb 8g | 3% |
| Dietary Fiber 3g | 12% |
| Sugars 1.5g | |
| Protein 60g | |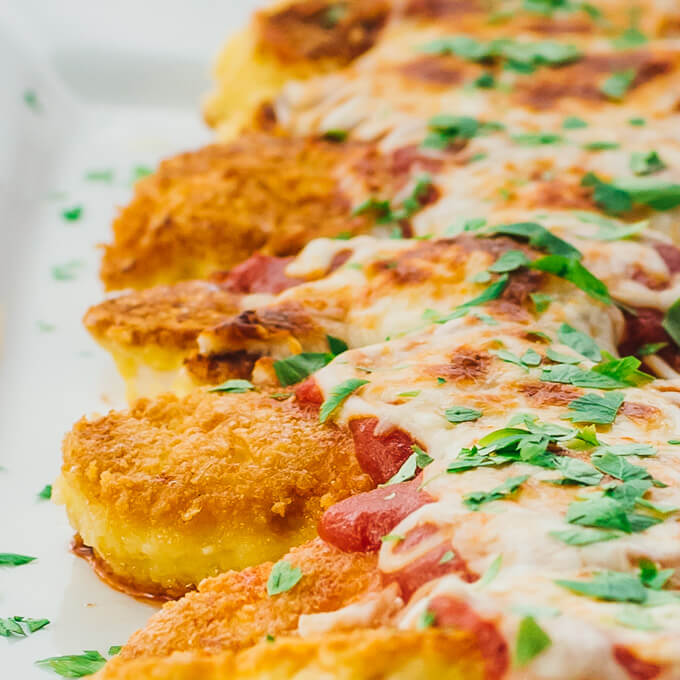 Chicken parmesan tenders make for a wonderful weeknight dinner — crispy on the outside, with ultra tender meat on the inside. Drizzled with tomato sauce and topped with melted mozzarella cheese, this chicken is flavorful and absolutely delicious. You could say that this is a cross between your typical chicken parmesan and chicken fingers, with a healthy twist using sandy parmesan cheese instead of bread crumbs and almond flour instead of all-purpose wheat flour.
To make this, the chicken is first "breaded" by dipping in almond flour, egg, and parmesan cheese mixtures, then fried on the stovetop until golden, and then broiled until the mozzarella cheese is golden brown. It's so good that I could easily have multiple servings.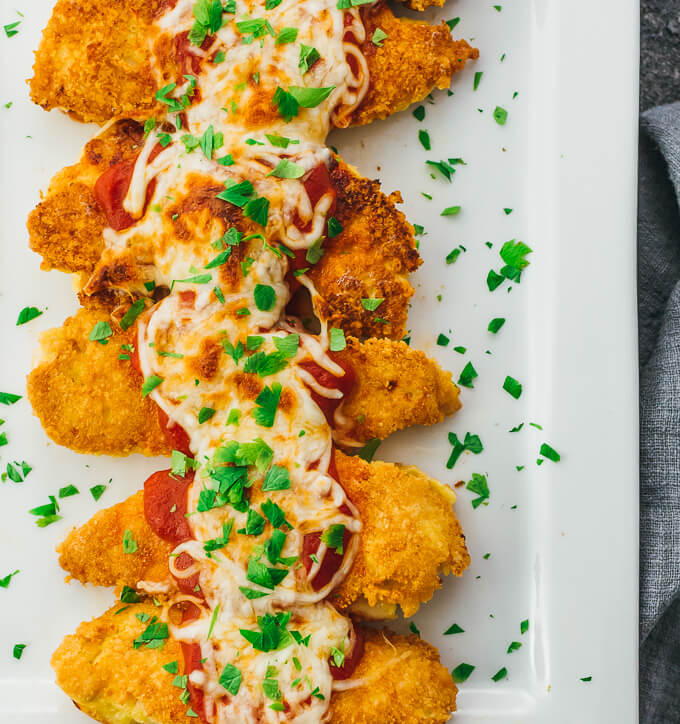 Chicken parmesan is a very popular Italian American entree, often affectionately referred to as "chicken parm" in the US, or "parmy," "parmi," and "parma" in Australia. It's usually breaded chicken topped with tomato sauce and mozzarella cheese, and many people eat variations of this entree, including chicken parm sandwiches or chicken parm pasta.
A similar Italian dish is carne pizzaiola ("meat in pizza style"), as well as eggplant parmesan where eggplant slices are breaded and layered with tomatoes and cheese.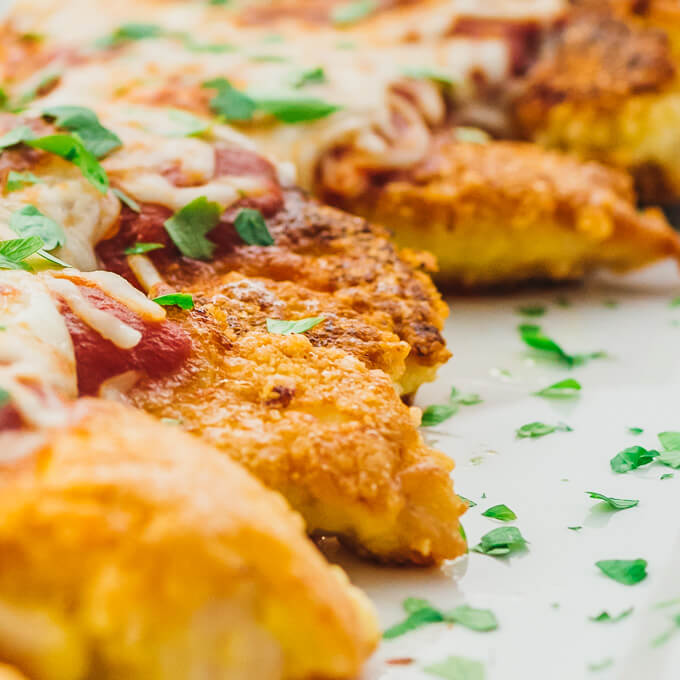 My version of chicken parmesan is a bit different from the typical American chicken parm. I use chicken breast "tender cuts" — each breast is sliced into 3 to 4 slivers. This results in much thinner and narrower pieces. You can buy these as the supermarket where they're usually labeled "chicken breast tenders" or you can make the cuts yourself.
I've experimented with using differently sized chicken pieces and the version with these tender cuts are the best — it doesn't take long to cook for a moist and tender interior, and there's a higher ratio of crispy "breading" to meat.
My chicken parmesan uses healthier ingredients, so the "breading" is actually finely grated parmesan cheese with a sandy consistency instead of bread crumbs. I also use almond flour instead of wheat flour. You don't have to use almond flour and you can substitute with other kinds of flour, but note that the cooking time estimates and nutrition information in the recipe are based on almond flour.
Despite these healthier substitutions, I found that the chicken crisped up quite nicely and I couldn't tell any difference between this version and the kind that I've eaten at restaurants.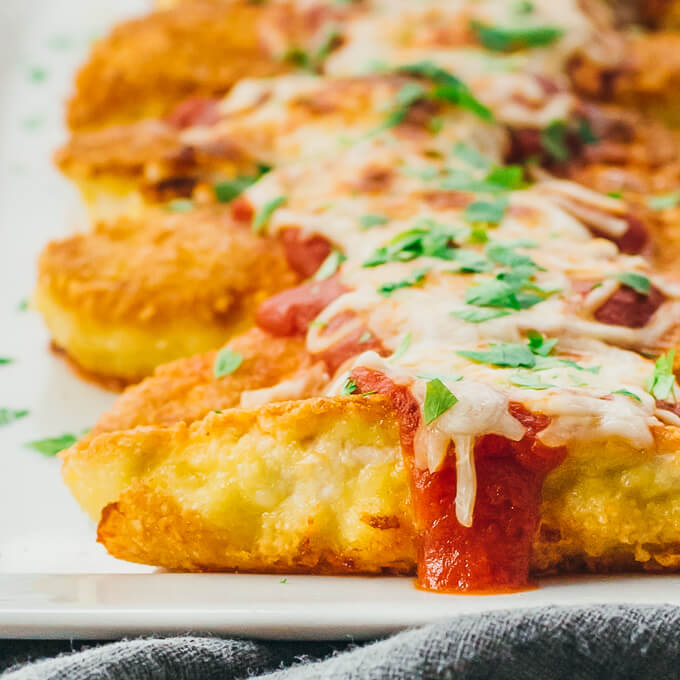 For more healthy chicken dinners, check out:
You might have noticed the lovely golden brown color of the melted mozzarella cheese due to oven broiling. To achieve an evening browning, I recommend placing your baking pan in the middle of the oven. Avoid placing the pan too close to the broiler element, as it could result in uneven heating, so that some parts won't yet be browning when other parts are already close to burning. From my experience, even a few inches can make a big difference. If you notice uneven broiling, shift the oven rack to a lower position farther away from the broiler element.