Summary:
These healthy chicken parmesan tenders are easy to make using low carb ingredients. Add this to your dinner rotation along with other chicken dinners.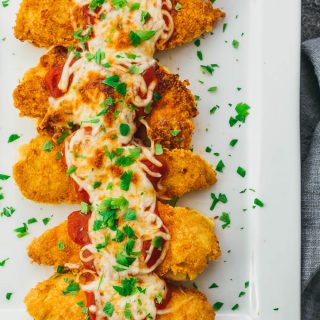 Healthy Chicken Parmesan Tenders
INGREDIENTS
1

pound

chicken breast tenders (about 7 pieces)

3/4

cup

shredded mozzarella cheese

1/3

cup

tomato sauce or puree

2

tablespoons

olive oil
fresh herbs such as basil or parsley

for serving
INSTRUCTIONS
Pat each chicken tender dry using paper towels.

Prepare a shallow plate for the flour layer. Add flour and salt, stirring to mix.

Prepare a second shallow plate with beaten egg.

Prepare a third shallow plate for the parmesan layer. Add parmesan cheese and almond flour, stirring to mix.

Heat olive oil in a wide pan over medium heat until hot.

Working in batches, coat both sides of each chicken tender first in the flour, then the egg, and lastly the parmesan-flour mixture. Then place on the hot pan.

Cook until each side is golden brown, 3-5 minutes per side. When the chicken is cooked through, transfer to a baking tray.

Distribute tomato sauce over the chicken pieces. Pile the mozzarella cheese on top of the tomato sauce.

Place the chicken in the oven to broil on high until the cheese turns golden on top, 5 to 10 minutes. Watch carefully as the cheese can quickly burn.

Sprinkle fresh herbs on top and serve while hot.
NUTRITION
Makes 3 Servings
Amount Per Serving:
| | |
| --- | --- |
| Calories 620 (55% from fat) | |
| Total Fat 38g | 58% |
|    Saturated Fat 12g | 58% |
| Cholesterol 252mg | 84% |
| Sodium 1020mg | 42% |
| Net Carb 5g | |
| Total Carb 8g | 3% |
|    Dietary Fiber 3g | 12% |
|    Sugars 1.5g | |
| Protein 60g | |
PHOTOS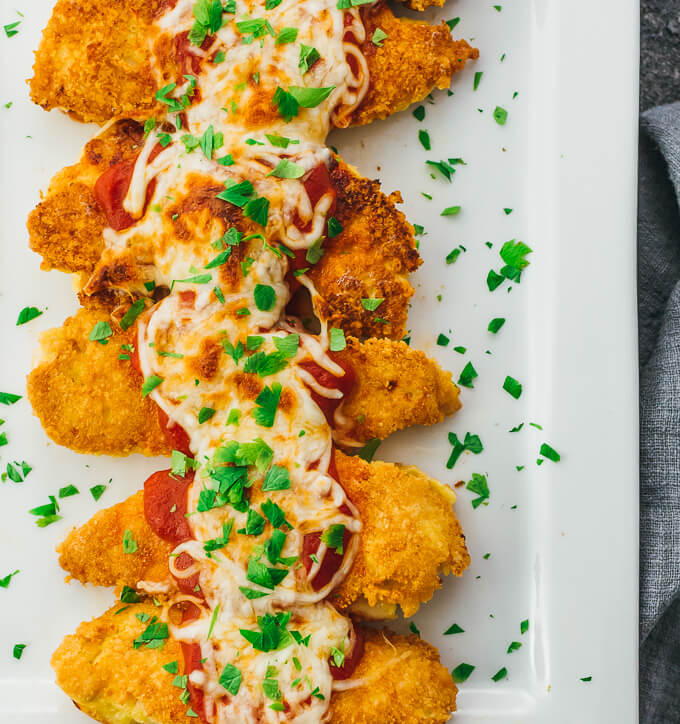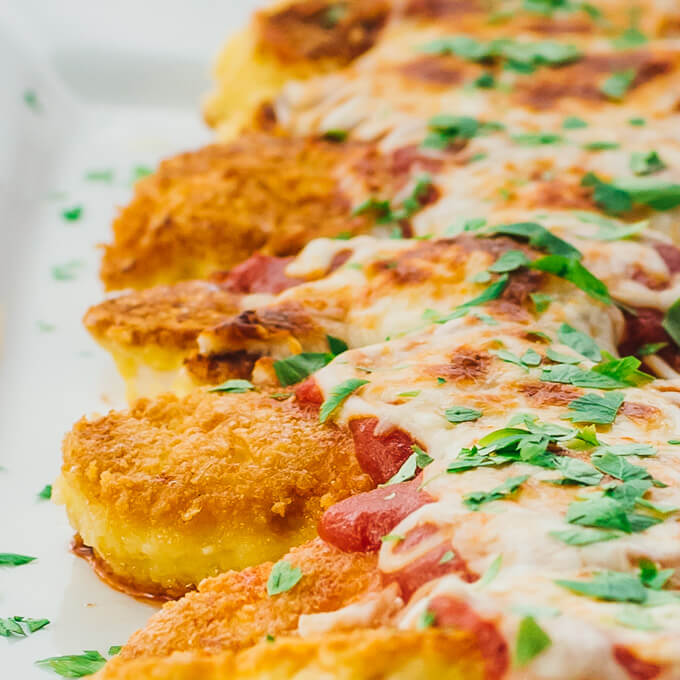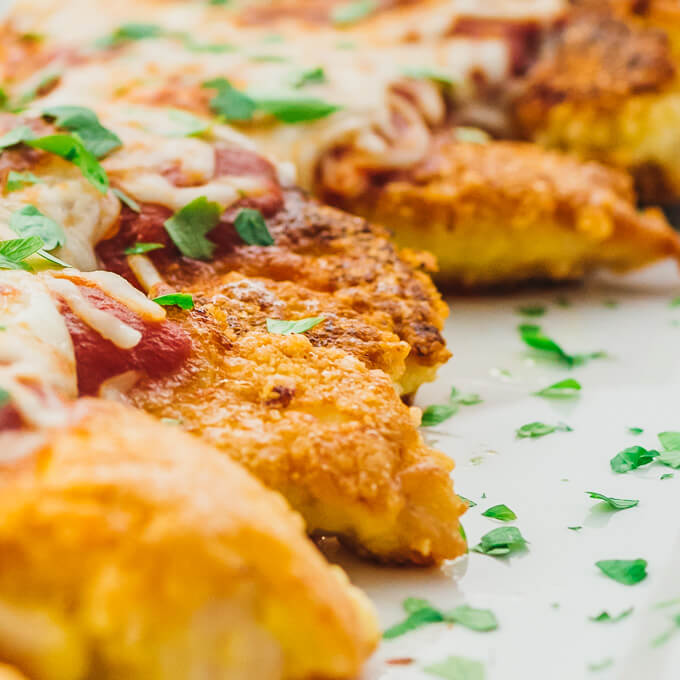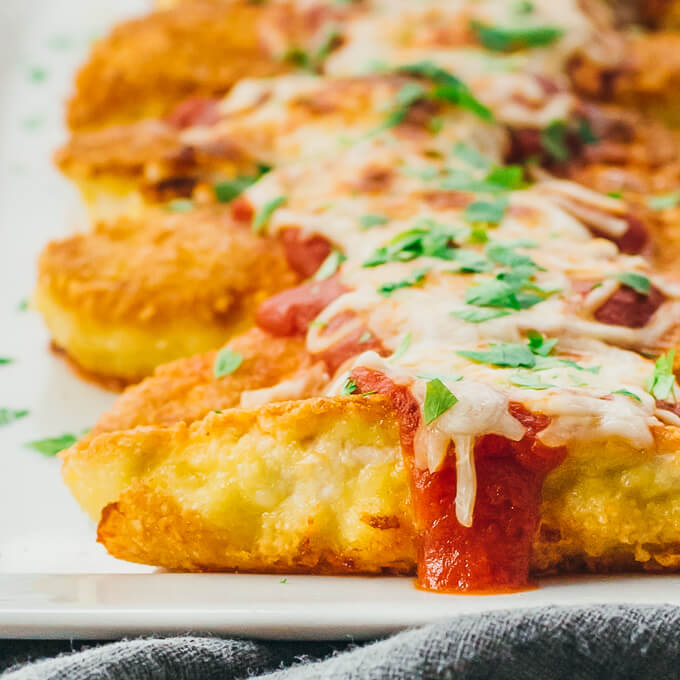 NOTES & TIPS

Chicken Tender Cut. My version of chicken parmesan is a bit different from the typical American chicken parm. I use chicken breast "tender cuts" — each breast is sliced into 3 to 4 slivers. This results in much thinner and narrower pieces. You can buy these as the supermarket where they're usually labeled "chicken breast tenders" or you can make the cuts yourself. I've experimented with using differently sized chicken pieces and the version with these tender cuts are the best — it doesn't take long to cook for a moist and tender interior, and there's a higher ratio of crispy "breading" to meat.
Breading. The "breading" is actually finely grated parmesan cheese with a sandy consistency instead of bread crumbs. I also use almond flour instead of wheat flour. You don't have to use almond flour and you can substitute with other kinds of flour, but note that the cooking time estimates and nutrition information in the recipe are based on almond flour.