Summary:
A low carb and keto friendly version of my popular beef and broccoli stir fry that's healthy yet doesn't sacrifice on flavor. Add this to your dinner rotation along with other beef mains.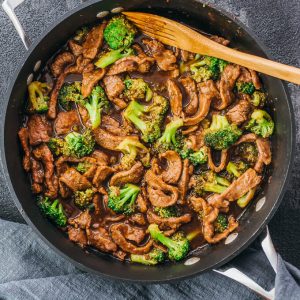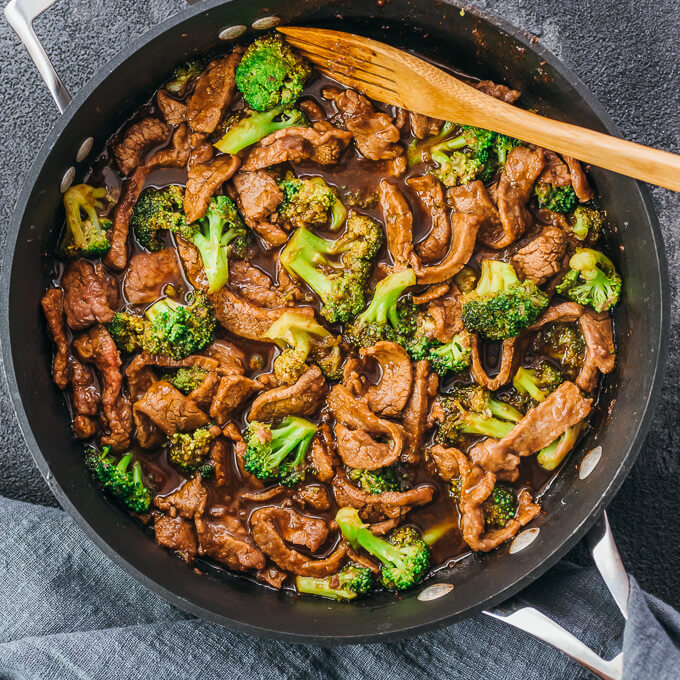 Low Carb Beef And Broccoli Stir Fry (Keto)
INGREDIENTS
3/4

pound

flank steak

sliced into 1/4 inch thick strips

4

cups

small broccoli florets (about 7 ounces weight)

1/2

cup

beef stock

1

tablespoon

corn starch

1

tablespoon

oil
INSTRUCTIONS
Toss the sliced beef in a large bowl with corn starch until well-coated. Set aside.

Heat oil in a pan over medium heat for a few minutes or until hot.

Add sliced beef and cook until it browns, less than 5 minutes, stirring frequently. Transfer to a plate and set aside.

Add broccoli florets to the pan and stir. Add beef broth. Let simmer until the broccoli is tender, about 10 minutes, stirring occasionally.

While waiting for the broccoli to cook, combine all sauce ingredients in a sauce pan. Stir the ingredients together over medium-low heat until it starts to simmer, about 5 minutes. Keep the sauce warm over low heat as you wait for the broccoli to cook.

Return beef to the pan and pour the sauce on top. Stir until everything is coated with the sauce. Bring to a simmer and cook for another few minutes.

Season with salt and pepper to taste, if needed.

Serve immediately, optionally pairing with cooked cauliflower rice. Drizzle sauce on top.
NUTRITION
Makes 2 Servings
Amount Per Serving:
| | |
| --- | --- |
| Calories 410 (40% from fat) | |
| Total Fat 18g | 28% |
| Saturated Fat 5g | 26% |
| Cholesterol 109mg | 36% |
| Sodium 1620mg | 68% |
| Net Carb 11.5g | |
| Total Carb 14g | 5% |
| Dietary Fiber 2.5g | 9% |
| Sugars 5g | |
| Protein 42g | |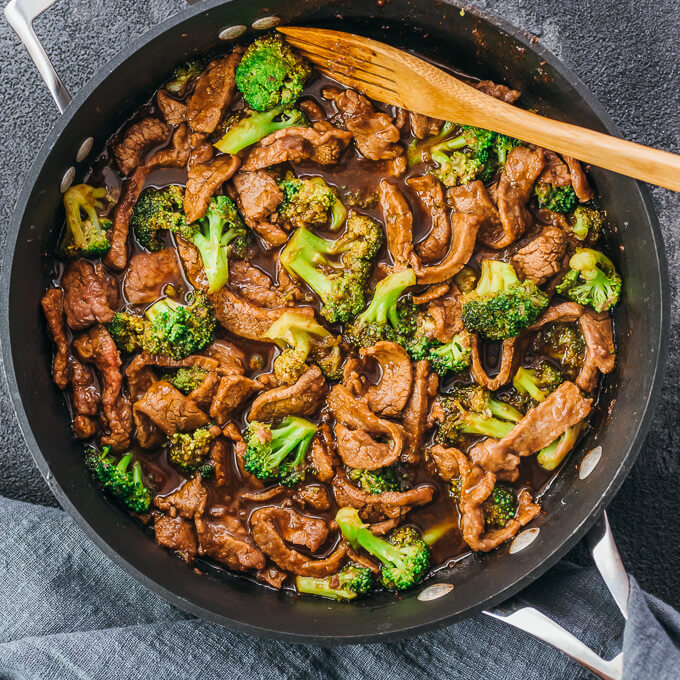 If you're a regular reader, there's a good chance that my original beef and broccoli recipe (or the slow cooker version or instant pot version) was what initially drew you to my site. That, or my chicken tikka masala. I love these fast and easy dinners with delicious sauces, and since adopting a keto diet this year, I've converted my beef and broccoli to a low carb version that's been stripped of all non-essential carbs. Each serving has just a little over 10 g net carbs, yet it's the same great taste and flavor. Instead of the usual white rice that goes with it, I substituted with plain fried cauliflower rice which works just as well in soaking up the sauce. This recipe only takes about 30 minutes to make, perfect for those busy weeknight nights.
Making low carb beef and broccoli: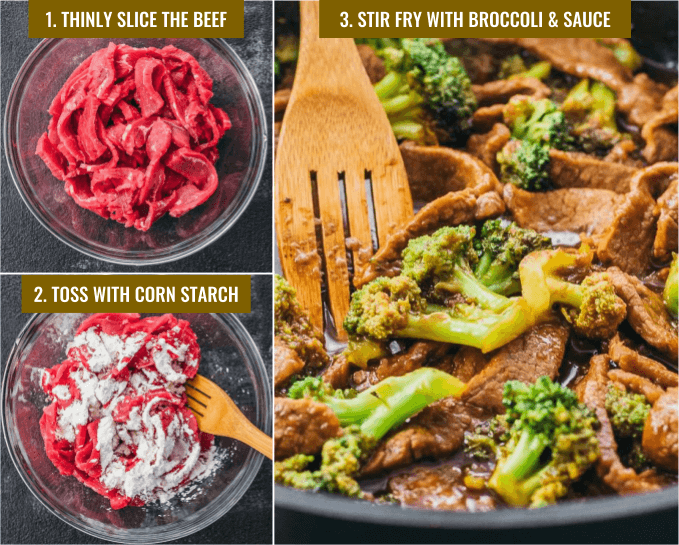 Tips for tender stir fry beef:
One of the best things about this dish are the very tender slices of beef. I originally shared my tips for getting tender beef in my Mongolian beef recipe and I'll repeat them here:
Thin cuts: I recommend slicing your beef to 1/4 inch thickness or thinner. The thinner the beef, the more tender it will be, and the less time it will take to sear on the stovetop.
Slice against the grain: Find the long muscle fibers across the beef and how they are aligned. Slice perpendicular to those lines so that you're slicing through the fibers. This means less work for your teeth and it will make the beef more tender as you chew.
Premium cuts: I always use flank steak for my sliced beef stir-fry dishes, but if you choose more premium cuts then you will get beef from more tender parts of the cow.
Quick sear: Don't overcook the beef slices. All you need is a quick sear until they're browned. If you overcook the beef, it will get tough.
Corn starch: Thoroughly toss the beef slices with corn starch before cooking. The corn starch tenderized the beef as it cooks, and this is a step that you'll see in a lot of Chinese dishes. Corn starch also helps the beef retain its juices so that it doesn't exude liquid when it cooks.
I consider corn starch to be a non-negotiable ingredient, even though it has a fair amount of carbs. I've experimented making this dish with and without corn starch, and not only does it affect the beef's tenderness, it also affects the sauce. Without corn starch, the slices of beef will exude juices when they cook, which waters down the sauce. The beef tastes drier as well. I've tried substituting with other ingredients, such as almond flour, without success. So I definitely recommend using corn starch and not skipping it.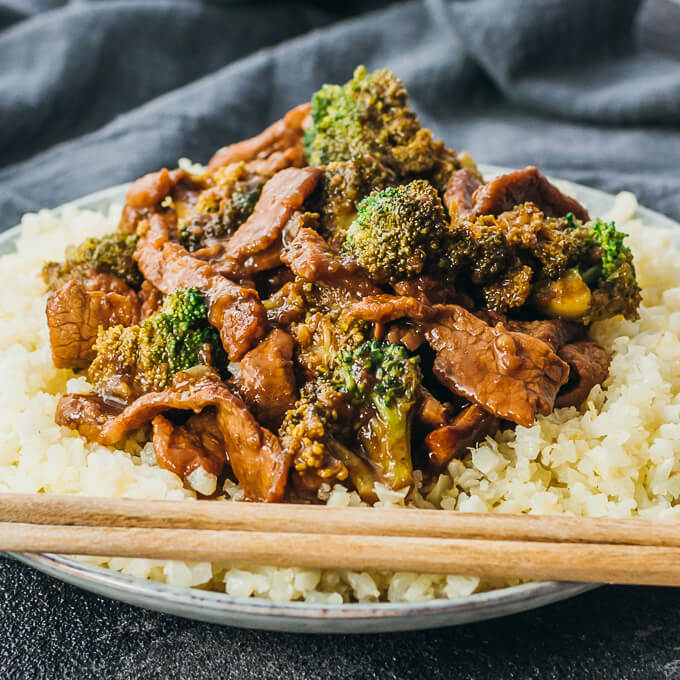 Every time I make beef and broccoli stir fry, I'm always pleasantly surprised by how well it pairs with fried cauliflower rice. It's more than adequate as a white rice replacement. It looks similar to rice and plays the same role — something plain in flavor to offset the stronger sauce as well as a vehicle for soaking up any escaping sauce.
Recently I've been buying bags of pre-riced cauliflower at Trader Joe's so that I can skip the chore of using my food processor, and I toss it in the pan along with some cooking oil. I cook on medium to medium-high, stirring frequently for even cooking, until the cauliflower rice is tender. It takes anywhere from 5 to 10 minutes depending on how much I'm cooking at once.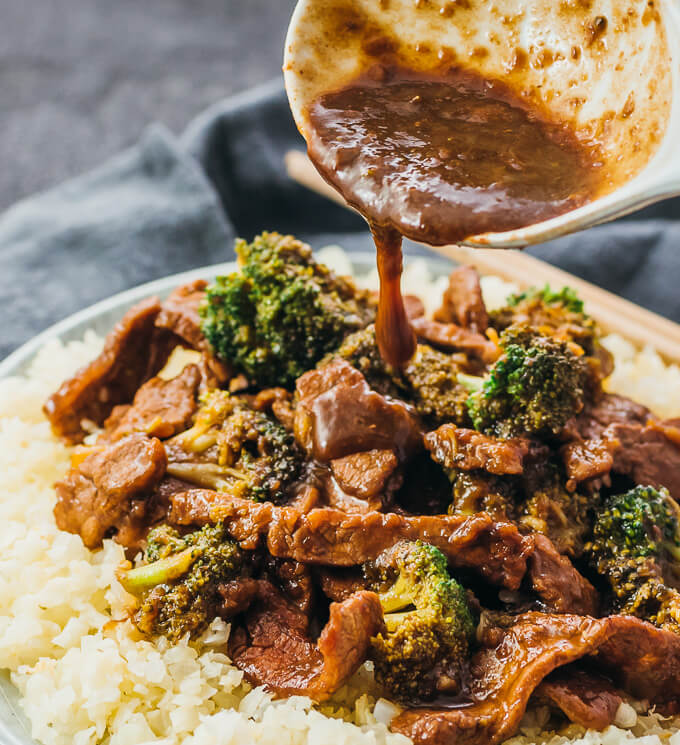 You have several options for using a sweetener in this recipe:
I prefer erythritol because because it has no effect on blood sugar or insulin — your body actually cannot digest it. It's 70% as sweet as table sugar. You can use powdered or granulated:

5 tablespoons powdered erythritol (about 1/3 cup)
4 tablespoons granulated erythritol (1/4 cup)

If you use a different kind of dry sweetener that has the same level of sweetness as sugar (such as Swerve which is a 1:1 replacement for sugar), then use 3 tablespoons granulated. For non-low carb folks, I recommend 3 tablespoons granulated brown sugar.
If you're not sure about the amount of sweetener to use, I would suggest adding it to taste when making the sauce.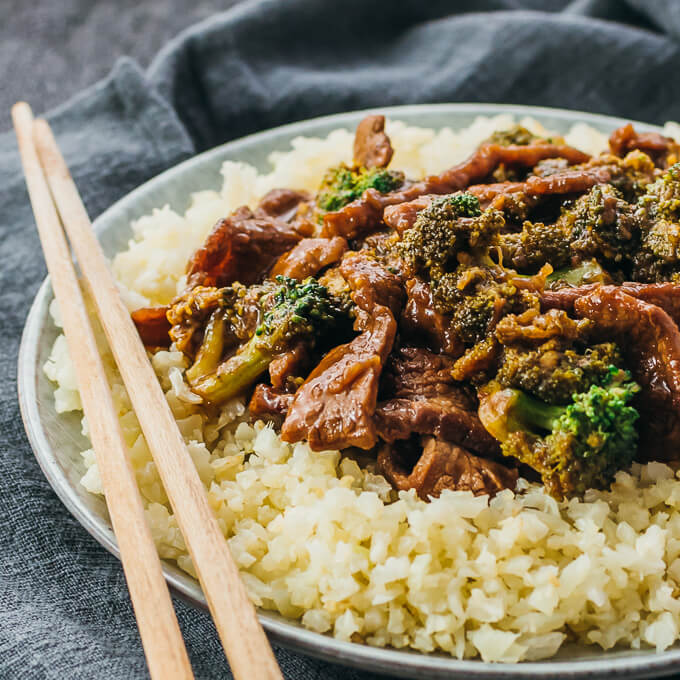 MORE EASY LOW CARB DINNER RECIPES: