Summary:
This is a low carb version of the popular beef and broccoli stir fry. Tender slices of beef are briefly seared, then combined with broccoli and coated with a bold savory sauce. This flavor-packed dish pairs well with a side of plain fried cauliflower rice.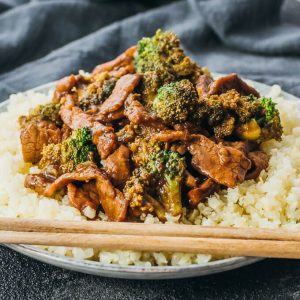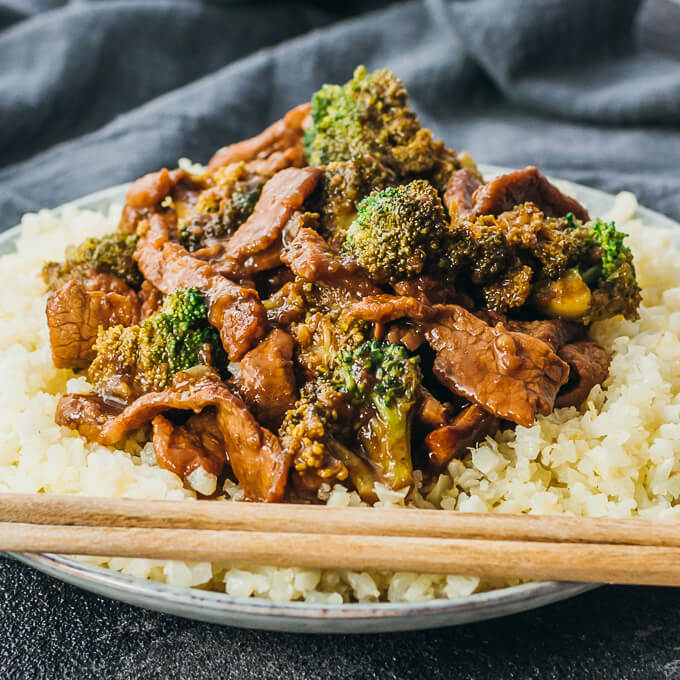 INGREDIENTS
3/4

pound

flank steak, sliced into 1/4 inch thick strips (Note 1)

4

cups

broccoli florets (Note 2)

1/2

cup

beef broth

1

tablespoon

corn starch (Note 3)

1

tablespoon

cooking oil
INSTRUCTIONS
Brown Beef: Toss sliced beef in large bowl with corn starch until well-coated; set aside. Heat oil in pan over medium heat for a few minutes or until hot. Add sliced beef and cook until browned (Note 6), less than 5 minutes, stirring frequently. Transfer beef to plate.

Cook Broccoli: Add broccoli florets and beef broth to now-empty pan. Stirring occasionally, simmer until broccoli is tender, about 10 minutes. Meanwhile, proceed to next step to prepare sauce.

Make Sauce: Add all sauce ingredients to saucepan. Stir together over medium-low heat until starting to simmer, about 5 minutes. Keep sauce warm over low heat while waiting for broccoli to cook.

Finish & Serve: Once broccoli is tender, return beef to pan and pour sauce on top. Stir until everything is coated with sauce. Bring to simmer and cook for a few minutes. Serve (Note 7).
NUTRITION
Makes 2 Servings
Amount Per Serving:
| | |
| --- | --- |
| Calories 410 (40% from fat) |   |
| Total Fat 18g | 28% |
|    Saturated Fat 5g | 26% |
| Cholesterol 109mg | 36% |
| Sodium 1620mg | 68% |
| Net Carb 11.5g |   |
| Total Carb 14g (Note 8) | 5% |
|    Dietary Fiber 2.5g | 9% |
|    Sugars 5g |   |
| Protein 42g |   |
PHOTOS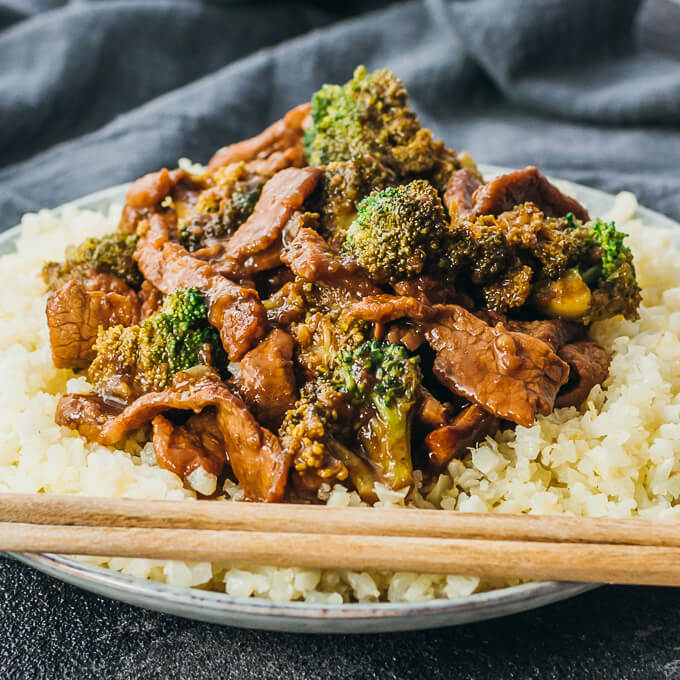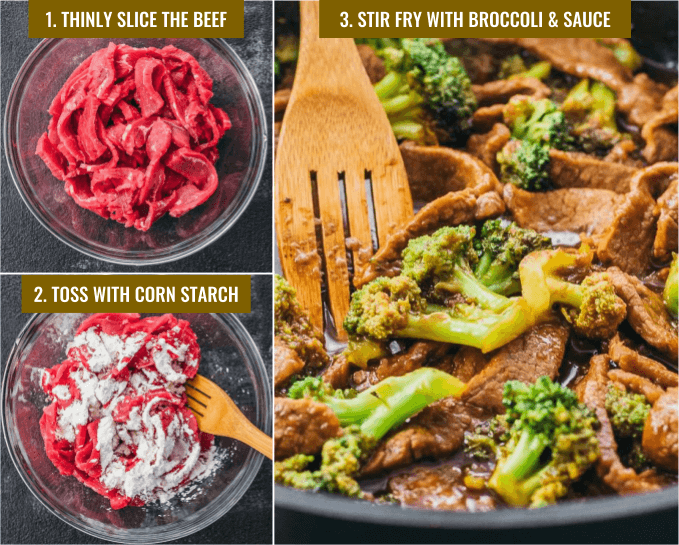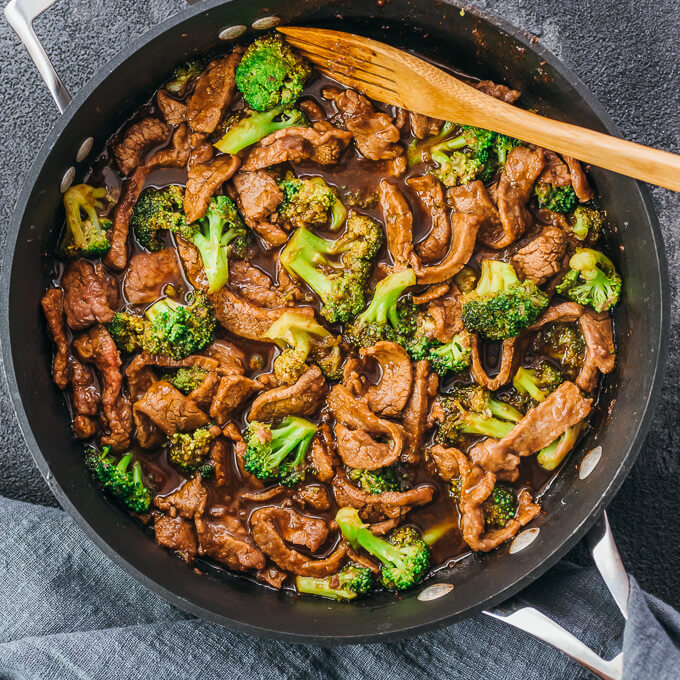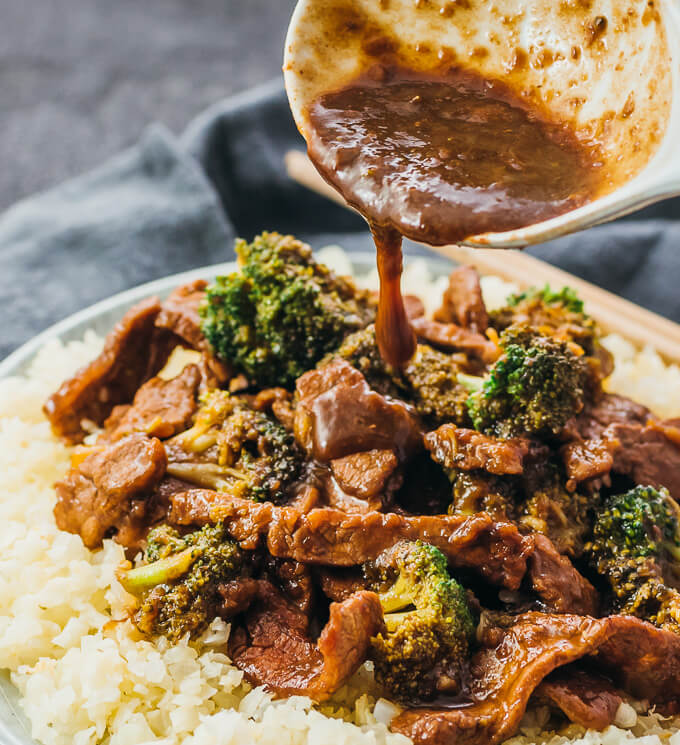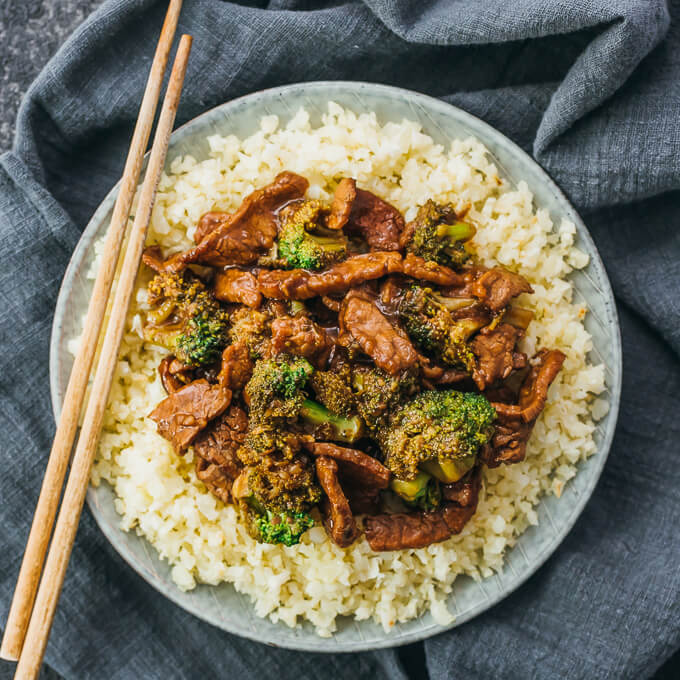 NOTES & TIPS
(1) Beef. Use flank steak, thinly sliced to 1/4-inch thickness or thinner. The thinner the beef, the more tender it will be, and the less time it will take to sear on the stovetop. Slice against the grain by identifying long muscle fibers and slicing perpendicular to them, which means less work for your teeth and more tender beef.
(2) Broccoli. About 7 ounces weight. You can cut florets from a head of broccoli, or you can buy a bag of pre-cut raw florets located in the refrigerated produce section of many U.S. grocery stores. I recommend cutting the florets into smaller pieces (no larger than 2 inches) so that they cook quickly. I use fresh florets, but frozen should be fine — you may need to cook them longer to simmer off excess liquid.
(3) Corn Starch. Corn starch is primarily used to tenderize the beef, and has an added effect of providing a nice glossy finish to the sauce. I don't recommend substituting with xanthan gum, which doesn't have the same tenderizing effect and often turns sauces into an unappetizing gooey mess. One tablespoon of corn starch has 7 grams of net carbs for the whole recipe, or 3.5 grams per serving.
(4) Soy Sauce. I use low sodium soy sauce by brands like Kikkoman or Trader Joe's. Avoid regular soy sauce, which will be too salty. "Light soy sauce" refers to color and is not the same as "low sodium soy sauce." If you follow a paleo, whole30, or gluten-free diet, substitute with coconut aminos.
(5) Sweetener. If you're using Swerve or any other sweetener that measures the same as regular sugar, use 3 tablespoons granulated. If you're using erythritol, which is less sweet, use 1/4 cup granulated. For all other sweeteners, add to taste when making the sauce.
(6) Cooking Beef. Just a quick sear is all that's needed until they're nicely browned; don't overcook or else the beef will be tough.
(7) Serving. Serve beef and broccoli, drizzling sauce on top. Season with salt and pepper to taste. Pair with cooked cauliflower rice. I use a bag of pre-riced cauliflower, available in the produce section of U.S. grocery stores, and cook it in a skillet with some oil until tender.
(8) Carbs. The nutrition calculation assumes you are using Swerve or a similar erythritol-based sweetener that uses sugar alcohols, whose carbs are non-impact and therefore not included in the nutrition estimate. Apps that count sugar alcohols will show a higher number of carbs.
(9) Instant Pot Version. If you prefer using your pressure cooker, check out Instant Pot Beef and Broccoli, which is a similar recipe that uses boneless beef chuck instead of flank steak.