Summary:
Check out this stir-fry recipe with brussels sprouts, sliced beef, and bell pepper. These ingredients are cooked together in a wok with a savory chili-ginger sauce.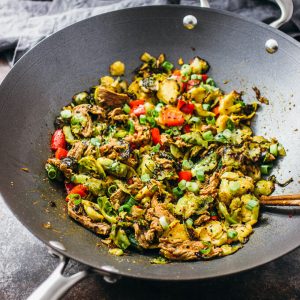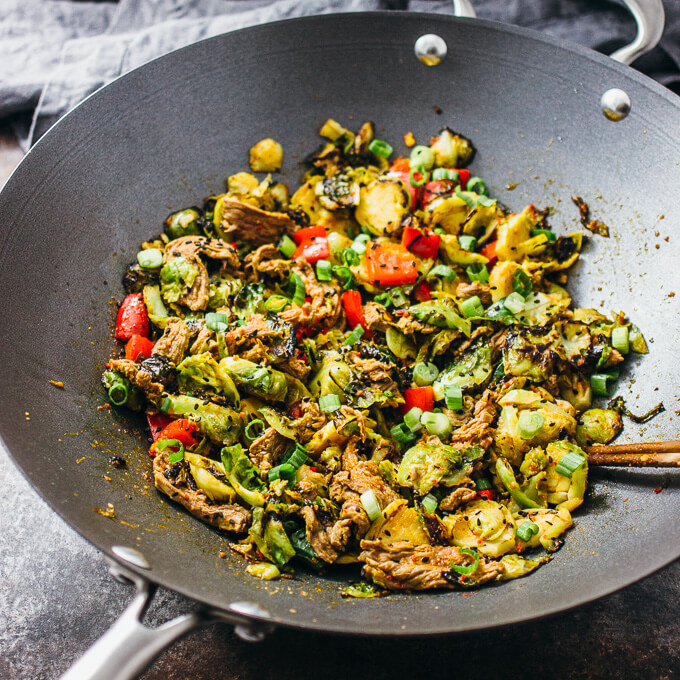 Chili-ginger brussels sprouts and beef
INGREDIENTS
1

pound

brussels sprouts

sliced

1

red bell pepper

chopped

8

ounces

beef

thinly sliced

1

scallion

thinly sliced

2

tablespoons

canola oil
sesame seeds

to taste
For the chili-ginger sauce:
3

jalapeños or other chili peppers

seeded and chopped

2-

inch

piece fresh ginger

peeled and sliced

10

garlic cloves

1/3

cup

sesame oil

1/3

cup

water

juice from half a lemon

1/2

teaspoon

salt
INSTRUCTIONS
Combine the chili-ginger sauce ingredients and blend until smooth. Marinate the sliced beef in the chili-ginger sauce for 30 minutes in the refrigerator.

Heat canola oil in a wok over medium heat. Add the brussels sprouts. Turn the heat to medium-high. Cook for 5 minutes, stirring regularly. Add bell pepper to the wok, cooking for 1 minute.

Add the marinated beef and chili-ginger sauce to the wok. Stir and cook until the beef is medium rare, about a few minutes.

Turn off the heat. Stir in scallions and sesame seeds. Serve immediately.
NUTRITION
This recipe yields 16.5 g net carbs per serving.
Nutrition Facts Per Serving
| | |
| --- | --- |
| Calories 870 | |
| Total Fat 67g | 103% |
| Saturated Fat 10g | 52% |
| Trans Fat 0.8g | |
| Cholesterol 96mg | 32% |
| Sodium 760mg | 32% |
| Potassium 620mg | 18% |
| Total Carb 28g | 9% |
| Dietary Fiber 11.5g | 46% |
| Sugars 10g | |
| Protein 37g | |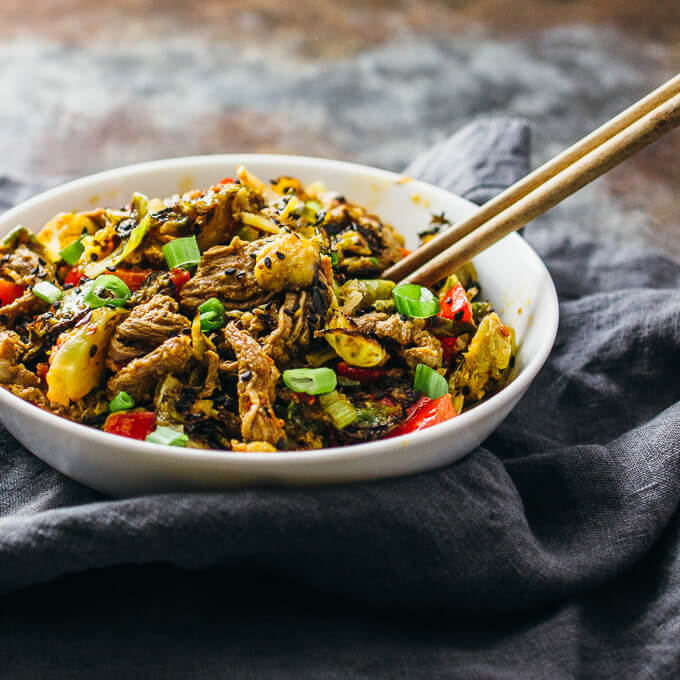 Now that it's October, brussels sprouts are in season and a fall-themed stir-fry dish is in order. I remember back when brussels sprouts used to be such a despised vegetable, until people discovered that you could pair it with crispy fried bacon (see Instant Pot Brussels Sprouts). For today's recipe, I made wok-fried brussels sprouts with red bell pepper, thinly sliced beef, scallions, and sesame seeds. The beef is marinated ahead of time in a chili-ginger sauce. I absolutely love this orange-colored sauce — it has jalapeños, ginger, garlic, sesame oil, lemon juice, and salt blended together. It's spicy and very flavorful.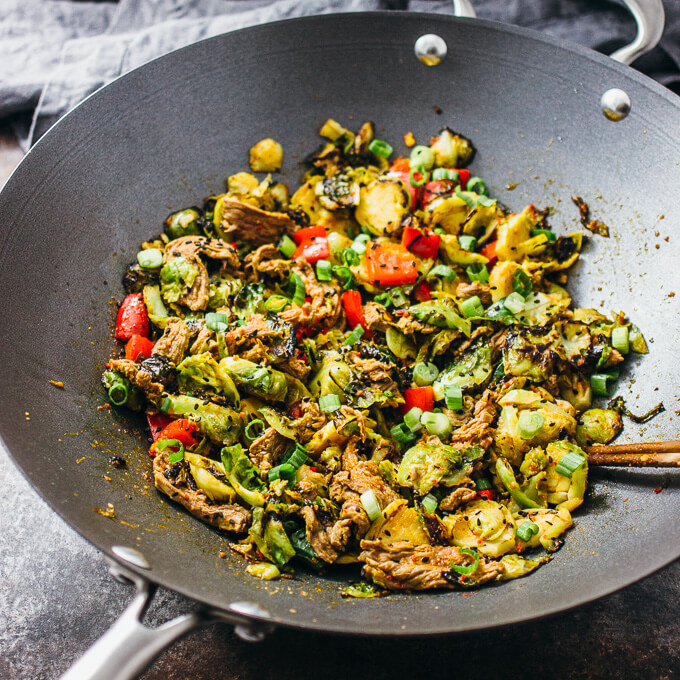 For this recipe, I've partnered with Nordic Ware and tested out their new 14-inch Asian Spun Wok. At 14 inches, it is a full-sized wok, which is the best size to get when shopping for woks because it can fit about 4 servings' worth of ingredients. Anything smaller and you will overcrowd your food and they will not get properly stir-fried. Anything larger and the wok won't be heated enough using most stovetop burners. The wok that I received from Nordic Ware was well-made, and I was very satisfied with its stir-fry performance.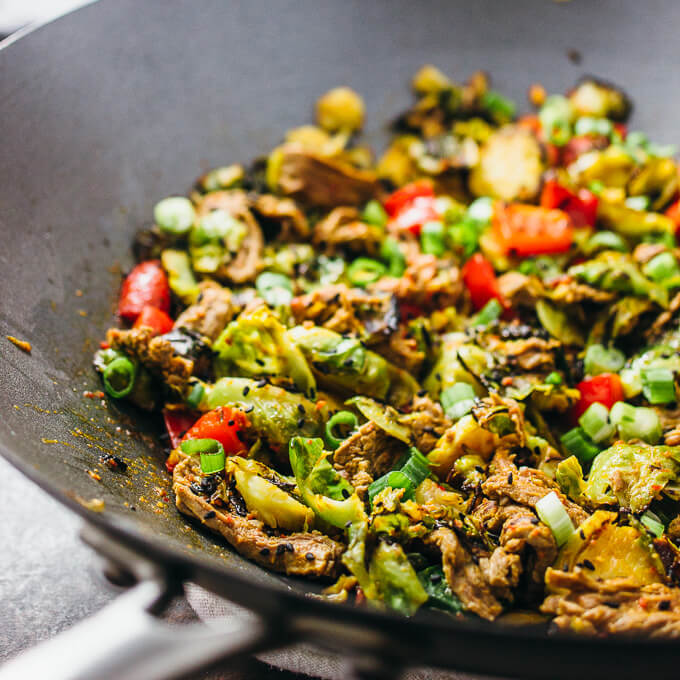 A few tips for cooking with a wok:
Don't overcook the beef. Turn off the stovetop burner as soon as the beef is cooked so that the meat doesn't get tough. For more tender beef, slice the meat into very thin strips.
Use dry vegetables. If your brussels sprouts are wet, dry them off in a salad spinner before cooking. It's best to use dry ingredients in a wok if you want a proper stir-fry.
Chop your ingredients to the same size so that they take roughly the same amount of time to cook. You don't want some vegetables to be overcooked and burnt while others are still undercooked.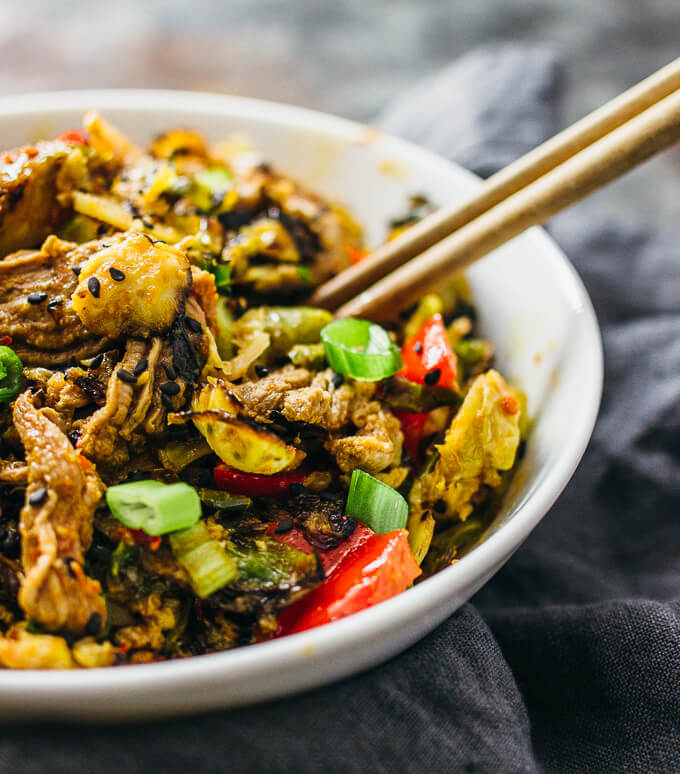 This stir-fry dish can be eaten by itself, or paired with steamed white rice. You can even make it for Thanksgiving this year to replace your usual brussels sprouts dish. You can make this dish ahead of time and simply reheat when ready to serve.
This post is sponsored by Nordic Ware. Nordic Ware is celebrating 70 years as family owned and operated Kitchenware Company since 1946! Nordic Ware manufactures the vast majority of its products in America, at their Minneapolis headquarters, including cookware, bakeware, grillware, microwave, and kitchen gadgets and accessories. From humble beginnings, Nordic Ware has become an internationally distributed brand that has been a part of family meals and celebrations for 70 years.