Summary:
This vegetarian potato curry features an orange flavor-packed sauce similar to an Indian tikka masala sauce. It's an easy one-pot recipe with minimal preparation and simple instructions.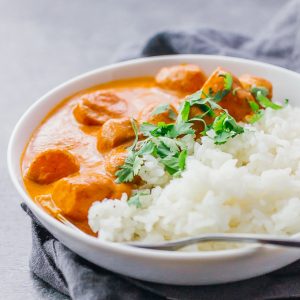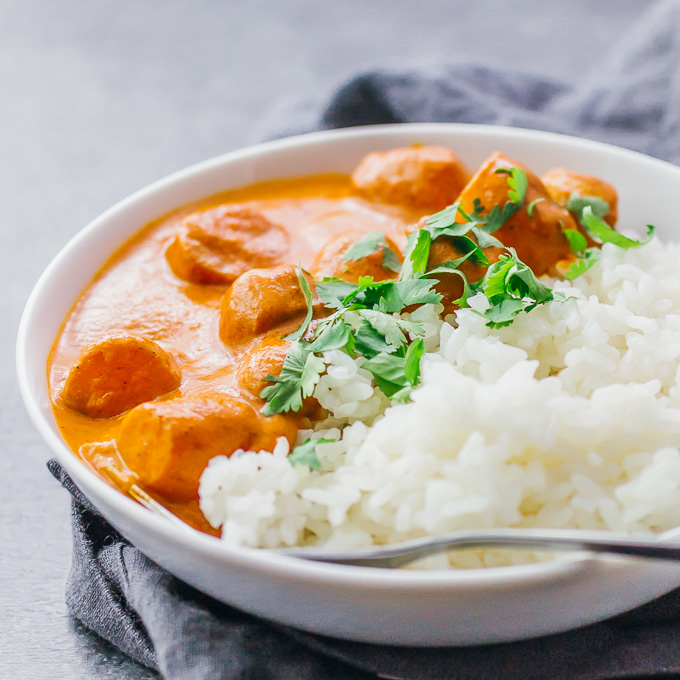 INGREDIENTS
1

pound

fingerling potatoes, cut into 1-inch chunks (Note 1)

1

tablespoon

cooking oil
INSTRUCTIONS
Sauté Potatoes: Heat oil in 3-quart or larger pan. Add fingerling potatoes, sautéing until crisping around edges, about 10 minutes, stirring occasionally.

Simmer: Add garlic to pan with potatoes and cook until garlic browns, about 1 minute. Stir in all remaining sauce ingredients. Bring to simmer. Cover and adjust heat to medium-low. Cook until potatoes are tender, about 15 minutes.

Serve: Uncover pan and stir. Serve hot (Note 4).
NUTRITION
Makes 2 Servings
Amount Per Serving:
| | |
| --- | --- |
| Calories 740 (62% from fat) |   |
| Total Fat 51g | 78% |
|    Saturated Fat 29g | 144% |
| Cholesterol 135mg | 45% |
| Sodium 1640mg | 68% |
| Net Carb 60g |   |
| Total Carb 67.5g | 22% |
|    Dietary Fiber 7.5g | 30% |
|    Sugars 15.5g |   |
| Protein 11g |   |
PHOTOS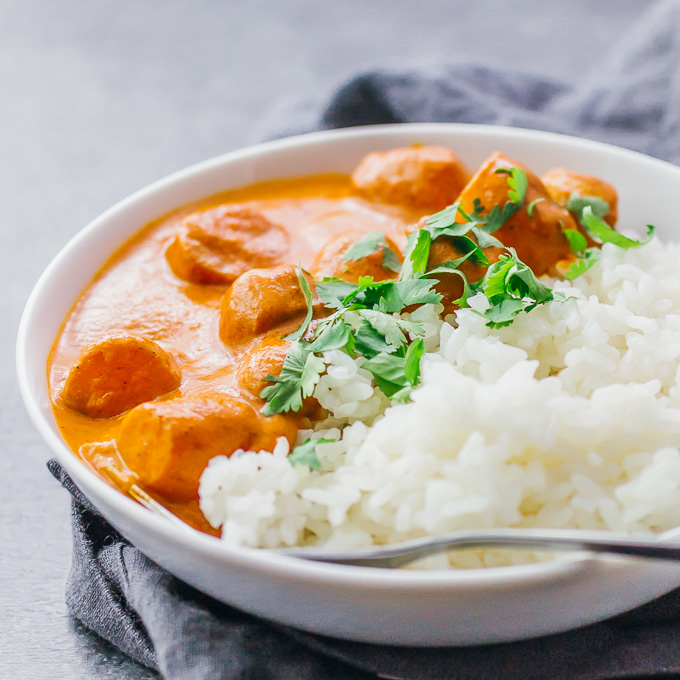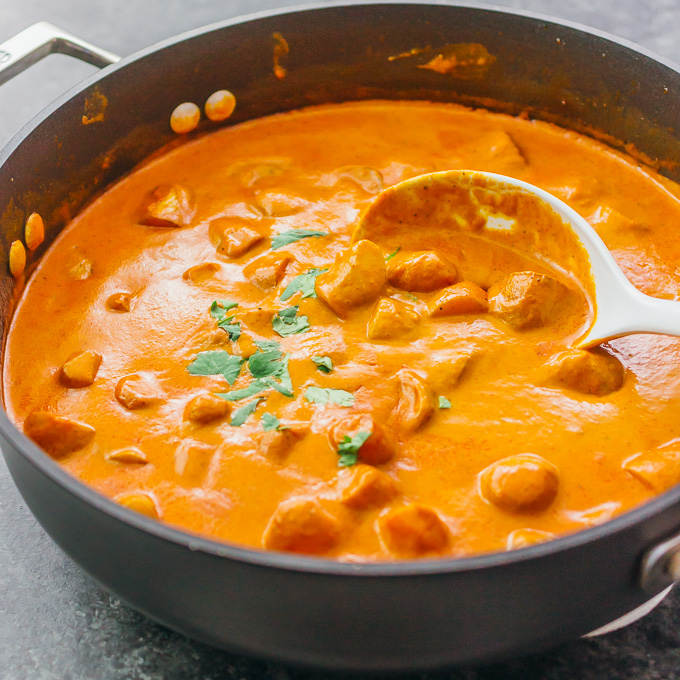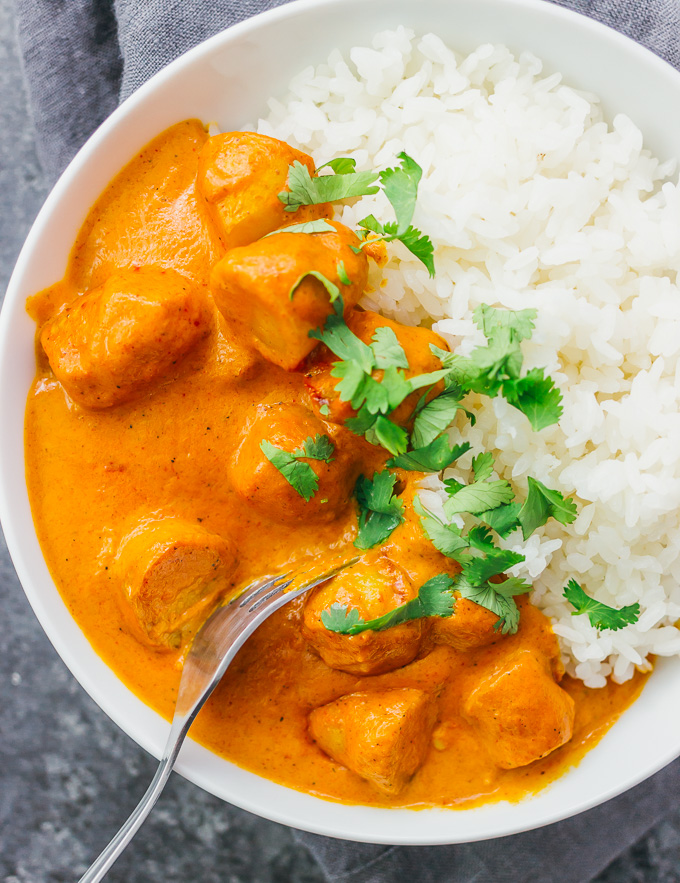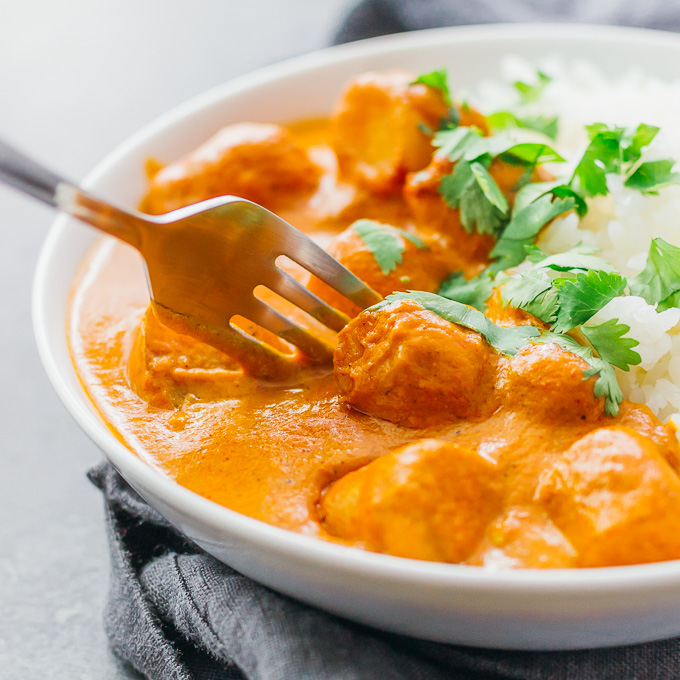 NOTES & TIPS
(1) Potatoes. I use fingerling potatoes with skins on, which are tiny stubby finger-shaped potatoes.
(2) Heavy Whipping Cream. I haven't used anything other than dairy-based cream, but readers have successfully substituted some or all of the cream with canned coconut milk. I think the taste of coconut milk would go wonderfully with the flavors in this curry, especially if you use full-fat coconut milk. For a thicker, luxurious sauce, a better substitution might be coconut cream.
(3) Garam Masala. This is one of those spices that can't be easily substituted because it gives a characteristic taste to curries. It's a blend of ground Indian spices including pepper, cloves, cinnamon, nutmeg, cardamom, and cumin. You can easily buy garam masala online, or you can find it at many U.S. supermarkets.
(4) Serving. Serve the curry with steamed basmati rice, roasted naan, fried riced cauliflower, or creamed spinach. Garnish with chopped fresh cilantro. This curry has a generous amount of sauce, so it's best to serve with something to help sop up the extra sauce.
(5) Similar Recipes. Another vegetarian curry you might like is cauliflower curry, which has a similar sauce but uses oven-roasted cauliflower florets. If you prefer chicken curries, check out chicken tikka masala (versions for stovetop, slow cooker, and pressure cooker) or butter chicken (stovetop and pressure cooker).