Summary:
This is a ridiculously good hearty pasta salad that anyone can make. It's simple and easy with only 3 steps. You'll love the delicious Italian dressing!
Looking for low carb recipes instead? Visit the Savory Tooth Homepage.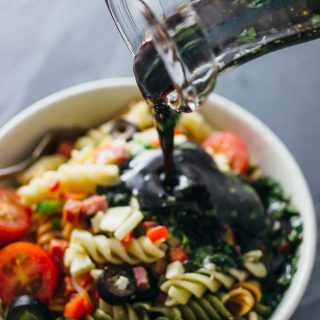 Insanely Good Pasta Salad With Italian Dressing
INGREDIENTS
1

pound

tricolor rotini pasta

1

red bell pepper

diced

1

green bell pepper

diced

1/4

pound

genoa salami

diced

1/4

pound

pepperoni sausage

diced

6

ounce

can sliced black olives

drained

1/2

pound

asiago cheese

diced
Optional, for serving:
2

cups

grape tomatoes

halved
INSTRUCTIONS
Using a large pot of boiling water, cook the pasta according to package instructions. Drain the pasta in a colander and rinse with cold water.

In a large mixing bowl, combine and mix all ingredients except for the dressing ingredients.

Mix all of the dressing ingredients in a small bowl, and pour into the large mixing bowl with the pasta salad. Serve immediately or cover and refrigerate until ready to serve. Optional: add halved grape tomatoes just prior to serving.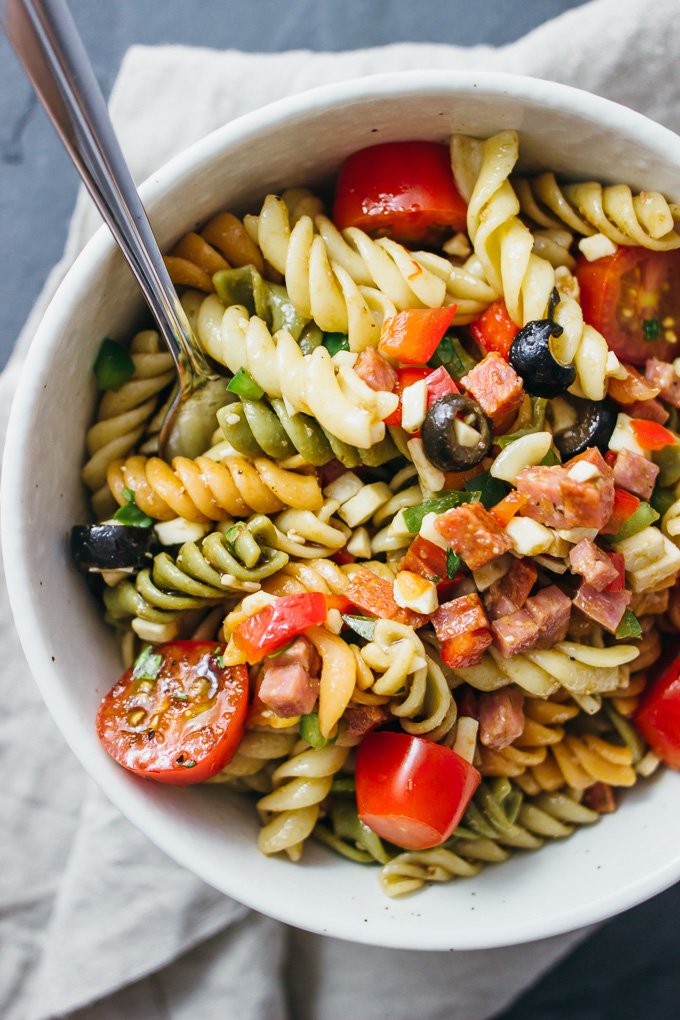 This is a ridiculously good pasta salad that anyone can make. It's simple and easy with only 3 steps. It's a cold hearty pasta that's full of healthy vegetables with fresh bell peppers, sliced black olives, and grape tomatoes. Also, I LOVE the Italian dressing that's so simple yet so tasty — it's got olive oil and balsamic vinegar (yum!) plus some fresh herbs.
This pasta salad recipe is adapted from a recipe that I got from Mr. Savory Tooth's mom, who originally found this recipe in a magazine. She's been making this pasta salad for decades and so it's something that he fondly remembers from his childhood. About a year ago, Mr. Savory Tooth made this for me for the first time, and having only ever had decent pasta salad, my mind was blown on how delicious it was. So many flavors and textures at the same time. I love amazing family recipes like this, so I'm really excited to be sharing this.
Also, ANYONE can make this! The skill level of this recipe is definitely at the beginner level; after all, even those who are culinary-challenged like Mr. Savory Tooth are able to make this dish on their own 🙂 After you do some prep work like chopping things up, all you do is toss them together with the dressing and then you're done. So quick and fast using just a single pot for cooking the pasta.
How to make the best easy pasta salad with Italian dressing:
So, Mr. Savory Tooth and I have a longstanding debate about this pasta salad that needs to be resolved. If you end up making this salad, please do share your opinion! Here's the question: does the pasta salad taste better when freshly coated with dressing or after marinating in the dressing overnight? We've had it both ways, and I am a firm believer that it tastes better when freshly coated with dressing and he staunchly believes it tastes better after marinating overnight in the fridge.
Here's my reasoning: after you mix the pasta salad with the dressing, the pasta salad is covered with a thin coating of deliciousness that I just love. If you let it marinate overnight in the dressing, the pasta just soaks it up and it becomes very dry and just doesn't taste as good. At least that's my opinion. What do you guys think??
One thing you can try to get the best of both worlds in this debate: marinate the pasta salad in the dressing by leaving it in the fridge overnight, AND then pour more dressing on the pasta salad prior to serving. Everyone wins, right?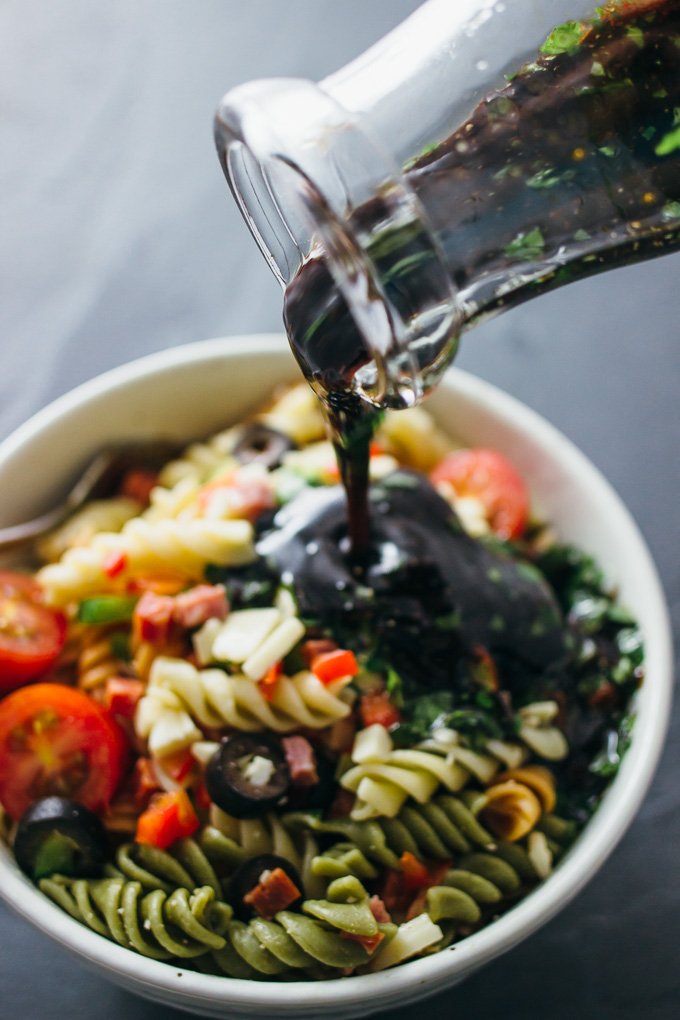 Mr. Savory Tooth and I have made this pasta salad a number of times now, and it's great for parties and get-togethers because you can make it the night before and bust it out right when your guests arrive. It's perfect if you're looking for a summertime salad and goes well as a side dish or appetizer.