Summary:
This is a one-pan chicken dinner for two people, with simple ingredients and minimal prep work. Juicy pan-seared chicken is paired with a savory tomato sauce with prominent basil and garlic flavors, served with cauliflower rice. Great for low carb and gluten free diets.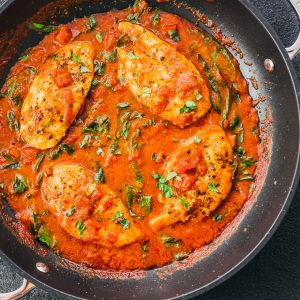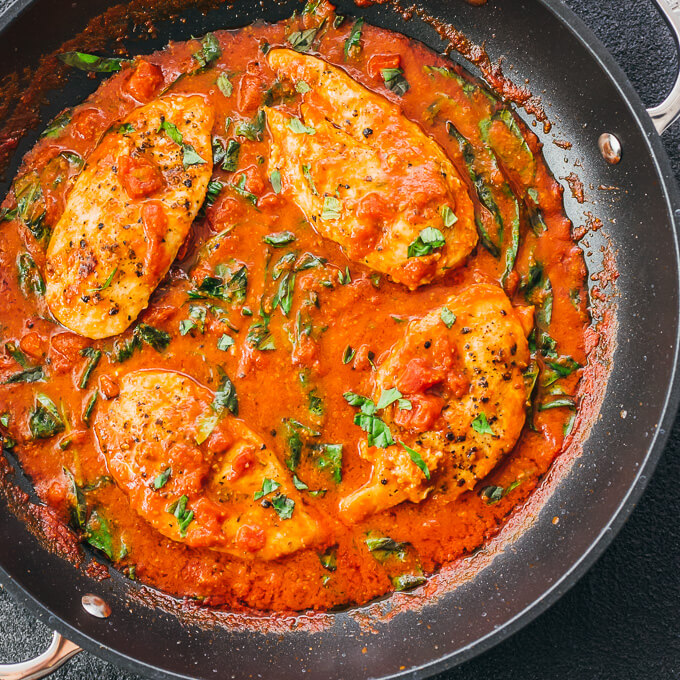 INGREDIENTS
Cauliflower Rice:
2

cups

riced cauliflower (Note 2)

1

tablespoon

olive oil
INSTRUCTIONS
Prepare Chicken: Slice chicken breasts in half lengthwise to make them thinner. Pat dry with paper towel. Season both sides of all pieces with salt and pepper.

Brown Chicken: In wide nonstick pan, add olive oil and 2 tablespoons butter over medium to medium-high heat, stirring until butter is melted and pan is hot. Add chicken breasts in single layer. Cook until each side starts browning, about 4 minutes per side. When chicken is cooked through, transfer to plate. Work in batches if pan is not large enough to hold all at once.

Make Sauce: Cool pan by reducing to medium-low heat. Add minced garlic, cooking until golden brown and aromatic, about a minute. Stir in crushed tomatoes and cayenne, loosening any browned bits that have stuck to pan. Increase heat to bring to simmer. Stir in 2 tablespoons butter until melted. Add salt and pepper to taste. Stirring occasionally, simmer for about 5 minutes to slightly thicken sauce; meanwhile, prepare cauliflower in next step.

Make Cauliflower Rice: Stir together cauliflower rice and olive oil in heat-proof bowl and microwave until tender, about 3 minutes on high power.

Finish & Serve: Reduce pan's heat until barely simmering. Stir in basil. Transfer chicken back to pan to soak up sauce. Serve with cauliflower rice.
NUTRITION
Makes 2 Servings
Amount Per Serving:
| | |
| --- | --- |
| Calories 690 (51% from fat) |   |
| Total Fat 39g | 60% |
|    Saturated Fat 17g | 83% |
| Cholesterol 192mg | 64% |
| Sodium 420mg | 17% |
| Net Carb 9.5g |   |
| Total Carb 16.5g | 5% |
|    Dietary Fiber 7g | 28% |
|    Sugars 8.5g |   |
| Protein 59g |   |
PHOTOS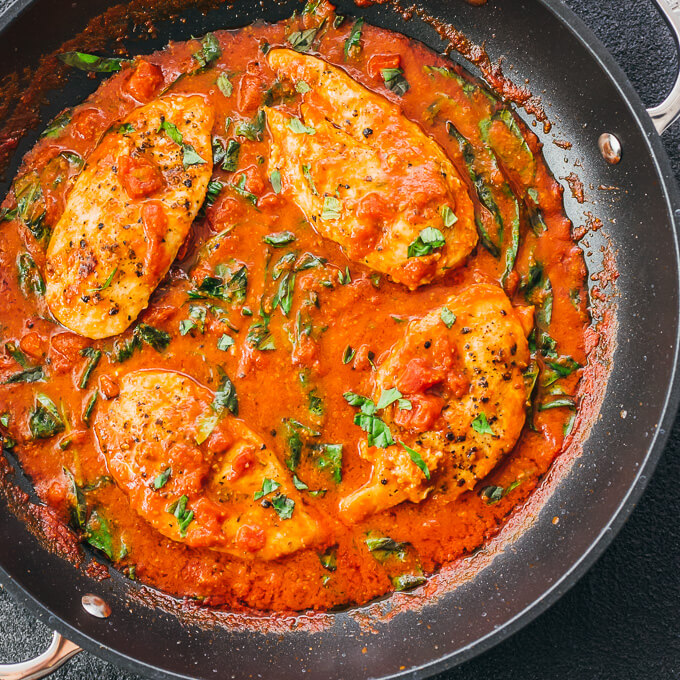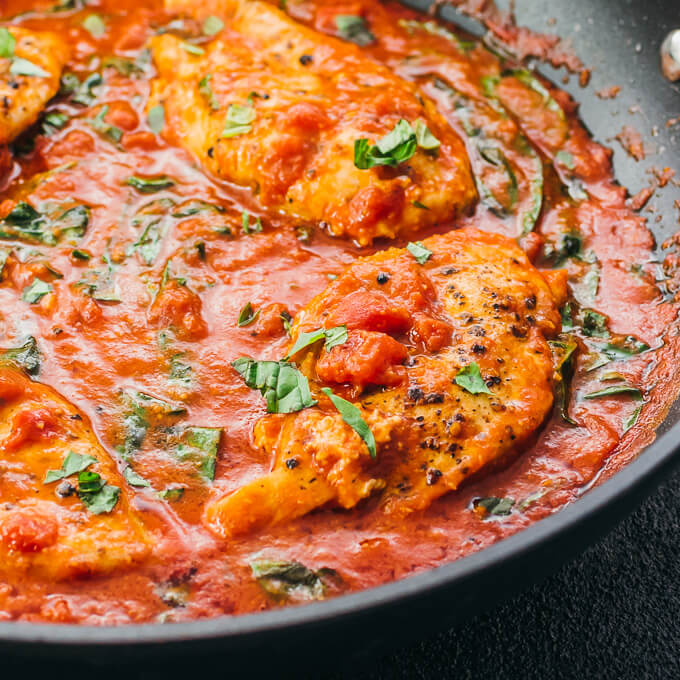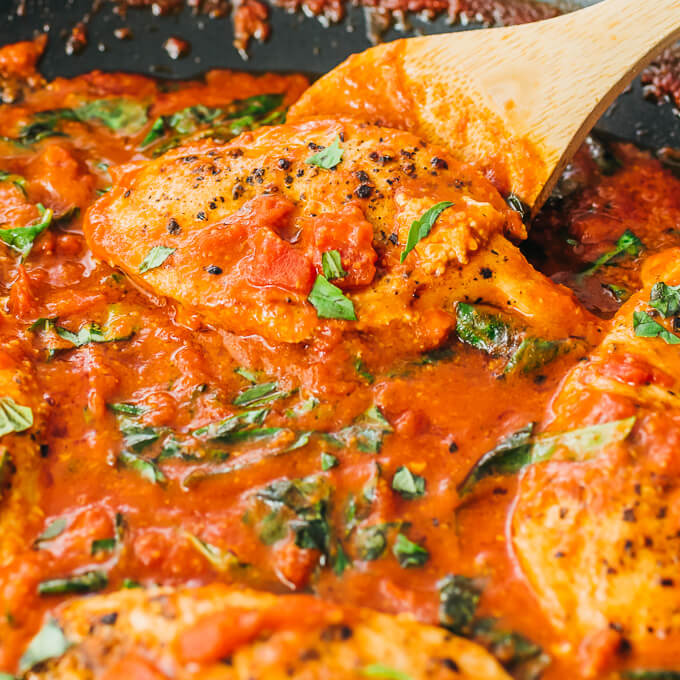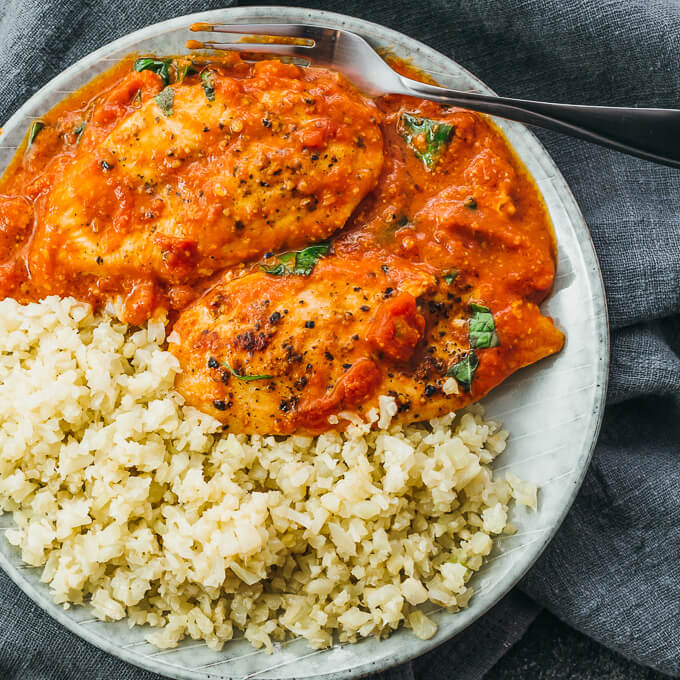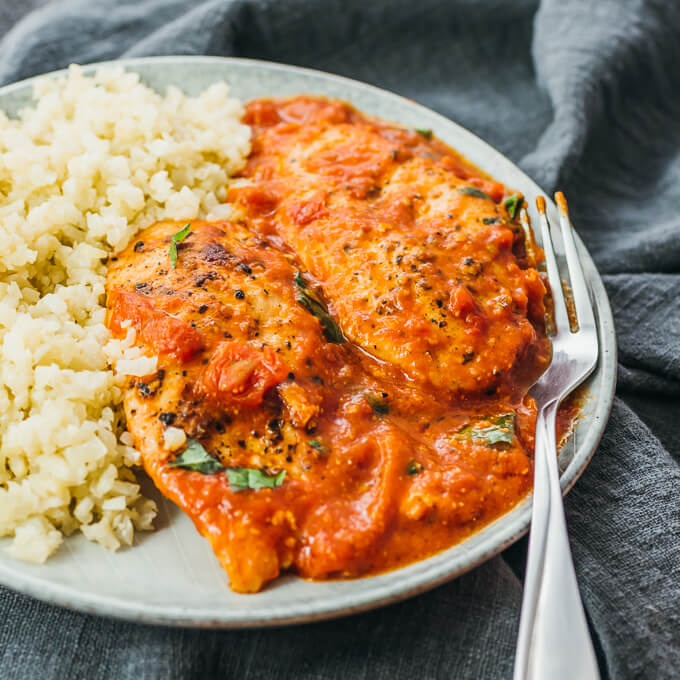 NOTES & TIPS
(1) Basil. I use fresh basil leaves. To slice into strips, I place the leaves on top of each other into one large stack, roll the stack into a log, and thinly slice starting at one end of the log until I end up with many thin strips.
(2) Riced Cauliflower. About 8 ounces weight. I recommend picking up a bag of pre-riced cauliflower in the produce section of U.S. grocery stores — easier than grating cauliflower florets with a box grater or food processor.