Summary:
This Instant Pot chili is a low carb dish made with ground beef, bell peppers, mushrooms, canned beans, and a homemade chili seasoning mix. Add this to your dinner rotation along with other beef-centric meals.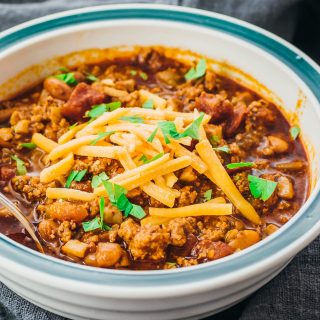 INGREDIENTS
2

pounds

90% lean ground beef

1

(28-ounce)

can unsalted crushed tomatoes

1

(15.5-ounce)

can pinto beans

drained and rinsed

1

(10-ounce)

package cremini mushrooms

finely chopped

1

green bell pepper

finely chopped

1

tablespoon

olive oil
INSTRUCTIONS
Select the sauté mode on the pressure cooker for medium heat. When it has reached temperature, add olive oil to coat the bottom of the pot.

Add chopped mushrooms and bell peppers, and cook until the mushrooms are softening and starting to shrink, about 5 minutes, stirring occasionally.

Add ground beef and cook until completely browned, 5 to 10 minutes, constantly stirring and breaking it apart to crumble.

Add all ingredients for the chili seasoning mix, and stir for a few minutes until well-mixed and aromatic. Turn off the sauté mode.

Stir in pinto beans. Scrape off any brown bits that may have stuck to the bottom of the pot, if any. Evenly pour crushed tomatoes on top.

Cover and lock the lid. Select the manual mode to cook for 10 minutes at high pressure. Let it naturally release pressure for about 10 minutes, then gradually manually release using the steam release handle.

Thoroughly stir the chili. If too watery, let it simmer on the sauté mode until thickened to your desired consistency. If it's too thick, stir in some water. Taste the chili (carefully as it will be very hot) and add salt and pepper, if needed.

Serve in bowls and optionally top with cheddar cheese.
NUTRITION
Makes 8 Servings
Amount Per Serving:
| | |
| --- | --- |
| Calories 310 (37% from fat) | |
| Total Fat 13g | 20% |
| Saturated Fat 5g | 26% |
| Cholesterol 75mg | 25% |
| Sodium 740mg | 31% |
| Net Carb 11g | |
| Total Carb 16.5g | 5% |
| Dietary Fiber 5.5g | 22% |
| Sugars 3g | |
| Protein 27g | |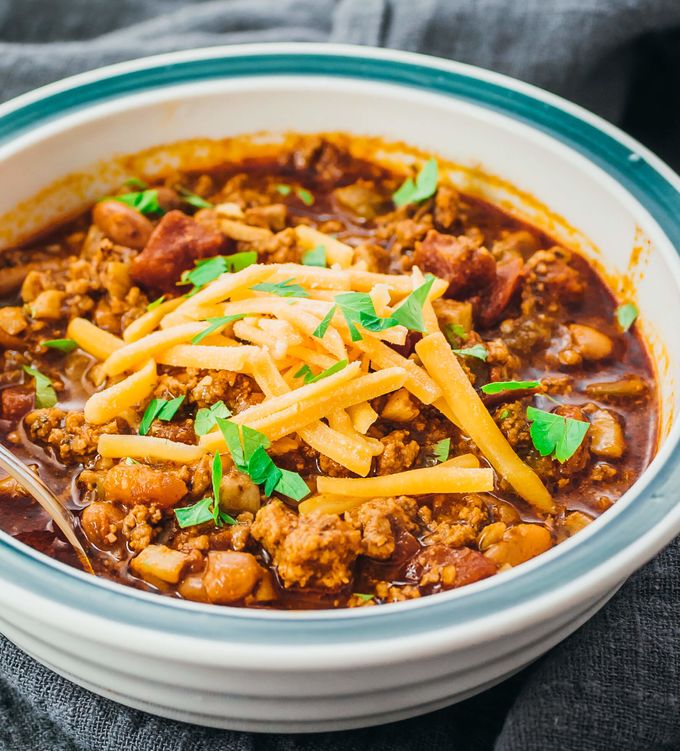 Chili is a fantastic dish to make in an Instant Pot or other electric pressure cooker — it typically requires both sauteing and simmering, making it ideal for any cooking appliance that can seamlessly handle both cooking functions. Vegetables and ground beef are cooked first on the saute mode, which mimics stovetop cooking as the food is seared and browned, followed by the addition of remaining ingredients that are simmered on the pressure cooker mode. Everything happens quickly, as you only need about 10 minutes of pressurized cooking to simmer the chili and to bring all of the flavors together — much faster than traditional cooking methods. My version of chili is a bit spicy thanks to a homemade chili seasoning mix, hearty with a good proportion of ground beef, and is moderately low carb.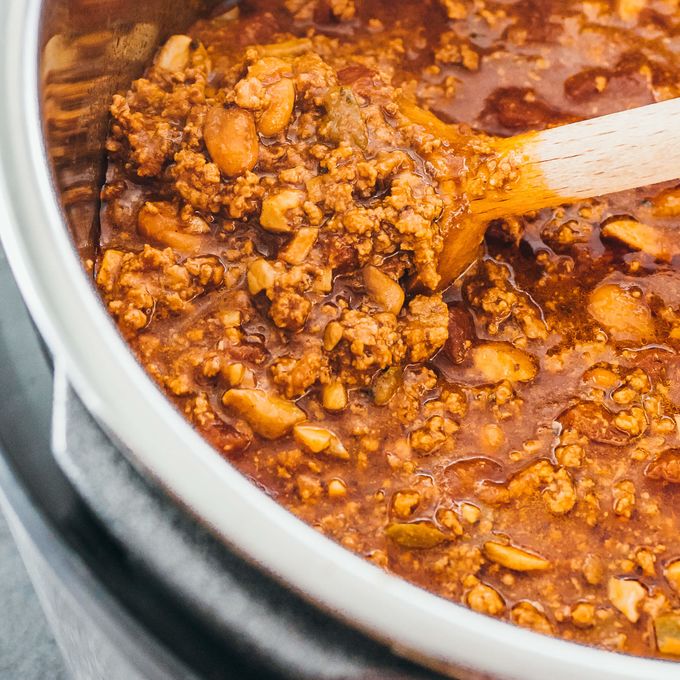 Here are a few differences that set this chili apart from others:
Since I make my chili in an Instant Pot, I don't add any liquids such as stock or water. In pressure cooking, all liquids are retained and none escape, so your foods will be a lot more watery compared to traditional cooking. To account for this, I don't add any water in this recipe, as the liquid released from vegetables and the meats is adequate.
I don't use any onions in this recipe; instead I add diced mushrooms, which gives a tastier and creamier result with a nice texture.
This chili has a large meat to vegetable ratio. I could have used just one pound of ground beef but I use two pounds, giving the chili a heartier taste and flavor. It's intended as a low carb dish, after all.
I consider chili to be a low carb food staple, as it's often eaten by itself without any starchy accompaniments. While it's true that tomatoes and especially beans tend to be moderately high in carbs (about 12 g net carbs per 4 oz serving of pinto beans), both are essential ingredients for chili. I use a small proportion of beans compared to other ingredients to reduce their carb impact, so each serving has a total of 11 g net carbs — reasonable for most low carb and keto diets.
Here are a few tips on making this chili:
This recipe is designed for 90% lean ground beef. If you use fatter meat, there will be more liquid released from the fat and you'll end up with a thinner chili, and vice versa. If your chili ends up too thick, you can add more water to thin it out. If your chili is too thin, you can turn on the saute mode and simmer until it thickens to your desired consistency.
Don't like ground beef? No problem — you can substitute with ground turkey or even ground chicken. Just remember to pay attention to the fat percentage of the meat.
Two pounds of ground beef is a lot to saute in an Instant Pot since the pot is not very wide. For ease, you can saute one pound of beef at a time, cooking and stirring until browned and crumbled, before adding the remaining pound of beef.
There are a lot of different spices in the homemade chili seasoning mix, so measure them out in a prep bowl before starting the cooking process. If you don't have these spices or only have some of them, you can substitute the remainder with store-bought chili powder.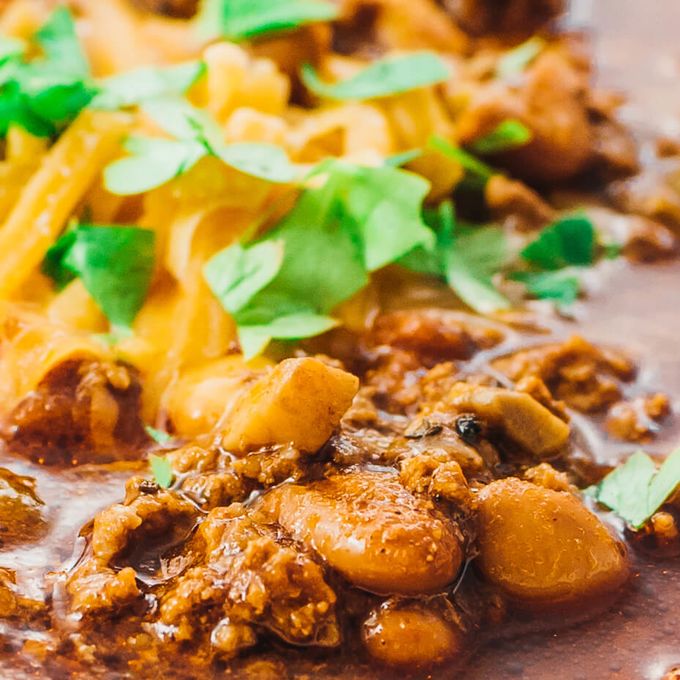 This Instant Pot chili can be served with a variety of toppings. Some ideas include sliced avocados, jalapenos, sour cream, shredded cheddar cheese, sliced scallions, crumbled bacon, and lime.
One of the best things about this chili are the leftovers. You're likely not going to finish off all of this chili in a single sitting, which means you'll have plenty of leftovers to enjoy for the coming days. It reheats well in the microwave, and I think it even tastes better after a day or two.
For more low carb Instant Pot ideas, check out: