Summary:
Aglio e olio means "garlic and oil" in Italian, describing a spaghetti dish with olive oil and freshly minced garlic, coated in a simple sauce of melted parmesan cheese and pasta cooking water. Only seven ingredients are needed for this easy recipe, and everything is cooked together in a single pan — you don't need a separate pot to boil the pasta.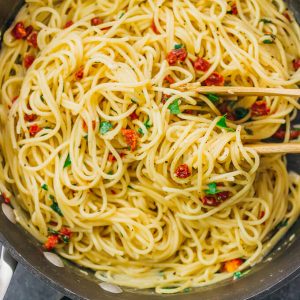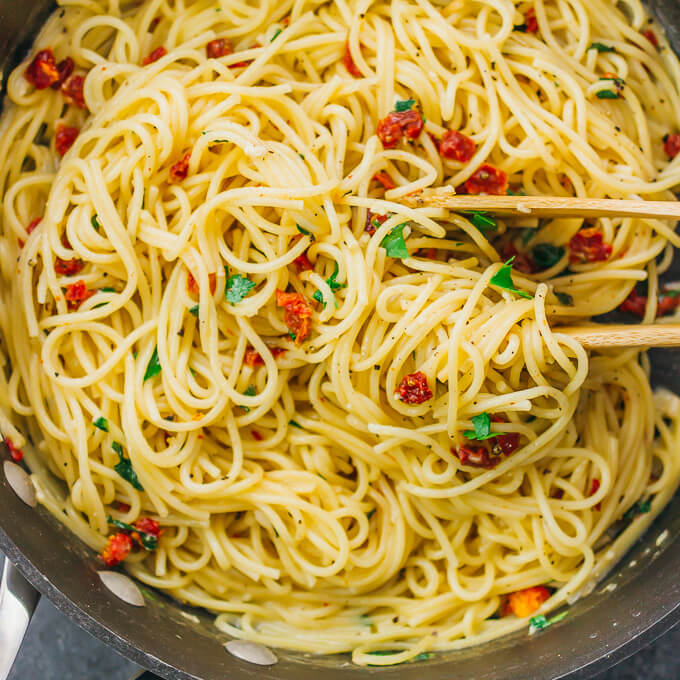 INGREDIENTS
8

ounces

spaghetti pasta, snapped in half (Note 1)

3/4

cup

grated parmesan cheese

1/3

cup

diced sun-dried tomatoes (Note 2)

1/4

cup

chopped fresh parsley

5

cloves

garlic, minced

1

tablespoon

olive oil

1/4

teaspoon

freshly ground black pepper
INSTRUCTIONS
Brown Garlic: Add olive oil and garlic to 3-quart or larger pan. Cook over medium heat until garlic is browned, a few minutes, stirring occasionally.

Add Spaghetti: Add 4 cups of water and spaghetti to pan. Bring to boil over high heat. Cook until spaghetti is tender, about 10 minutes, stirring occasionally. Do not drain cooking liquid; keep liquid in pan to become part of sauce (Note 3).

Finish & Serve: Decrease heat to medium. Add parmesan cheese, sun-dried tomatoes, parsley, and pepper to pan. Stir until cheese has melted. Serve immediately while hot (Note 4).
NUTRITION
Makes 2 Servings
Amount Per Serving:
| | |
| --- | --- |
| Calories 670 (26% from fat) |   |
| Total Fat 19g | 30% |
|    Saturated Fat 7g | 36% |
| Cholesterol 32mg | 11% |
| Sodium 700mg | 29% |
| Net Carb 92.5g |   |
| Total Carb 97.5g | 33% |
|    Dietary Fiber 5g | 21% |
|    Sugars 6.5g |   |
| Protein 27g |   |
PHOTOS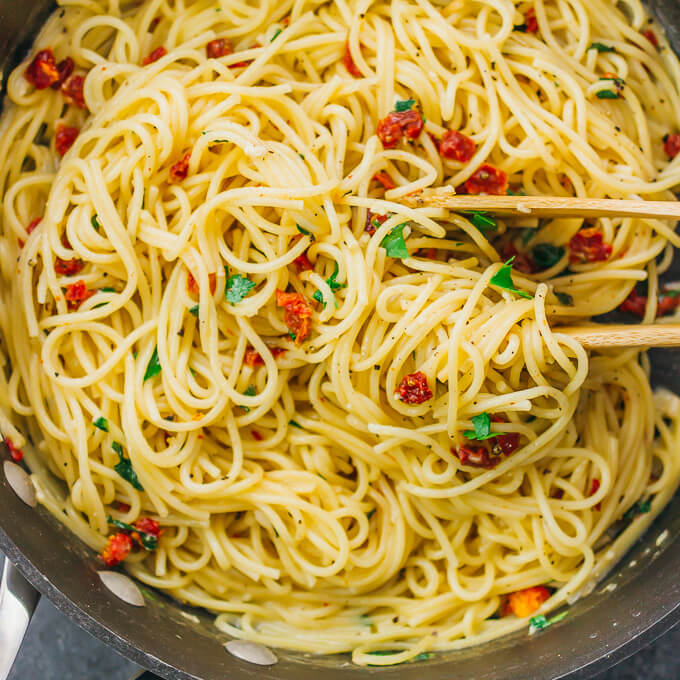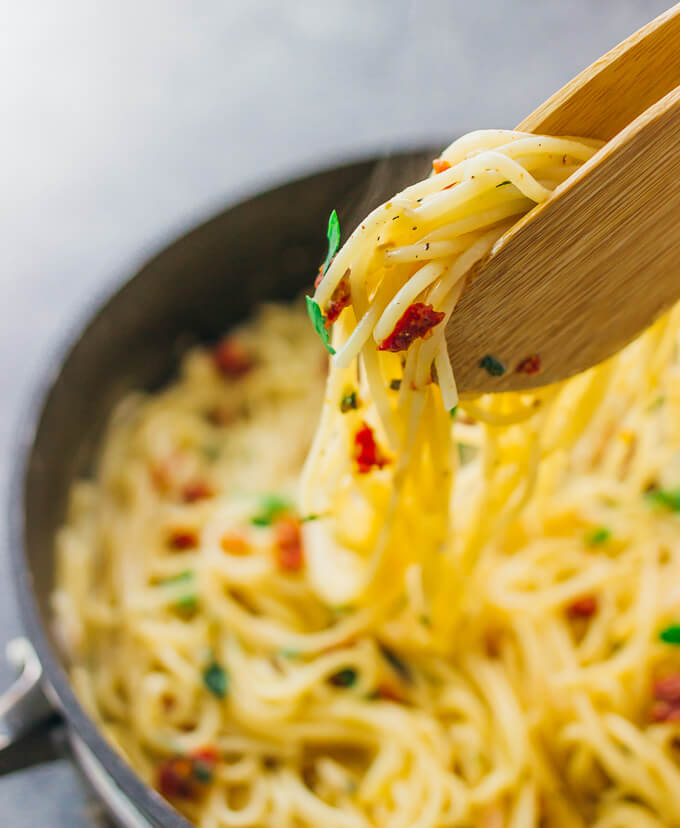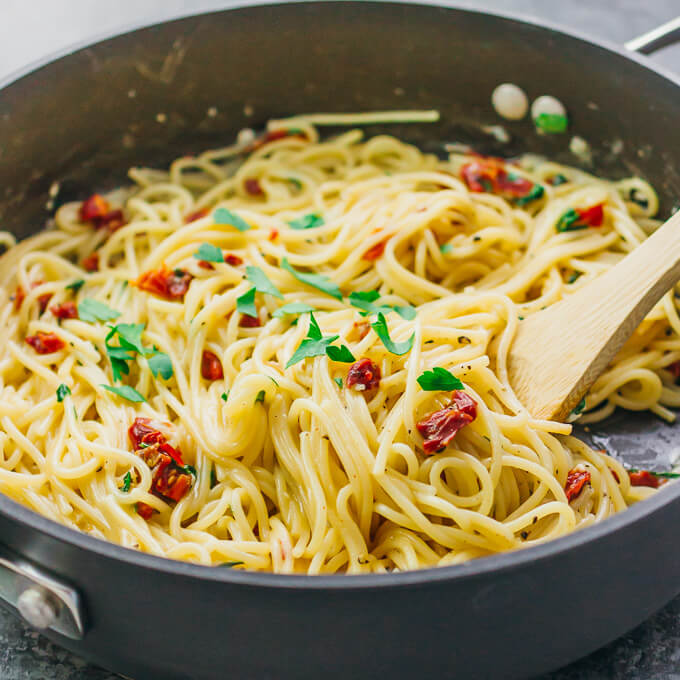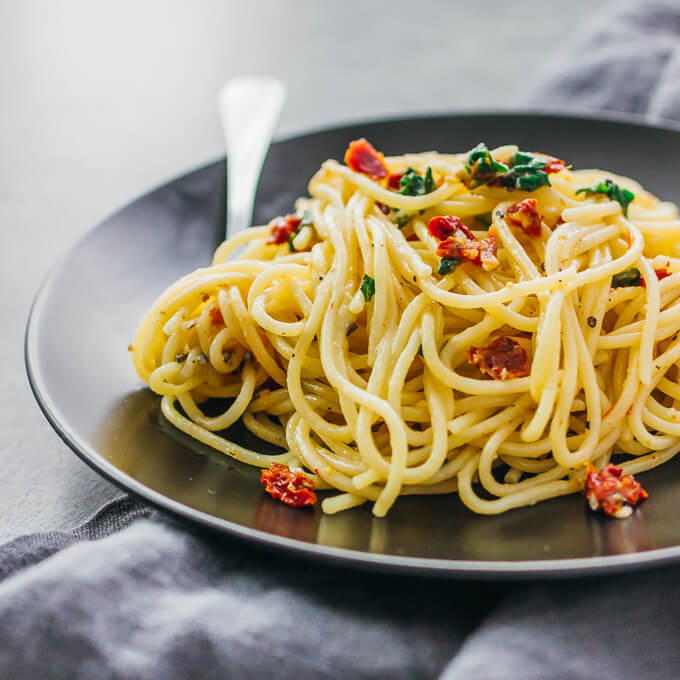 NOTES & TIPS
(1) Spaghetti Pasta. The cooking time listed in the recipe is specifically for spaghetti-type pasta. If you use a different type of pasta, your cooking time will differ. If you use angel hair pasta, you may only need to use about 3 cups of water and 5 minutes of cooking time.
(2) Sun-Dried Tomatoes. This ingredient adds an extra burst of tart flavor as well as a nice pop of color to the finished dish. I use dry-packaged sun-dried tomatoes, typically found in the produce area of U.S. supermarkets, in plastic packaging. Oil-packaged ones are fine as long as you blot off any excess oil.
(3) Cooking Pasta. All of the other recipes that I've seen for aglio e olio ask that you cook the spaghetti pasta in a separate pot of boiling water. This recipe is different because everything cooks in the same pot, including the spaghetti, so you don't need to use more than one pot for this recipe. The added benefit of this? The pasta water, or water used for boiling and cooking the pasta, is not drained and is automatically repurposed to form the sauce for the spaghetti. Four cups of water may seem like a lot, but the sauce will not end up being watery because the dry spaghetti absorbs water as it cooks, there's also evaporation going on for 10 minutes over high heat, and the parmesan cheese helps thicken it up.
(4) Serving. This dish is best eaten while hot; once it cools, the pasta will become sticky since it's covered with parmesan cheese. Enjoy while it's hot and the spaghetti is still silky smooth. Keep the dish on a burner to keep it warm if you're not serving immediately. You can serve this spaghetti on its own, or pair with a nice Greek salad or crusty bread.