Summary:
A delicious chopped Greek salad with creamy avocado dressing.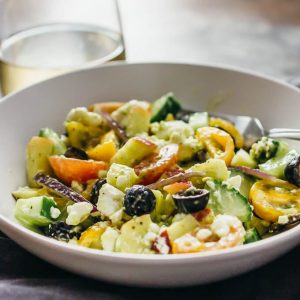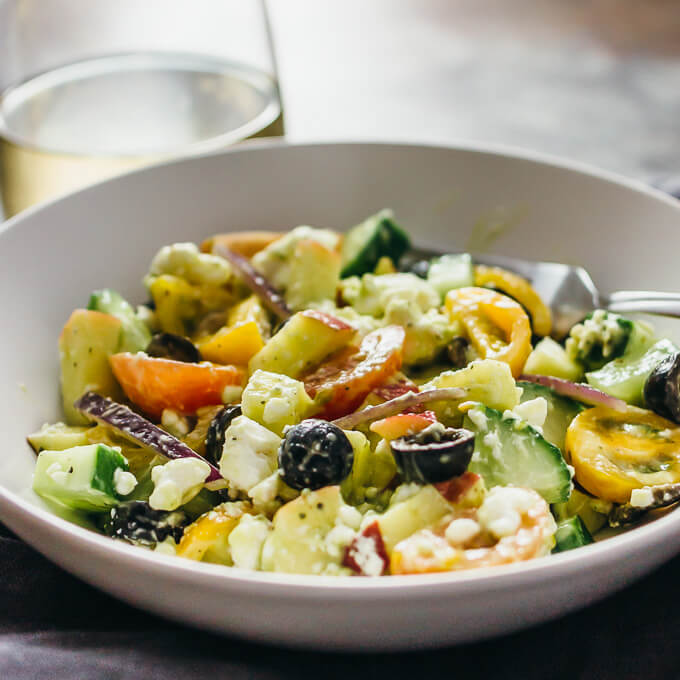 INGREDIENTS
2

cups

chopped cucumber

about 1 cucumber

1 1/2

cups

quartered mini heirloom or cherry/grape tomatoes

about 8 ounces

1 1/2

cups

chopped Fuji apple

about 1 apple

2/3

cup

pitted and sliced black olives

3.8 ounce can

1/2

cup

crumbled feta cheese

about 3 ounces

1/3

cup

thinly sliced red onions

about 1/4 red onion
For avocado dressing:
1

small ripe avocado

peeled and pitted

1/3

cup

olive oil

1/3

cup

water

1

tablespoon

lemon juice

about 1/2 lemon

2

cloves

garlic

1

teaspoon

dried oregano

1/2

teaspoon

salt

1/4

teaspoon

freshly ground pepper
INSTRUCTIONS
Add all dressing ingredients to a small blender, immersion blender, or food processor. Blend until smooth.

Add cucumbers, tomatoes, apples, onions, and olives to a large mixing bowl. Add about a third of the dressing. Stir everything together to mix.

Top the salad with feta cheese, gently stirring it in. Serve with reserved dressing on the side. Refrigerate any leftovers.
NUTRITION
This recipe yields 15.5 g net carbs per serving.
Nutrition Facts Per Serving
| | |
| --- | --- |
| Calories 380 |   |
| Total Fat 32g | 49% |
|    Saturated Fat 6g | 29% |
|    Trans Fat 0g |   |
| Cholesterol 11mg | 4% |
| Sodium 770mg | 32% |
| Potassium 420mg | 12% |
| Total Carb 21g | 7% |
|    Dietary Fiber 5.5g | 23% |
|    Sugars 9g |   |
| Protein 7g |   |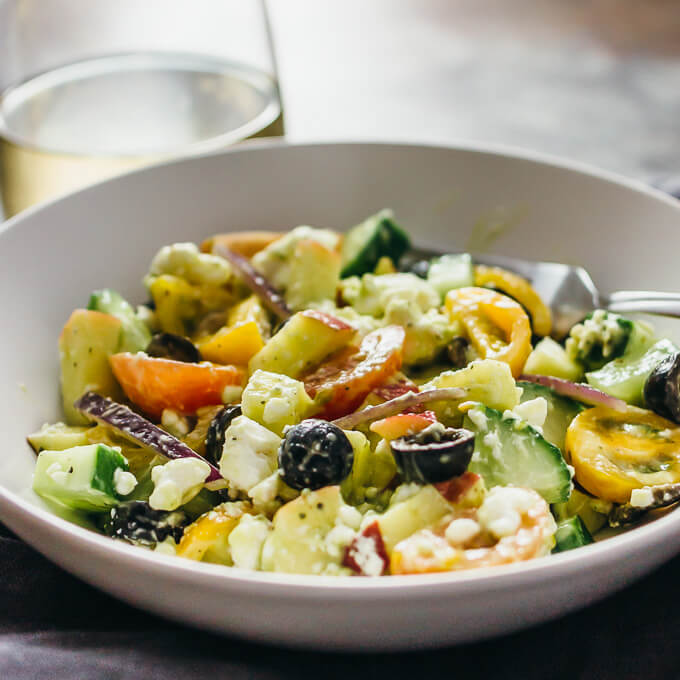 We've been getting a string of hot days in Boston — it feels like we only had a few days of spring before summer arrived — and my house has been feeling so hot that I've been craving cold no-cook meals (hello cold broccoli salad and bruschetta). Mr. Savory Tooth and I both love Greek ingredients and dishes so this chopped Greek salad was an obvious choice for dinner.
It's not your typical Greek salad because my recipe includes a creamy avocado dressing that's the best of all worlds: healthy, delicious, and filling enough for dinner.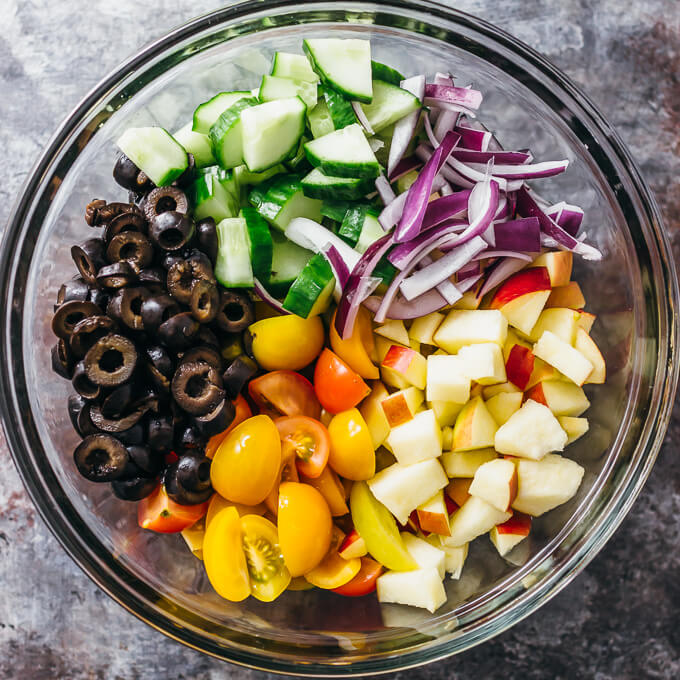 This chopped Greek salad has some traditional Greek elements, such as cucumber, onions, tomatoes, olives, and feta cheese, but also has an added twist: sweet chopped apples. The apples add a juicier note to the Greek salad and I love this addition. All of these ingredients make this salad taste fresh and perfect as a summer salad.
You can easily double or triple the ingredients for a larger crowd, and if you're feeding vegans, you can easily omit the feta cheese or keep it separate to make this a vegan dish.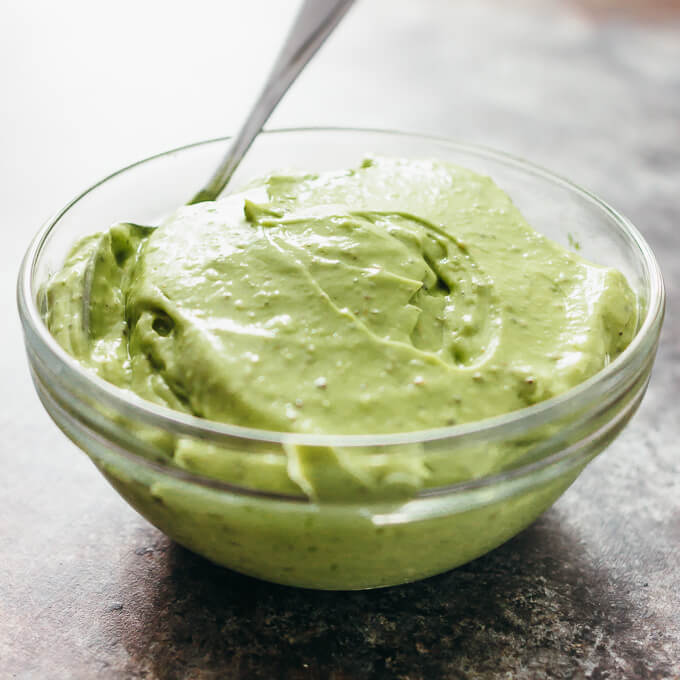 I love this rich and flavorful avocado dressing — it's homemade, healthy, and vegan. It's creamy, but without any cream or other dairy products. This avocado dressing nicely complements the Greek flavors in this salad, and I can think of many other things it would be perfect for: dipping sauce for tortilla chips, spread on toasted bread, burger dressing, or on top of grilled salmon.
This recipe makes a lot of avocado dressing, so I usually only toss with a third or half of it, and keep the rest on the side for serving.