Summary:
These healthy Greek burgers are made using ground beef mixed with spinach, feta, and sun-dried tomatoes, then drizzled with a delicious tzatziki sauce. For a low carb option, ditch the buns.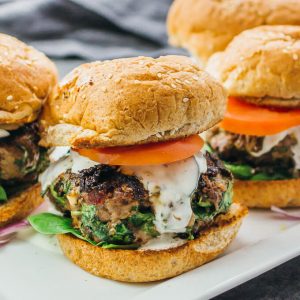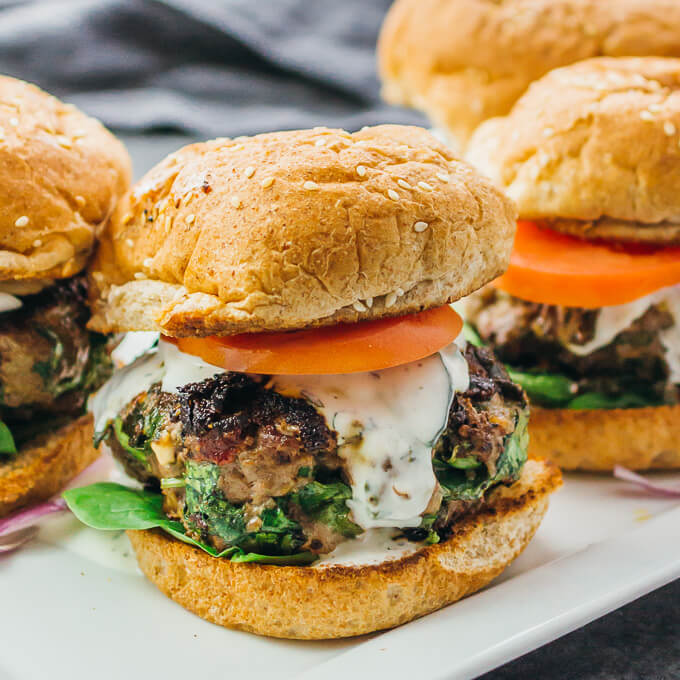 Greek Burgers with Spinach, Feta, and Sun-Dried Tomatoes
INGREDIENTS
For burger patties:
1

pound

ground beef

5

ounces

fresh baby spinach leaves

chopped

2

ounces

crumbled feta cheese

1/3

cup

chopped sun-dried tomatoes

1

egg

1/2

teaspoon

salt
INSTRUCTIONS
Combine and mix together all burger patty ingredients in a bowl.

Form into 4 patties. Refrigerate patties for at least 1 hour to harden.

Heat a pan over medium heat, or use a grill. Working in batches, drizzle the inside faces of the buns with a bit of cooking oil and place them face down on the pan. Cook until toasted, a few minutes. Transfer to a serving plate.

Increase to medium-high heat or keep at medium heat to lessen the amount of smoke (it will just take longer to cook). Drizzle cooking oil over the pan. Working in batches, cook the patties until charred on both sides and the internal temperature reaches 160 F, flipping occasionally. Add more oil if the pan gets dry.

Assemble the burgers by distributing the meat and toppings among the buns. Serve hot.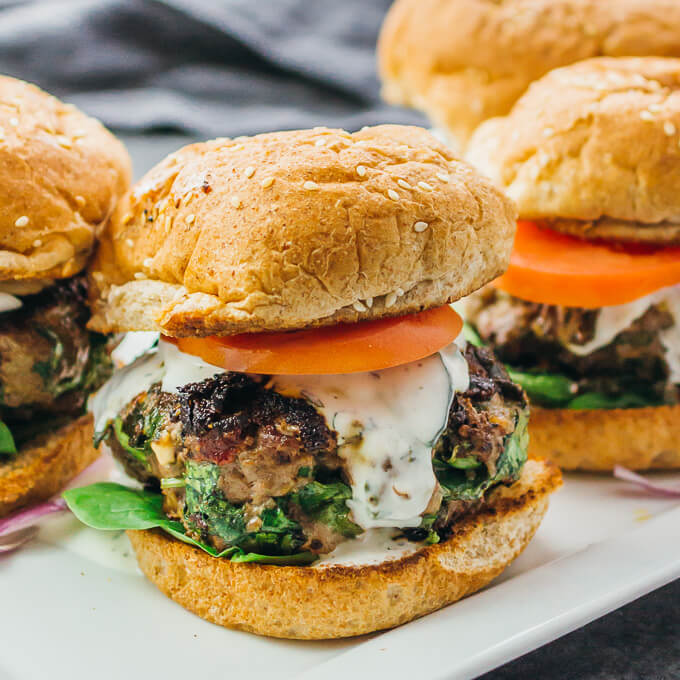 These Greek burgers plus my Hawaiian steak kabobs have made their way to the top of my summertime grilling wish list. Whether you prefer to grill your burgers, bake them, or pan sear them, these Greek burgers will be sure to satisfy your burger cravings and you will love all of the flavors and textures going on here. Most prominent are the sun-dried tomatoes and feta cheese, followed by the spinach and tzatziki sauce. It is such a killer flavor combination.
I've been wanting to make a Mediterranean-inspired burger ever since Mr. Savory Tooth and I were having lunch with my parents at a cozy Greek place last December, when he ordered a spinach and feta burger topped with crispy fried onions on a brioche bun. I remember taking a photo of it and thinking to myself, I have got to make this.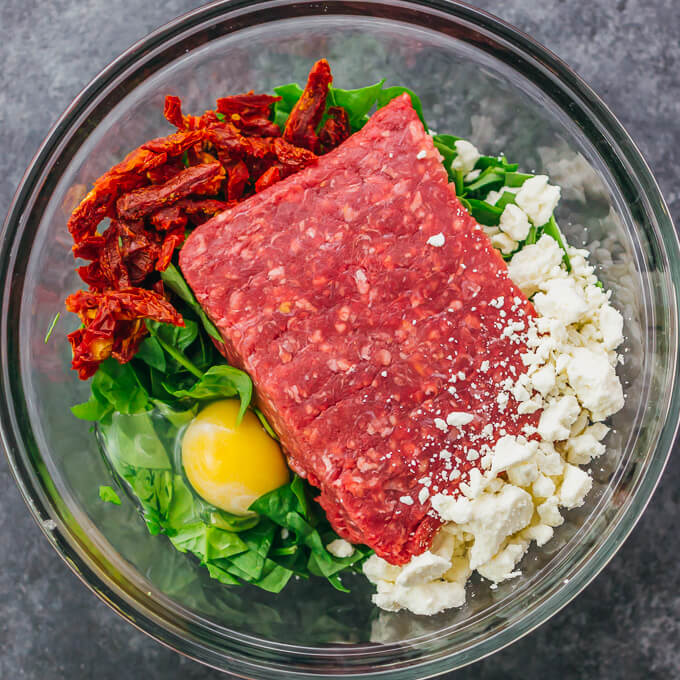 I love looking at all of the colors of the fresh ingredients coming together to form the burger patty. This might look like a lot of spinach, but it's not, as the spinach will shrink when it cooks. I recommend finely chopping up the spinach so that the patties are easier to form and keep together. This recipe yields four big patties, which you can mix and form ahead of time. They should be refrigerated until you're ready to cook them, and refrigeration also helps harden them so that they don't fall apart when cooking.
While all of the burger patty ingredients are non-negotiable here, the burger buns and toppings are where you can get creative and do your own thing. I like giving my burger patty a bed of baby spinach to lie on, drizzled with tzatziki sauce, and topped with some sliced onions and a tomato slice. But I know that's not going to fly with everyone else (for one, Mr. Savory Tooth is weirdly not a fan of tzatziki sauce), so you can jazz up these Greek burgers however you like.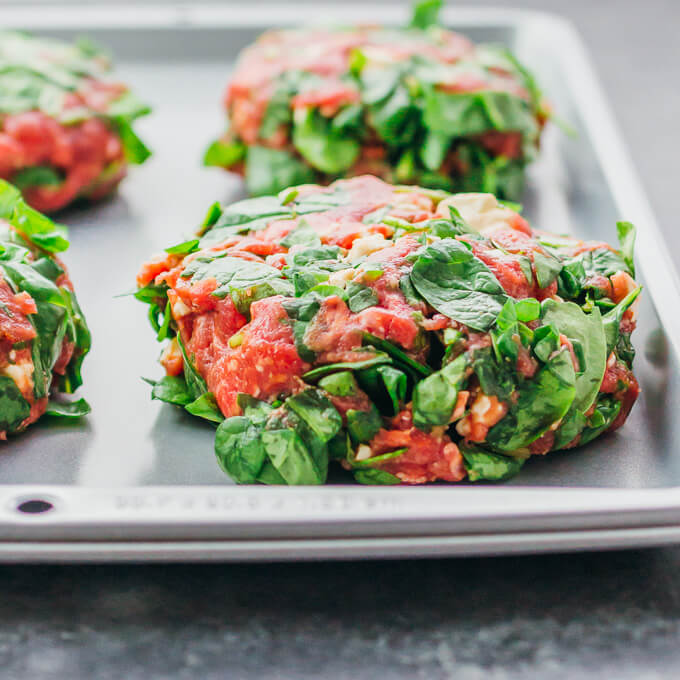 Greek burgers can be served with so many scrumptious side dishes. Let's go through my top three:
Greek salad. Yes, yes, and yes. This Greek salad even comes with a creamy avocado dressing. Or try a Mediterranean chopped salad.
Greek fries. Who else thinks that Greek fries are the best fries?
Greek dips. I'm talking about those dips with multiple layers in them.