Summary:
Tender slices of beef and juicy bites of broccoli are served with a bold and savory sauce, all conveniently cooked together in a slow cooker.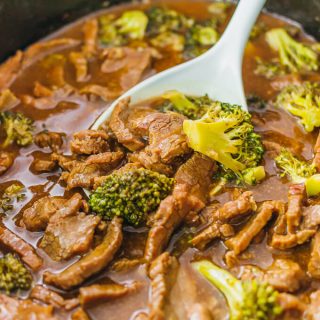 Slow Cooker Beef And Broccoli
INSTRUCTIONS
Add Ingredients: Stir together beef broth, soy sauce, and brown sugar in slow cooker (Note 4) until well-mixed. Add raw beef, stirring until coated with sauce.

Cook: Cover and cook on high for 2 hours.

Add More Ingredients: Uncover. Stir together 2 tablespoons of liquid from slow cooker with corn starch in bowl until well-mixed. Add broccoli, garlic, and corn starch mixture to slow cooker. Stir everything together.

Cook Again: Cover and cook on high for 30 minutes or until broccoli is tender. Uncover and serve (Note 5).
NUTRITION
Makes 3 Servings
Amount Per Serving:
| | |
| --- | --- |
| Calories 510 (19% from fat) |   |
| Total Fat 11g | 17% |
|    Saturated Fat 4g | 20% |
| Cholesterol 175mg | 58% |
| Sodium 1880mg | 79% |
| Net Carb 25g |   |
| Total Carb 28.5g | 10% |
|    Dietary Fiber 3.5g | 14% |
|    Sugars 14g |   |
| Protein 77g |   |
PHOTOS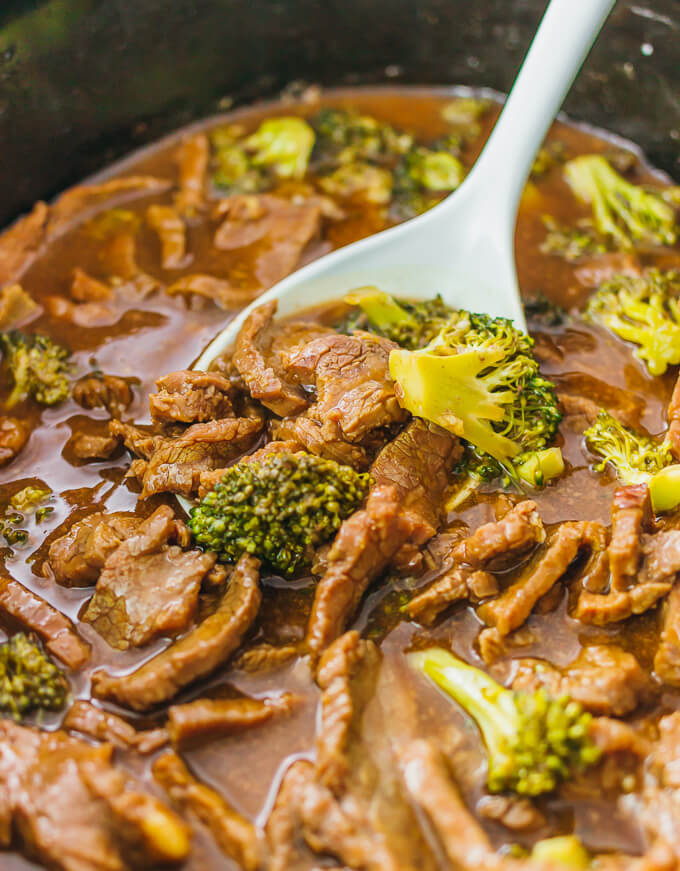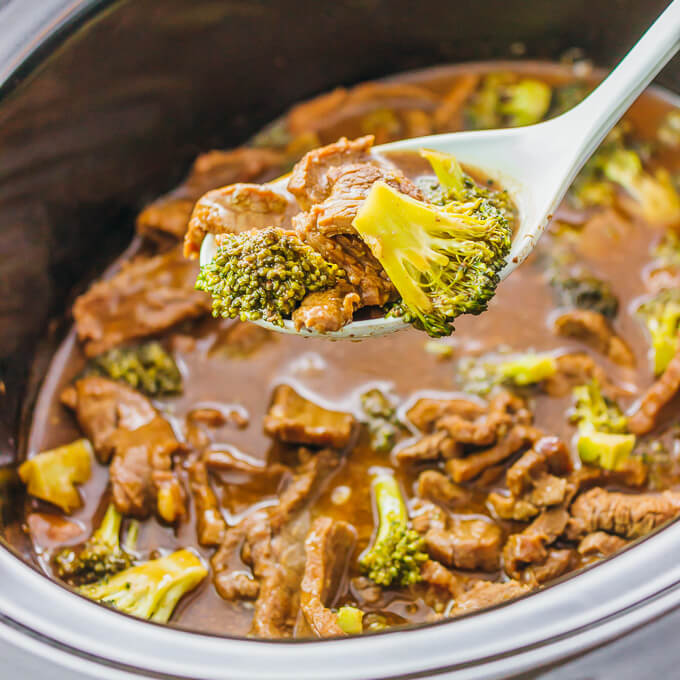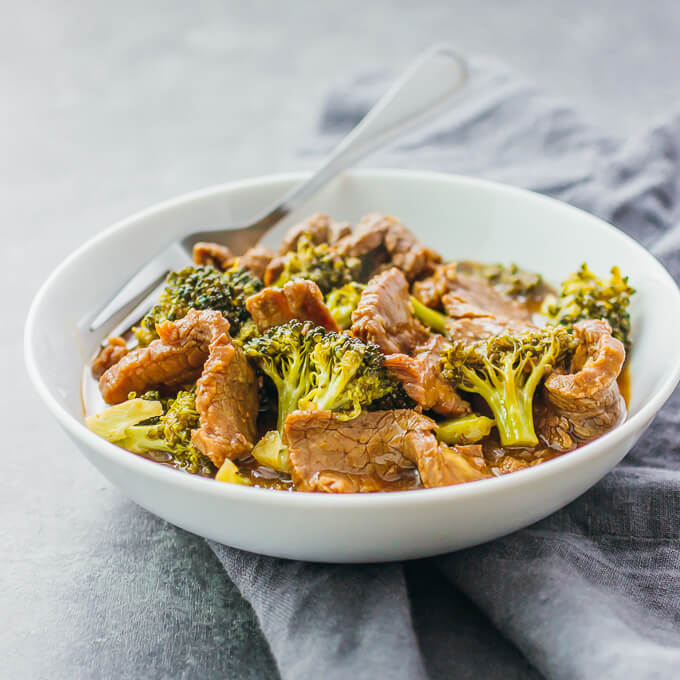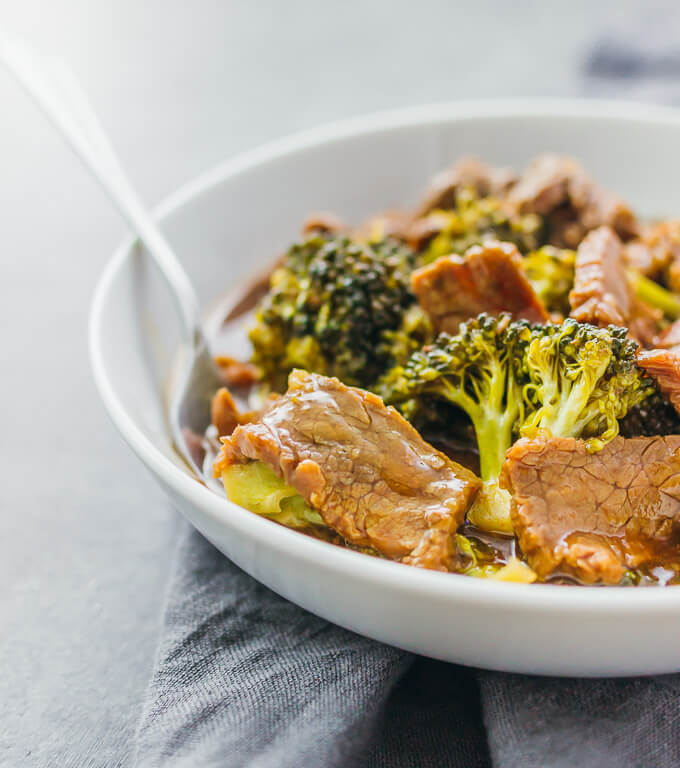 NOTES & TIPS
(1) Beef. I typically use flank steak or skirt steak, but any cut of steak will work. Other readers have used flat iron steak, carne asada beef, or pre-cut stir-fry beef. Slice against the grain by identifying long muscle fibers and slicing perpendicular to them, which means less work for your teeth and more tender beef. Note that the beef is not seared prior to slow cooking.
(2) Broccoli. About 7 ounces weight. You can cut florets from a head of broccoli, or you can buy a bag of pre-cut raw florets located in the refrigerated produce section of many U.S. grocery stores. I recommend cutting the florets into smaller pieces, no larger than 2 inches, so that they cook quickly. I use fresh florets, but frozen should be fine — you may need to increase the cooking time.
(3) Soy Sauce. I use low sodium soy sauce by brands like Kikkoman or Trader Joe's. Avoid regular soy sauce, which will be too salty. "Light soy sauce" refers to color and is not the same as "low sodium soy sauce." You may substitute with coconut aminos.
(4) Slow Cooker. I use a 6-quart slow cooker.
(5) Serving. Serve beef and broccoli over steamed white rice or fried cauliflower rice. Pair with appetizers like vegetable egg rolls or cucumber salad.
(6) Similar Versions. For other ways of making this dish, check out Stovetop Beef And Broccoli, Instant Pot Beef And Broccoli, and Low Carb Beef And Broccoli. All of these recipes yield a very similar tasting dish, and vary in execution and ingredient lists.