Looking for low carb recipes instead? Visit the Savory Tooth Homepage.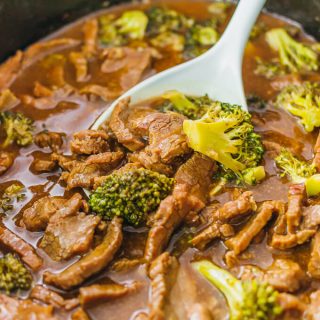 Slow cooker beef and broccoli
INSTRUCTIONS
Add beef stock, soy sauce, and brown sugar to the

slow cooker

. Stir until well-mixed. Add beef and mix until coated with the sauce. Cook on high for 2 hours.

In a bowl, combine 2 tablespoons of liquid from the slow cooker with the corn starch. Stir until well-mixed.

Add broccoli, garlic, and corn starch mixture to the slow cooker. Stir to mix the contents. Cook on high for 30 minutes or until the broccoli is tender.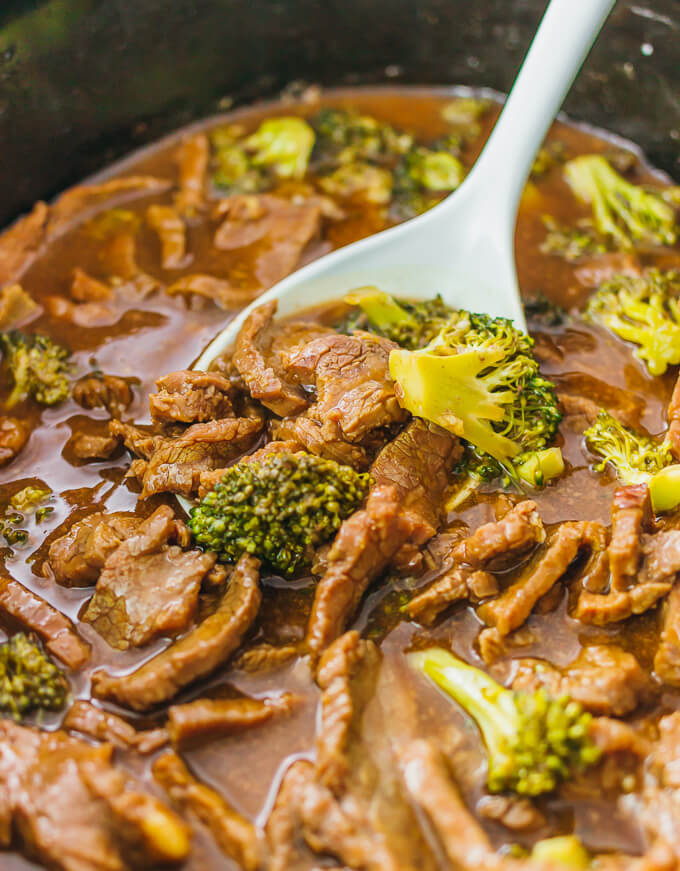 This slow cooker version of beef and broccoli is based on my popular stovetop version and a similar low carb version. They're similar in terms of the ingredients and the sauce, so you'll be getting that same great taste and flavor. Also similar is how this slow cooker version is a one-pot recipe — everything, including the broccoli, is cooked together in the slow cooker. You won't need to steam or cook the broccoli separately.
You can decide which cooking method is ideal for you based on how much time and effort you're willing to spend. The stovetop/pan method is for people who are short on time, but are willing to take the effort to cook the dish. On the other hand, the slow cooker method is for people who are looking for a "hands-off" approach and who are able to start their slow cooker hours in advance to give it time to cook.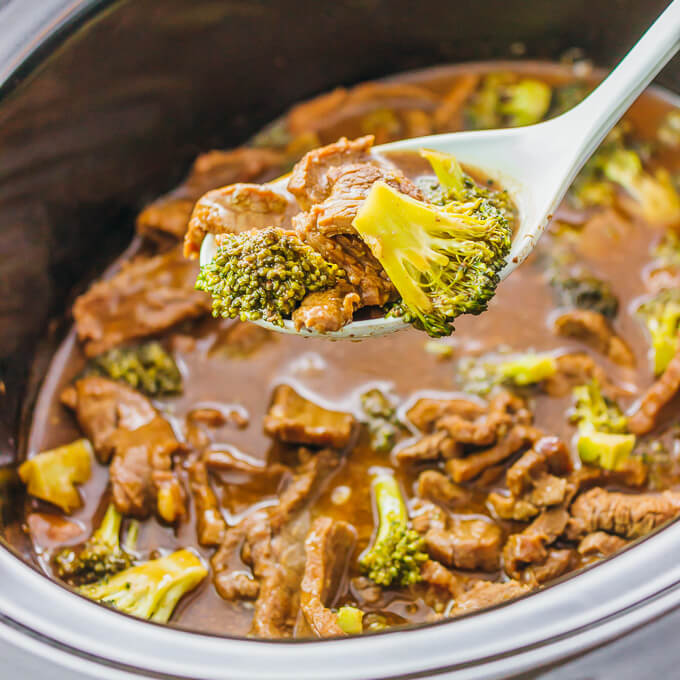 I get a lot of reader questions about this dish, so let me answer the most common ones:
What kind of beef can I use? I typically use flank steak or skirt steak, but any cut of steak will work. Other readers have used flat iron steak, carne asada beef, or pre-cut stir-fry beef, and some have even used minced beef or replaced the beef with chicken chunks. If you make any substitutions, watch the cooking time as it may vary a bit.
Can I use frozen broccoli? I recommend using fresh instead of frozen. Some readers have used frozen, and while it tastes fine, it usually ends up looking a bit wilted. If you go the frozen route, it will take longer to cook the broccoli, so your cooking time will differ.
Regular soy sauce or low-sodium soy sauce? I used to make this dish with regular soy sauce, but it was rather on the salty side, which is fine if you're pairing this dish with rice or other grains. If you're eating this as-is, I would recommend low-sodium soy sauce so that it isn't overly salty. Everyone has different taste preferences, so if you tend to think that dishes are too salty for your taste, I would definitely start with the low-sodium version.
Asian appetizers that would go great with this dinner include: avocado egg rolls or vegetable egg rolls, scallion pancakes, soup dumplings, or a peanut noodle salad.