Summary:
These vegetable egg rolls are satisfyingly crunchy, filled with a delicious mixture of shredded cabbage, carrots, and mushrooms. They are dipped in a sticky red sauce that's both sweet and spicy.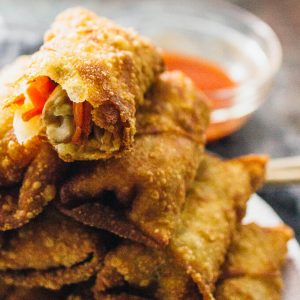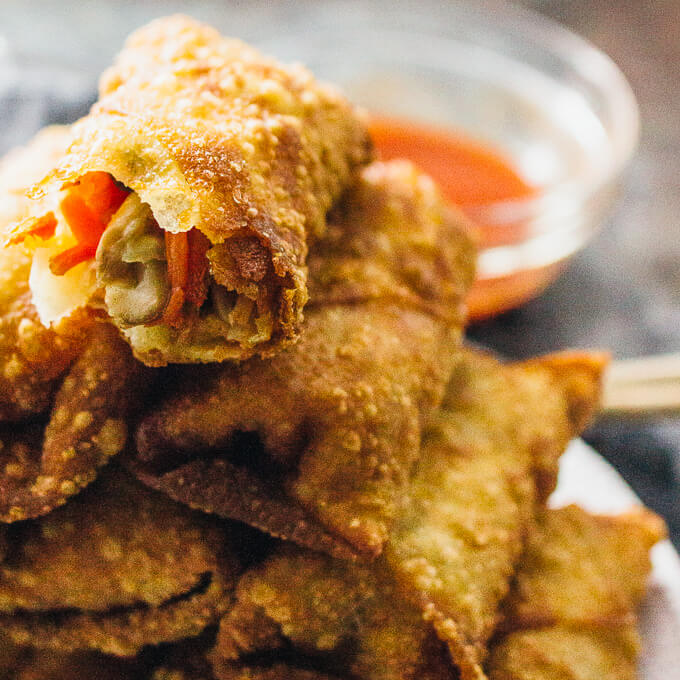 INGREDIENTS
12

egg roll wrappers (Note 1)

4

cups

shredded cabbage

4

cups

sliced mushrooms

(10 ounces weight)

2

cups

shredded carrots

5

cloves

garlic, minced

1/2

teaspoon

table salt
oil for frying
INSTRUCTIONS
Make Filling: Add cabbage, mushrooms, carrots, and salt to large pan over medium heat. Cook until carrots soften, at least 10 minutes, stirring occasionally. Transfer vegetables to large bowl, stirring with minced garlic until well-mixed.

Wrap Egg Rolls: Lay out egg roll wrappers with corners facing you, and set out small bowl of water. Distribute filling onto bottom half of each wrapper. Working with one wrapper at a time, use finger to brush water along all edges to moisten, fold up closest corner over filling, then fold over sides, then roll up. Dab last fold with more water to seal. Repeat for all other wrappers.

Fry Egg Rolls: Add oil to large pot until oil is about 1 inch deep, and place over medium heat. When oil temperature reaches 350 F (Note 2), add egg rolls in batches of 3 to 5 depending on size of pot. Cook until golden brown, about 3 minutes. Transfer to paper towel lined plate to drain.

Serve: Stir together all sauce ingredients in small bowl until well-mixed. Serve egg rolls with sauce (Note 3).
NUTRITION
Makes 6 Servings
Amount Per Serving (2 egg rolls with sauce):
| | |
| --- | --- |
| Calories 270 (11% from fat) |   |
| Total Fat 3g | 5% |
|    Saturated Fat 1g | 3% |
| Cholesterol 5mg | 2% |
| Sodium 550mg | 23% |
| Net Carb 47.5g |   |
| Total Carb 52.5g | 18% |
|    Dietary Fiber 5g | 19% |
|    Sugars 10.5g |   |
| Protein 8g |   |
PHOTOS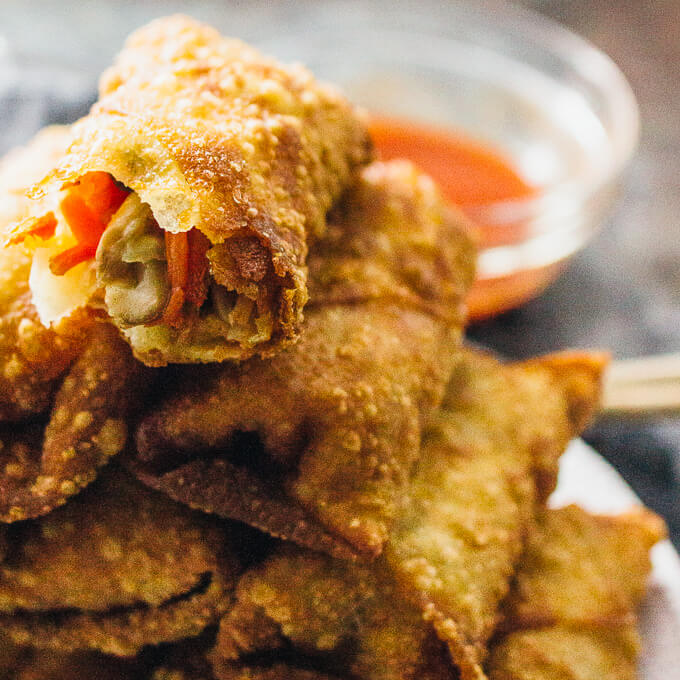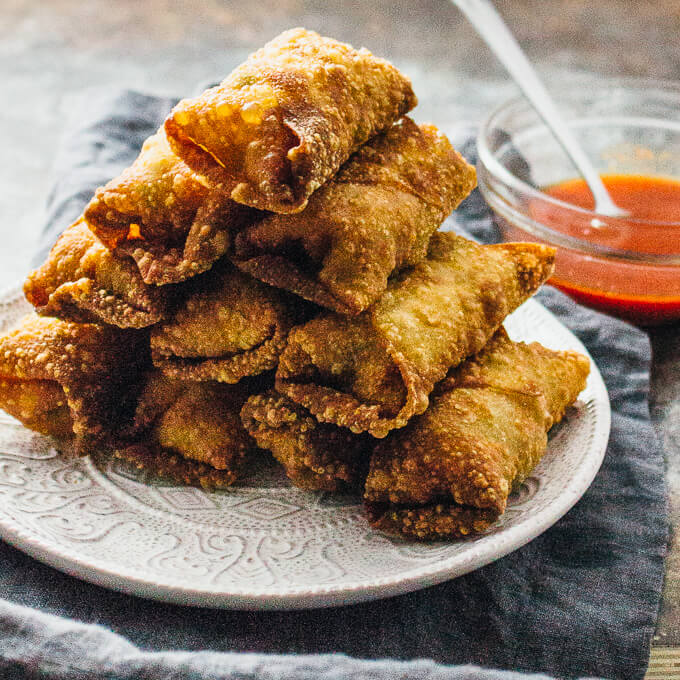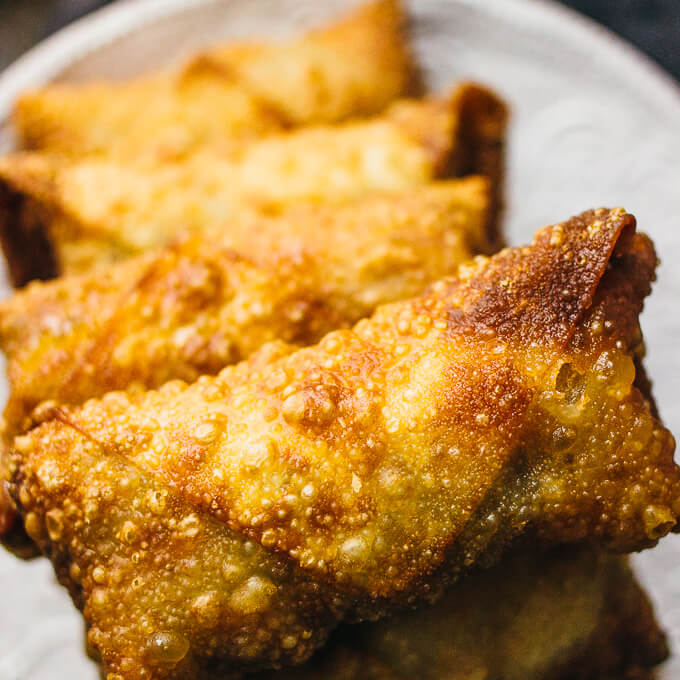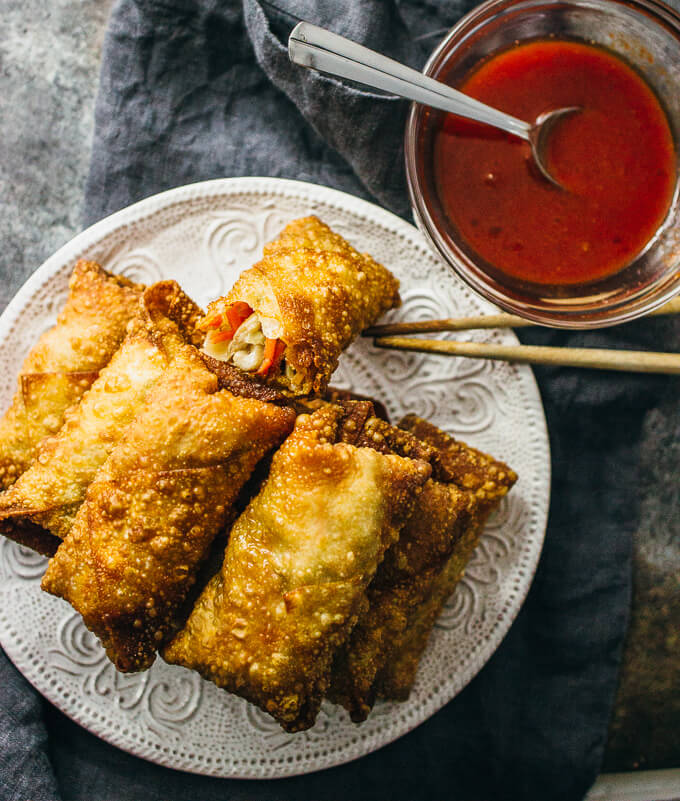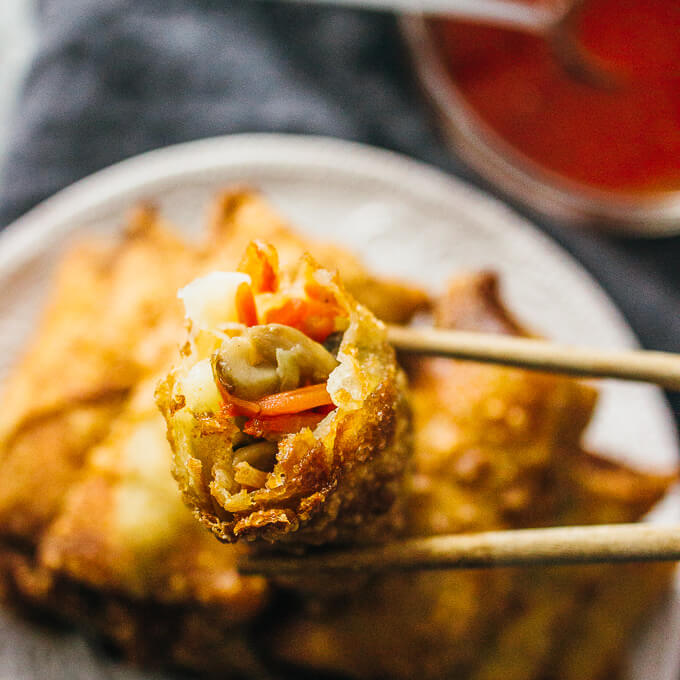 NOTES & TIPS
(1) Egg Roll Wrappers. Find these at major supermarkets in the U.S., stocked in a refrigerated section, typically near items like tofu. Double check the label so that you don't accidentally buy wonton wrappers or spring roll wrappers, which are different from egg roll wrappers. If you don't consume eggs, some brands like Nasoya offer vegan egg roll wrappers.
(2) Oil Temperature. I use an instant-read thermometer to determine when the oil has reached 350 F. The thermometer is also used to periodically check the oil during frying in order to maintain 350 F, adjusting the burner as needed. Alternatively, you can use a deep fryer appliance with automatic temperature control.
(3) Serving. Serve vegetable egg rolls promptly while they're crisp and crunchy, with dipping sauce on the side. Pair with main dishes like beef and broccoli or tofu stir fry.
(4) Nutrition. Oil used for frying is not included in the nutrition estimate.