Summary:
These vegetable egg rolls are ridiculously crunchy and taste better than any Chinese takeout version. They make for a popular vegetarian appetizer, and they're easy to assemble and cook.
Looking for low carb recipes instead? Visit the Savory Tooth Homepage.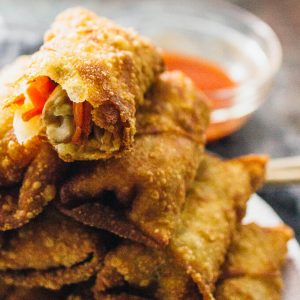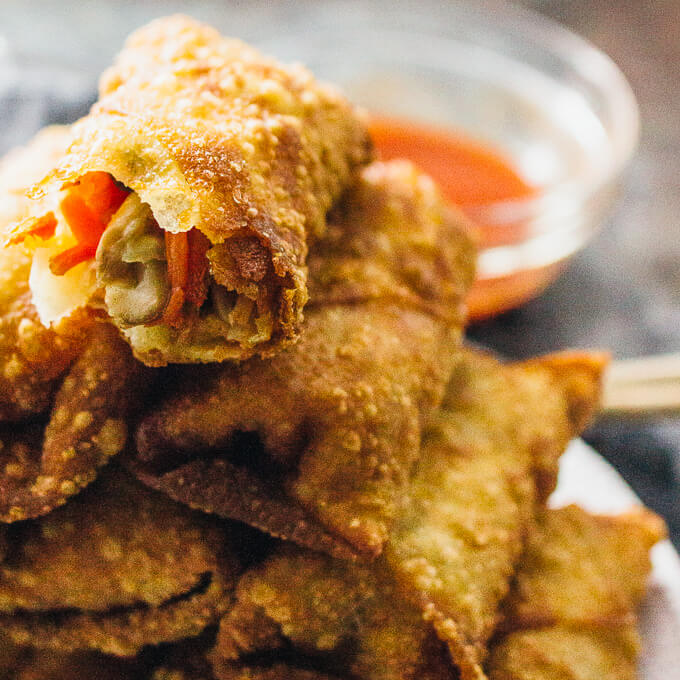 Crazy Good Vegetable Egg Rolls
INGREDIENTS
12

egg roll wrappers

4

cups

shredded cabbage

2

cups

shredded carrots

4

cups

sliced mushrooms

10 ounces

1

quart

canola oil

for frying

5

garlic cloves

minced

1/2

teaspoon

salt
For the sweet chili sauce:
INSTRUCTIONS
Add mushrooms, carrots, cabbage, and salt to a large pan over medium heat. Cook until the carrots soften, at least 10 minutes, stirring occasionally.

Drain the pan's vegetables and transfer to a large bowl. Add minced garlic and mix well. This will be the egg roll filling.

Lay out the egg roll wrappers with their corners facing you and a small bowl of water. Distribute the egg roll filling among the wrappers, scooping it onto the bottom third of each wrapper. Taking one wrapper at a time, use a finger to brush along its four edges with water. Fold up a corner over the filling, then the sides, and then roll it up. Dab the last fold with more water to seal. Repeat for all other wrappers.

Add canola oil to a large pot until the oil is about 1 inch deep. Turn the burner to medium heat. When the oil temperature reaches 350 F, add the egg rolls in batches. Fry until golden brown, about 3 minutes. Transfer to a paper towel to drain.

Combine sauce ingredients in a small bowl. Mix well. Serve with egg rolls.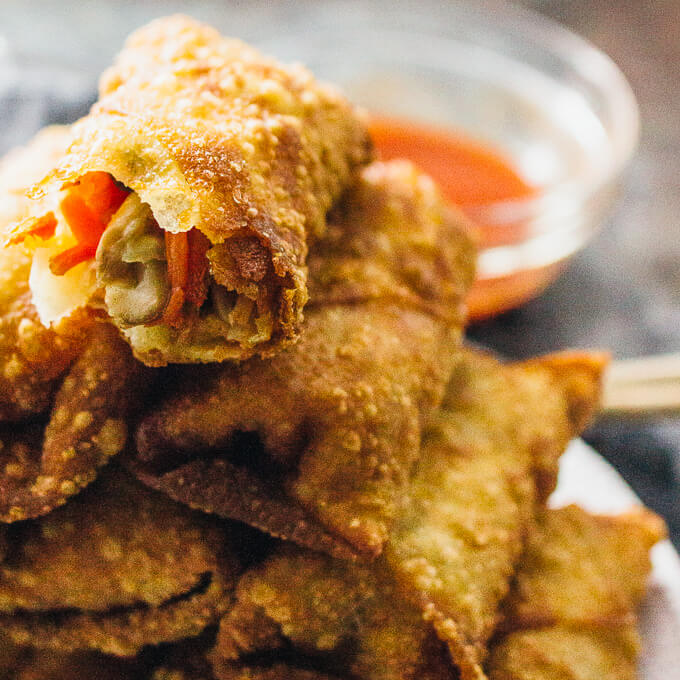 Chinese egg rolls are some of the most popular appetizers ordered at Asian restaurants, and go great with a variety of entrees such as beef and broccoli and tofu stir fry. They typically come with ground pork, which is fine and well, but rarely come in vegetarian versions.
To fill that gap, I'm sharing my favorite vegetable egg rolls recipe, which I think actually tastes a lot better than the meatier versions. It's also less complicated. Plus, you can eat these for meatless mondays and invite all of your vegetarian friends to partake. Even better, this recipe is surprisingly easy to make, clocking in at less than 30 minutes. It can be served as an appetizer for many or as dinner for 2-3 people.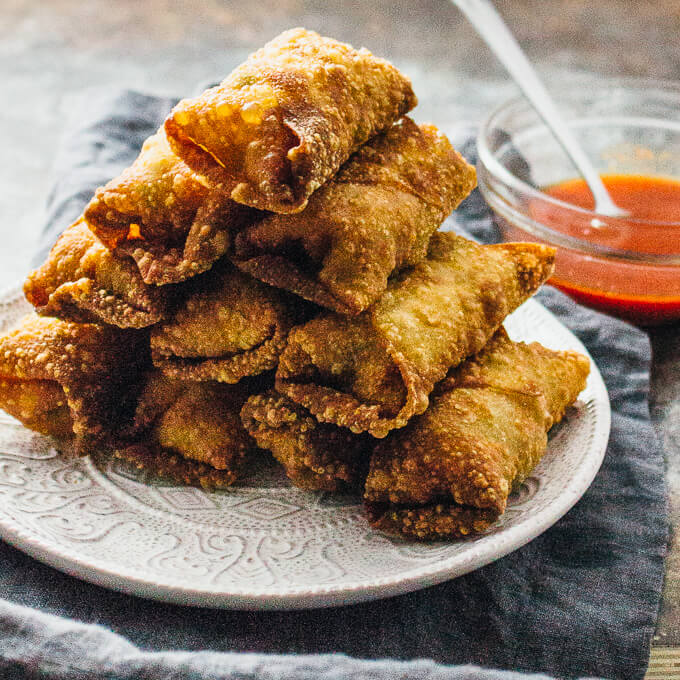 Only three vegetables are needed to make the egg roll filling: shredded cabbage, shredded carrots, and sliced mushrooms. These vegetables are sautéed ahead of time to release their moisture. Together, they serve as a deliciously soft vegetable medley to complement the extra crunchy fried egg roll wrappers.
To complete the picture, these egg rolls are dipped in my usual go-to egg roll dipping sauce: a homemade sticky red sauce that's a little sweet and a little spicy. Best of both worlds. The dip is so good that you might even want to double it so you can have more to yourself.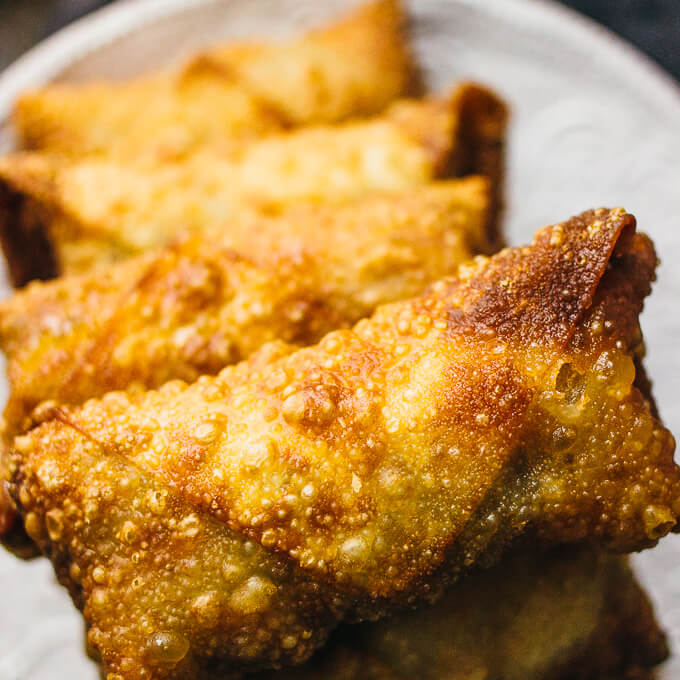 Buying egg roll wrappers: Only buy wrappers that actually say egg roll wrappers on them. You can find them in a refrigerated section of your supermarket, often near items like tofu. Don't fall for ones that say wonton wrappers or spring roll wrappers. Those other wrappers can also be fried and turn out delicious, but they are not the same as egg roll wrappers. If you use those wrappers, you won't end up with vegetable egg rolls like the ones pictured here, and these recipe instructions will not apply to them.
For tips on frying egg rolls, check out my avocado egg rolls recipe.