Summary:
Fast weeknight lasagna can be a reality with this easy, no-bake skillet lasagna recipe with sweet Italian sausage, onions, and fresh mozzarella cheese.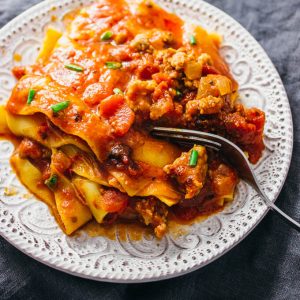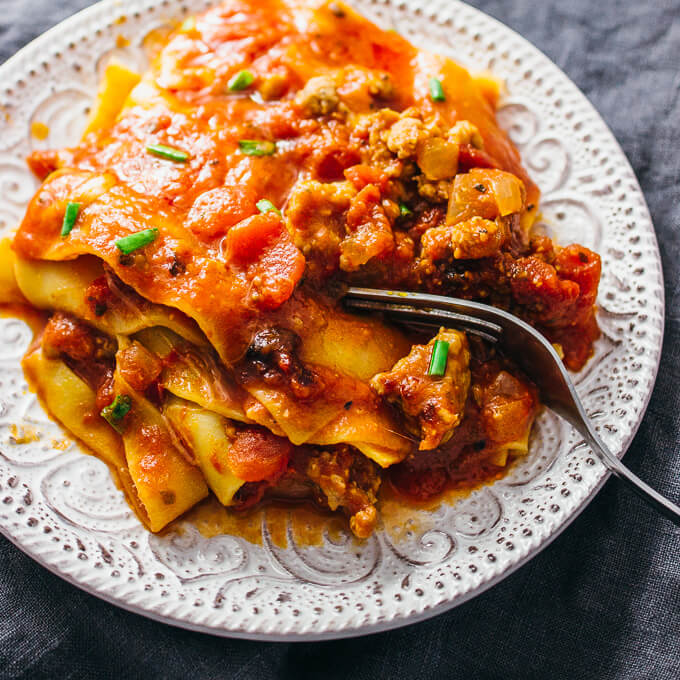 INSTRUCTIONS
Heat olive oil in a 4-quart or larger pan over medium heat. Add onions. Cook until the onions soften, about 5 minutes, stirring occasionally.

Add sausage to the pan. Cook the sausage until browned, breaking apart the meat, 5 to 10 minutes.

Add oregano, garlic powder, salt, pepper, cayenne, and crushed tomatoes with liquid to the pan, stirring until mixed. Simmer for 5 minutes.

Add the lasagna noodles to the pan one at a time. With each, angle downward and slide it under the sauce towards the bottom, using a spoon to push it down. Distribute evenly across the pan. Continue adding lasagna noodles as you form more layers. Reserve some noodles to form a top layer that is barely submerged.

Cover the pan with a lid. Simmer until the noodles are cooked, 10 to 15 minutes.

Uncover the pan and top the lasagna with sliced mozzarella. Cover the pan again and simmer until the cheese melts, about 2 minutes.

Remove the pan from heat. Garnish with fresh herbs. Cool for 5 minutes and serve.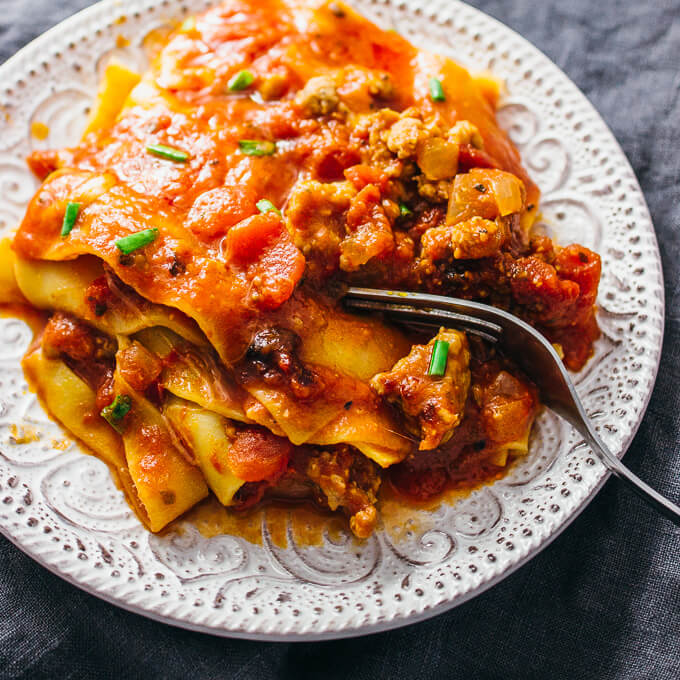 Banish those memories of spending hours baking lasagna in the oven only to end up with stiff lasagna noodles and bland sauce. Try my skillet lasagna recipe — everything cooks in a single pan on the stove, and it can take as little as 30 minutes of cooking time. I've also added a pinch of cayenne to lend a bit of spiciness to the sauce — this is a must-try. The herbs and spices are where you can be creative and add whatever flavorings you have on hand. I've included oregano, garlic, and chives in the recipe ingredients; another good idea is basil.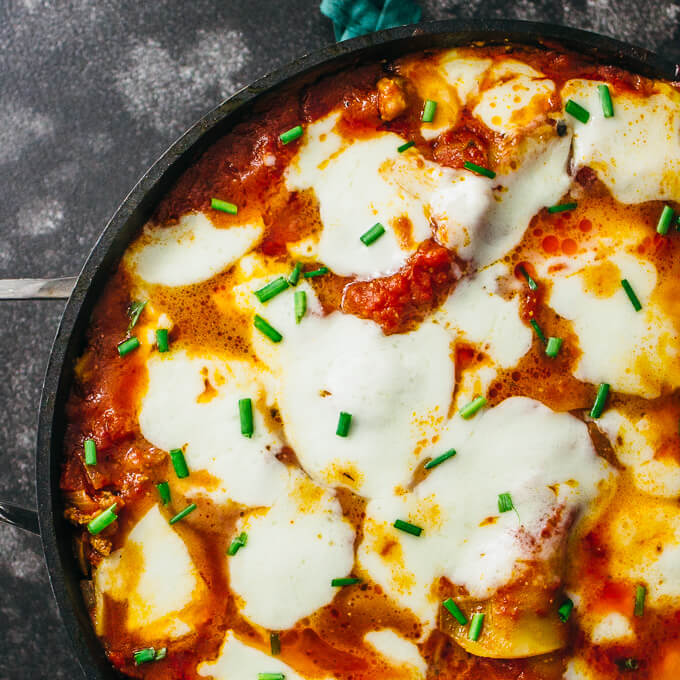 One of my favorite parts of making this dish was "decorating" it with mozzarella. After the lasagna noodles are cooked, the subsequent step is taking thinly sliced mozzarella cheese and distributing it across the top of the lasagna. You'll end up with the beautiful lasagna as shown in the photograph above, with big white mozzarella circles in a sea of delicious red tomato sauce. I recommend slicing the mozzarella as thin as possible — 1/4 inch or thinner — so that it melts quickly when the pan is covered and so that you don't end up with huge bites of cheese in your mouth.