Summary:
Bite into juicy and moist chicken baked with a homemade parmesan seasoning mix, along with a side of tender asparagus.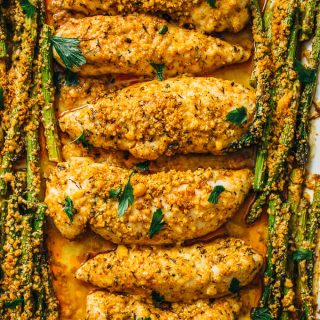 INGREDIENTS
1

pound

boneless and skinless chicken breast tenders

6

ounces

asparagus

sliced in half with tough ends cut off

2

tablespoons

olive oil
INSTRUCTIONS
On a shallow plate, add all seasonings and stir to mix.

Prepare a baking dish or tray large enough to hold all of the chicken tenders in a single layer.

Toss the chicken and asparagus with olive oil in a ziplock bag.

Generously coat both sides of each chicken tender with the seasoning mix. Arrange them in a single layer on the baking dish.

Roll the asparagus in the seasoning mix. Arrange them along the sides of the baking dish.

Scatter the remaining seasoning over the chicken.

Bake at 400 F until the chicken is cooked through and the asparagus is tender, about 20 minutes. Let cool and optionally sprinkle chopped fresh parsley on top.
NUTRITION
This recipe yields 2 g net carbs per serving.
Nutrition Facts Per Serving
| | |
| --- | --- |
| Calories 550 |   |
| Total Fat 25g | 38% |
|    Saturated Fat 11g | 53% |
|    Trans Fat 0g |   |
| Cholesterol 172mg | 57% |
| Sodium 1680mg | 70% |
| Potassium 800mg | 23% |
| Total Carb 4.5g | 2% |
|    Dietary Fiber 2.5g | 10% |
|    Sugars 1.5g |   |
| Protein 70g |   |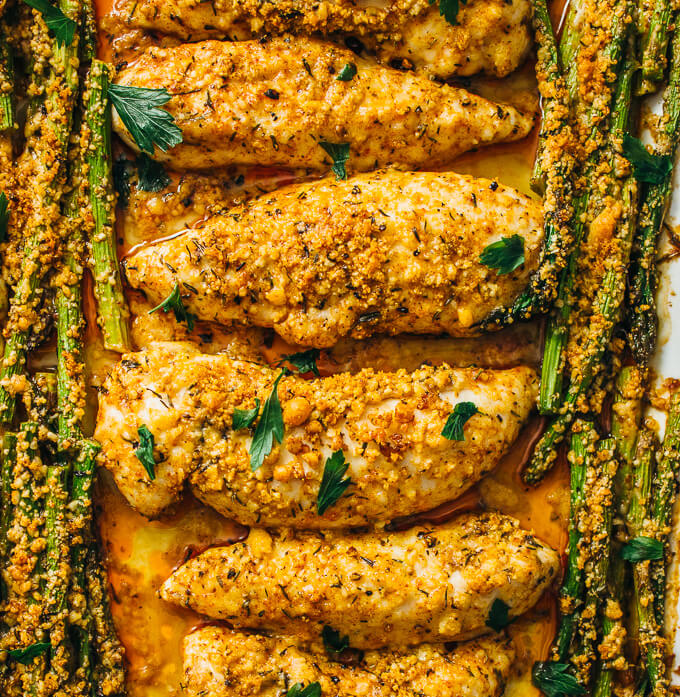 Has anyone else noticed all the lofty towers of asparagus popping up in the grocery stores these days? I love being inspired by seasonal produce and asparagus is no exception; my favorite way of cooking asparagus is via a nice oven roasting until it's tender.
In this recipe, I've paired asparagus with chicken breasts, and both are tossed with olive oil and a homemade parmesan cheese mix (inspired by these parmesan crusted potatoes) before baking. The end result? Bites of juicy roasted parmesan chicken and asparagus with tons of flavor.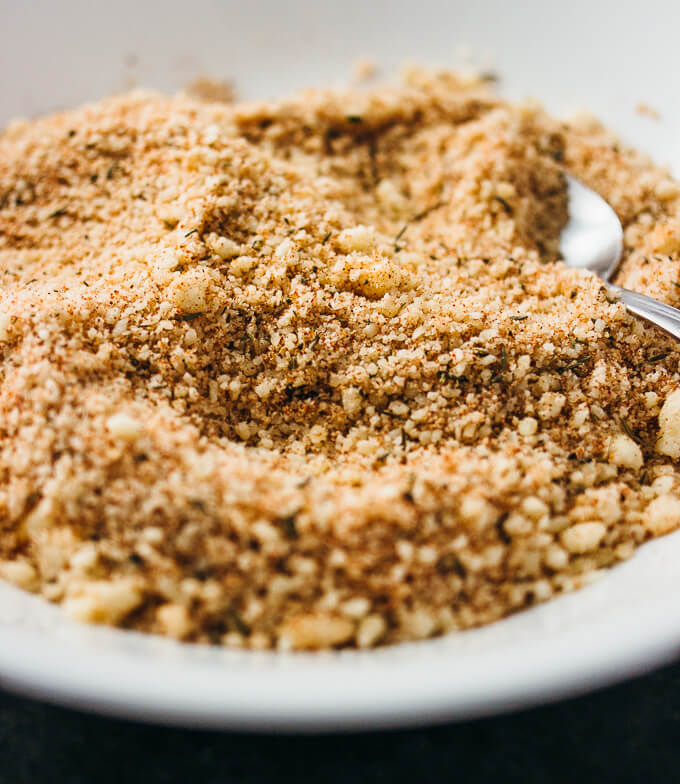 The seasoning mix is mostly composed of finely grated parmesan cheese (with a sandy texture) plus other delicious things such as dried thyme, paprika, cayenne powder, and freshly ground pepper. Mix it all up, and you've got yourself an irresistible flavor combo.
To get this seasoning mix to stick to the chicken and asparagus, I first toss both of them in a ziplock bag with olive oil before rolling them around in the seasoning. Then I arrange them prettily on an oven-safe baking dish. Any baking dish, tray, sheet, or platter will do — as long as it's large enough for the chicken pieces to lie in a single layer.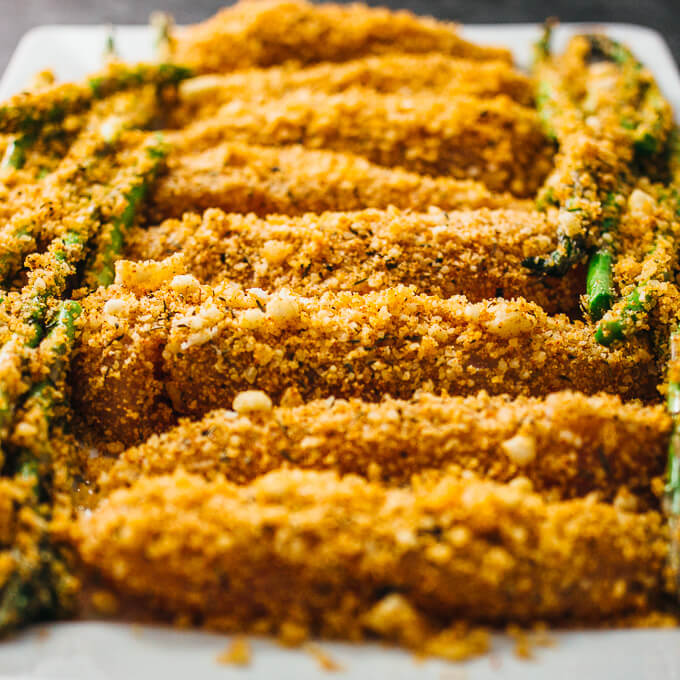 The taste of this baked parmesan chicken is rich in flavor and a bit spicy from the cayenne powder, with a texture that is juicy, moist, and tender. If you're looking for crispy instead, head over to my baked chicken tenders recipe.