Summary:
This Instant Pot mushroom risotto is creamy and flavorful with sliced portobellos, garlic, sweet corn, and butter all simmered together with rich vegetable broth in the pressure cooker. Toppings include crispy crumbly bacon along with microplaned asiago cheese.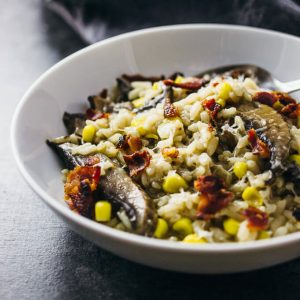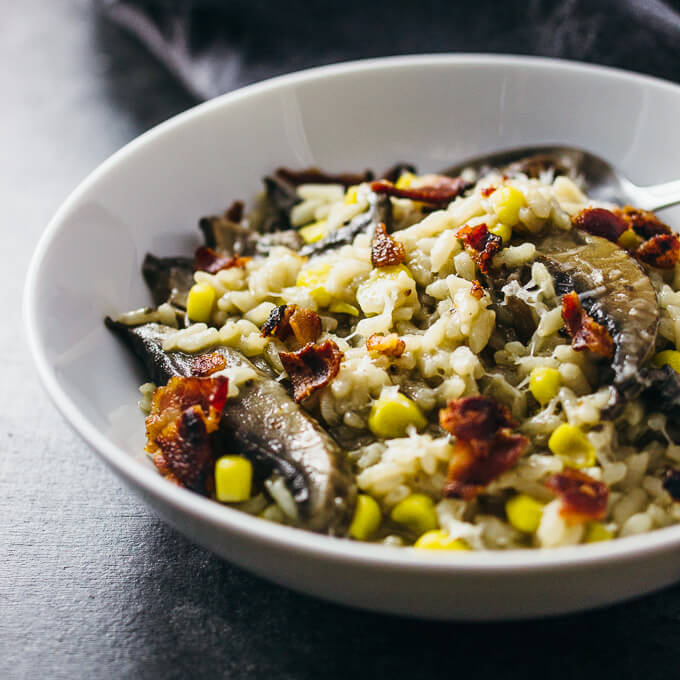 INGREDIENTS
1

cup

risotto rice or arborio rice

6

ounces

portobello mushrooms

sliced

1

cup

frozen/fresh corn

2

cups

vegetable broth

5

cloves

garlic

sliced

2

tablespoons

olive oil

2

tablespoons

butter

1/2

teaspoon

salt

1/4

teaspoon

pepper
Toppings:
7

slices

bacon

cooked and crumbled

asiago cheese

finely grated, to taste
INSTRUCTIONS
Add olive oil, mushrooms, garlic, salt, and pepper to the pressure cooker. Cook on the sauté setting at medium heat until the mushrooms have released their juices, about 3 minutes, stirring occasionally.

Add rice to the pot, cooking about 1 minute, stirring constantly. Add vegetable broth and corn. Stir to mix. Turn off the sauté setting.

Cover and lock the lid on the pressure cooker. Select the manual pressure cooking setting and adjust the cooking time to 5 minutes at high pressure.

When the pressure cooker is finished, use the quick release handle to release steam pressure and to stop the cooking.

Add butter to the pot, stirring it in until it has completely melted. The excess liquid will be absorbed by the rice as it cools.

Serve in bowls, topping with crumbled bacon and finely grated asiago cheese.
NUTRITION
702 kcal/serving

PHOTOS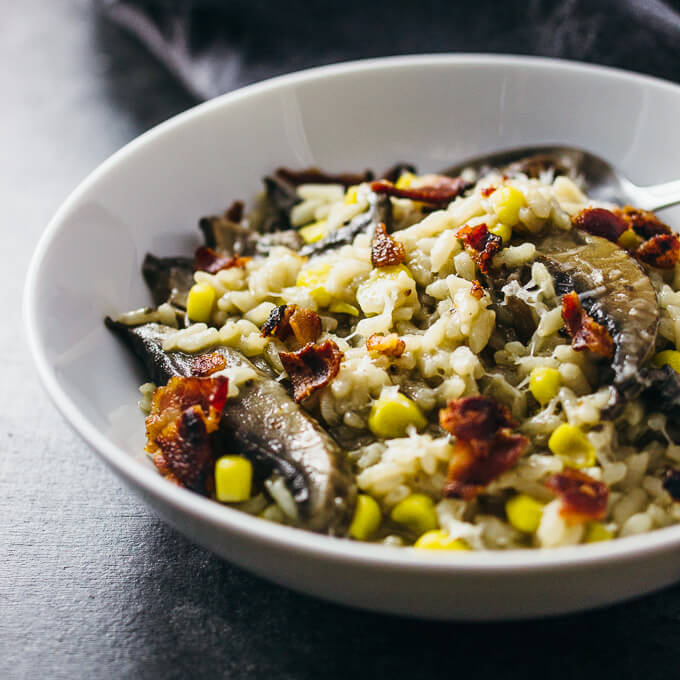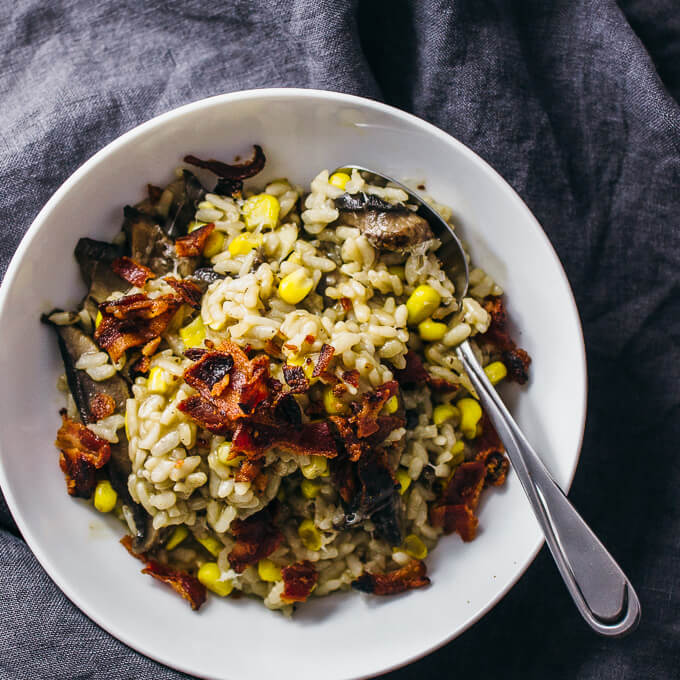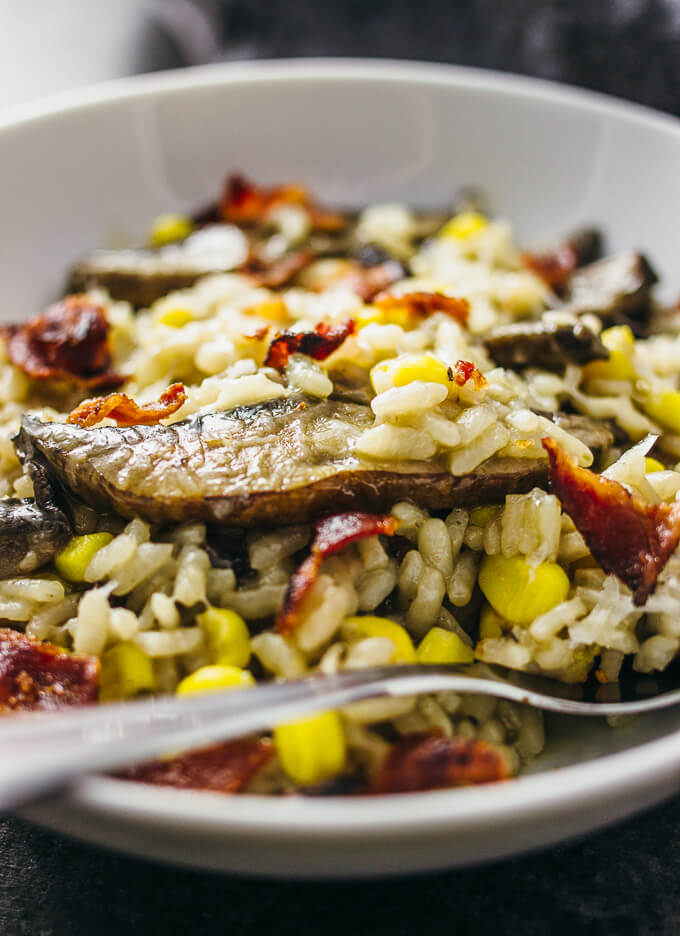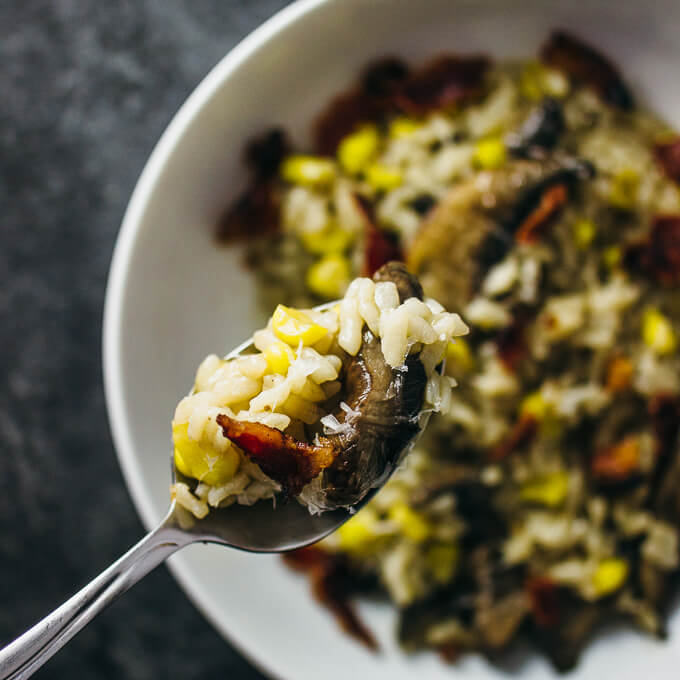 NOTES & TIPS

Since pressure cooking does not allow any water or steam to escape during the cooking process, you'll need less water compared to conventional pan risottos. Typically when I make my pan risottos, I use a 1:3 volume ratio of risotto rice to vegetable broth. For pressure cooking, I use a 1:2 ratio to account for the fact that the liquid does not escape.