Summary:
Here's my recipe for classic bubble tea (boba): brewed coffee with milk and tapioca pearls, served chilled over ice.
Looking for low carb recipes instead? Visit the Savory Tooth Homepage.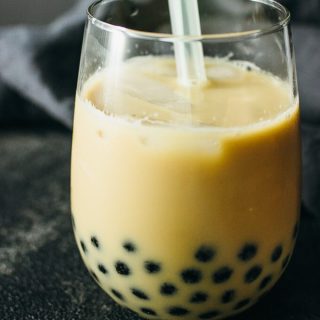 INGREDIENTS
3/4

cup

cold brewed coffee

1/3

cup

milk

1/4

cup

ice cubes

1/2

cup

black tapioca pearls

2

tablespoons

honey
INSTRUCTIONS
Cook the tapioca pearls according to package instructions. After cooking, drain and add the tapioca to cold water for half a minute. Then drain and add the tapioca to a bowl with honey, lightly stirring.

Prepare a 16 ounce or larger glass. Add ice cubes. Pour in coffee followed by milk. Scoop tapioca pearls into the drink, including any remaining honey. Insert a thick straw and give a quick stir. Drink immediately.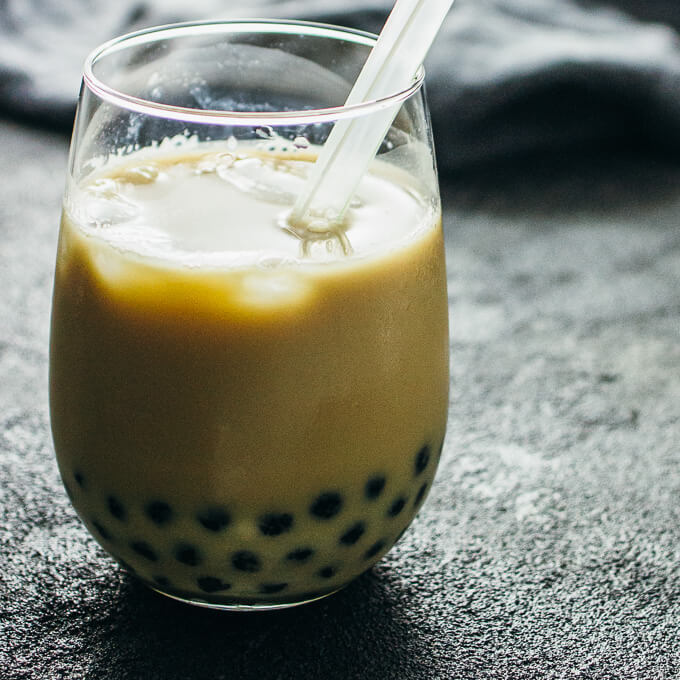 Previously I've shared my coconut vanilla bubble tea/boba recipe, for those of you looking to add customized flavors like coconut and vanilla to your bubble tea. This time I'm posting my recipe for classic original bubble tea, which is just coffee, milk, and tapioca pearls in its simplest form. This version of bubble tea is actually my favorite to order at tea shops, since the flavored bubble teas usually come with more sugar than I prefer (unless I'm making it myself). If you're curious about bubble tea and would like to try it, but don't live in an area where it is offered, this classic version that I'm sharing today is the easiest way to make it at home with only 5 total ingredients.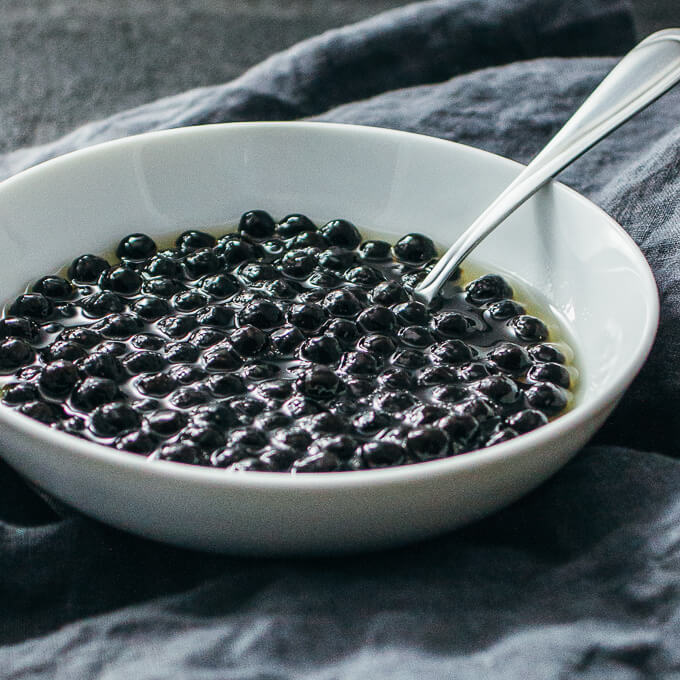 Bubble tea supplies and ingredients.
The most common question that most people have is what ingredients and supplies are involved, so let's go through what is needed.
Tapioca pearls. You can buy these online or in a brick-and-mortar Asian store. I prefer to order them online and these tapioca pearl bubbles with boba straws are my favorite. If you use the ones that I linked, they are really easy to cook if you follow the package instructions, and they turn out great. It's the easiest foolproof method of cooking homemade boba.
Thick straws. You'll need some extra thick straws to slurp up those tapioca pearls. These straws come with the tapioca pearls I linked above, or you can buy them separately.
Honey. You'll need honey or a syrup to sweeten the tapioca pearls.
Coffee, milk, and ice cubes. For coffee, any brewed black coffee will work. For milk, I use whole milk since that's my preference, but you can use any kind. Ice cubes are recommended since bubble tea should be enjoyed as a chilled beverage.