Note: This is one of my older recipes and is not low carb. Visit my Recipes page for low carb and keto recipes.
These fried wontons are stuffed with sweetened cream cheese and served with a sweet chili dipping sauce.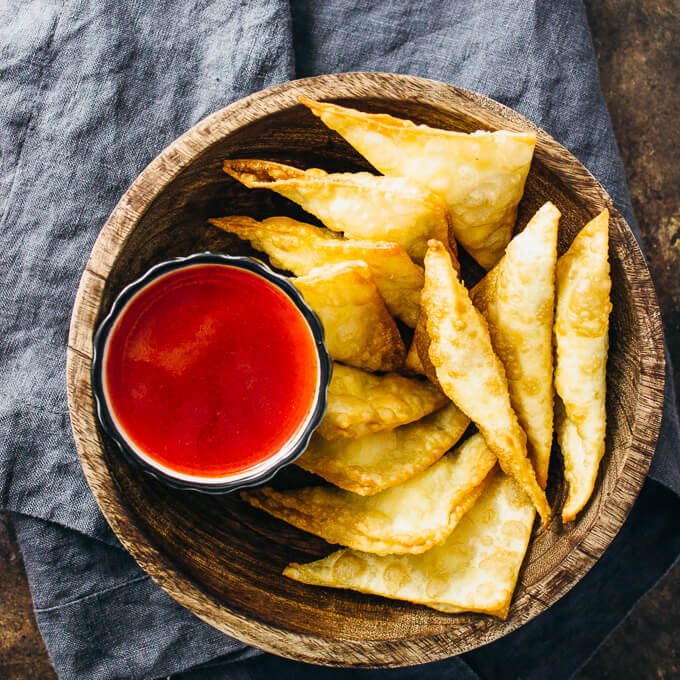 This latest edition of fried wontons comes from Mr. Savory Tooth, who once upon a time recalls eating sweet dessert-like fried wontons stuffed with cream cheese. Following his description, I prepared a cream cheese filling sweetened with white sugar and scooped a dollop of it onto each wonton wrapper. I folded the wonton wrappers corner-to-corner, and I ended up with thin triangle-shaped wontons ready for frying. Mr. Savory Tooth had described these fried wontons as having a light golden color, and not overly dark and crispy, so I lightly fried them for less than 30 seconds. The end product was a beautiful light and airy fried wonton with a slightly sweet taste.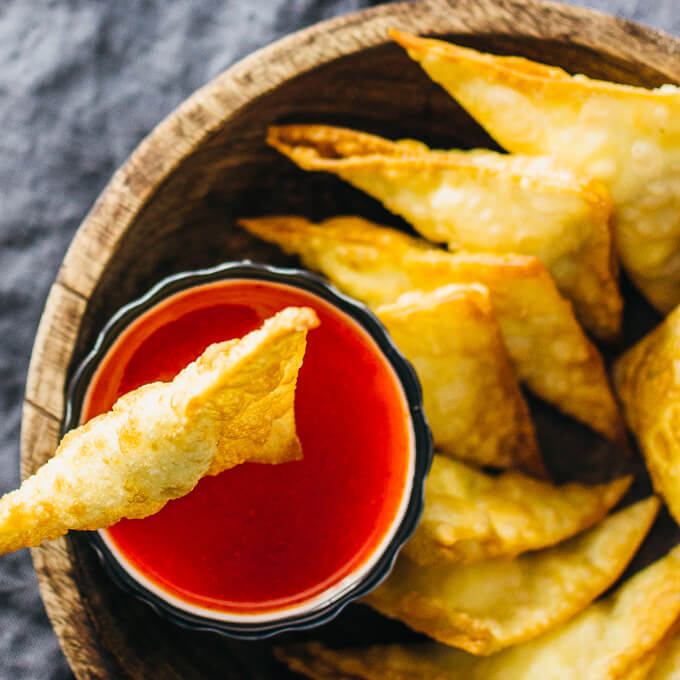 For the dipping sauce, I turned to my favorite red sauce — a sweet and spicy chili sauce made using sriracha and sugar. Its sticky red coating adds delicious savoriness to these otherwise sweet fried wontons. This sauce is a must-try and goes great with any kind of fried finger food.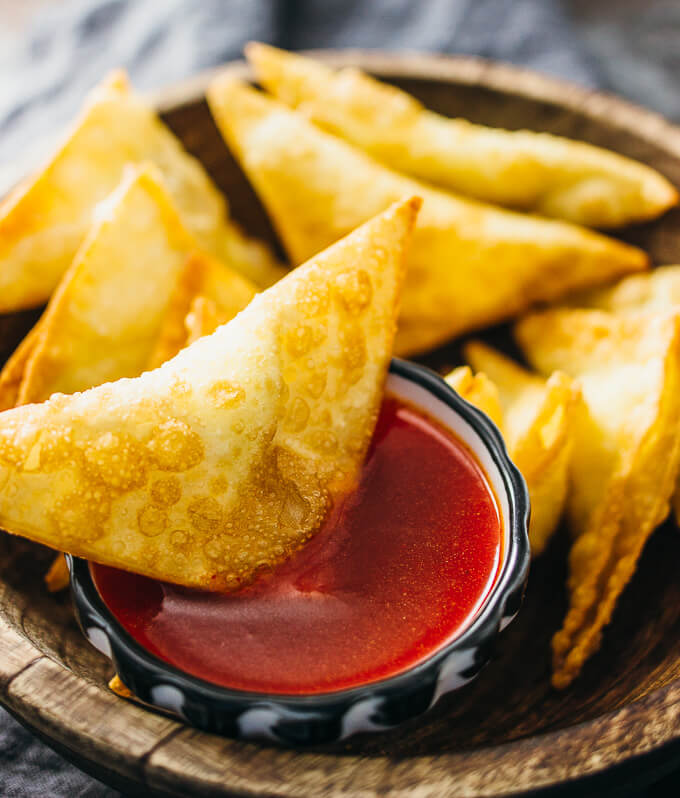 These cream cheese fried wontons are vegetarian, so they work great as a meatless appetizer dish for a dinner party. You can assemble the wontons ahead of time, store tightly covered in the refrigerator, and fry prior to serving. If the wonton wrappers become dry, use moist fingers to wet the wrappers to soften them.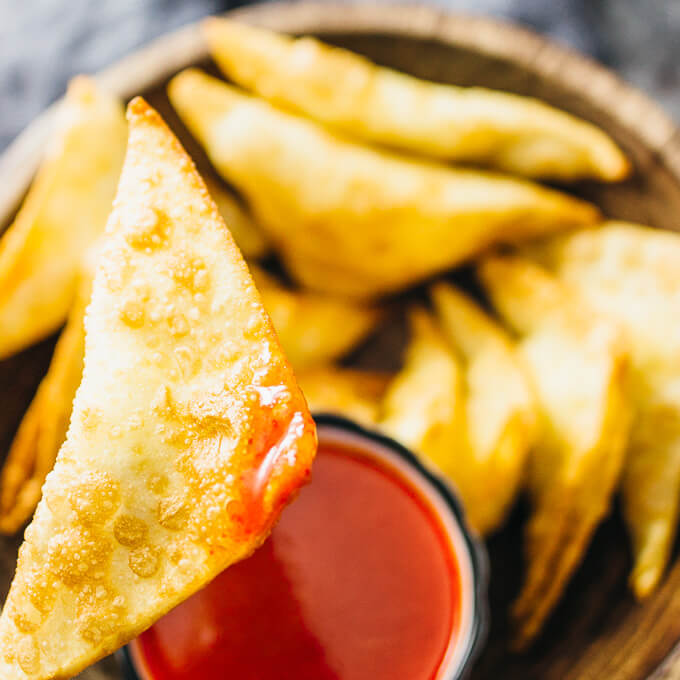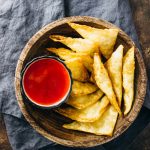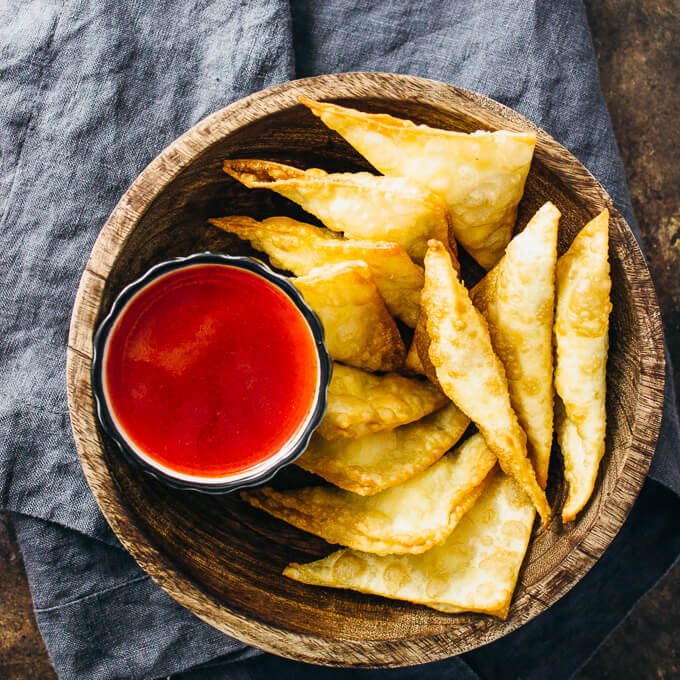 Spicy and sweet cream cheese fried wontons
These fried wontons are stuffed with sweetened cream cheese and served with a sweet chili dipping sauce.
Ingredients
For the sweet chili sauce:
Instructions
Add cream cheese and white sugar to a mixing bowl. Use a mixer to blend until well-mixed. Set aside.

Prepare a small bowl of water. Lay out a wonton wrapper. Add about a half tablespoon of the cream cheese mixture to the wrapper. Dab a finger in the water and run your finger along the four sides of the wrapper until moist. Take a corner and fold to the opposite corner to form a triangle. Press down on the sides to seal. Repeat for all other wrappers.

Heat about 1 inch of oil in a small pot. When the temperature reaches 350 F, add the wontons in batches and cook until golden, about 30 seconds, flipping them once. Drain on a paper towel.

Combine all dip ingredients in a bowl and mix together. Serve the dip with the fried wontons.