Summary:
Sweet potatoes and flour are all you need for this healthy vegan recipe. With just 2 ingredients, you'll make soft and pillowy homemade sweet potato gnocchi that beats any store-bought gnocchi.
Looking for low carb recipes instead? Visit the Savory Tooth Homepage.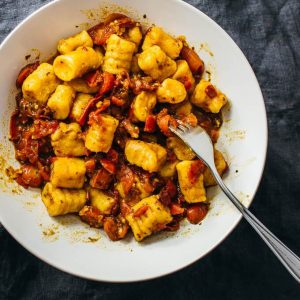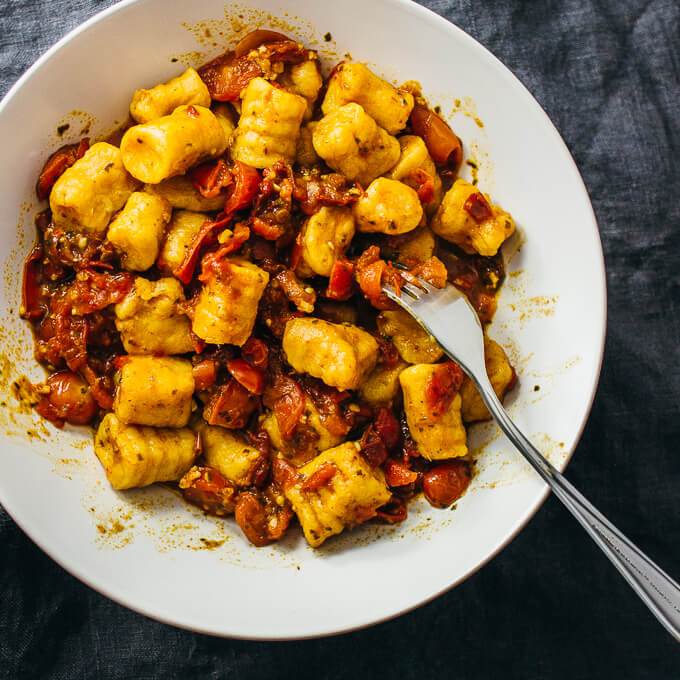 2-Ingredient Sweet Potato Gnocchi (Vegan)
INGREDIENTS
2

large sweet potatoes (totaling at least 1 pound)

or 1 cup mashed

1/2

cup

all-purpose flour
INSTRUCTIONS
Prick each sweet potato a few times with a fork. Microwave them until fork-tender, 5 to 10 minutes. Set aside until cool enough to handle, 15 to 30 minutes.

Prepare a clean working surface. Slice each sweet potato in half and use a spoon to scoop out the insides, and discard the skins. Use a

potato masher

to mash the insides. Measure the volume of mashed sweet potato that you have. You need 1 cup of mashed sweet potato, so discard anything more than that.

Spread out the mashed sweet potato in a thin layer on your working surface. Evenly distribute flour over the sweet potato layer. Starting at one end, use fingers to mix the sweet potato and flour to form a dough, making your way to the other end as the flour and sweet potato are incorporated into a dough ball. Do not knead any further after a dough ball is formed.

Divide the dough ball into 4 pieces. Take a piece and form a long log about 1/2 inch wide, rolling it along your working surface if it gets sticky. Cut the log into pieces about 1 inch long, which will be the individual gnocchi pieces. Optionally, use a fork to press grooves into each gnocchi. Repeat for the other 3 dough pieces. In total, you should have about 40 gnocchi pieces.

Boil water in a large pot. Add gnocchi to the boiling water. Cook until the gnocchi floats to the surface and is cooked through, a few minutes. Transfer the gnocchi to a plate and serve with sauce.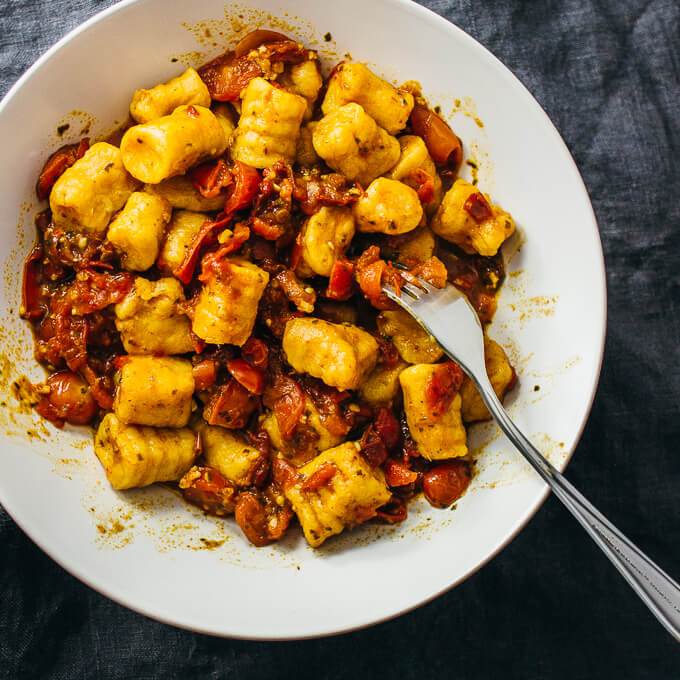 This recipe is filed under the fun and rewarding category: forming the gnocchi is fun and making it all from scratch feels like a big achievement. Even more, doing it all with just 2 ingredients while being vegan-friendly just makes you gawk at the delicious gnocchi in awe. Even better, the texture of these homemade gnocchi is completely superior to store-bought ones; they are spongier, softer, and downright pillowy. In contrast, I find that store-bought varieties tend to feel thicker and tougher.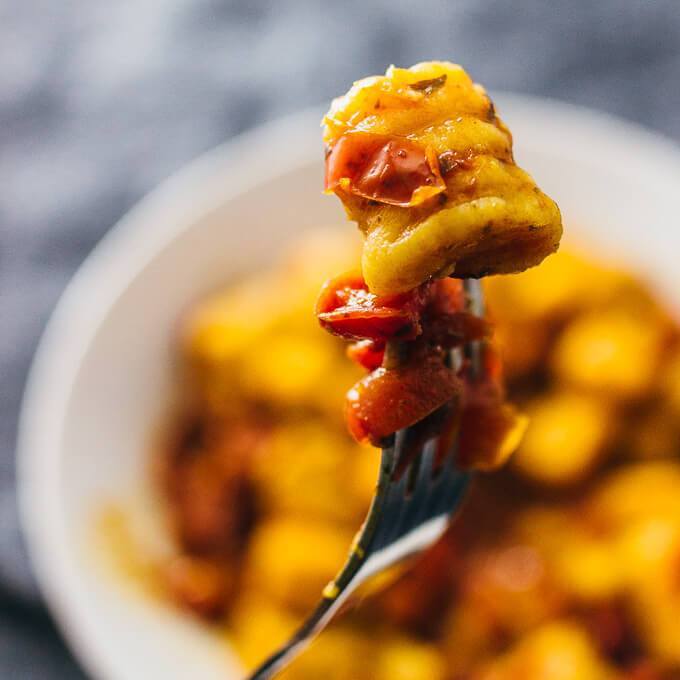 Sweet potato gnocchi recipes tend to have more ingredients than necessary, often requiring ricotta or some kind of cheese, and end up with gnocchi that is more flour and cheese than sweet potato. I developed this recipe so that I could make an easy vegan version with only 2 ingredients, where the gnocchi is actually made mostly of sweet potato.
A note about the dough: there is almost no kneading necessary here. After the dough ball is formed, you should not knead further or the dough will get sticky and you'll find yourself adding 2-4x more flour to keep it from sticking to your hands. At that point, it's easy to end up with too much flour and have dough that is too dry to be formed into gnocchi. You'll also end up with gnocchi that is more flour than sweet potato, which is no fun. I recommend following the instructions on how to form the dough ball and use the photos as guidance.
A few practical tips:
To make ahead, refrigerate the uncooked gnocchi in an airtight container. When ready to serve, boil the gnocchi according to recipe instructions.
Feel free to double the recipe amount to make more gnocchi, but only work with the amount specified at a given time so that the dough remains manageable.
Sweet potato gnocchi goes well with a variety of sauces — tasty pairings include basil pesto and butter-based sauces. My favorite sweet potato gnocchi sauce is a homemade spicy red chipotle sauce that is shown here in the photos. To make this sauce, you'll need:
2 chipotles in adobo, diced, with 2 teaspoons of adobo sauce
1/2 cup water
6 ounces grape tomatoes, sliced (about 1 cup sliced)
5 garlic cloves, minced
2 tablespoons finely chopped basil
1 tablespoon olive oil
1 teaspoon smoked paprika
1/2 teaspoon salt
First, melt the butter in a saucepot over medium heat. Add all of the ingredients to the pot except for the water. Stir and cook for 5-10 minutes, and then add water. Break up the tomatoes with a large wooden spoon and let it simmer until the sauce thickens a bit. Then pour over cooked sweet potato gnocchi. Perfection.