Make these easy stuffed mushrooms with asiago cheese, bread crumbs, oregano, and diced jalapeños. No cream cheese needed.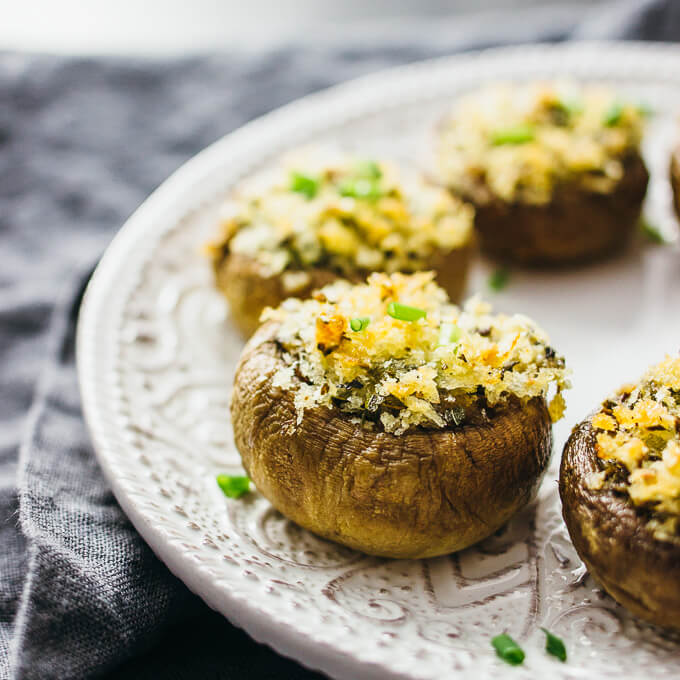 This is my version of stuffed mushrooms, filled with two of my favorite ingredients that are consistently stocked in my kitchen: asiago cheese and jalapeños. There's always a giant block of asiago kept in the cheese drawer of my refrigerator, and there's always fresh or frozen jalapeños, depending on the season. During the summers, I have ripe on-the-vine jalapeños ready for picking in my balcony garden, and at the end of the season, I freeze them whole for use in the colder months. Jalapeños freeze really well, and I would argue that they are actually easier to manage and dice when frozen.
For the mushrooms, any size ranging from 1 inch to 3 inches in diameter will work well. The larger the mushroom, the easier it is to stuff with delicious filling, but it is not necessary to use only the largest mushrooms. After picking out the mushrooms and washing them, the next step is to remove their stems. This is the fun part: apply pressure on the stem by pushing it sideways until it snaps off. After that, I typically discard the stem, but you can save them for another dish if you prefer.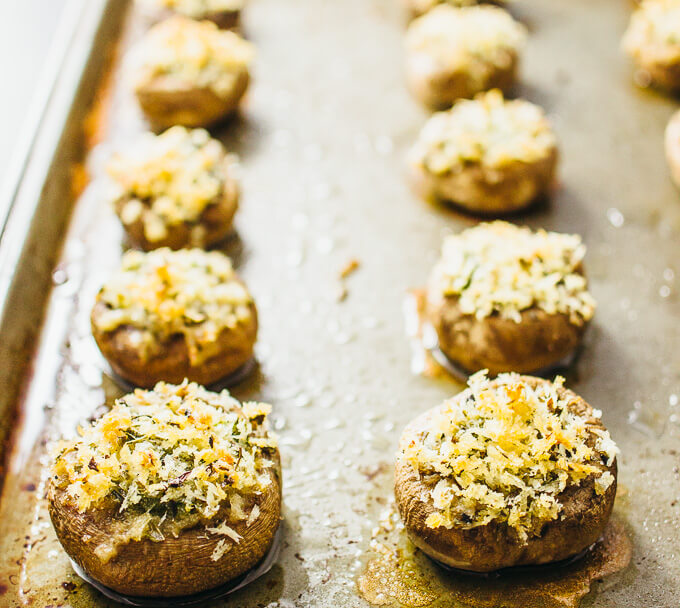 Stuffed mushrooms are one of those dishes where it's easy to tell when they are done cooking: the mushrooms will be oozing their juices, their tops will be golden, the filling will be hot and melty, and your kitchen will be smelling like delicious roasted mushrooms. It takes my oven about 20 minutes at 400 F to cook these beauties.
This recipe is an easy appetizer to make in bulk for parties. You can prepare the filling and stuff the mushrooms ahead of time, and refrigerate until ready. When your guests arrive, you can pop them in the oven and have them ready to eat soon afterwards.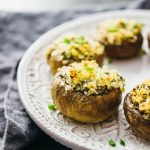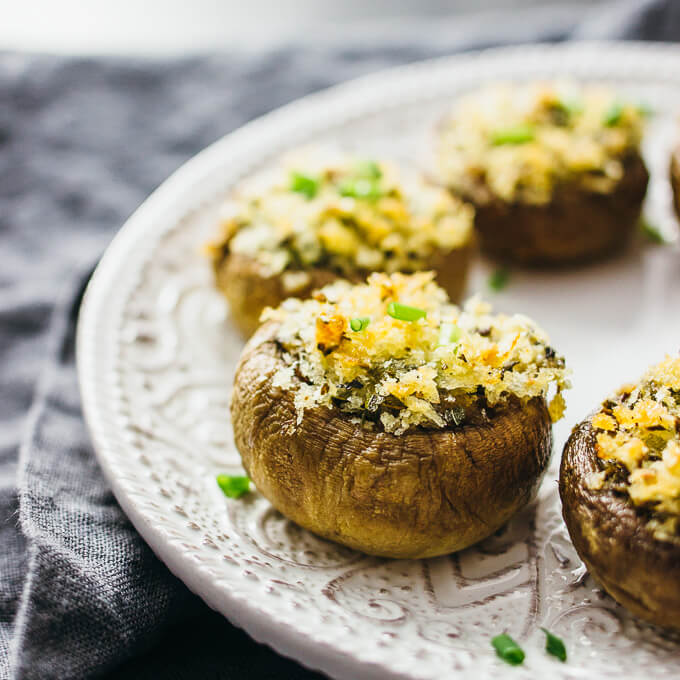 Asiago and jalapeño stuffed mushrooms
Make these easy stuffed mushrooms with asiago cheese, bread crumbs, oregano, and diced jalapeños. No cream cheese needed.
Ingredients
30

ounces

white mushrooms

about 30 individual, stems removed

1/2

cup

finely grated asiago cheese

1/2

cup

panko bread crumbs

2

jalapeños

seeded and diced

1

tablespoon

dried oregano

1/2

teaspoon

salt

1/4

teaspoon

pepper

1/2

cup

olive oil

fresh chives

for garnish
Instructions
Combine asiago cheese, bread crumbs, diced jalapeños, oregano, salt, and pepper in a mixing bowl. Stir until well-mixed. Add 2 tablespoons of olive oil and mix together. This will be the mushroom filling.

Grease a large baking tray with 1 tablespoon of olive oil. Distribute the mushroom filling among the mushroom caps. Place the mushrooms on the greased baking tray, filling side up. Drizzle olive oil over the filling of each mushroom.

Bake at 400 F until the mushrooms have released their juices and the tops are golden, about 20 minutes. Garnish with fresh chives and serve.
Recipe Notes
This recipe yields 17.5 g net carbs per serving.
Nutrition Facts Per Serving
| | |
| --- | --- |
| Calories 720 | |
| Total Fat 66g | 101% |
| Saturated Fat 13g | 67% |
| Trans Fat 0g | |
| Cholesterol 25mg | 8% |
| Sodium 970mg | 41% |
| Potassium 1420mg | 41% |
| Total Carb 23.5g | 8% |
| Dietary Fiber 6g | 25% |
| Sugars 9.5g | |
| Protein 22g | |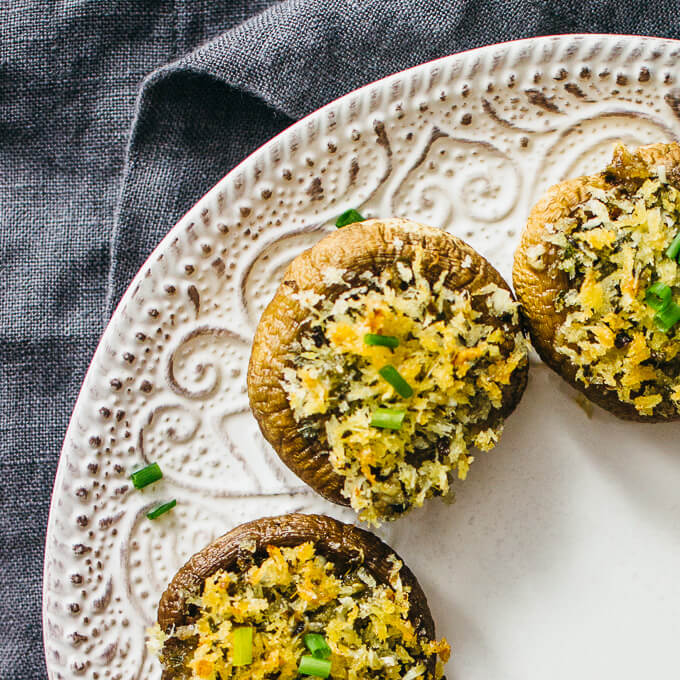 LOW CARB & KETO COMMUNITY
Join our support group on Facebook.
Visit Group