Summary:
Enjoy fresh and homemade focaccia bread with a restaurant-style Italian balsamic dipping oil.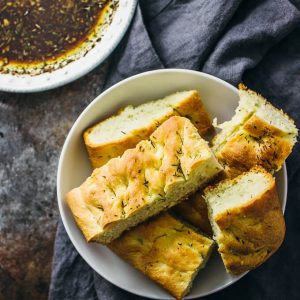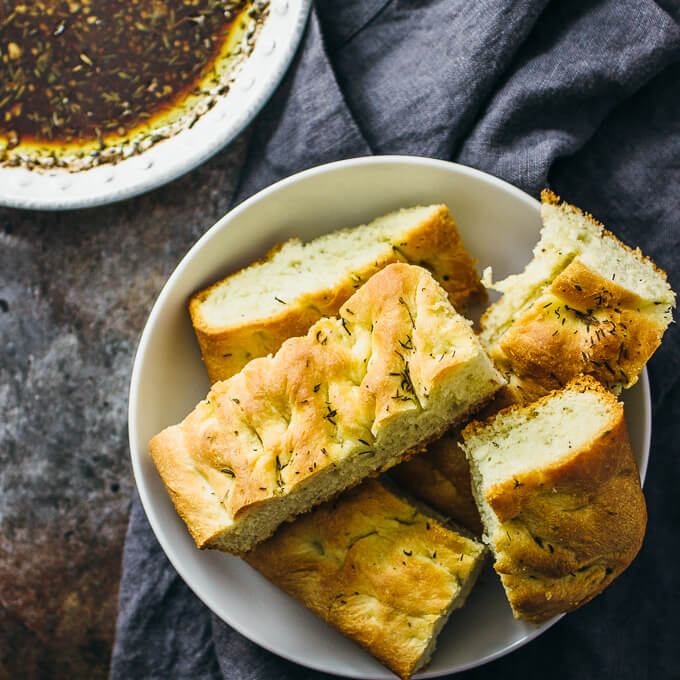 Homemade focaccia with Italian dipping oil
INGREDIENTS
For focaccia yeast mixture:
INSTRUCTIONS
Combine all focaccia yeast mixture ingredients in a bowl and stir. Let sit at room temperature until very foamy, about 15 minutes.

Combine all focaccia dough ingredients with the yeast mixture in a food processor or stand mixer with dough attachment. Knead for a few minutes until combined. The dough should be sticky.

Place the dough in an oiled bowl and cover tightly with plastic wrap. Let sit at room temperature until it has doubled in size, about 1 hour.

Generously drizzle olive oil to grease a 10x15 inch sheet pan. Place the dough on the pan and flatten it out. Turn it over so the other side gets coated in olive oil and flatten it out to fill the size of the pan. Use fingers to make holes on top of the dough. Optionally, add some more dried thyme on top. Let rest at room temperature until it has doubled in size, about 1 hour.

Generously drizzle more olive oil on top of the dough. Bake at 425 F until the top is golden brown, about 20 minutes. Let cool before cutting.

While waiting for the focaccia to cool, prepare the dipping oil by adding all dip ingredients to a shallow bowl. Serve with sliced focaccia.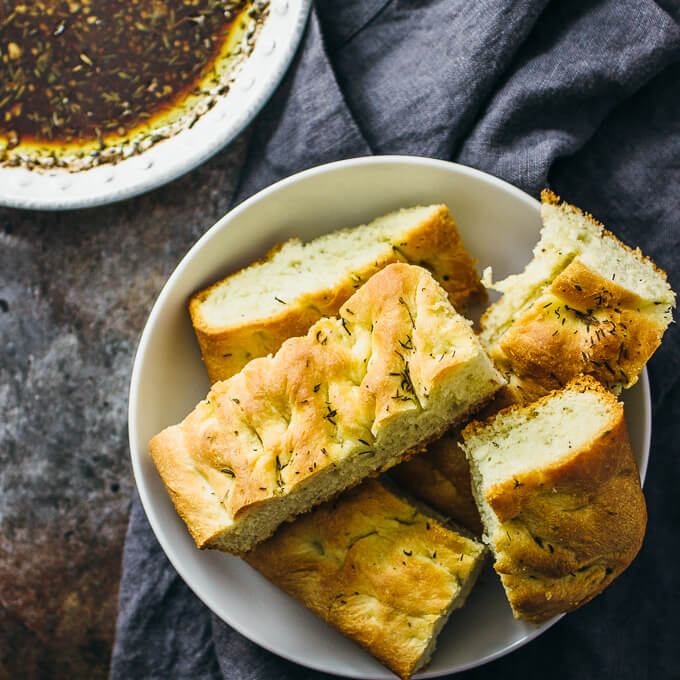 You've probably had focaccia bread as an appetizer at Italian restaurants. Its texture is crunchy on the outside and soft on the inside, and it's heavily seasoned with olive oil as well as various herbs and sometimes vegetables. Toppings can include dry or fresh herbs like rosemary and thyme, minced garlic, parmesan cheese, sun-dried tomatoes, or chopped olives. It's a very versatile bread that can be adapted for many purposes — some ideas include using it as sandwich bread, a base for pizza, or a side dish or snack.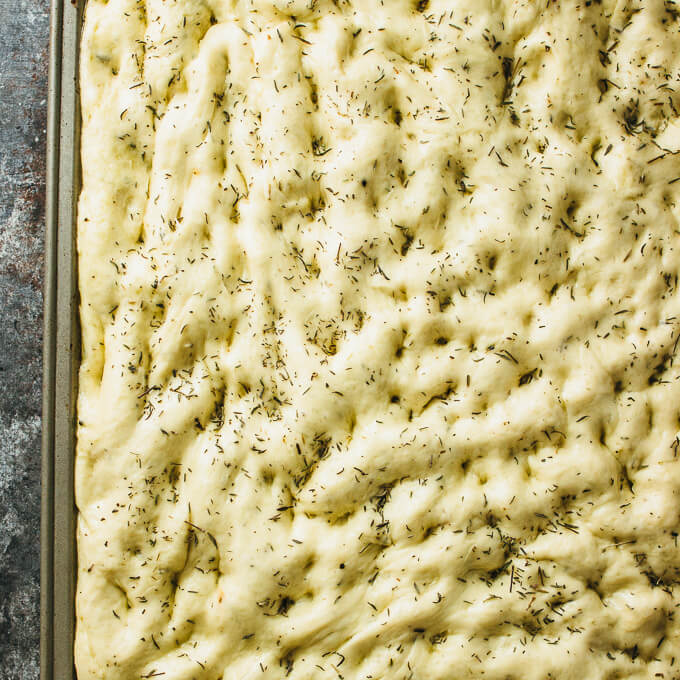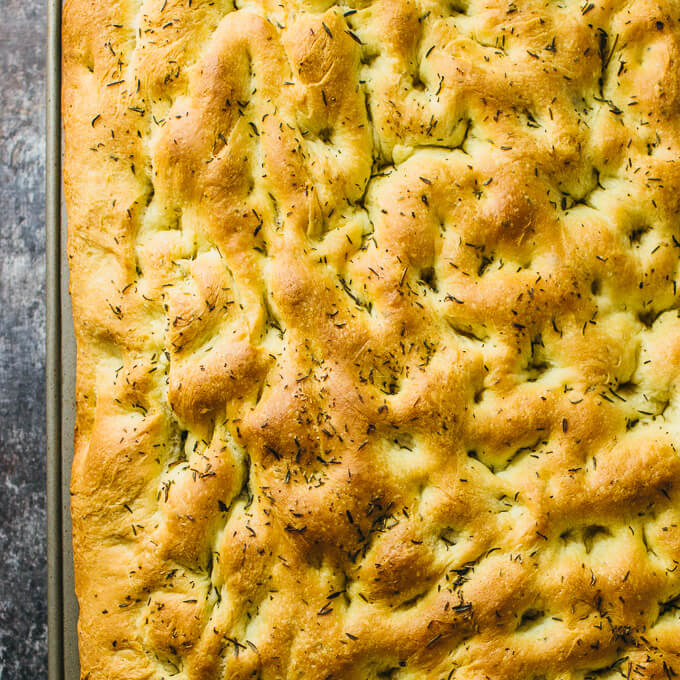 Focaccia dough is simple to make — it's easiest to use a food processor's kneading disk or a stand mixer's kneading attachment. Or you can knead by hand. I used a food processor and it was so easy to toss my dry and liquid ingredients in the bowl and press a button to turn everything into dough. Once you have your dough, I let it rise twice: first in a bowl as a dough ball and second after it's been flattened out on a baking sheet, about an hour each until it has doubled in size. The dough should feel very supple, airy, and a bit sticky. I also punch a lot of finger holes along the surface of the dough to get some nice craggy features. Focaccia bread should be prepared using a lot of olive oil, so don't be shy when drizzling the dough with olive oil.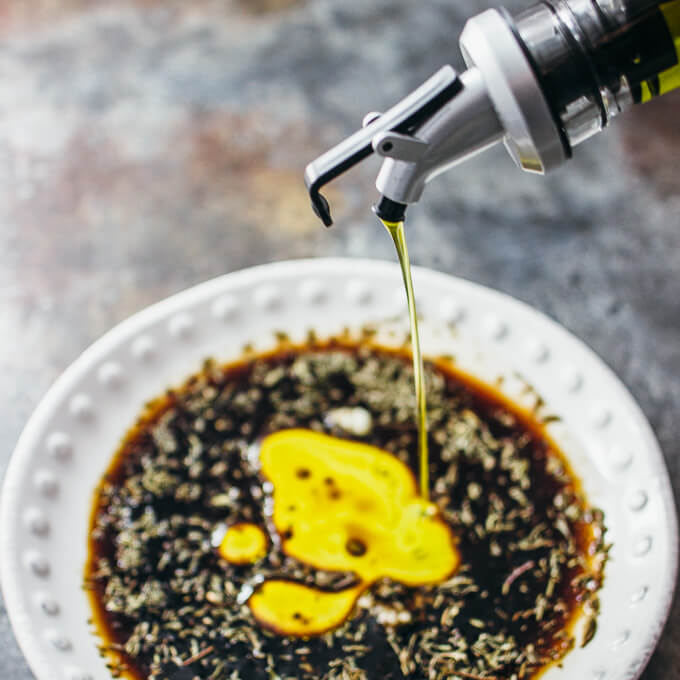 What's the point of bread without having something to dip it in? Pictured here is my favorite Italian balsamic dipping oil, which includes olive oil, a generous helping of balsamic vinegar, finely grated parmesan cheese, minced garlic cloves, and dried thyme. Whenever I'm at an Italian restaurant and the server makes the mistake of bringing dipping oil to go with the bread, I'm always asking for refills. You can't ever have too much of this.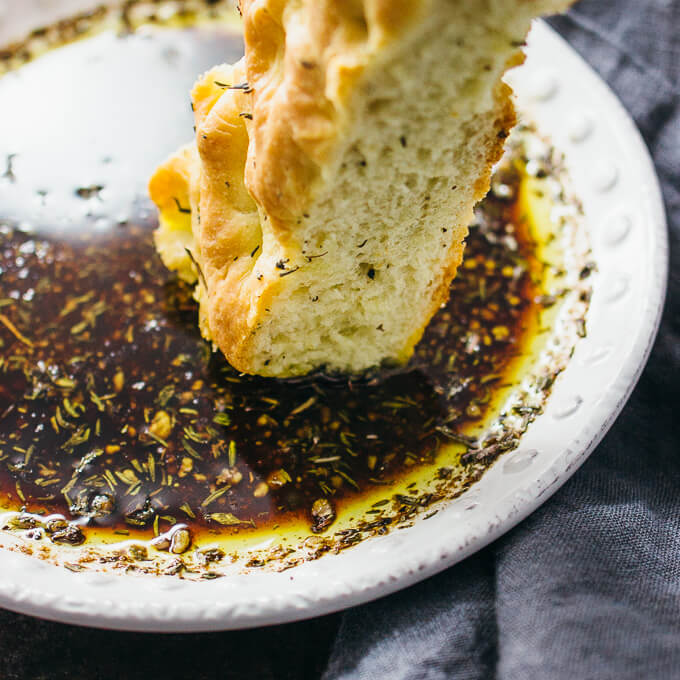 Store any leftovers in the refrigerator. This is how I reheat them: spray both sides of the focaccia with water, briefly drain any excess water, and bake at 350 F for 10 minutes. It'll be good as new.