Summary:
Instant Pot hamburgers served with lettuce, tomatoes, cheese, bacon, and BBQ sauce. Low carb, keto, and gluten free.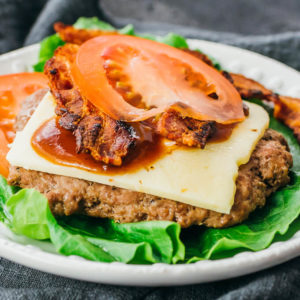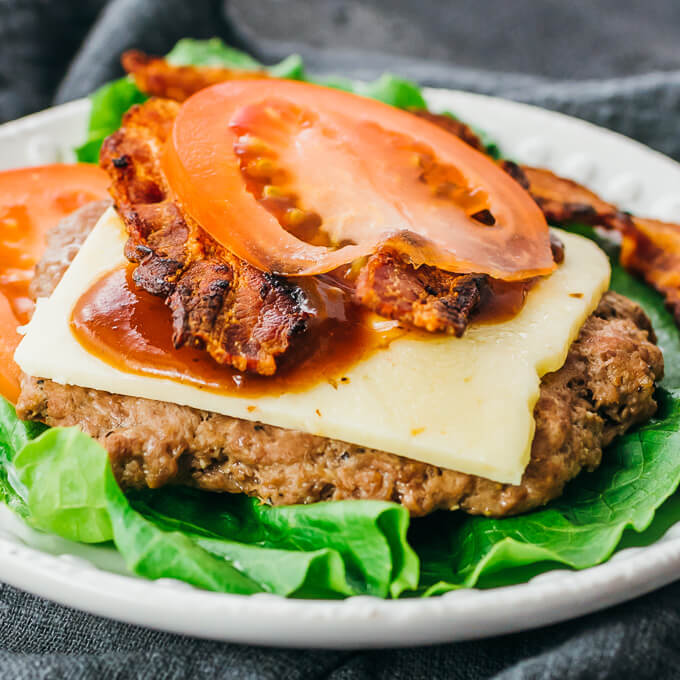 INGREDIENTS
Toppings:
4

slices

bacon

2

slices

pepperjack cheese

a few slices

tomato

2

tablespoons

bbq sauce

a few leaves

lettuce
INSTRUCTIONS
Prepare 2 large pieces of aluminum foil and set aside. In a mixing bowl, combine all patty ingredients until well-mixed. Divide and shape into two thin 4-ounce patties, about 5 inches in diameter (they will shrink as they cook). Place one patty on each foil, and wrap them up.

Add 1 1/2 cups of water to the pressure cooker pot. Place the trivet inside and stack the foil wrapped patties on top.

Secure and seal the lid. Cook at high pressure for 8 minutes, followed by a manual pressure release. While it's cooking, prepare your toppings.

Carefully transfer the patties to a plate. Unwrap and drain the liquid. Serve with your favorite toppings.
NUTRITION
Makes 2 Servings
Amount Per Serving:
| | |
| --- | --- |
| Calories 450 (55% from fat) | |
| Total Fat 28g | 42% |
| Saturated Fat 13g | 65% |
| Cholesterol 135mg | 45% |
| Sodium 1190mg | 50% |
| Net Carb 3g | |
| Total Carb 4g | 1% |
| Dietary Fiber 1g | 4% |
| Sugars 2g | |
| Protein 41g | |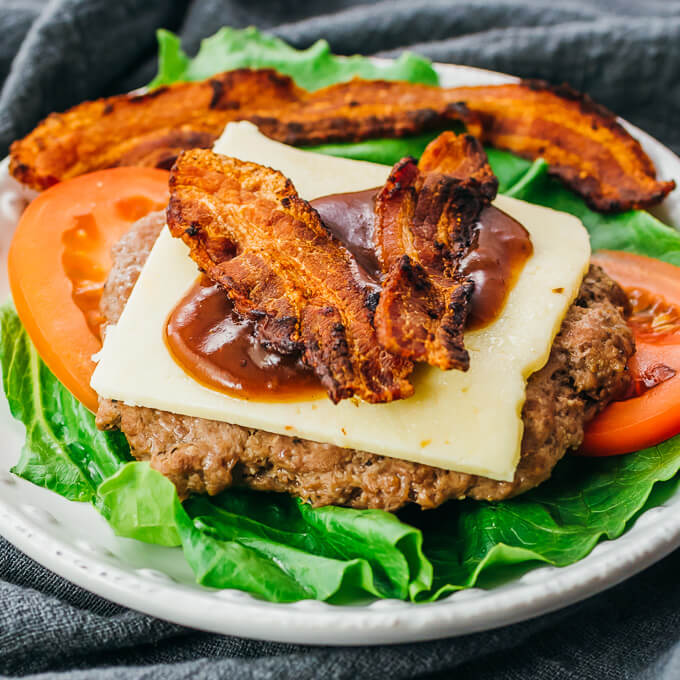 Why make burgers in the instant pot?
Hold on a second. Steamed hamburgers in the pressure cooker? But some things are meant to be held sacred, like grilled burgers, you say.
I know it sounds weird to be eating pressure cooked hamburgers, but if it tastes good and it's convenient to make, then why not? Besides, there are a few more reasons you might want to make burgers in the Instant Pot:
You don't own a grill. Or maybe it's too cold outside to bust out the grill. Or maybe you're renovating your kitchen and don't have access to an oven or stove top, which is how you usually make burgers.
You want to make a ton of burgers for a crowd, and instead of making them in batches and serving them as they finish, you like the idea of filling up your Instant Pot with as many burgers as it can fit and having them all finish at the same time.
You want to avoid all the smoke and hassle involved with grilling burgers. You also don't want your hair to smell like burgers. You're an indoor creature and like the idea of making quick burgers with easy cleanup.
Moreover, these Instant Pot burgers taste great — they're tender and juicy. Serve them up with your favorite fixings, and you won't mind that they're not grilled!
Tips for making burger patties
Take special care to keep the patties the same size so that they cook at the same rate.
The patties will puff up as they cook, so I make the raw patties very thin, about 5 inches in diameter. Thin patties are also better for loading your fixings without toppling over. They also don't take as long to cook.
If your patties are thicker than mine, add 2 minutes to the pressure cooking time.
Cooking a large number of burgers
You can easily double or triple the recipe. Just stack the foil-wrapped burgers on top of each other, staggering them if you can.
You don't need to modify the pressure cooking time, assuming that your patties aren't smaller or larger than what the recipe calls for.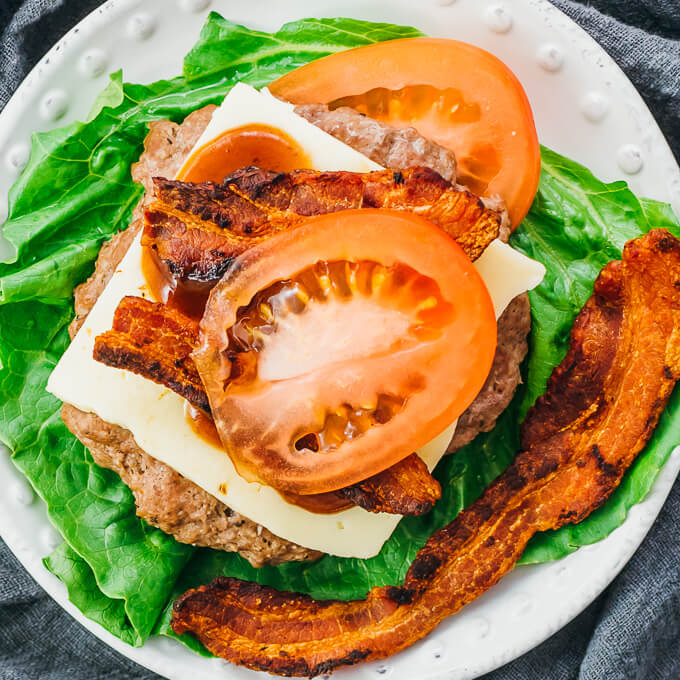 Burger Toppings
My toppings are emulating Mr. Savory Tooth's favorite burger — a BBQ bacon burger — and we use a homemade keto BBQ sauce. You can also buy sugar free BBQ sauces, such as the G Hughes brand. For the bacon, you can fry it on the Instant Pot's saute mode (for a one-pot meal), or in a pan on the stove top. Note that the nutrition label assumes you're using the same toppings as listed in the recipe.
Since we follow a low carb diet, these hamburgers are bun-less and we eat them as a so-called "deconstructed burger plate," with forks and knives. Same great flavors you would expect in a regular burger, but minus the carbs.
Of course, there's no need to follow these topping suggestions. You can serve these with any fixings of your choice. Enjoy!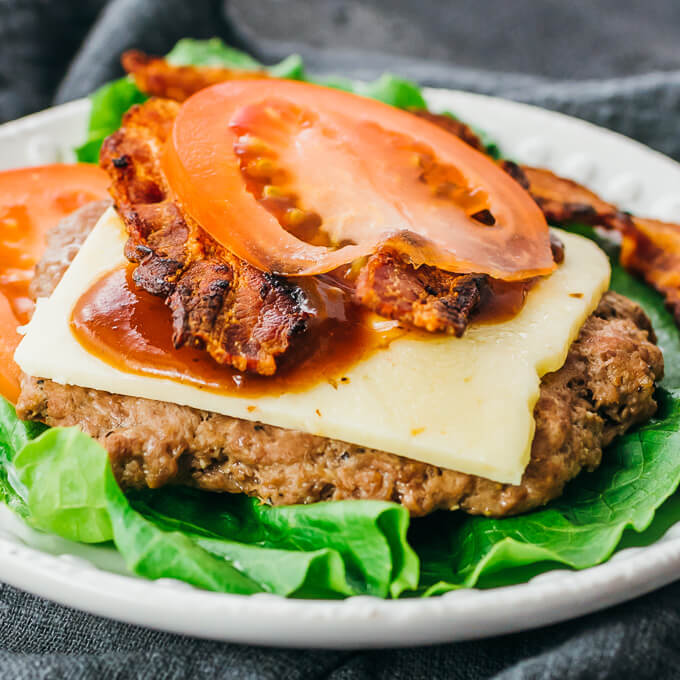 MORE GROUND BEEF DINNER RECIPES: