Summary:
Pad see ew (also spelled pad see you) is a delicious Thai dish with stir-fried noodles, vegetables, and chicken (or beef). This is absolutely my FAVORITE dish that I always get when I'm eating out at a Thai place! You'll love my homemade reincarnation of this popular dish that's just as good as the kind you get in restaurants.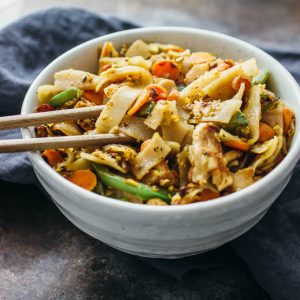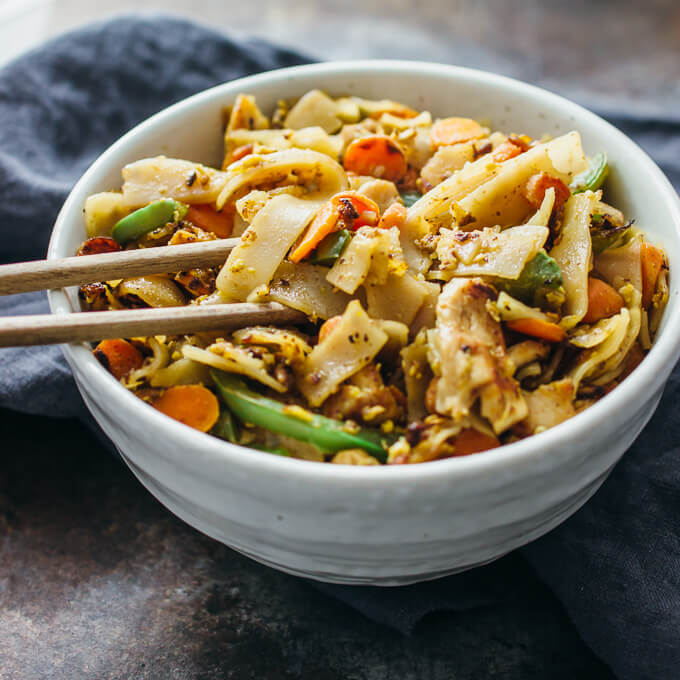 INGREDIENTS
8

ounces

flat and wide rice noodles

25

baby-cut carrots

about 1 cup, thinly sliced

1

green bell pepper

sliced into thin long strips

2

large eggs

5

garlic cloves

2

tablespoons

canola oil
For marinating the chicken:
5

ounces

boneless and skinless chicken breasts

very thinly sliced

2

teaspoons

corn starch

2

teaspoons

soy sauce
INSTRUCTIONS
Marinating the chicken: Place the thin chicken slices on a plate. Rub with corn starch. Drizzle soy sauce over the chicken. Set aside.

Making the sauce: Combine all of the sauce ingredients in a bowl and mix well. Set aside.

Cooking the noodles: Cook the noodles according to package instructions. When done, drain the noodles and transfer to a large mixing bowl. Pour the sauce over the noodles, mixing well so that the noodles soak up the sauce. Set aside.

Stir fry: Add cooking oil and directly mince the garlic into a 3 quart or larger pan over medium-high heat. Cook until the garlic browns, about 1 minute. Toss in chicken, carrots, and bell pepper. Crack the eggs directly over the pan, and immediately start scrambling and mixing it in. When the chicken is fully cooked and the bell pepper slices are soft, add the noodles and any remaining sauce. Mix well. Serve immediately.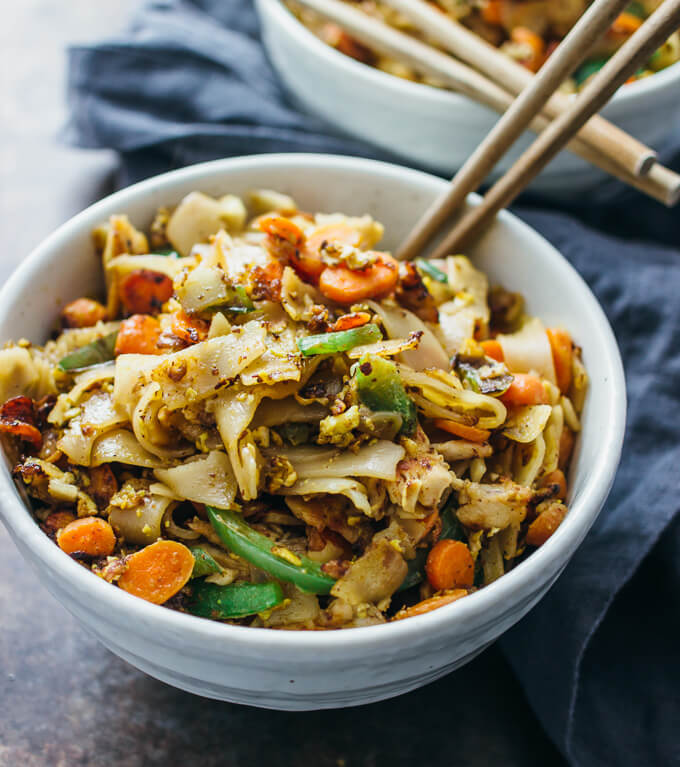 I've been eating a lot of pad see ew over the past decade:
For 4 years when I was living on my own in Los Angeles, I ordered pad see ew with chicken (sometimes with tofu or beef) at a local Thai restaurant every other week. Sometimes every week. I'm telling you, this stuff is addicting. And it didn't help that the Thai restaurant was within walking distance of my apartment.
I lived on the Big Island of Hawaii for a summer, and Thai restaurants are EVERYWHERE there. Like on every block. So I got to binge on this pad see ew addiction some more.
My recipe version of this dish is (1) what I best remember from eating pad see ew at various restaurants, and (2) modified with ingredient substitutions so that you can use everyday ingredients. For example, my recipe doesn't include Chinese broccoli (which is what you always get in pad see ew) and instead I substitute that with other delicious vegetables like thinly sliced green bell pepper and chopped carrots. Besides, Chinese broccoli doesn't even taste that good and it has a tough texture. Also, I skip dark soy sauce as it is difficult to find in most markets (even Asian ones) and nobody should be required to use multiple types of soys sauce in a recipe!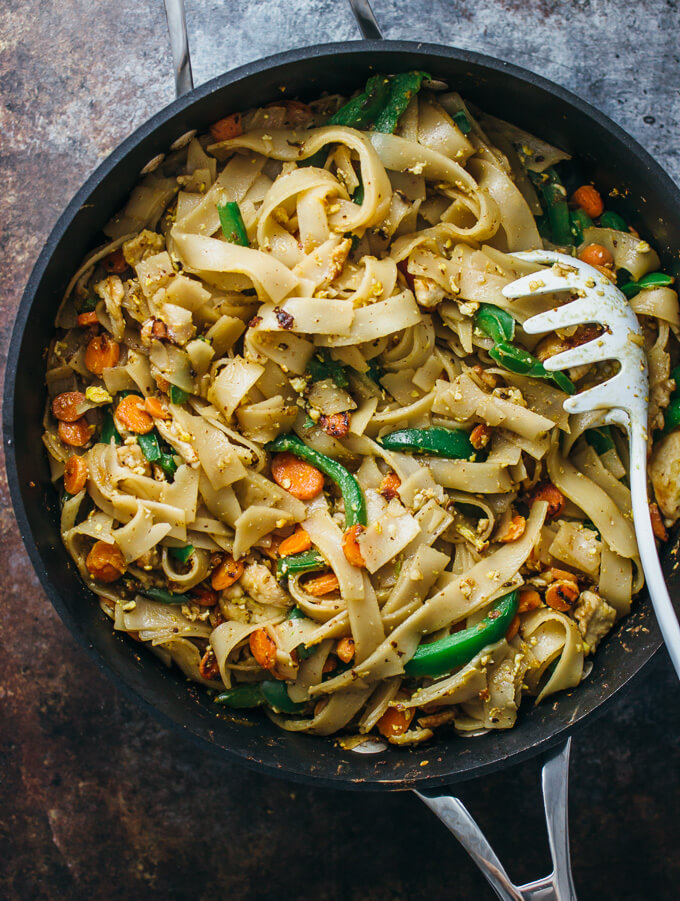 I love Thai noodles. These are wide and flat noodles made of rice (sometimes called "rice stick noodles"), and they don't need as much cooking as, say, Italian pasta noodles. I found these rice noodles at an Asian food store (Hmart) but you can get these noodles at most major supermarkets. Just make sure that you get the widest noodles possible — they're much more fun to look at and eat.
The flavorful chicken is probably my favorite part of this dish. I slice the chicken really thin so that it'll be more tender, and I also marinate it in corn starch and soy sauce prior to cooking. This procedure helps tenderize the chicken (also called velveting) and tastes like the kind of chicken that you get in Asian restaurants. Also, I make sure that my pan is really hot when I add the chicken so that it sizzles and quickly gets a really nice charry flavor and slightly burnt edges to it. So good.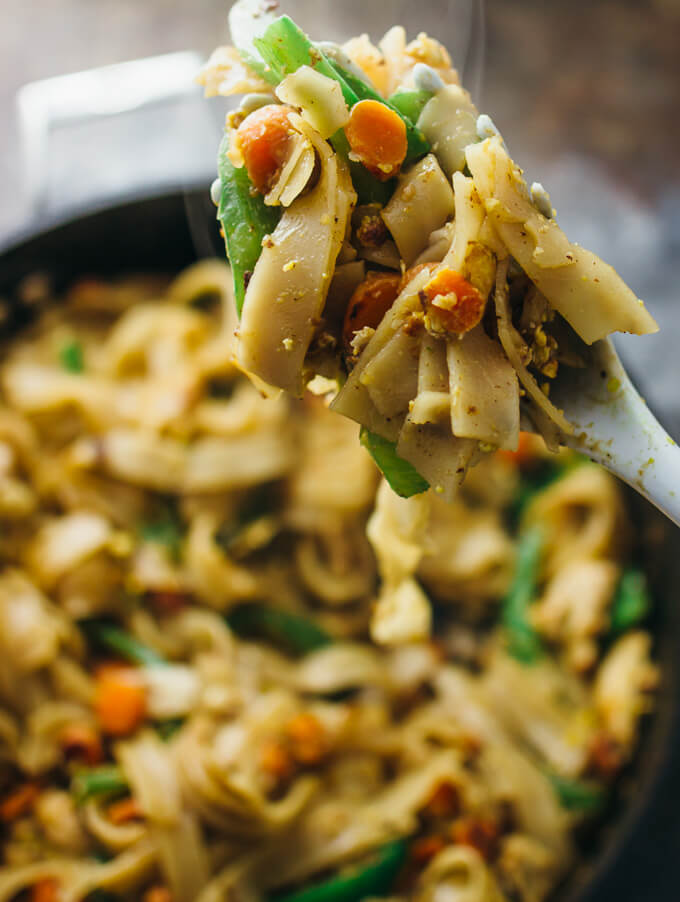 This recipe is also a great template for Asian-inspired stir-fry dishes in general: substitute in different kinds of meat and vegetables, keep the sauce as-is, and you've got yourself a delicious meal! If you like this, you should also try out other stir-fry dishes like my spicy tofu skillet and my cauliflower curry with potato. 🙂