Summary:
Pad see ew (also spelled pad see you) is a delicious Thai dish with stir-fried noodles, vegetables, and chicken (or beef).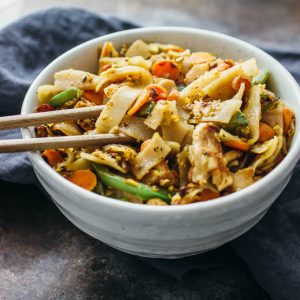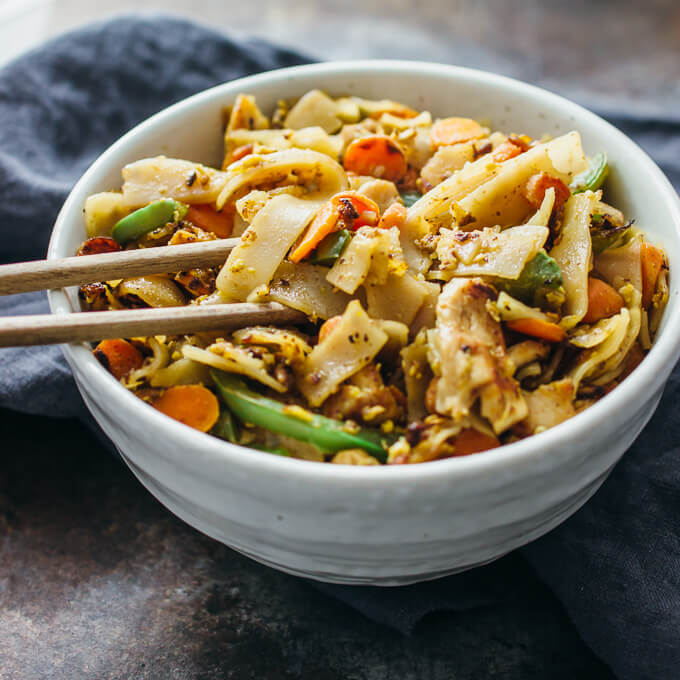 INGREDIENTS
8

ounces

flat wide rice noodles

25

baby-cut carrots

about 1 cup, thinly sliced

1

green bell pepper

sliced into thin long strips

2

large eggs

5

garlic cloves

2

tablespoons

canola oil
For marinating the chicken:
5

ounces

boneless skinless chicken breasts

very thinly sliced

2

teaspoons

corn starch

2

teaspoons

soy sauce
INSTRUCTIONS
Marinating the chicken: Place the thin chicken slices on a plate. Rub with corn starch. Drizzle soy sauce over the chicken. Set aside.

Making the sauce: Combine all of the sauce ingredients in a bowl and mix well. Set aside.

Cooking the noodles: Cook the noodles according to package instructions. When done, drain the noodles and transfer to a large mixing bowl. Pour the sauce over the noodles, mixing well so that the noodles soak up the sauce. Set aside.

Stir fry: Add cooking oil and directly mince the garlic into a 3 quart or larger pan over medium-high heat. Cook until the garlic browns, about 1 minute. Toss in chicken, carrots, and bell pepper. Crack the eggs directly over the pan, and immediately start scrambling and mixing it in. When the chicken is fully cooked and the bell pepper slices are soft, add the noodles and any remaining sauce. Mix well. Serve immediately.
NUTRITION
381 kcal/serving

PHOTOS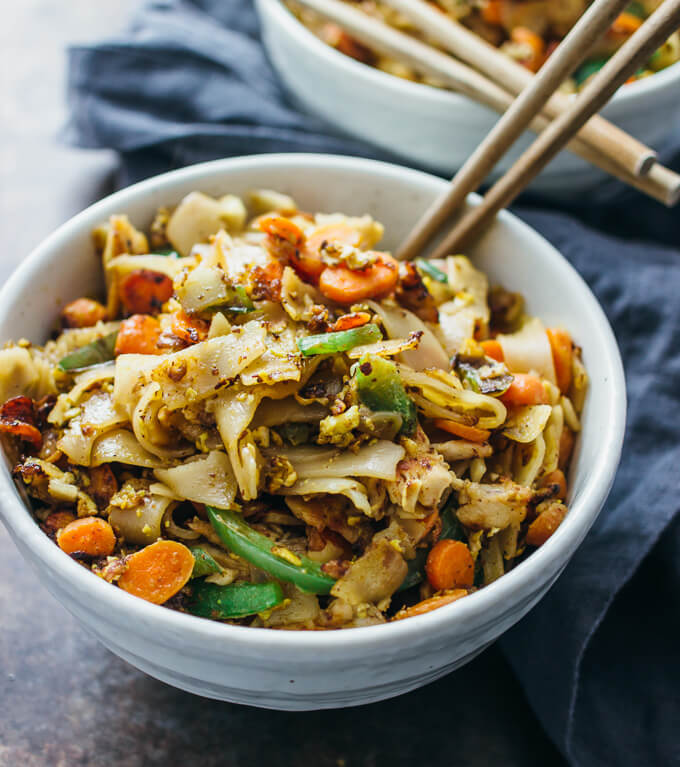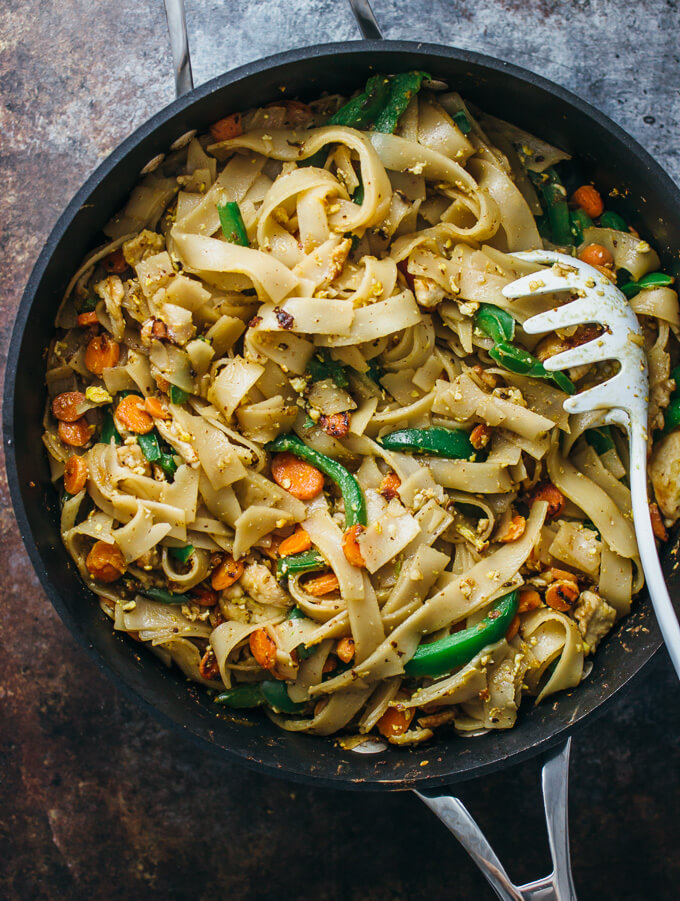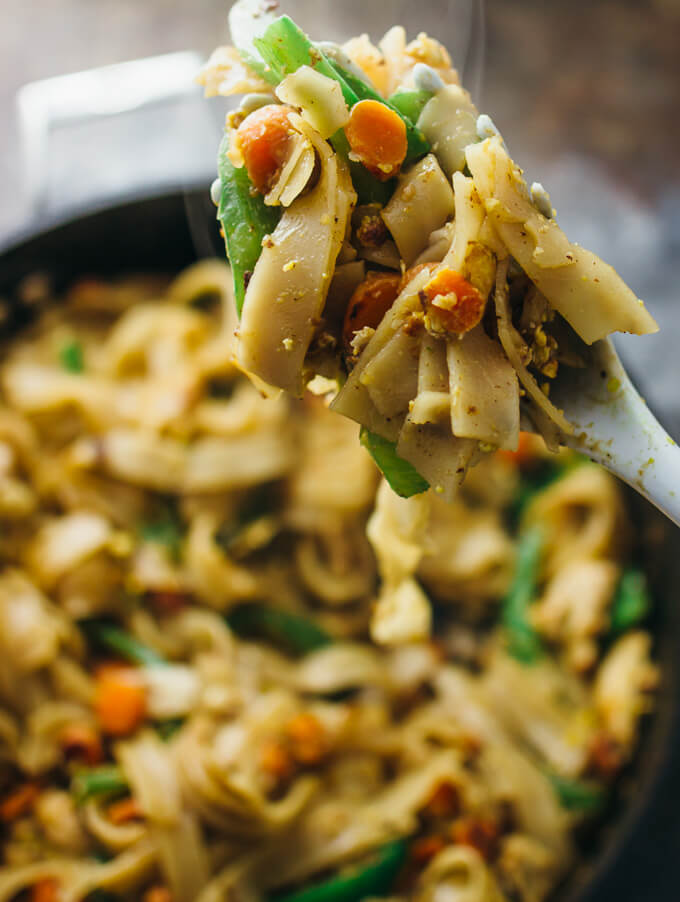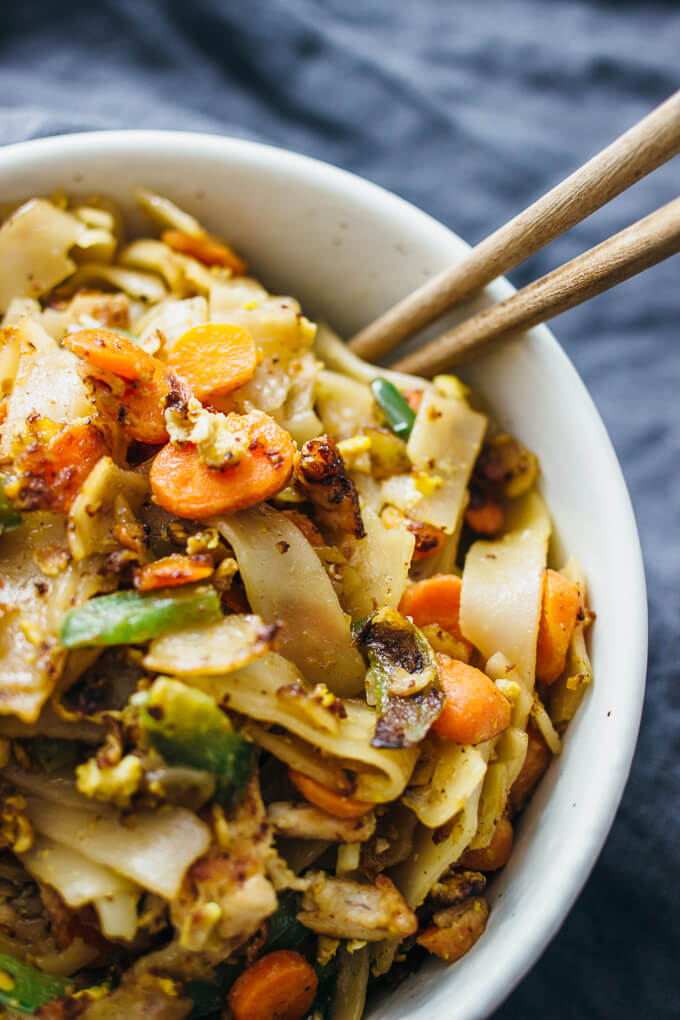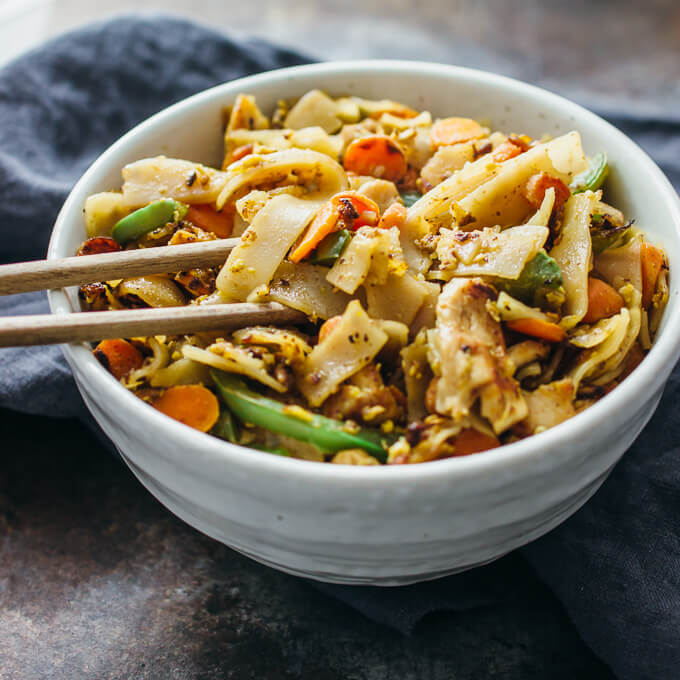 NOTES & TIPS

Thai Noodles. These are wide and flat noodles made of rice (sometimes called "rice stick noodles"). You can find them at Asian food stores like Hmart, and likely at most major supermarkets.
Chicken. The flavorful chicken is probably my favorite part of this dish. I slice the chicken really thin so that it'll be more tender, and I also marinate it in corn starch and soy sauce prior to cooking. This procedure helps tenderize the chicken. Also, I make sure that my pan is really hot when I add the chicken so that it sizzles and quickly gets a really nice charred flavor and slightly burnt edges to it.