Summary:
Each eggplant plank has a crispy and crunchy breaded exterior and is topped with a savory, garlicky basil-tomato sauce that is spicy.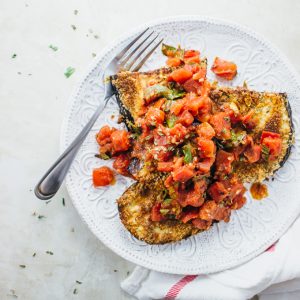 INGREDIENTS
For prepping the eggplant:
For the garlicky tomato sauce:
1

tablespoon

olive oil

for cooking

5

garlic cloves

minced

1/4

teaspoon

cayenne

1/4

teaspoon

salt

1/4

teaspoon

pepper

1/2

cup

fresh basil leaves

chopped
INSTRUCTIONS
Breading and pan-searing the eggplant: Set up 3 shallow dishes. First is for the flour, second is for the eggs, and third is for a mixture of the breadcrumbs, parmesan cheese, salt, and pepper. One plank at a time, dip in the flour, then the eggs, and then the breadcrumb-cheese mix. Place each finished plank on a large pan with olive oil over medium heat. Cook each eggplant plank until it starts to brown, about 2 minutes per side. Add more oil if the pan gets dry. As the planks finish, place them in a single layer on a baking tray.

Baking the eggplant: Heat the oven to 450 F. Place the baking tray with eggplant planks into the oven. Let them bake for 15 minutes on each side, so don't forget to turn them!

Make the sauce: While waiting for the eggplant to bake, prepare the sauce. Using the same pan used earlier for cooking the eggplant, heat olive oil over medium heat. Add garlic and let it cook a minute or so until it starts browning. Add the can of diced tomatoes, including the liquid. Add the red pepper powder, salt, and pepper. Mix well. Let the sauce simmer on low-medium heat and stir occasionally until the sauce thickens, about 10 minutes. Remove from heat and stir in the chopped basil.

For serving: When the eggplant planks have finished cooking on both sides, remove them from the oven. Serve the eggplant planks with tomato sauce spooned on top.
NUTRITION
476 kcal/serving

PHOTOS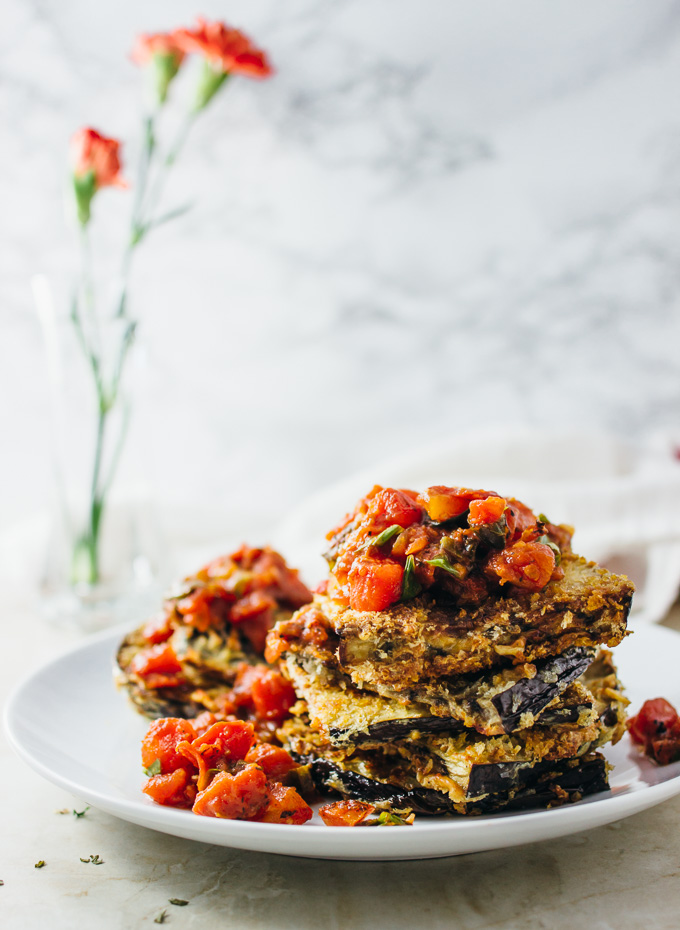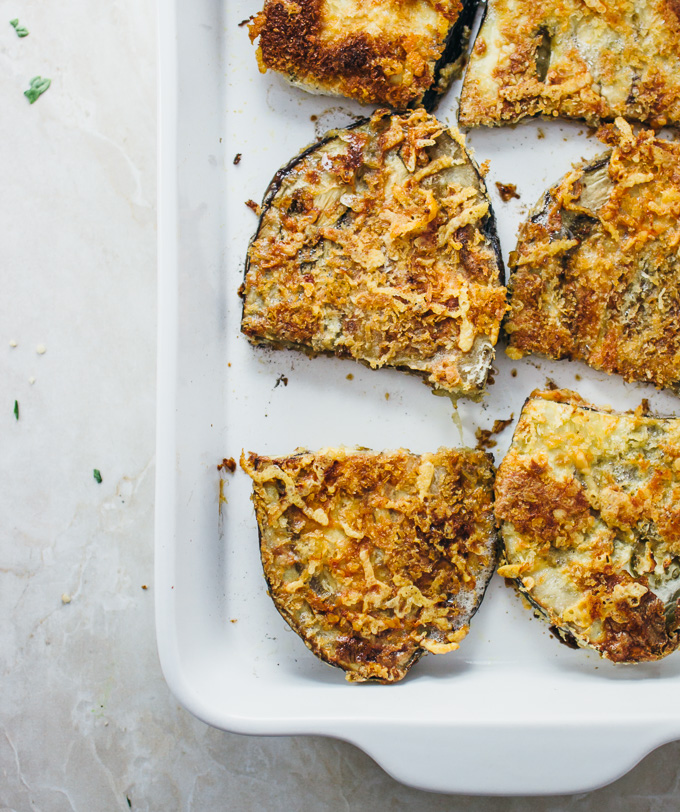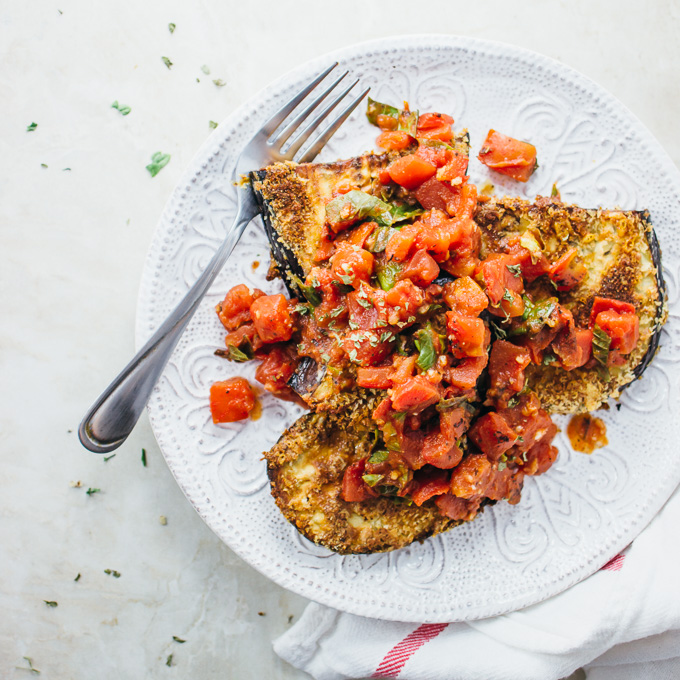 NOTES & TIPS

The technique for making this dish is similar to how it's traditionally done, except that I skip the second round of eggplant baking. I first pan-fry it a bit on a skillet to remove moisture and then I bake it only once. I also don't bother with pre-salting the eggplant. I've kept the instructions as simple as they need to be without sacrificing flavor and texture. Additionally, I've added some savory flavors like fresh basil and minced garlic plus some cayenne spiciness.
Note that this recipe is designed for two. Feel free to multiply for more servings. Also, I recommend eating this as soon as the dish is ready because eggplant loses its crispiness over time.