Note: This is one of my older recipes and is not low carb. Visit my Recipes page for low carb and keto recipes.
Try out this easy and crowd-pleasing recipe for pumpkin pie, topped with chopped pecans and orange zest. It's perfect for winter holidays like Thanksgiving and Christmas.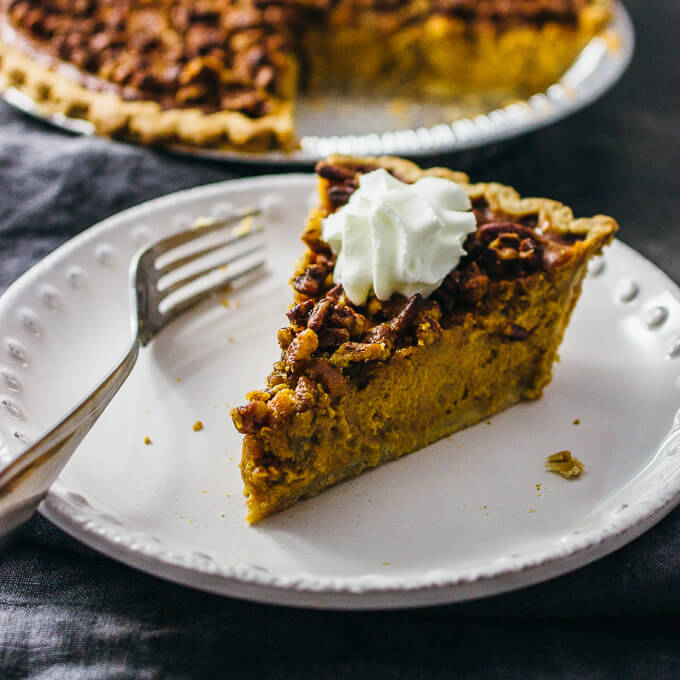 I'm not a huge fan of baking desserts; after all, this blog is called savory tooth, but I'll absolutely make an exception for holiday pies. Moreover, Mr. Savory Tooth can't live without consuming at least multiple slices of pumpkin pie on Thanksgiving, so this year I found myself in the kitchen trying to figure out how to make pumpkin pie. I started off with a recipe from Mr. Savory Tooth's mom, which was originally adapted from a recipe in The Joy of Cooking cookbook, and I tweaked it further to match my preferences.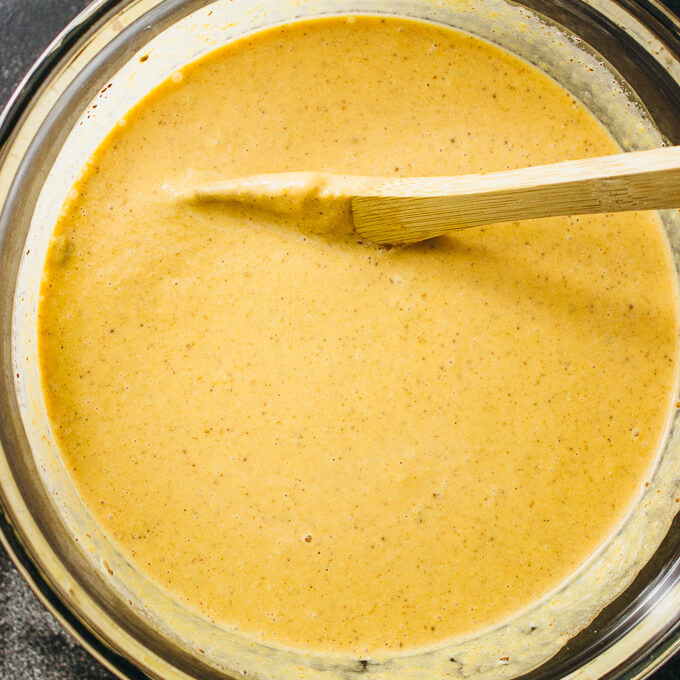 The pumpkin pie filling is easy to combine and mix together since it's a very thin mixture. It's mainly composed of cooked pumpkin, heavy whipping cream, and sugar. For the pumpkin, you can cook your own pumpkin or you can take the easier route by buying canned pumpkin (about 15 ounces). To cook your own pumpkin, cut in half crosswise and remove seeds and strings, bake at 325 F until tender (about 1 hour), then scrape off the pulp from the shell and blend until pureed.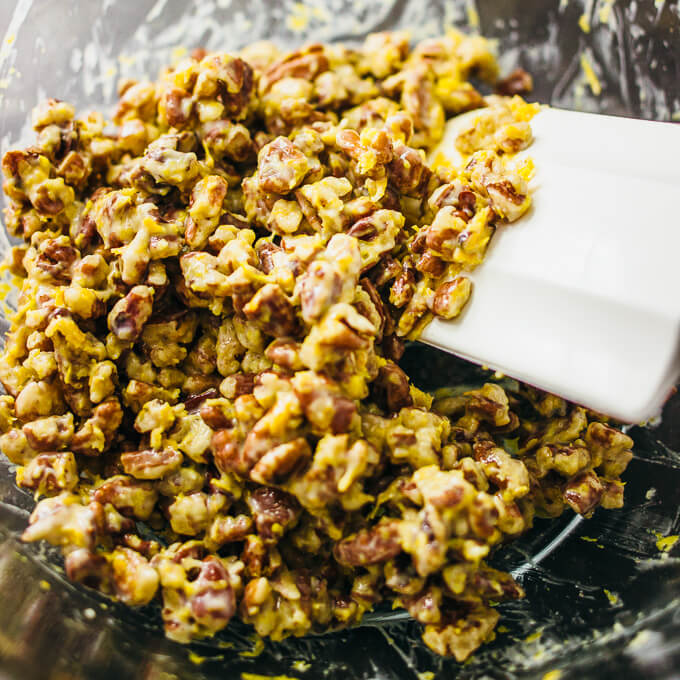 My favorite part is the pumpkin pie topping that has chopped pecans, slightly melted butter, and orange zest. The pecans should be chopped otherwise it becomes difficult to slice through the pie. If you can't find chopped pecans, you can use whole pecans and run them through a food processor until chopped. The butter should be melted until soft so that it can be mixed. And lastly, the orange zest is my favorite addition to this pie and should not be skipped. It adds a lot of extra flavor and goes really well with this pecan topping as well as the pumpkin pie.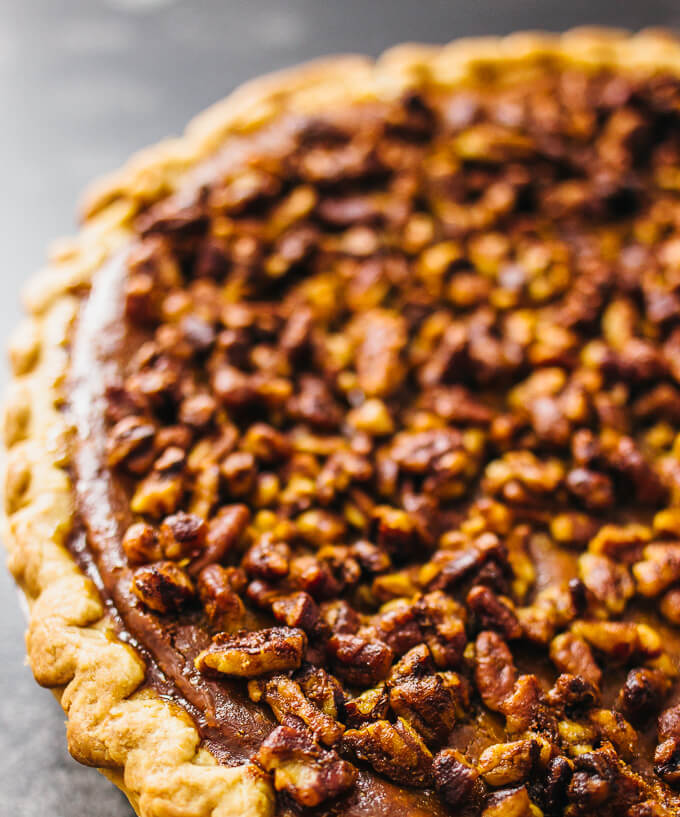 Baking times can vary a lot depending on your oven, and this is especially true for pumpkin pie. In order to judge when the pie is done, take a toothpick or knife and pierce near the center to see if it comes out mostly clean. I like my pumpkin pies to be more well done, so I tend to bake longer; if you like your pie to be more of a custard, then your pie will be done when the sides are set and the center still jiggles a little.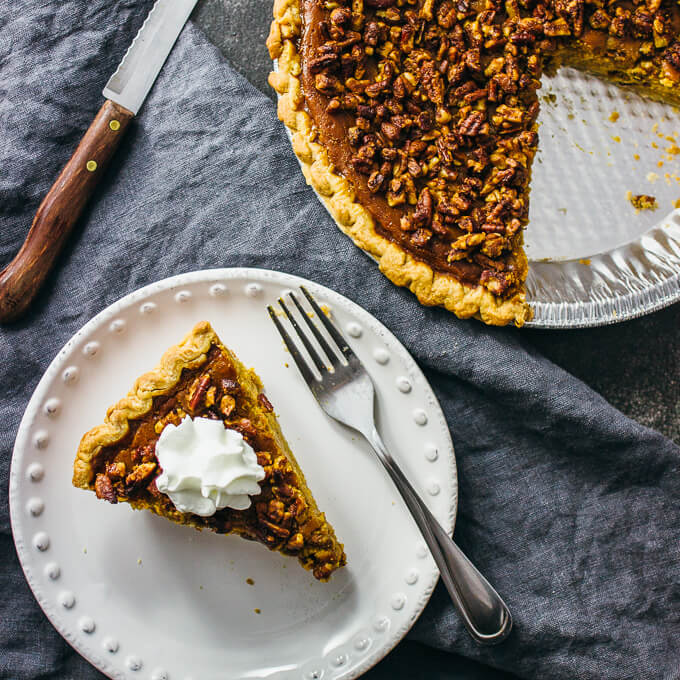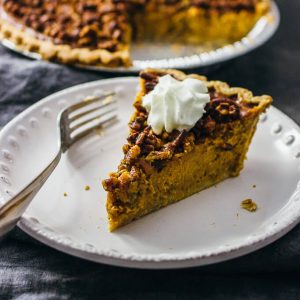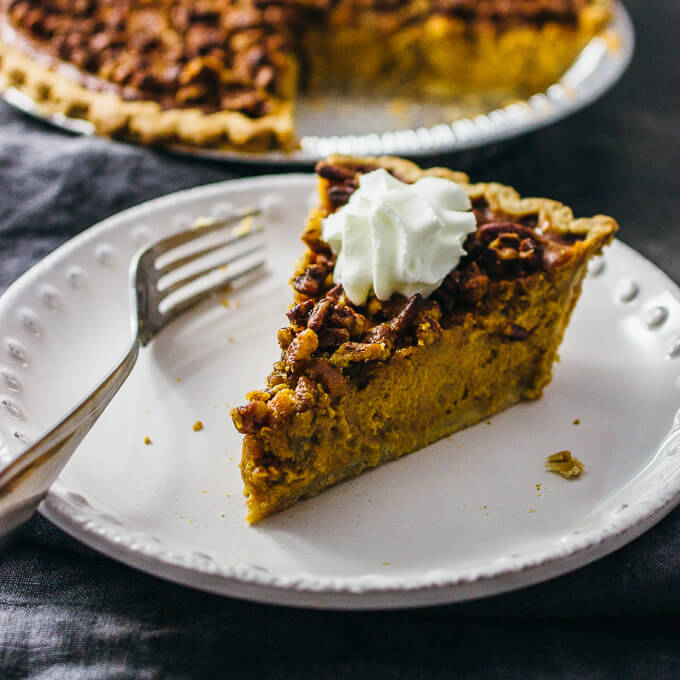 Perfect pecan pumpkin pie
DESCRIPTION
Try out this easy and crowd-pleasing recipe for pumpkin pie, topped with chopped pecans and orange zest.
INGREDIENTS
9

inch

deep dish pie shell

thawed if frozen
For the pumpkin pie filling:
For the pecan topping:
3/4

cup

chopped pecans

2

tablespoons

butter

softened

1

tablespoon

fresh orange zest
INSTRUCTIONS
Combine and mix filling ingredients in a bowl until well-mixed. Pour the mixture into the unbaked pie shell.

Bake at 425 F for 10 minutes. Decrease the temperature to 350 F and then bake for 60 minutes.

While waiting for the pie to bake, prepare the topping. Combine toppings ingredients in a bowl and mix well. When the pie is ready, remove it from the oven and sprinkle the pecan topping over the top of the pie.

Return the pie to the oven and continue baking at 350 F until a toothpick comes out mostly clean, about 10 minutes. The pie shouldn't jiggle in the center.

Let cool and then refrigerate the pie. Serve with whipped cream.