Summary:
This shrimp and sausage gumbo is an easy one-pot recipe. It tastes just like authentic New Orleans gumbo but is made using common ingredients.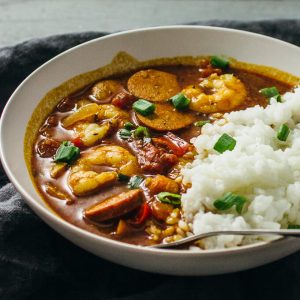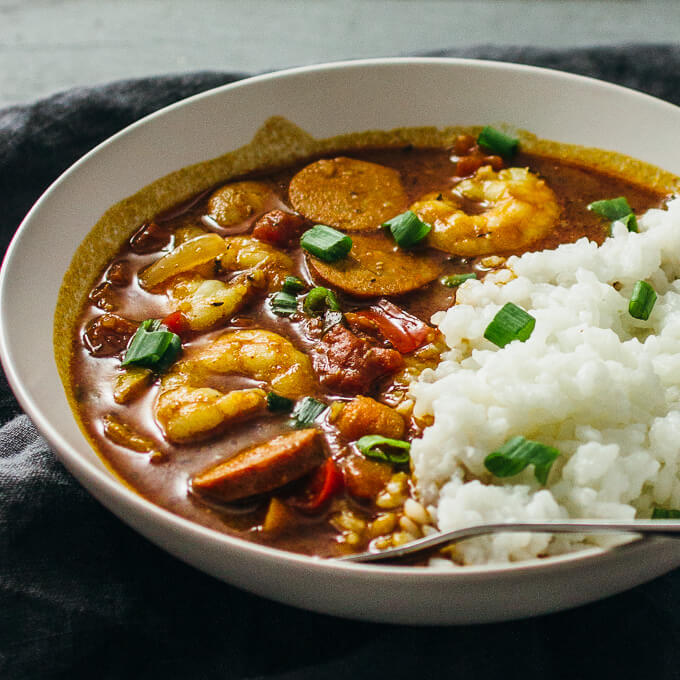 INGREDIENTS
1

pound

raw shrimp

peeled and deveined

4

links smoked Andouille sausage

about 12 ounces, sliced

2

bell peppers

red and orange, chopped

1

yellow onion

chopped

20

baby-cut carrots

chopped (about 1 cup)

5

scallions

sliced

4

cups

chicken broth
For the cajun seasoning mix:
INSTRUCTIONS
Assemble the cajun seasoning: Combine and mix the cajun seasoning ingredients in a small bowl. Set aside.

Make the roux

: Heat canola oil in a large pot or

dutch oven

(at least 5 quarts) over medium heat. Add butter and flour. Cook until the roux turns into a dark caramel color, about 15 minutes, stirring constantly.

Cook the vegetables: Add chopped bell peppers, onions, and carrots to the pot with the roux. Stir until well mixed with the roux. Cook until the vegetables soften and become fragrant, about 10 minutes, stirring occasionally.

Simmer with liquids and spices: Add crushed tomatoes (including the liquid), chicken broth, scallions, and cajun seasoning mix to the same pot. Bring to a boil and then decrease heat to a simmer over medium heat. Cover with a lid and let simmer for 1 hour.

Add shrimp and sausage: Uncover the pot. Add shrimp and sausage to the pot, mixing well. Let simmer until the shrimp is opaque and cooked, about 5 minutes. Remove from heat and serve with rice.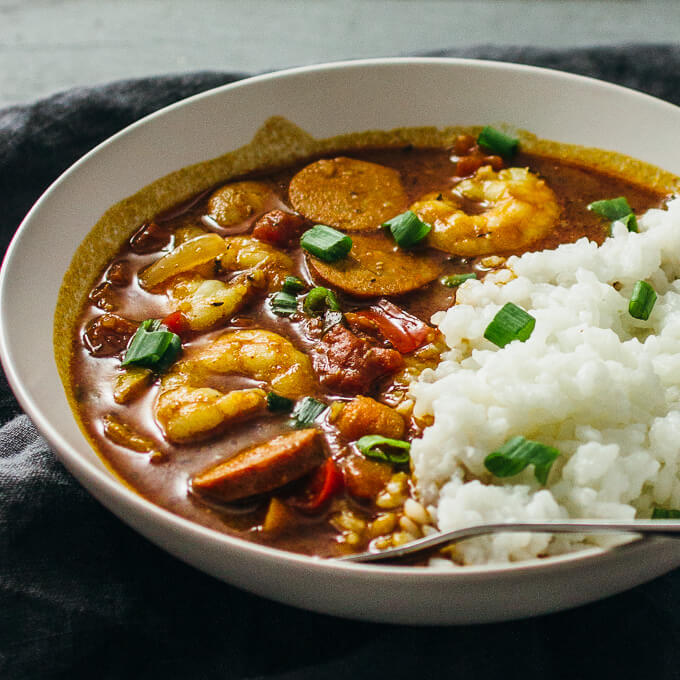 This is not authentic gumbo; I don't use celery (one of the 3 Cajun holy trinity ingredients; the others being onions and bell peppers), the okra vegetable, nor gumbo filé powder. I do, however, make a simple roux from flour, butter, and oil to serve as a thickener, and I make my own homemade cajun seasoning spice mix. This results in a gumbo that has the flavors and textures of traditional New Orleans gumbo and is very delicious, and at the same time is easy and uses common ingredients.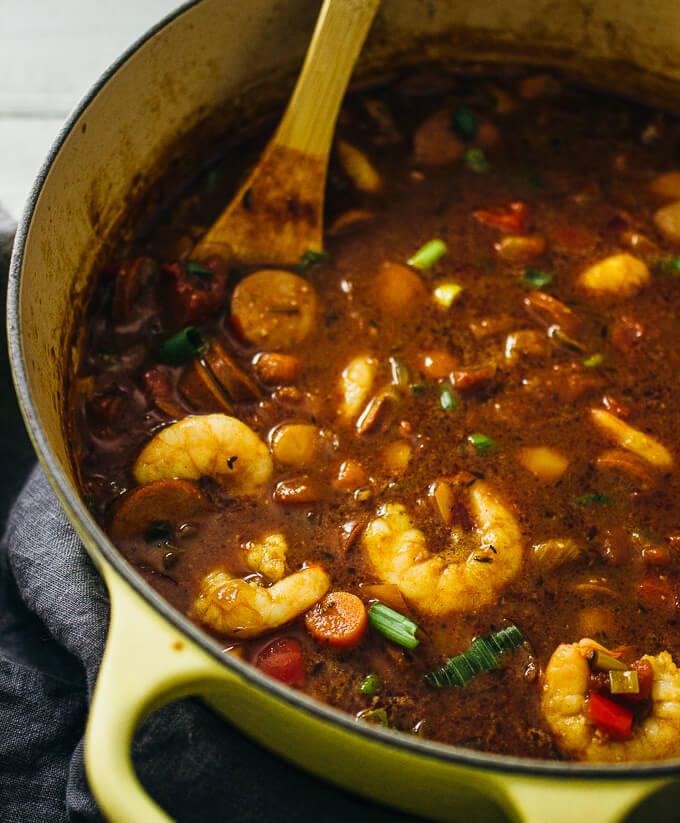 The hardest part of this one-pot shrimp and sausage gumbo is prepping all of the ingredients — slicing the sausage, deveining the shrimp, chopping bell peppers, slicing onions, chopping carrots, and so forth. For me, it's worth it because this recipe cooks up a week's worth of dinners and I love gumbo (really, any stew in general). But if you're looking for a shortcut, I recommend buying mirepoix. That's just a fancy name for a container of pre-diced onions, carrots, and celery. You should be able to find it in your local supermarket — I see it sold at my nearest Trader Joe's — and it'll save you time on prep work. I didn't use mirepoix, as you'll see in the recipe, but if you go this route then I suggest getting about 4-6 cups of mirepoix to substitute for the whole vegetables listed in the recipe.
Another way to save time is to buy cajun seasoning instead of making your own. It's simple to make homemade cajun seasoning — it uses everyday spice ingredients — but if you decide to buy a cajun seasoning packet, you should aim to use 3-4 tablespoons of it.
What should you pair this gumbo with? My favorite is simple white rice. You can eat the gumbo by itself, but that's such a waste of good stew; good stew should always be sopped by up delicious carbs. If you don't want to use white rice, then I also recommend brown rice and quinoa, both of which would work well here.
Feel free to refrigerate or freeze pre-portioned servings of this gumbo for another day. Leftovers for this gumbo taste amazing after reheating. It's as if the flavors got a better chance to get acquainted with each other.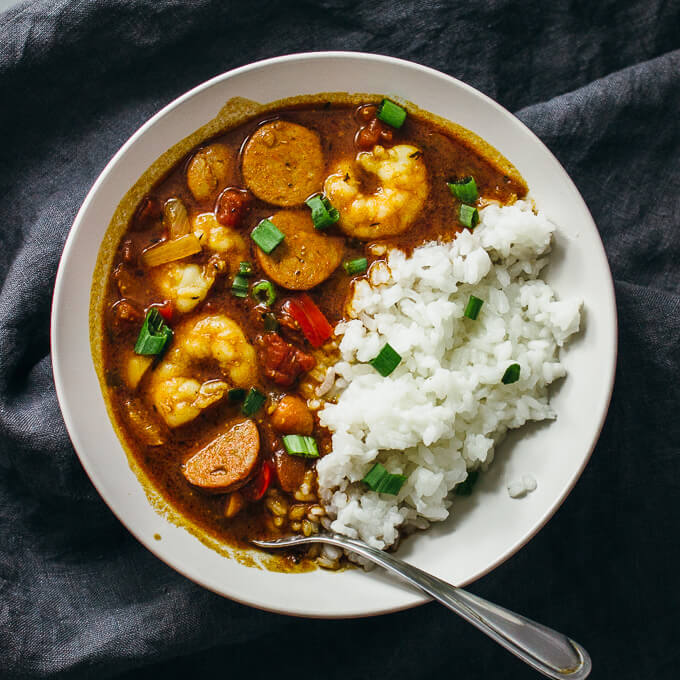 MORE COMFORTING SOUPS AND STEWS: