Summary:
This shrimp and sausage gumbo is a simple one-pot recipe that uses easy-to-find ingredients and a homemade Cajun spice mix.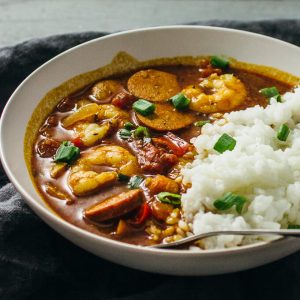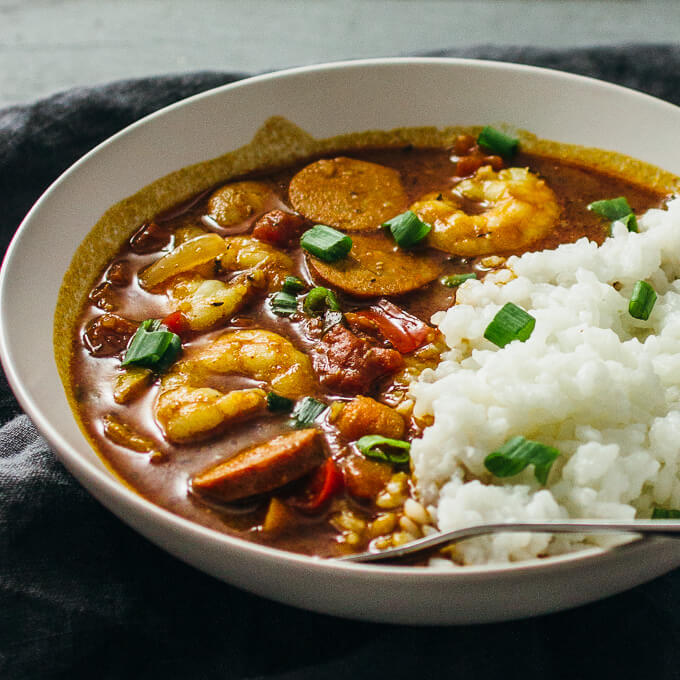 INGREDIENTS
Roux:
1/2

cup

all-purpose flour

1/4

cup

butter

1/4

cup

cooking oil
INSTRUCTIONS
Make Seasoning: Stir together all Cajun seasoning ingredients in small bowl until well-mixed. Set aside.

Make Roux: Heat oil in pot (Note 6) over medium heat. Add butter and flour. Stirring constantly, cook until roux develops dark caramel color, about 15 minutes.

Cook Vegetables: Add chopped bell peppers, onions, and carrots to pot with roux. Stir until well-mixed with roux. Stirring occasionally, cook until vegetables soften and become fragrant, about 10 minutes.

Simmer: Add crushed tomatoes, chicken broth, scallions, and Cajun seasoning to same pot. Bring to boil, then decrease heat to simmer over medium heat. Cover with lid and simmer for 1 hour.

Add Meat: Uncover. Add shrimp and sausage to pot, stirring them in. Simmer uncovered until shrimp is opaque and cooked, about 5 minutes. Remove from heat and serve (Note 7).
NUTRITION
Makes 8 Servings
Amount Per Serving:
| | |
| --- | --- |
| Calories 340 (47% from fat) |   |
| Total Fat 18g | 27% |
|    Saturated Fat 6g | 30% |
| Cholesterol 156mg | 52% |
| Sodium 1310mg | 55% |
| Net Carb 17g |   |
| Total Carb 21g | 7% |
|    Dietary Fiber 4g | 16% |
|    Sugars 7.5g |   |
| Protein 26g |   |
PHOTOS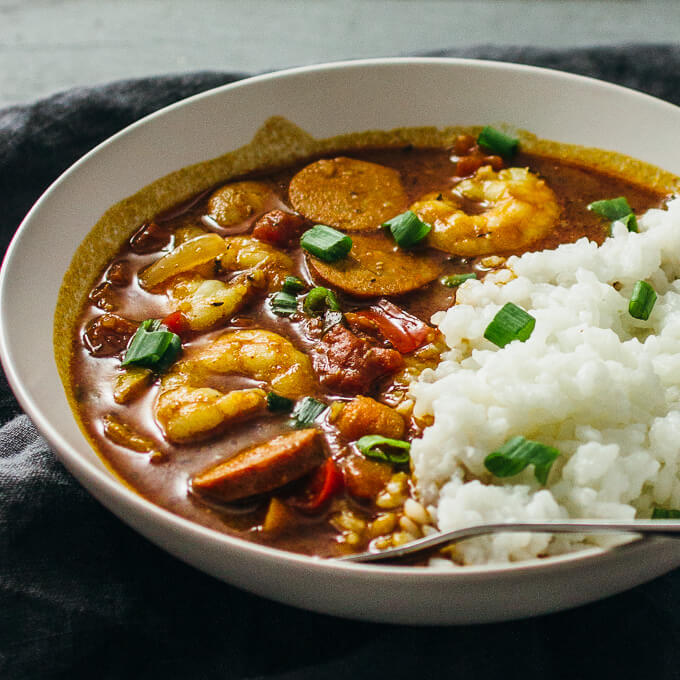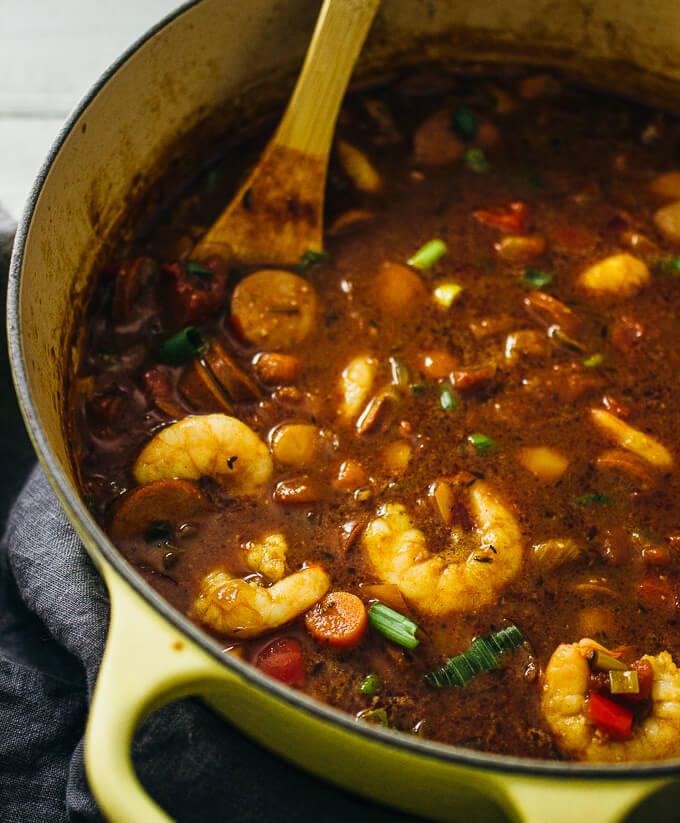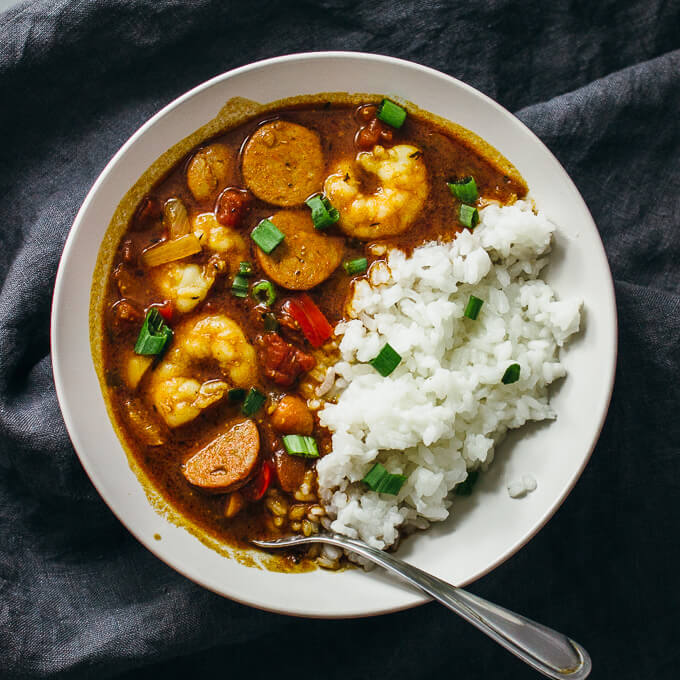 NOTES & TIPS
(1) Sausage. About 12 ounces weight.
(2) Bell Peppers. I use 1 red bell pepper and 1 orange bell pepper.
(3) Carrots. I use 20 baby-cut carrots, which is about 1 cup chopped. To save preparation time, consider buying mirepoix (pre-chopped carrots, onions, and celery) and using about 6 cups of it to replace the bell peppers, onions, and carrots used in this recipe.
(4) Scallions. Also known as green onions. I use the green parts and some of the white parts.
(5) Cajun Seasoning. This homemade Cajun seasoning mix is easy to make using common spice ingredients, but you can save time by substituting with 3 to 4 tablespoons of a store-bought Cajun seasoning packet.
(6) Pot. Use a 5-quart or larger sturdy pot. I use a dutch oven.
(7) Serving / Leftovers. Pair this delicious gumbo with steamed rice, quinoa, or riced cauliflower. Leftovers can be stored in an airtight container in the refrigerator for up to 2 days.